15 Picture-Perfect Holiday Day Trips near NYC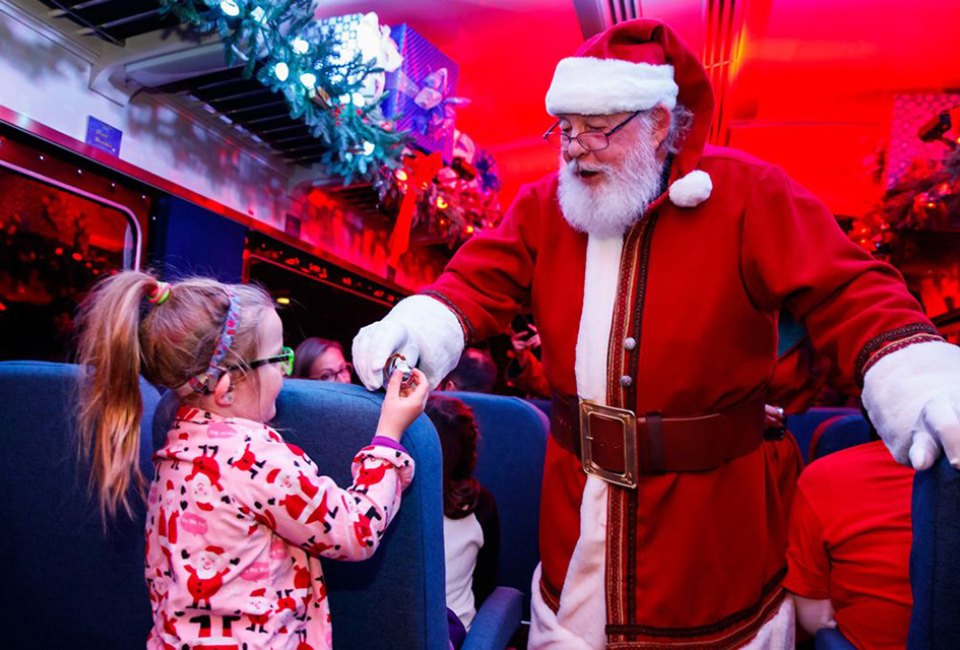 11/10/22
- By
Sonia Gonzalez
While New York City is magical during the holiday season, sometimes you're in the mood for a holiday day trip. If you're looking to get away and experience some holiday happenings not too far from home, we've found 15 great holiday day trips near NYC, where kids can see Santa, dazzling Christmas lights, and even a North Pole village.
From right-in-our-backyard picks to rustic Christmas fun in Mystic, Connecticut, and a theme-park pick in the Hudson Valley, here are 15 picture-perfect holiday day trips worth a drive or train trek this holiday season. Be sure to bookmark our Guide to Holiday and Christmas Activities for more seasonal fun and our Day Trips Guide for more local travel destinations.
Subscribe to our newsletters to get stories like this delivered directly to your inbox.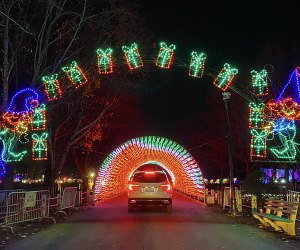 Westchester's Winter Wonderland is once again a drive-thru holiday destination. Photo by the Susan Miele
Holiday Day Trips in New York State
Friday, November 25-Sunday, January 1, 2023
45 minutes from Midtown by car
Westchester's Kensico Dam Plaza Park comes alive with holiday happenings at this aptly named attraction. Returning as a drive-thru again in 2022, its new features include an expanded Peace on Earth LED light display, a live Santa and North Pole scene, and the largest Christmas tree in Westchester.
RELATED: 20+ Christmas Towns and Santa's Villages That Absolutely Sparkle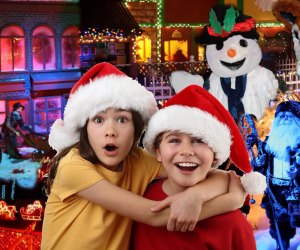 After a walk through the "forest of lights," enjoy holiday cheer at Kevin McCurdy's Holiday Spirit Festival.
Select dates from Friday, November 25-Friday, December 23
1 hour, 40 minutes from Midtown Manhattan by car
This annual celebration of the holidays is beloved by local families and visitors alike. The Holiday Spirit Festival features an enchanting forest of lights, a walk through a North Pole village, a 60-foot-long holiday train display, live entertainment, including magic shows, music, and, of course, the opportunity to meet with the big guy himself—Santa Claus.
Select dates from Friday, November 18-Saturday, December 31
1 hour, 40 minutes from Midtown Manhattan by car
This drive-thru holiday lights show lets you and your kids enjoy the sparkle of the season, without any shivering. The 1 1/2-mile, 25-minute-drive takes you through an illuminated wonderland with more than 60 displays, including reindeer, an ice castle, snowflakes galore, and even a sea creature in a Santa hat.
RELATED: Polar Express and Santa Trains Near NYC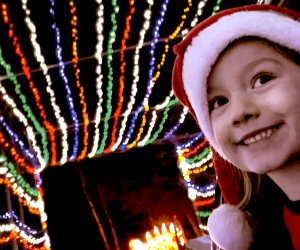 Drive through a tunnel of lights at Jones Beach. Photo courtesy of Magic of Lights
Select dates from Friday, November 18-Friday, December 30
1 hour from Midtown Manhattan by car
You'll need a car for this trip, but you'll stay toasty inside as you cruise along more than 2 miles of holiday lights at this festive display. Past displays have included crowd favorites such as "The 12 Days of Christmas" and "The Night Before Christmas," as well as other colorful creations. This year, guests can get out of the car and wander the Holiday Village, take in a light show, and drop off a letter in Santa's mailbox while enjoying delicious holiday treats. Tickets range from $20-80, depending on vehicle size and day of the week, and can be purchased online.
RELATED: Lego, Harry Potter, and 25 More Awesome Advent Calendars for Kids and Adults 2022

Enjoy some theme park fun when Legoland New York goes all out for its first Holiday Bricktacular. Photo courtesy of Legoland Resort
Select dates from Friday, November 25-Sunday, January 1, 2023
1 hour from Midtown Manhattan by car
It's beginning to look a lot like...a Lego Christmas at this popular New York theme park and resort. Beginning Black Friday, the resort transforms into a magical winter wonderland with Christmas trees decorated with Lego ornaments and lights. You can help build a holiday mosaic of 66,000 bricks! If you feel like making more than just a day trip out of this adventure, stay overnight in one of the festive, holiday-themed suites at the kid-friendly Legoland Hotel. Rooms feature special holiday decorations, including trees, wreaths, and garlands.
Holiday Day Trips in New Jersey
Select dates from Friday, November 25-Monday, January 2
45 minutes from Midtown Manhattan
Van Saun Park, already a favorite destination for New Jersey families, is once again transforming into a Winter Wonderland for the holidays. For the price of a general admission ticket, visitors can enjoy open-air ice skating, a mini-train ride, Santa visits, admission to the zoo, a carousel ride, and more family activities. There's also a synthetic skating rink for kids, which is great for beginners because it has more friction than regular ice. Adults might enjoy the food trucks and beer tent! Kids 3 and under are FREE.
RELATED: New Jersey Christmas Towns That Go All-Out for the Holidays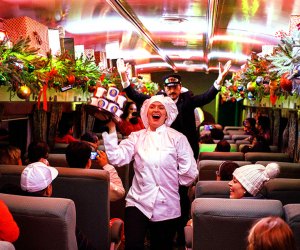 Take a journey to the North Pole on the Polar Express train in Whippany New Jersey.
Select dates from Friday, November 4-Friday, December 30
1 hour from Midtown Manhattan by car
There are many lovely Polar Express and Christmas-themed train rides near NYC, but this magical train ride takes rail fans on a storybook-inspired, one-hour journey that's just barely outside the city. Once aboard the Polar Express, expect a visit from Santa who makes a stop in each car to hand out silver bells to every child. There is a reading of the classic book, and kids are encouraged to come in pajamas, toting their own copies to read along. Hot chocolate and plenty of photo-ops with the man of the hour are included.
Select dates from Wednesday, November 23-Friday, December 30
1 hour, 15 minutes from Midtown Manhattan by car
Head to Skylands Stadium to drive this one-mile route illuminated by more than 2 million twinkling lights. Once you've navigated the spectacular show in your car, visit the outdoor Christmas Village for photos with Santa, arts and crafts, holiday-themed performances, an ice rink, and don't forget to stop at the s'mores station to roast marshmallows over a fire pit.
Select dates from Friday, November 25-Sunday, January 1, 2023
1 1/2 hours from Midtown by car
If your first thought is that amusement parks are for sunny summer days, think again. Holiday in the Park at Six Flags has more glitz and blitz than you could possibly imagine. Start your visit off with a leisurely walk down main street and take in the five-story tall, LED-lit, Christmas tree as snowflakes gently flutter around you. You can visit Santa or opt for story time with Mrs. Claus, plus enjoy fun seasonal eats, a holiday mirror maze, a forest of ice-blue trees, a peak of poinsettias, and plenty of theme park thrills.
RELATED: How to Find Free Toys for Kids this Christmas and Holiday Season—Apply Soon!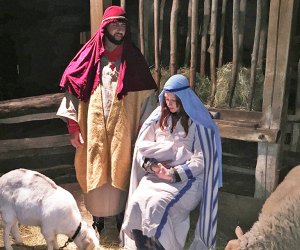 Enjoy a charming, old-fashioned Christmas with a living nativity at Quiet Valley Farm. Photo courtesy of the farm
Holiday Day Trips in Pennsylvania
Weekends from Saturday, December 3-Sunday, December 11
1 1/2 hours from Midtown Manhattan by car
Experience an old-fashioned Christmas on the farm. Visitors are transported back to a time before the bright lights and toy commercials and taken on a candlelit tour of the farm as it would have been in the 1800s. Witness a Victorian family preparing for Christmas, a living nativity, caroling in the schoolhouse, and traditional Pennsylvania German scenes. Groups go out every 15 minutes from 2:30pm-7pm, with the last session starting at 7pm.
RELATED: 12 Best Christmas Towns in New England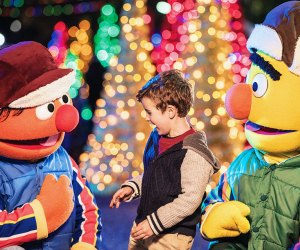 Meet your favorite friends at Sesame Place's A Very Furry Christmas celebration. Photo courtesy of Sesame Place
Saturday, November 19-Sunday, January 1, 2023
1 1/2 hours from Midtown Manhattan by car
Meet and greet your favorite furry friends at Sesame Place this holiday season. Sing along to "Elmo's Christmas Wish" and explore all Sesame Place has to offer with exceptional holiday cheer. The theme park hosts special events to celebrate Christmas, Hanukkah, Kwanzaa, and the new year. If you want to complete your trip with a festive feast, be sure to book one of the events, such as Christmas Dine with Elmo and Friends or Cookie Decorating with Cookie Monster.
Select dates from Sunday, November 12-Sunday, January 1, 2023
3 hours from Midtown Manhattan by car
What's sweeter than spending the holidays at the Sweetest Place on Earth? Hershey, Pennsylvania, maybe the most distant holiday day trip destination on our list, but it's worth the schlep. With multiple attractions to choose from, you can find just about every type of holiday treat you'd imagine here. You can decorate yummy delicacies with Mrs. Claus or have breakfast with Santa. There's also a Holly Jolly Trolley and opportunities to take photos with Santa, the Grinch, and other favorite characters. Select theme park rides are open, including some of the park's famed coasters, and more than 5 million twinkling lights punctuate the merry scene. Don't forget to visit the Kissmas Tree before you head home or pick us some sweet stocking stuffers and Hershey's Chocolate World.
RELATED: Best Holiday Lights Drive-Thrus and Christmas Light Shows near NYC in 2022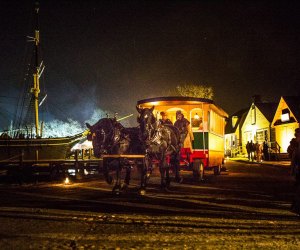 Step back in time at Mystic's Lantern Light Village.
Holiday Day Trips in Connecticut
Select dates from Friday, December 2-Saturday, December 17
2 1/2 hours from Midtown Manhattan by car
Enjoy the joy of a Christmas past at Mystic Seaport's Lantern Light Village. Guests wander the grounds and experience the festivities of a 19th-century Christmas season with festive lighting displays, a visit with St. Nicholas, holiday crafts, fire pits, horse-and-carriage rides, and more. Stick around for a viewing of Yuletide Spirits, which offers a festive take on Christmas ghost stories. While the Lantern Light Villages are an evening affair, come early to explore all the family-friendly fun in this seaside town, including a visit to the famed Mystic Pizza.
Weekends from Friday, November 25-Sunday, December 18
1 1/2 hours from Midtown by car
It's just a short journey to the north for this New England holiday experience. The Shoreline Trolley Museum is decorated in its holiday best and guests can wander the trolley barns before taking a ride on an antique trolley car. Santa himself can't get enough—he visits every weekend! There are plenty of festive photo-ops.
Select dates in November and December
2 hours from Midtown Manhattan by car
If you're looking for a truly indulgent (and more expensive) experience, and don't mind traveling farther, the North Pole Express in Essex, Connecticut, is definitely worth the drive, but it's a perennially popular event that sells out every year. If you missed tickets for this season, it's handy to put it on your calendar for next fall and book tickets as soon as they go on sale in September.
All photos courtesy of the festivals/venues
This article was first published in November 2015; it is updated annually.
t Click Here to Sign Up!