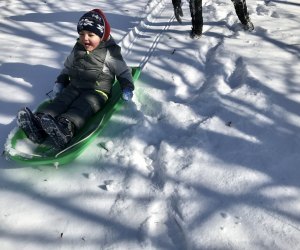 The Best Places to Go Sledding in Westchester with Kids
The snow season is upon us—and while you may be considering the practical aspects of snow fall, like shoveling, commuting changes, and other (hopefully minor) disruptions and annoyances, kids see powdery snow blanketing the yards, sidewalks, and cars, and all they can think of is ... SNOW DAY!
We've rounded up the most popular sledding destinations across the county, along with some helpful tips for keeping little ones safe while they sled.
Be sure to check our Winter Fun Guide and Indoor Activity Guide for more ideas to keep kids busy this winter. Our Event Calendar is also full of kid-friendly events and activities happening around town.
Golf Courses
Sledding is permitted in all six public Westchester County golf courses, and the vast smooth surfaces and rolling hills make them prime sledding spots. Parks passes are not required for entry, and all golf courses are open daily from 8am to dusk.
Dunwoodie Golf Course – Yonkers
1 Wasylenko Lane
(914) 231-3490
Hudson Hills Golf Course – Ossining
400 Croton Dam Road
(914) 864-3000
Maple Moor Golf Course – White Plains
1128 North Street
(914) 995-9200
Mohansic Golf Course – Yorktown Heights
1500 Baldwin Road
(914) 862-5283
Saxon Woods Golf Course – Scarsdale
315 Mamaroneck Road
(914) 231-3461
Sprain Lake Golf Course – Yonkers
290 East Grassy Sprain Road
(914) 231-3481
RELATED: Best Snow Tubing Spots Near New York City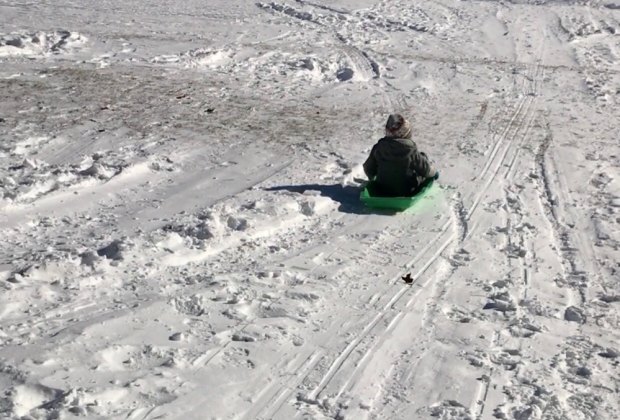 At Maple Moor Golf Course in White Plains, there are hills with varying degrees of steepness—great for kids of all ages.
County Parks
Three County parks are listed as official sledding destinations on the County's website. Unless noted, hours are daily from 8am to dusk.
Lasdon Park & Arboretum – Somers
2610 Amawalk Road (Route 35)
(914) 864-7268
Open daily from 8am-4pm
Croton Gorge Park – Cortlandt
Route 129
(914) 827-9568
Ward Pound Ridge Reservation – Cross River
Route 35 and 121 South
(914) 864-7317
On weekends in the winter, parking fees are $5 with a park pass and $10 without one.
Other Popular Sledding Spots
Davenport Park in New Rochelle offers a two-tiered run and spectacular views of the Long Island Sound.
Downing Park in Yorktown Heights has a tot-friendly hill that ends on a ball field, plus lots of parking. Hours are 5–10pm on Friday and Saturday.
Flint Park in Larchmont is great for younger kids who might not be ready for bigger hills (and thrills).
Gedney Park in Chappaqua is a popular sledding destination, and a few years ago, the town of New Castle took steps to increase sledding safety, including requiring kids under 18 to wear helmets, adding fences and barriers and re-grading the hill's slope.
White Plains High School is a good spot if you have a range of ages with you. The terrain ranges from gentle hills for tots to steeper slopes for older kids.
Zinsser Park in Hastings on Hudson is a steep but short hill that's perfect for little daredevils.
With all the fun and excitement of racing down your favorite hill, let's not forget safety. Here are a few tips to help keep everyone safe:
Seat children facing forward on the sled.
Accompany younger kids on their ride.
Helmets are recommended, especially for younger kids.
Be careful of any loose clothing or scarves that can get tangled in a sled.
Of course, with so much green space in Westchester (including many fantastic backyards), chances are you don't have to stray far from home to find a great hill to tackle. If we missed your favorite sledding spot, let us know on Facebook! Happy sledding!
This post was originally written in 2015 and updated in 2018. All photos by Mommy Poppins' Marisa Iallonardo.