Online Robotics Camp
Young Gates - Kids Online Personalized Classes

Artificial Intelligence with Scratch Online Camp
Young Gates - Kids Online Personalized Classes

Spark Math: Free Trial Class
Virtual
Sign up for our free newsletters.
Best Sledding Hills in Westchester for Kids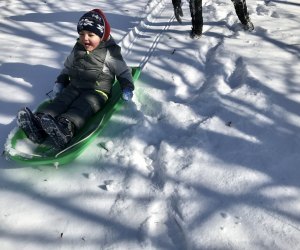 1/27/23
- By
Sonia Gonzalez
When the flakes fly, visions of sledding hills fill kids' heads, and all they can think of is bundling up and getting outside for some snow day fun. If your family's plans include sledding, consider heading to one of these popular sledding hills in Westchester County. We've also got top picks for sledding hills in the Hudson Valley in case you want to make your wintery adventure a daycation, plus some helpful tips for keeping little ones safe while they sled.
Be sure to check our Guide to Winter Fun in Westchester and our Boredom Busters Guide for more ideas to keep kids busy on cold winter days.
Subscribe to our newsletters to get stories like this delivered directly to your inbox.
Sledding Hills at Westchester Golf Courses
Sledding is permitted in many public Westchester County golf courses once they are closed for the season. The vast smooth surfaces and rolling hills make them prime sledding spots. Parks passes are not required for entry, and golf courses are open daily from 8am to dusk.
Westchester County Parks With Great Sledding Hills
Two County parks are listed as official sledding hills on the Westchester County Park's website. Unless noted, hours are daily from 8am to dusk.
Parking fees are collected on winter weekends; parking fees are $5 with a park pass and $10 without one.
Other Popular Sledding Hills in Westchester County
This local park offers a two-tiered run, plus spectacular views of the Long Island Sound.
We love the tot-friendly hill that ends on a ball field, plus the fact there's plenty of parking.
The largest park in the village, Flint Park, is great for younger kids who might not be ready for bigger hills (and thrills).
This popular sledding destination comes with a few safety rules. A few years ago, the town of New Castle took steps to increase sledding safety, including requiring kids under 18 to wear helmets, adding fences and barriers, and re-grading the hill's slope.
This local school is a good spot if you have a range of ages with you. The terrain includes gentle sledding hills for tots and steeper slopes for older kids.
13. Zinsser Park – Hastings-on-Hudson
Little daredevils go crazy for the short—but steep—sledding hill at Zinsser.
Safety Tips for Sledding Hills
With all the fun and excitement of racing down your favorite sledding hill, don't forget safety. Here are a few tips to help keep everyone safe:
Seat children facing forward on the sled.
Accompany younger kids on their ride.
Helmets are recommended, especially for younger kids.
Be careful of any loose clothing or scarves that can get tangled in a sled.
Of course, with so much green space in Westchester (including many fantastic backyards), the chances are you don't have to stray far from home to find a great sledding hill to tackle.
This post was originally written in 2015 and was updated for 2022.