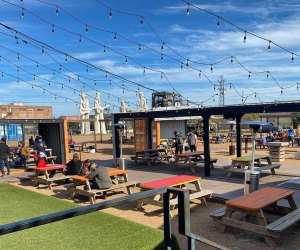 19 Awesome Houston-Area Breweries Where Kids Can Play, Too
Houston's craft beer scene is top-notch, which we probably don't have to tell you. But what might come as a surprise is that it's also very kid-friendly; some of the area's best brews are housed in stellar spaces with outdoor games and room to play. Here are some spots we love to go as a family because there is room for the kids to run around; they are unpretentious; they don't make my husband and me feel bad if our toddler starts malfunctioning during our visit, and the beer is delicious.
For our favorite kid-friendly eateries, check out our roundup of restaurants with plenty of playing room as well as our favorite Hill County wineries to visit with the rest of the family in tow.
While we are trying to promote safer activities that occur outdoors or with social distancing guidelines in place, please keep your family and others safe by always wearing a mask and maintaining appropriate distance. If you arrive at an event that appears too crowded try using the "nearby" search feature on our event calendar to find something else to do.
Note some photos in this post were taken prior to the pandemic.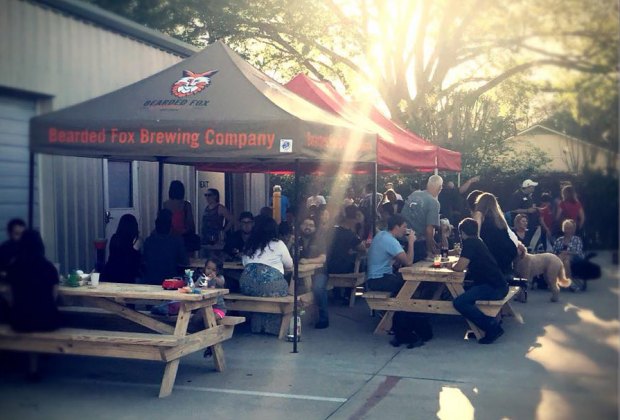 Photo courtesy Bearded Fox Brewing Co.
11729 Spring Cypress Road
832-761-7928
Bearded Fox opened in 2014 and has a great area of outdoor picnic tables where you can enjoy the brews as the kids (and dogs!) run and play. The taproom is open Friday through Sunday, and a different food truck makes an appearance every day.
Covid-19 Update: All State and Local Covid-19 protocol are enforced. Masks are required when moving about the Fox Den but can be relaxed while at your table enjoying beer. Tables are spaced apart and should only be used by same groups of fewer than 8 people. Hand sanitizer is available throughout the brewery. While the brewery's games and outdoor toys are not currently being set out, families are welcome to bring their own toys and games.
2322 Bissonnet St
832-516-9828
This small, neighborhood brewpub is worth a stop when you're looking for good beer and a cool place to hang out on the weekend. Owned by a husband-wife team, the atmosphere is friendly, the beers are hoppy, and you're sure to leave satisfied. The taproom is open Friday through Sunday with a different food line-up daily. Guests are also welcome to bring their own food.
Covid-19 Update: All guidelines established by the Governor are being followed, notably that masks are required when not seated, tables are spaced out, and the indoor capacity is capped at 25%.
1231 Broadway St.
281-993-8658
This microbrewery has a spacious interior as well as a large, covered patio complete with oversized yard games. The taproom is open all week, and there are food trucks present almost every day.
Covid-19 Update: CDC guidelines and local safety updates are monitored frequently to ensure adherence to safety precautions. Masks are required at all times unless seated and/or eating or drinking. No parties larger than 10 people are allowed in the taproom. Outdoor seating is strongly encouraged, and social distancing is enforced.
12470 Milroy Lane
936-447-4677
B-52 is worth the drive up to Conroe. It has a beautiful outdoor seating area with games, unique brews, a large selection of wine, cider, and mead, an outdoor fire pit, and was named "Best New Brewery in Texas" the year they opened, according to its website. The taproom is open Wednesday-Sunday and different food trucks each day.
Covid-19 Update: All guests are required to follow social distancing and mask requirements.
Related: Best Kid-Friendly Fishing Spots around Houston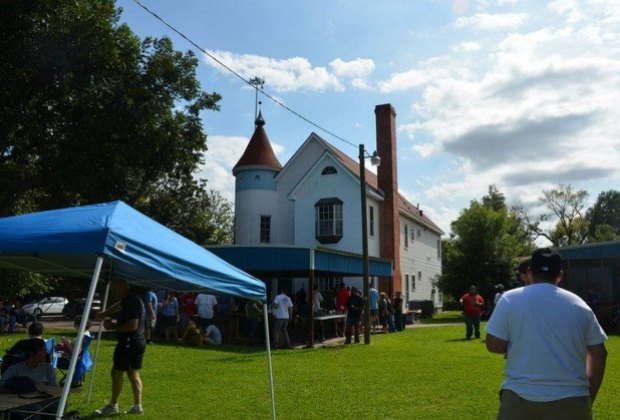 Photo courtesy City Acre Brewing
3418 Topping St.
832-377-0237
This place is just flat-out cool. It's located next to a Victorian-style home complete with a huge lawn and outdoor seating area. You can order your young ones a housemade soda as you sip on your IPA, and the food menu features finger-licking Southern fare, like chicken and waffles and burgers. The tap room is open Wednesday through Sunday.
Covid-19 Update: Currently, only outdoor seating is offered, and groups must be limited to 8 people or fewer. Social distancing and mask protocols are in place. All orders are placed at your table with a server, and cash is not an accepted form of payment.
941 W 18th St.
832-953-4677
With a name that comes from the Eureka Heights fault system that runs under their brewery and was an important part of the development of Houston, you know this place is going to be a cool spot to hang. Plus, they have a slew of interesting beers to boot. Kids are welcome in the brewery, dogs are welcome on the patio, and everyone is welcome to come on over and have a good time. The taproom is open Friday through Sunday, however you can pick up beer to-go through the drive-thru daily.
Covid-19 Update: Masks are required at all times except when seated and/or eating or drinking. While outdoor capacity is normal, indoor capacity is capped at 50%.
1125 Farm to Market Road 359
832-974-0620
Fulbrook Ale Works is located in Richmond, TX. They host a variety of fun events including live shows featuring local talent, karaoke, and Yappy Hours for families with pets. Plus, they have a play area for kids, which makes this a great place for the whole family to relax. The taproom is open Tuesday through Sunday for both dine-in and beer to-go.
Covid-19 Update: Fulbrook Ale Works is currently operating as a restaurant, so no outside food or drinks are allowed. There can be no more than 10 people per table, and masks must be worn when not seated.
938 Wakefield Drive
281-220-6900
When it comes to kids, the owners of Great Heights Brewing get it - they have kids too and they welcome families with kids of all ages. While you sip a craft brew the kids can dine on popcorn and sodas and play yard games. The tap room is open daily, you can bring your own food, have it delivered, or order from The Purple Flour pizza truck, which is always parked out front, and your pups are welcome to join on the patio.
Covid-19 Update: The taproom is operating at reduced capacity. To-go beer is available onsite daily, and guests are welcome to order and pay online prior to picking up beer.
2206 Edwards St.
832-781-0555
Holler opened in November 2016, has an outdoor patio for the kids to play, and enthusiastically welcomes your four-legged friends, too! Stop by the tap room Wednesday through Sunday for tasty beers and dine on food truck fare Thursdays, Fridays, and Saturdays. Not a fan of the food? Not a problem; you can even bring your own food!
Covid-19 Update: Holler is currently open for beer to-go daily and offering outdoor seating nearby at the Holler Park. You can order your beer to-go both online and in person.
2032 Karbach St.
713-680-2739
This Houston staple has a massive taproom and space for hanging out or even hosting events. It doubles as a restaurant that's open every day of the week and features a massive outdoor patio. And if you're planning on hanging out in the Biergarten, dogs are welcome, too.
Covid-19 Update: Both the biergarten and restaurant are open, and customers can place orders for curbside pick-up. Tours, however, are on hold due to the pandemic.
808 Russell Palmer Rd.
281-973-9043
Parents and kids alike can unwind at Megatron Brewery Friday through Sunday. While parents enjoy some tasty craft beers, kids (ok, and parents!) can play a variety of games, from arcade and video games, to pool, air hockey, giant Jenga, and more. Kids have to clear out by 10pm, though, so the adults can enjoy a kid-free experience.
Covid-19 Update: The taproom has been expanded and is set up in a socially distant manner. Masks are recommended upon entering and while engaging with staff. All TABC guidelines are being followed as closely as possible.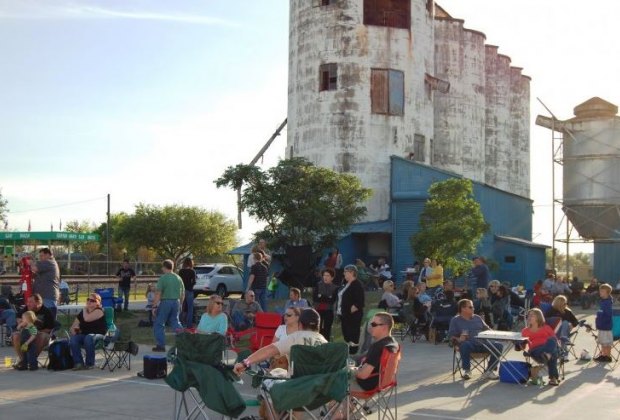 Photo via Impact a Hero
5351 1st St.
281-639-7545
This Katy hotspot, located in the city's historic district near the old Katy silos, is open every day of the week and also typically hosts food trucks most days, but always on Saturdays - along with live music! It's also pet-friendly and hosts events throughout the year. Check the calendar before you go!
Covid-19 Update: All guests are required to follow social distancing and mask requirements.
2000 Lyons Ave.
713-686-9494
In case you haven't heard, Saint Arnold's is Houston's (and Texas') oldest craft brewery. So if you venture nowhere else, you have to make a stop at this beloved brewery at least once. They also have a restaurant and beer garden, which feature more of Saint Arnold's delicious beer, food, and family-friendly atmosphere.
Covid-19 Update: For the time being, guests check in at the drive-up host stand and wait in their vehicle for a table. Availability is on a first-come, first-served basis, and only outdoor seating is available. All orders are placed at the table, and there is a maximum of 10 guests per table. Children must remain seated with their group at all times, and face masks must be worn at all times except when seated at a table. Guests are welcome to order online, pickup curbside, or purchase beer to-go through the drive-thru. Public brewery tours are on hold, and the gaming areas and maze are closed until further notice.
13503 Pike Road
832-895-9000
Texas Leaguer Brewing Company hosts all kinds of special events. They have a large outdoor space where they host sports events including basketball, baseball, and football. They always have specialty brews, and they even serve Little Leaguer Root Beer. Oh, and you can even bring your dog. The taproom is open Thursday through Sunday and you can purchase to-go daily. This facility is an open-air facility and outdoor seating is available.
Covid-19 Update: Guests are required to wear masks when ordering at the bar.

Photo courtesy of Under the Radar Brewery
1506 Truxillo St.
281-974-1473
What started as a home beer kit in a garage has morphed into a Houston favorite. You can come out daily to enjoy the brews with kids and dogs in tow and a good, old-fashioned backyard atmosphere. Food trucks are on site 5 days per week and guests are also welcome to bring their own food.
Covid-19: All events are canceled until further notice. Guests are asked to wear masks when not seated or when ordering at the bar. Orders can be placed beforehand online.
3525 N Frazier St.
936-441-2739
We know, another long drive from Houston's center. But trust us - it's worth it! Not only do they craft some of my personal favorite brews in the city, but the facility is incredibly family friendly. Both indoor and outdoor spaces are huge, and there is always a food truck (or several) around serving delicious food.
Covid-19 Update: Customers can place beer orders online and pick up curbside with a copy of their receipt. The most up-to-date hours can be found here. Merchandise is not available for pickup.
Related: Houston's Best Kid-Friendly Brunch Spots

You'll like the beer, they'll like the ice cream. Photo courtesy of Walking Stick Brewing Company
956 Judiway St
713-300-1866
This family-friendly craft brewery spans an entire block and boasts a taproom and two beer gardens. The brewery bills itself as the most kid-friendly brewery in Houston, and with good reason: the owners have six kids themselves! The taproom is open daily and food trucks are always on site.
Covid-19 Update: Masks are required at all times except when eating or drinking, and social distancing is encouraged.
1348 Cedar Post Lane
713-678-0776
This women-owned and family-operated brewery needs to be on your radar. The taproom is Thursday through Saturday, the beer is good, the atmosphere is homey, and they serve Texas wines for any non-beer drinkers. They're also both kid- and dog-friendly, and you're able to bring your own food or have it delivered if there's no food trucks on site (food trucks come on Saturdays!).
Covid-19 Update: All guests are required to follow social distancing and mask requirements.
2202 Dallas St.
713-229-0868
Founded in 2013, 8th Wonder is an Astros - and Astrodome - fan's dream. It pays homage to the infamous stadium and even has memorabilia like stadium seats inside. You can bring your own chairs and enjoy the brewery's AMAZING outdoor space. There are games, TVs, and lots of room for activities. The Eatsie Boys food truck is on site daily unless they are booked for a private event offsite. In those instances, another great Houston food truck will be on site serving food. You are also able to bring in your own food.
Covid-19 Update: Until further notice, brewery tours are not being offered, and there are no beer flights available for purchase.
To receive posts like this delivered straight to your inbox, sign up for our FREE newsletters!
This post originally published in March 2018.