Fishing Lakes Near Houston and More Kid-Friendly Places To Go Fishing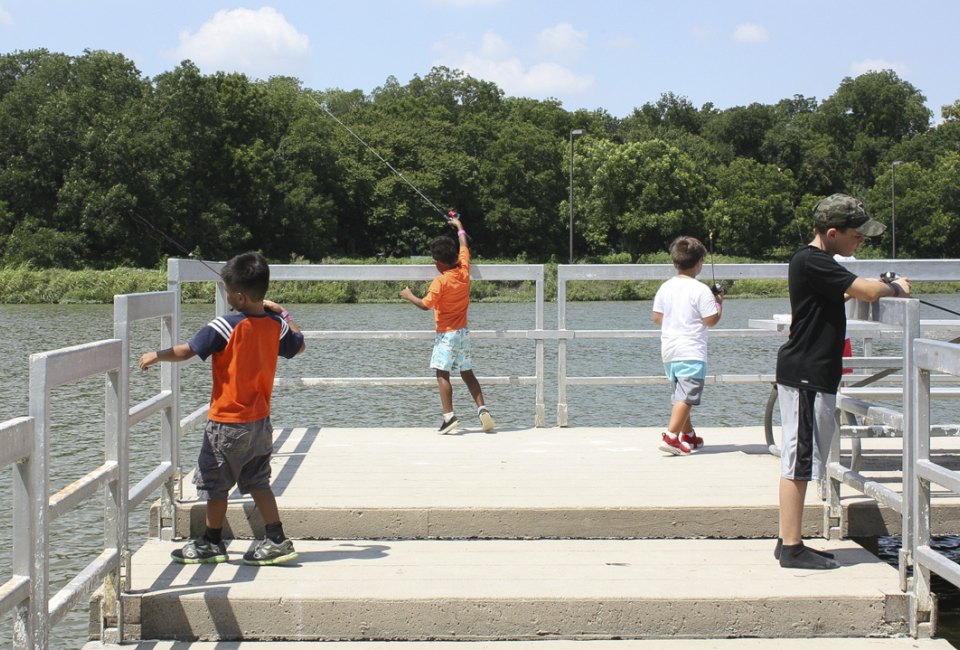 7/22/22
- By
Ashley Jones
Who's ready for a FREE outdoor activity that can be enjoyed by kids and adults together? Grab a pole and head to one of these fabulous fishing lakes near Houston, where the fish are plentiful and families can enjoy being outdoors together. Fishing can foster a sense of achievement and accomplishment in kids, is a great way to teach patience and persistence while enjoying nature. Most of the fishing lakes listed below are at local parks near Houston, so you can pack a picnic, let the kids burn off steam at some awesome playgrounds, and spend the day with a fishing pole in hand.
While these ponds and lakes offer free fishing, please note that adults ages 17 and older must possess a valid fishing license, unless fishing inside of a state park, per the Texas Department of Parks and Wildlife. Be sure to note any posted regulations for specific parks relating to catch limits or catch and release requirements.

Bob's Fishing Pier at McGovern Lake. Photo by Lifted Up Aerial Photography, courtesy of Hermann Park Conservancy
Fishing Lakes in Central Houston
9600 West Little York Road
This park's lake is stocked yearly with rainbow trout. Park-goers can also fish for bluegill, catfish, and largemouth bass. Swimming, boating, canoeing, and kayaking are not permitted on this lake. Fishers are asked to practice catch-and-release fishing at this lake. Restrooms, a volleyball court, and playing fields are also available in the park. Hours: 8 am to 10 pm.
1700 Hermann Drive
Fishers ages 12 and younger and 65 and older can enjoy fishing off of Bob's Fishing Pier on the western side of McGovern Lake in Hermann Park. Catch and release is recommended. Hours: 9 am to 7 pm. There is a whole host of other activities to enjoy in Hermann Park.

Eldridge Park Pond photo courtesy of the Eldridge Park District
Fishing Lakes Near Houston: West
5597 Gardenia Lane
There are so many fun things to do with kids in Katy, and fishing at Mary Jo Peckham Park is definitely one of them. Fishers are limited to five bass and rainbow trout per day, but can catch an unlimited amount of catfish. Hours: 7 am to 10 pm.
4015 Lexington Blvd.
With more than nine acres of surface water for fishing, this park is perfect for freshwater fishing. Fishers can choose to fish from the banks or from two floating fishing piers.
2511 Eldridge Road
This Sugar Land park boasts a large fishing pier on a well-stocked fishing pond, as well as a playground area and multiple spots for picnicking. Bring a ball and also take advantage of one of the ten soccer fields. Hours: sunrise to sunset.
​15108 Cullen
While you can enjoy bank fishing at all three sections of this large park in Pearland, Section III features a fishing pier. Section III's hours are 6 am - 9 am in the summer and open till 7 pm in the winter. Catch trout and catfish and then take a hike or have a picnic at this spacious park, which also has a disc golf course.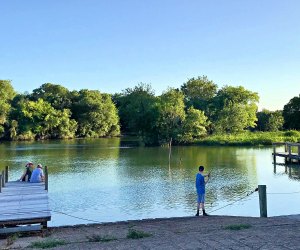 Fishing on Clear Creek at Challenger Seven Memorial Park. Photo by Ashley Jones
Fishing Lakes Near Houston: South
4950 Burke Road
A fishing pier extending out over a large pond makes this park ideal for fishing. Walking trails surrounding the pond are great for scenic strolls before or after catching fish. Hours 6 am to 11 pm.
2301 West NASA Blvd.
This scenic park offers pier and bank fishing on Clear Creek, as well as a large stocked fishing pond near the entrance of the park. Summer hours 7 am to 9 pm, winter hours 7 am to 11 pm.
6615 Park Avenue
This 23-acre park boasts a large fishing pond for fishers of all ages in addition to a splash pad, playground, pavilion, and basketball courts.
5001 NASA Pkwy.
Located in scenic Seabrook, Clear Lake Park offers fishing off of a pier extending out into Clear Lake, as well as bank fishing into the brackish waters containing a variety of fish. Hours 7 am to 10 pm.

Sheldon Lake State Park. Photo by Earl Nottingham/Texas Parks & Wildlife Dept
Fishing Lakes Near Houston: East
1300 Aqueduct Road
Dwight D. Eisenhower Park in northeast Houston provides a scenic background for fishing enthusiasts with many trees lining the banks of the San Jacinto River. Summer hours: 7 am to 8 pm. Winter hours: 7 am to 6 pm.
14140 Garrett Road
The Sheldon Lake banks offer fishing to all fishers and no license is needed in the state park. Children 12 and under can participate in free catch and release fishings in both of the park's stocked fishing ponds as well. There are cane poles available to borrow for families without their own fishing gear. Hours: 8 am to 5 pm. Free entry passes can be reserved online. State parks further afield such as Huntsville and Lake Livingston also offer great fishing opportunities with no need for a license.
400 Mercury Drive
This stocked fishing pond is located in picturesque Herman Brown Park surrounded by miles of walking and jogging trails.
Originally published August 20, 2018 and updated periodically