Play the Day Away at Clear Lake Park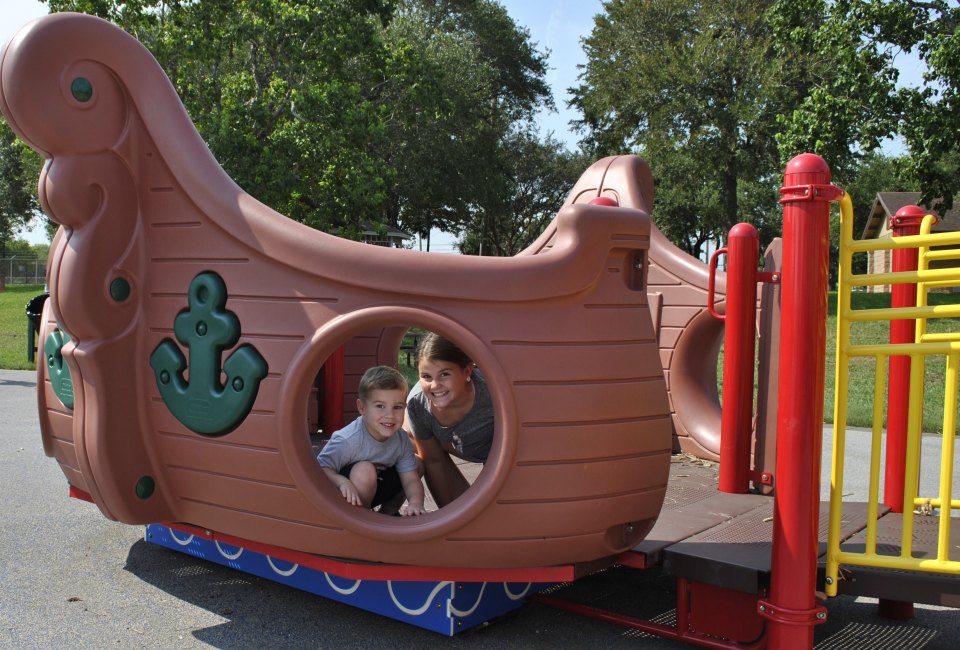 10/9/17
- By
Ashley Jones
With lakefront views, six sets of playground equipment, a splash pad, open-air pavilion, and a large fishing pier, Clear Lake Park has so much to offer. Of all of the amazing parks in the greater Houston area, this delightful spot just happens to be located near several major family-friendly attractions. On a clear day, you can look out over Clear Lake from the park and see the Kemah Boardwalk. It's also a less than five-minute drive from Space Center Houston. Whether you go for a few hours or stay for an entire day, Clear Lake Park gives the whole family so much to see and do.
The park is separated into two sides, north and south, with NASA Parkway separating the two. Each side has multiple playgrounds, various picnic tables, and public restrooms. Here's what you can expect to find on each side of this 59-acre park.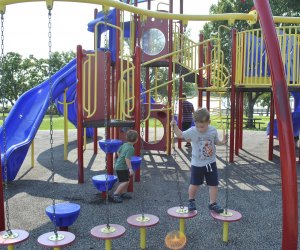 Climbing across the large playground on the north side of the park.
North
This side of Clear Lake Park is home to several festivals and community events throughout the year thanks to its abundance of sports fields, a community center, and an open-air pavilion. The Bay Area Museum is also located on this side of the park. Visitors to the museum can learn about local area history and view an interesting collection of NASA memorabilia.
Just behind the museum is a picturesque wooden walking pier as well as a launch area for rowboats and paddle boards. Our kids love walking out onto the pier to watch the watercrafts go by. A fitness equipment area and paved walking trail are also located in this area of the park as well.
The large playground on this side of the park is surrounded by lots of green space that is perfect for tossing a football or playing with frisbees. It's also completely shaded by huge oak trees, making it a great spot even when it's hot out. If you have a toddler, one of the best outdoor playgrounds in the area is located on this side of Clear Lake Park. It has small slides and perfectly sized steps and ladders for tiny tots. We've been bringing our boys here since my oldest was about 18-months-old and they've always loved it. It's conveniently close enough to the large playground and swing set that we can give our older kids space to explore those areas and still keep an eye on them while staying at the toddler set with the little ones.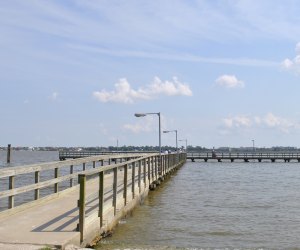 Reel in a big catch on this t-shaped fishing pier.
South
The newly-renovated south side of Clear Lake Park is home to four (yes, four!) playground sets, a splash pad, and a fishing pier. While not as naturally shaded by trees on the north side, this side of the park features shade covers over parts of each playground for some relief from the sun when you need it. The playground equipment features a nautical theme, perfectly fitting for a lakeside park. Each of the playground area feature different levels of slides, rope ladders, tunnels, and other obstacles for kids to explore. There's even a smaller set that is great for toddlers and preschoolers. It's not hard for our kids to spend an hour going back and forth between each of these playground sets because there is just so much to do.
Two swing sets face the lake to create a great spot to soak in some of the gorgeous waterfront views. A long fishing pier provides the perfect opportunity to take kids fishing in the calm waters of Clear Lake. The splash pad on this side of the park is one of our favorites in the area. It features water spouts and sprayers that are open to the public from the first Saturday in April through the last Saturday in October, 9 a.m.- 8 p.m. This area of the park also features several covered picnic spots, a gazebo, and a barbeque pit area with charcoal grills.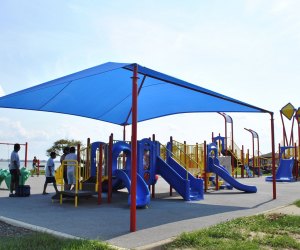 This shaded playground set on the south side of Clear Lake Park is perfect for preschoolers.
What to know before you go: ​
Park hours are 7 a.m.- 10 p.m.
Entry to the park and parking are both FREE.
Restrooms are located next to the large playground on the north side, and on the south side behind the splash pad and next to the main parking area.
Visit the park's website for information about pavilion reservations for birthday parties and other gatherings.
​​All photos by Ashley Jones
Places featured in this article:

Sign up for our free
newsletters.
Mommy Poppins is a family activity website that helps people find things to do with kids.
©
2023
MommyPoppins. All Rights Reserved.
mp-prod4-v4.32.99
Click Here to Sign Up!
i