The Amusement Park for Crafty Kids: Crayola Experience Orlando
With dozens of colorful hands-on activities, the Crayola Experience Orlando is an amusement park for kids who love art! Inside this 70,000-square-foot space, you'll find enough creative play opportunities to keep your family busy all day (including a giant, crayon-themed playground). We were there for 4 hours and still didn't get to all of the 27 exhibits! Tickets cost less than $30 dollars per person, making the Crayola Experience a bargain compared to other Orlando theme parks and attractions. The age range of young visitors at Crayola Experience Orlando runs the gamut, from infants to teenagers. So tap into your inner child and get those creative juices flowing...here's your guide to the Crayola Experience Orlando!
Want more places to visit in Orlando? Check out our guide to Icon Park and read up on the best water parks in the area!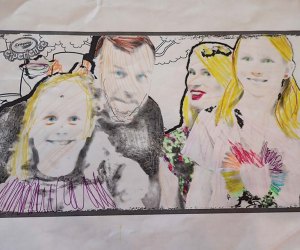 Transform a family pic into your very own family coloring page.
Crayola Experience Orlando: Exceptional Exhibits
The best thing about the Crayola Experience Orlando is all of the cool keepsakes you get as part of your admission. Each visitor receives their own re-useable Scribble Scrubbie buddy, a pet figurine that can be drawn on and then washed off again —try it out at the Scribble Scrubbie exhibit, and then take it home for bath time. Guests also receive two tokens as part of their admission to use at the park's 'vending machines.' We used ours to create crayons with our own custom labels, as well as Crayola modeling clay to use at the sculpting tables.
We loved making spin-art masterpieces with melted crayon wax at the Drip Art exhibit, and it was fun watching standard crayons take on new life forms, like emojis and animals, in the Melt and Mold exhibit. In the Be a Star exhibit, families get to pose for their own personalized coloring pages. (The pictures print out right there for you!) Drawing with chalk becomes especially exciting at the Scribble Square exhibit, where kids literally get to paint the town red, or whatever color they fancy, as well as design and customize a car or truck if they prefer.
With so much to see and do at the Crayola Experience, it's likely that you won't get around to all of the craft exhibits. Be sure to grab the portable activities or those that can be replicated at home. We snagged lots of extra coloring pages, and I can't wait to bust them out on the next rainy day.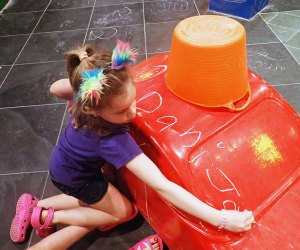 The Scribble Square exhibit is a safe way to let your kids scribble on whatever they see.
Crayola Experience Orlando: Digital Creativity for All Ages
Digitally savvy kids will get a kick out of the Silly Selfies exhibit —guests design their own animated portraits, then view their selfies on a big screen (the more ridiculous, the better). At the Rockin' Paper exhibit, the animals you color "come to life" in a dance show (the magic involves some well placed magnets). My 10-year-old's favorite art station at Crayola Experience Orlando involved designing a fashion outfit, then scanning and digitally accessorizing it, before seeing it on a big screen as part of a virtual fashion show. Be sure to visit the Rainbow Rain exhibit, where visitors see virtual crayon rain fall down on their heads (this is a fun place for a photo op.)
Crayola Experience Orlando: Play Time
Need to burn off some energy after all that crafting? The Color Playground has a two-story climber and giant slide, and babies and tiny tots can get their wiggles out at the Toddler Town playground. Though we didn't get a chance to see it, there is a live show offered several times throughout the day where kids can learn how crayons are manufactured.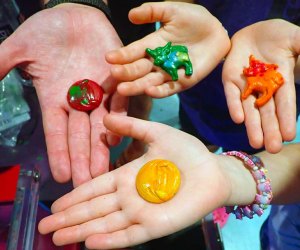 Make your own crayon in cool, crazy shapes.
Crayola Experience Orlando: Important Details For Your Visit
Crayola Experience Orlando has a snack shop and cafe hungry guests, selling kid-friendly foods like hot dogs, pizza, and popcorn. Want more lunch options? The park is located inside the Florida Mall, which has its own enormous food court. Since Crayola Experience ticketed guests get in-and-out privileges all day, visiting the food court and returning should be easy.
Some attractions, like wax hands and sand art, cost an additional fee. The Crayola Store is definitely worth checking out — this attached gift shop sells tons of colorful souvenirs, including shirts, art products, and more.
We recommend buying tickets online, as you will save $3 on admission ($26.99 at the box office). Parking for the Crayola Experience Orlando is free.
Photos by the author