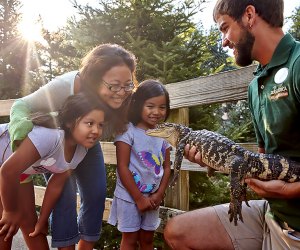 10 Best Kid-Friendly Weekend Getaways Near NYC
New York City is unlike any other place in the world, and that's just the way we like it. Still, it's fun to get away from New York for a weekend to show our families what lies beyond the city limits (nature! culture! art! fun! food!), and the best part is, you don't have to travel far to feel like you're a world away from New York.
We've rounded up ten of our favorite kid-friendly destinations for stir-crazy city families, all 2.5 hours or less from NYC.

The beautiful beaches on Long Island's East End are are a bit of paradise only 2.5 hours from the city. Photo courtesy of Montauk Yacht Club
New York
Montauk, Long Island
2.5 hours from Midtown Manhattan
For a quintessential beach town getaway any time of the year—in rain, sun, or snow—Montauk has it all. Climb the Montauk Point Lighthouse, charter a boat, ride bikes, eat fresh seafood, or just stroll the beautiful sands in search of shells. In fact, we've got 25 of Montauk's top things to do to help get you started. No car? No problem. Montauk is also accessible via the LIRR. Hartman's Briney Breezes Motel is a great budget-friendly spot to stay, while a pricier option is Gurney's Resort, the only four-season beachfront resort in the Hamptons.
RELATED: 30 Family-Friendly Day Trips from NYC

Rent a bike at People's Bicycle and check out the town of Beacon. Photo courtesy of the shop

Beacon, Hudson Valley
90 minutes from Midtown Manhattan
The Hudson Valley is a breeze to get to by train or by car, so it's always at the top of the list for my family. Beacon offers gorgeous scenery and a laid-back, artsy downtown vibe to keep things interesting. Dia:Beacon is a must-see year-round, but if your family travels on its stomach (and what family with kids doesn't?) think about timing your visit to coincide with the annual cupcake festival in May or strawberry festival in June. Local shops and eateries round out a memorable family weekend getaway. The Beacon Hotel or the Roundhouse are ideal for overnight stays.
RELATED: 100 Things to Do in New York State With Kids Before They Grow Up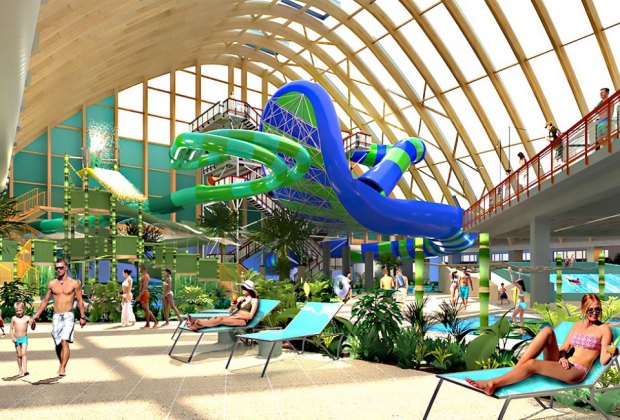 Kids will go wild for the huge new indoor water park, The Kartrite. Rendering courtesy of The Kartrite
Sullivan Catskills
2 hours from Midtown Manhattan
My kids still talk about our
river rafting trip in the Catskills
. It was a wonderful respite from the pace of city life and a great excuse to get outdoors together. From camping in the great outdoors to kicking back at a local
resort
, you can't go wrong in the Catskills. And if you're looking for a little more action on your family getaway, a
new indoor water park
is slated to open this month. Score!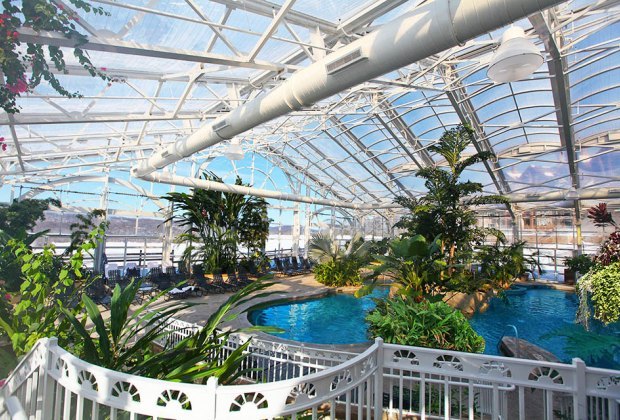 With its lush tropical foliage, the Biosphere Pool at Grand Cascades Lodge truly seems like a world away from home, especially in the winter. Photo courtesy of the lodge
New Jersey
Ocean City
2.5 hours from Midtown Manhattan
Another classic beachfront destination, Ocean City is great for riding bikes along the boardwalk and catching some waves and rays, before cooling off with an ice cream cone. Playland's Castaway Cove and Gillian's Wonderland Pier offer thrills for all ages. Biscayne Suites, Port-O-Call, and the Flanders Hotel are popular but tend to book up quickly, so plan ahead.

Hamburg
90 minutes from Midtown Manhattan
Sometimes it's just about indulgence. Live it up with all the amenities you can ask for at Crystal Springs Resort in Hamburg, New Jersey. These sister resorts, Grand Cascades Lodge and Minerals Hotel, offer year-round fun, with everything from skiing to swimming to zip-lining and horseback riding. Want to know more? Read our full review of these fantastic, family-friendly resorts.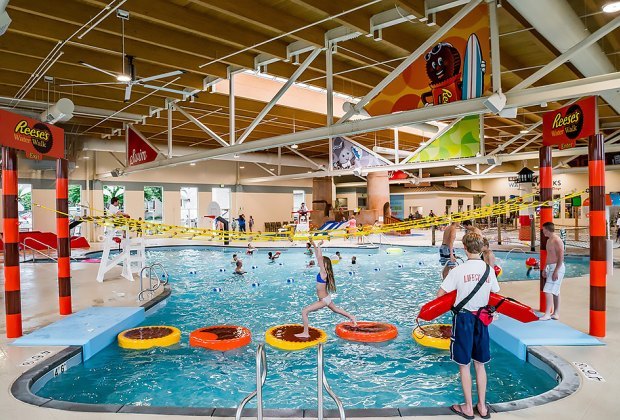 The Hershey Lodge an official resort of Hersheypark, complete with the indoor Water Works Splash Zone. Photo courtesy of Hersheypark
Pennsylvania
Hershey
3 hours from Midtown Manhattan
Head to the Sweetest Place on Earth and succumb to the power of chocolatey goodness. Hersheypark is a one-stop mega-park for family fun, but there's more to this town than a thrilling, kid-friendly theme park. ZooAmerica is home to animals from across North America and Hershey's Chocolate World takes you behind the scenes to show how all that chocolate magic happens. Read our full take on Hershey, Pennsylvania. The Hotel Hershey offers high-end amenities, while Hershey Lodge and Hershey Camping Resort offer easy access to Hersheypark with lots of amenities of their own including pools, splash pads, mini-golf, and more.

Poconos
2 hours from Midtown Manhattan
The Poconos was a family getaway favorite back when I was a kid, and happily, that hasn't changed. From water parks to river rafting, go-karts to horseback riding, there's something for everyone at this family-friendly destination—as our list of top 60 (!) things to do in the Poconos with kids proves. Where to stay? With so many family-friendly options, it's best to check out our roundup of the best family resorts in the Poconos.

Philadelphia
2 hours from Midtown Manhattan
Immerse your family in the rich history of our nation in this kid-friendly, walkable city. Explore the Philadelphia Museum of Art, check out the iconic Liberty Bell and show your kids the birthplace of the Declaration of Independence and the U.S. Constitution at Independence National Historical Park, or hit up the Philadelphia Zoo—the nation's first! For a more in-depth look at what to see and do around Philly, check out our roundup of 100 things to do with kids or our guide to Philly for first-time visitors.

Interpreters bring 19th century skills and trades alive in the seaside village of Mystic. Photo courtesy of Mystic Seaport
Connecticut
Mystic
2.5 hours from Midtown Manhattan
Mystic is one of my favorite getaways in the region. Attractions like Mystic Aquarium and Mystic Seaport: The Museum of America and the Sea are well-known and worthy of the acclaim, but it's really the charm of Mystic that keeps me coming back. Bank Square Books has a fantastic children's section and Mystic Drawbridge Ice Cream beats any national chain, hands down. Of course, 80s movie fans will love popping into the iconic Mystic Pizza. Mystic offers lots of charming inns and B&Bs for your overnight stay.
Massachusetts
Berkshires
2 hours, 45 minutes from Midtown Manhattan
Even if it's a bit farther from NYC, the picturesque hiking trails, farm fun, and other simple pleasures make the Berkshires more than worth the trip. The collection of towns offer lots of family-friendly fun with cool local shops and big-city-worthy dining options, plus the Norman Rockwell Museum and the Massachusetts Museum of Contemporary Art (Mass MoCA, for short). For a more in-depth look, check out our roundup of the best things to do in the Berkshires. The Cranwell Resort in Lenox offers discounts and deals regularly and features kid-friendly amenities including a pool, junior suites, and more.