Exploring Dia Beacon, the Hudson Valley's Large-Scale Art Destination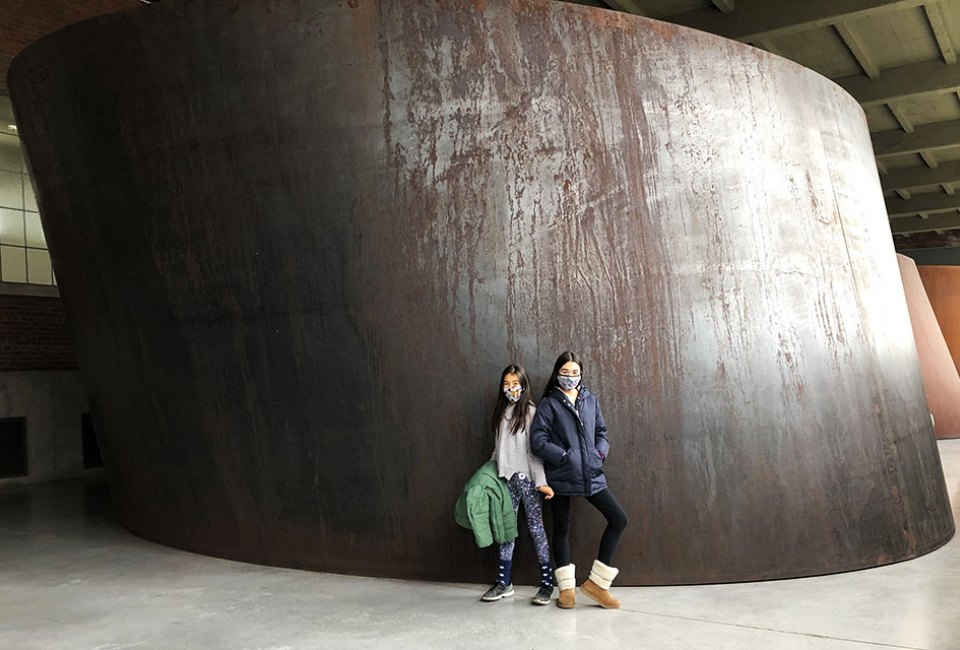 1/6/21
- By
Diana Kim
The Hudson Valley is a great destination for weekends and day trips, offering beautiful nature, scenic hiking trails, outdoor activities, historic sites, and world-class art. When it comes to that last detail, Dia Beacon is our go-to destination.
The larger-than-life museum and exhibition space houses large-scale, post-modern artworks and installations on the banks of the Hudson River in the beautiful, family-friendly town of Beacon.

Dia Beacon is plenty large, though keep kids close. There's no running or touching the artwork.
Dia Beacon is but one destination in the Dia Foundation's portfolio of museums, galleries, and site-specific art installations.
Housed in a former Nabisco box printing factory, the museum is spacious, spanning nearly 240,000-square-feet of gallery space, which makes it easy to social distance from other visitors. There are also 34,000-square-feet of skylights, which allow natural light to infuse the entire museum.
A wide-ranging collection showcases artists from the 1960s to the present, including works from Richard Serra, Andy Warhol, Dan Flavin, Sol LeWitt, Donald Judd, and more. Each gallery is dedicated to one artist's work.
RELATED: Exploring Storm King Art Center: New Windsor's Outdoor Art Gallery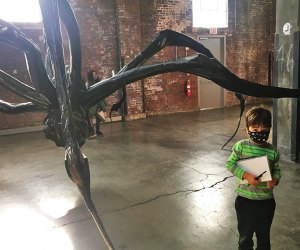 Louise Bourgeois' 'Crouching Spider' sculpture drew my son's eye.
On my most recent visit to the museum, my three kids—ages 4, 10, and 12—enjoyed their time perusing the cutting-edge artwork. While the museum is ideal for older kids, it's still a great destination for families with young ones as long as parents keep a close eye on them. Even though the space is large, there's no running and no touching, and there are several staff members in each gallery to make sure the rules are followed. Still, my youngest kid loved seeing the large, imposing pieces like Louise Bourgeois' Crouching Spider and walking around Richard Serra's metallic Torqued Ellipse. He also enjoyed drawing sketches (with pencils; markers are not allowed) of the installations, which helped him engage with the art.
RELATED: Winter Day Trips: 10 Ideas For Family Fun Near NYC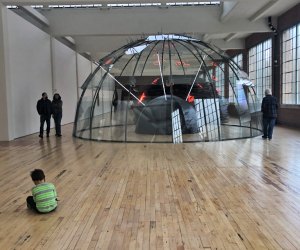 The warehouse-sized, loft-like space offers plenty of room to take a break and engage with the art, so pack a sketchbook and some pencils for your visit.
My older kids are at the perfect age to start understanding the artists' vision and ideas. You can access artist bios and specific information on a piece by scanning the (teen-friendly!) QR codes in each gallery. The staff is also very knowledgeable and eager to share information.
We all enjoyed Dia's newest exhibition by Mario Merz, who used igloos and the Fibonacci sequence as the inspiration for several of his pieces. His work was a great starting point to discuss art history, representation, and even math. Another recently opened exhibition by Carl Craig, designated as a "sound installation," is located in the museum's basement and offered a total, immersive experience. Created to mimic the feeling of a nightclub, it was unique, giving us all something to talk about afterward.
RELATED: Outdoor Art Day Trips Near NYC

Each of my kids, ages 4, 10, and 12, found something to appreciate at Dia Beacon.
Know Before You Go
Most of the installations are not roped off, so parents must be watchful. Some pieces utilize sharp materials, like broken glass and scrap metal.
Currently, the museum is open Fridays-Mondays. Advanced, timed-entry reservations are required for admission, and tickets are available a month ahead of time.
General admission is $15; kids under age 12 are FREE.
Once inside, there's no time limit to your visit; plan at least 1 1/2-2 hours to see it all.
Strollers are permitted, but the coat and bag check is currently closed.
All visitors over the age of 2 must wear masks and practice social distancing. All visitors must use hand sanitizer before entry.
No food or drinks are allowed inside, but there is a cafe with sandwiches, snacks, and drinks on the way out.
Bathrooms are located inside as well as near the cafe.
Dia Beacon is 80 minutes from Grand Central on the Metro-North; it's a 10-minute walk from the train station. If you're traveling by car, it's a 1 hour, 30-minute drive from Midtown Manhattan.
Make sure to check out the rest of the family-friendly fun in Beacon, which offers loads of activities and destinations, plus a quaint main street and small-town appeal.
Photos by the author
Places featured in this article:
t Click Here to Sign Up!