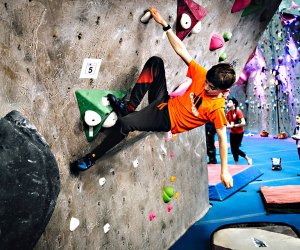 30 Ways To Spend a Rainy Day with Westchester and Hudson Valley Kids
It's raining, it's pouring, the day is looking boring! Not a good day for the park, bike-riding, swimming, or playing outside. What to do with the kids? Fortunately, Westchester and the Hudson Valley are chock full of places to go. The trick is simply to know your options.
The indoor play spaces are good to know about on days like this, but there are many more resources available to parents and caregivers. Below we've rounded up a long list to serve as your new go-to resource for rainy-day (or, really, anytime) fun, from trampoline parks and rock climbing spots to museums and art studios. We suggest bookmarking this one for handy reference at the drop of a…snowflake or raindrop.
Looking for more places to play? Check out our Indoor Play Guide and sign up for our newsletters!
1. First things first: Consult the Mommy Poppins Event Calendar for our favorite activities for every day of the year. This is continually updated with fresh finds.
2. Get your kicks at one of these top indoor play spaces for Westchester kids...
3. ...or these Hudson Valley play spaces. There are many to choose from here!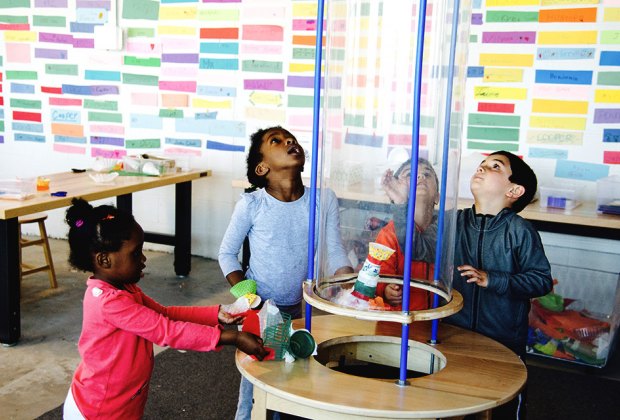 The Westchester Children's Museum has been a popular destination for kids and families since its opening in 2016.
4. Summon your child's inner engineer, artist, or scientist at the Westchester Children's Museum. There are various events that are included in museum admission.
5. Take your pick of thrills and amusements—from pottery-painting to bowling to carnival rides and more—at the Palisades Mall (you didn't think it was just about shopping, did you?).
6. Pop into Anderson's Book Shop during one of the shop's new in-store events like community-game time.
7. Bounce off the walls at one of these indoor trampoline parks.
8. Test your wits at this local escape room.
9. Visit the indoor animals at one of these nature centers.
10. Take a spin on the ice-skating rink–some are year-round!
11. Skip NYC in favor of a Westchester or Hudson Valley museum. You might even get to time your visit for when museum admission is FREE.
12. Choose from bowling, indoor mini-golf, arcade games, laser tag, trampolines, and more at New Roc City's Fun Fuzion...
RELATED: Free Museum Days in Westchester and the Hudson Valley

Experience more than 120,000 square feet of racing at Grand Prix New York / Spins Bowl. Photo by Meagan Newhart
13. …or head to Grand Prix for go-karts, bowling, arcade games, pool, and more.
14. Leverage the local stores that offer FREE or low-cost classes for kids—try art, cooking, STEM, and more.
RELATED: Free Perks That Come with Your Westchester Library Card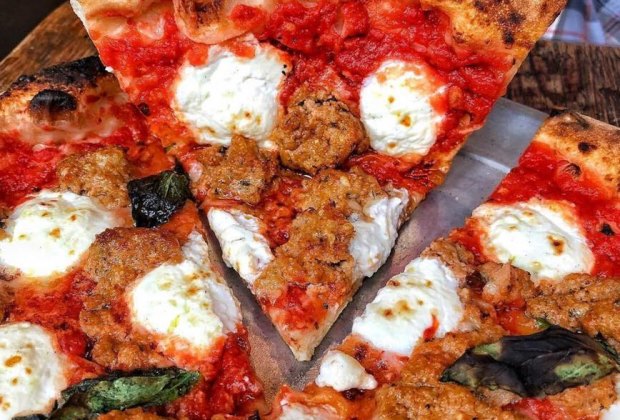 The Parlor focuses on Neapolitan pizza, progressive small plates and craft cocktails for the grown-ups.
15. Go for pizza and a treat (have you tried the Thai rolled ice cream yet?).
16. Journey to the stars at Hudson River Museum's planetarium, tour the historic Glenview mansion, and don't miss the Red Grooms "bookstore." Numerous exhibitions of interest and family activities are offered year-round.
17. View the stained-glass windows created by Henri Matisse and Marc Chagall at the Union Church of Pocantico Hills.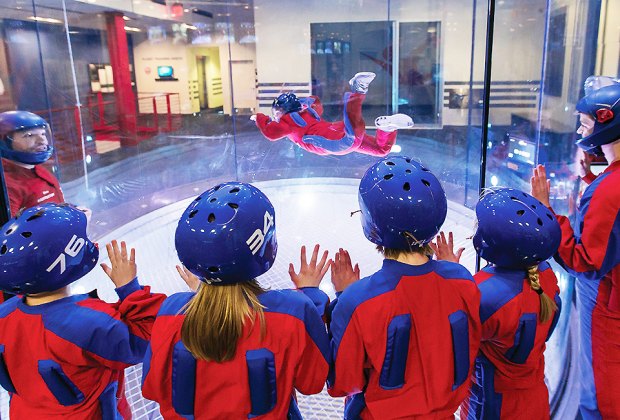 Go skydiving—indoors—at iFLY Westchester!
18. "Drop" in for indoor skydiving at iFly.
19. Explore the vast collection of cool artifacts and interactive exhibits at the FASNY Museum of Firefighting.
20. Browse books, games, and toys—and pull up a cozy seat—at the well-curated Little Joe's Bookstore.
21. While some of these indoor gyms for kids might require a membership or class card, inquire about trial classes or drop-in opportunities. It might even be worth the investment for multi-use given the frequency of rainy and cold days 'round these parts.
22. Consult the schedule of local art schools, which sometimes offer drop-in sessions.
23. Take a breather at the indoor space at Play at the Westchester Mall.
24. Go for fro-yo and choose your own toppings.
25. Hit the toy stores that offer play areas for kids like Learning Express, the Lego store, or A Nu Toy Store, to name a few.
26. Make grocery-shopping a fun activity with the entertainment provided by the mechanical characters at Stew Leonard's.
27. Climb somebody else's walls at these indoor rock-climbing spots.
28. Incorporate an adult breather while your kids are entertained at any of these play cafés.
29. Get to know your library branch's special offerings. Some loan "discovery backpacks," scrapbooking kits, baking pans, and musical instruments. Borrow a museum pass for FREE or discounted admission. Or visit any branch and explore their children's and teen rooms, like the Larchmont Library's puppet theater and play space.
30. Can't get out? We've got ideas for stay-at-home rainy days, too!
Unless noted, photos courtesy of the venues