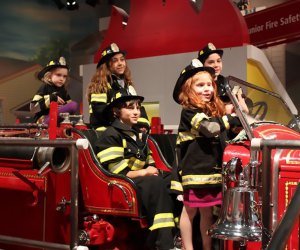 5 Inspiring Firefighter Museums Near New York City
Kids love firefighters. And who can blame them? Brave men and women who drive around in shiny red trucks—and actually save lives—are kind of like real-life superheroes. And a chance to try on equipment, climb aboard fire trucks, and have questions answered by some of these superheroes themselves could be your little firefighter fan's dream come true. Luckily, the New York area is home to several museums dedicated to firefighters that are great for the whole family.
If you're looking for fun indoor activities to help you beat the heat (or the rainy day blues), here are some of the kid-friendly firefighter museums in our area where you and your kids can learn how firefighters do their jobs, plus how to prevent fires in your own home, and how to act in a fire emergency.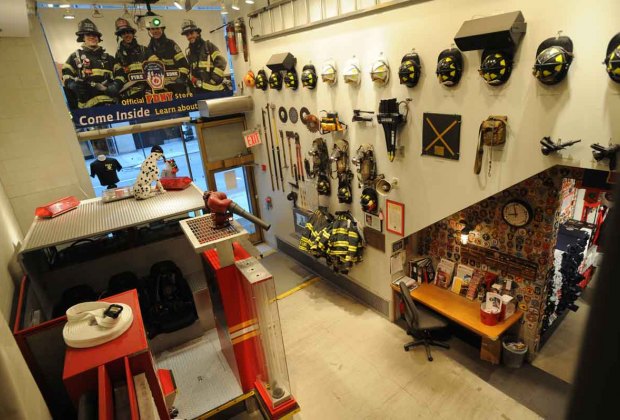 Learn about the gear and what it takes to be a firefighter at the FDNY Fire Zone.
Fire Zone — Midtown West, NY
31 W. 51st Street
Admission: FREE, but there is a $6 charge for children and adults for the fire safety presentation
Kids can get a taste of what it's like to be a real-life firefighter at this Midtown learning center. They can climb aboard a fire truck, try on gear, and meet some of New York's bravest in person. But one of the highlights is the high-tech Fire Simulator, which uses special effects to teach visitors about what to do in case of a fire emergency.
The space is small, so if you're visiting from outside of the area you may want to include some other activities to make your trip worthwhile. Take in an amazing view of the city from above at the Top of the Rock, or check out the art at MoMA which is only two blocks away. And if you're in the mood for some shopping, the LEGO store and American Girl Place are basically next door...
RELATED: Free Times at NYC Museums: When to Visit at No Cost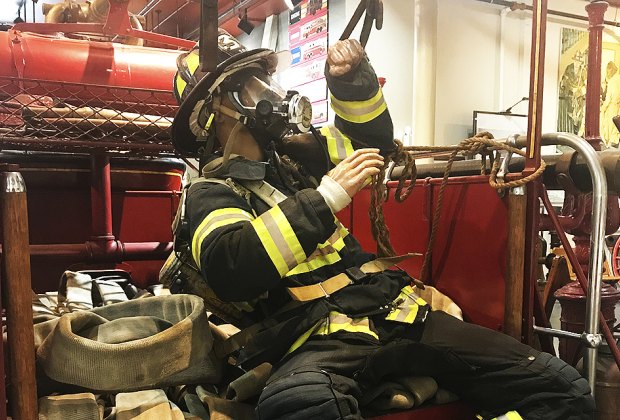 A lifelike firefighter in protective gear sits on the back of a fire engine at the New York City Fire Museum. Photo by the author
New York City Fire Museum — Soho, NY
278 Spring Street
Admission: kids age 2 and up $5; adults $8; children under 2 FREE
Located inside an old FDNY firehouse in Soho, the New York City Fire Museum houses two floors of fire equipment and memorabilia. The permanent collection includes FDNY fire equipment from as far back as the early 1800s, as well as a memorial to honor the firefighters who lost their lives on September 11, 2001. Kids can try on fire equipment and jackets, and even buy their own pint-sized version of a firefighter's uniform to take home.
There is no food inside the museum, but there are lots of kid-friendly food options in the area. The inspiring Children's Museum of the Arts is also a must-visit and located just a few blocks away.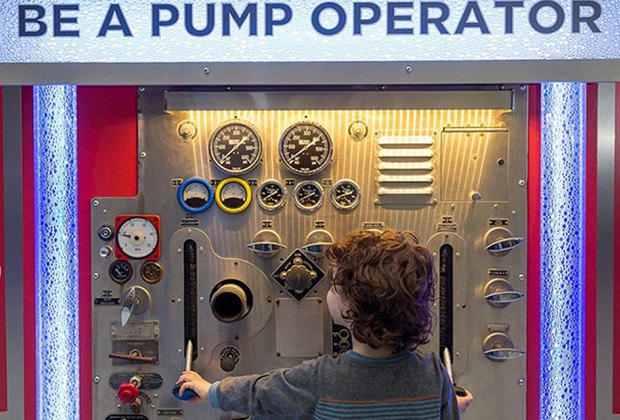 Get hands-on firefighting practice at the FASNY Museum of Firefighting.
FASNY Museum of Firefighting — Hudson, NY
117 Harry Howard Avenue
Admission: kids age 3 and up $5; adults $10; children under 3 FREE
With over 50,000 square feet of fire equipment, gear, and memorabilia from the past to the present, the FASNY Museum of Firefighting is a great place for the entire family to learn how firefighting has evolved over the past 300 years, from the oldest pumper truck in New York State to never-published photos of firehouses and fire scenes.
The museum's collection also features artwork, a veritable armada of antique fire engines, and a variety of firefighting equipment. You can explore a replica of a firehouse from the 1800s and learn how the firehouse was a common place for social gatherings in the community, and kids 3 and up can test their firefighting mettle in an interactive Junior Firefighters' Challenge. There are also two video kiosks in the museum where firefighters answer some of kids' most common questions about firefighting and fire safety.
RELATED: 20 Indoor Places Where NYC Kids Play for Free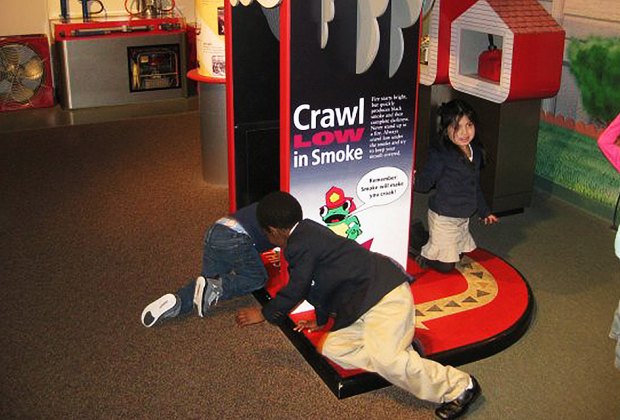 Practice what to do in a fire emergency at the Nassau County Firefighters and Education Center.
Nassau County Firefighters Museum and Education Center — Uniondale, NY
399 Charles Lindbergh Boulevard
Admission: kids $4; adults $5
This Long Island museum offers over 10,000 square feet of interactive space located inside the Cradle of Aviation Museum. The Nassau County Firefighters Museum and Education Center was designed to be a hands-on experience for kids and their families to learn about the importance of fire safety and prevention. Kids can climb aboard vintage fire trucks, learn about fire safety, and practice "putting out" fires.
A cafe and gift shop are available on site, and there is space available to rent for birthday parties. The Firefighter's Museum is the newest addition to the area's Museum Row, and is conveniently located near the Long Island Children's Museum if you want to make a day of it.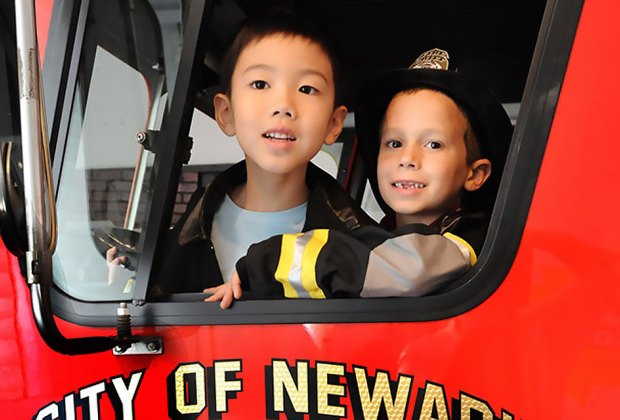 The Newark Fire Museum was established to teach fire safety and prevention to kids and families.
Newark Fire Museum — Newark, NJ
49 Washington Street
Admission: kids over 2 $8; adults $15; kids 2 and under FREE
The Newark Fire Museum, part of the Newark Museum, was established to teach fire safety and prevention to families. Kids can try on fire clothing and equipment and explore the cab of a fire truck. But no visit is complete without checking out the Hazard House, where you can see simulations of dangerous fire situations and learn ways to escape safely.
Explore the rest of the art and exhibits at the Newark Museum with your admission. The museum is also located just a few minutes from the New Jersey Performing Arts Center and the New Jersey Historical Society, both of which offer family-friendly programs and performances—check calendars for details before your visit.
Photos courtesy of the museums and education centers unless otherwise noted