Soho Restaurants for Family Eats While Shopping
11/8/16
- By
Jody Mercier
With the holidays upon us, the NYC shopping season is in full swing. If your travels take you to one of the city's top shopping meccas, Soho, you're bound to need a break and a bite to eat. Like the neighborhood residents, the food options are diverse, offering everything from pizza to rice pudding and crepes to the ever-popular Cronut. It's also home to three of our favorite cups of hot chocolate in Manhattan.
So whether you're searching for a sit-down meal or just a sweet treat, here are the most kid-friendly dining spots in Soho and its surrounding areas. Don't forget, you can find more great NYC eats in our Kid Restaurant Guide.
Balthazar
80 Spring Street, between Broadway and Crosby Street
If you're aching for a Parisian getaway, but can't afford the price tag, a meal at Balthazar is the next best thing. The atmosphere and meticulously prepared bistro fare, along with the availability of baked goods, make this a crowd-pleasing pick. Get a reservation or go off-peak to avoid a line; it definitely gets crowded!
Hampton Chutney Company
143 Grand Street, between Crosby and Lafayette Streets
The specialty at this casual Indian spot is dosa. The large, crispy sourdough crepes are a South Indian staple. They can be topped with everything from the classic Indian potato filling to roasted butternut squash, Portobello mushrooms, arugula, and jack cheese. There's also a menu for kids that includes simpler bites, including dosas filled with cheese and scrambled eggs.
Jack's Wife Freda
224 Lafayette Street, between Spring and Kenmare Streets
If you're in the mood for a homey brunch, head to this cozy spot. The comfort-food-heavy menu will make you feel as if you're dining at your Jewish grandmother's, and indeed, Freda's matzo ball soup—available at brunch—draws rave reviews. While kids may go for the inventive rosewater waffles, parents may prefer to spend their calories on a cantaloupe mimosa.
Lombardi's Pizza
32 Spring Street, at Mott Street
Lombardi's stakes its claim as being the first pizzeria in America, having been founded in 1905. More than 100 years later, the pizzeria is still slinging pies, touting a reputation as one of the best places for a slice. One note, though, old-school pizza comes with old-school payment, so make sure you've got cash on hand when you visit. An ATM is located on site.
Mooncake Foods
28 Watts Street, between Thompson Street and Sixth Avenue
Mooncake Foods bills itself as "fun, casual Asian comfort food." Attention is paid to detail and creating healthy dishes from scratch. You won't find any food additives or fried meals here. The large portions and reasonable prices make this a winner for a family meal out.
RELATED: 15 Over-the-Top, Must-Try Desserts in NYC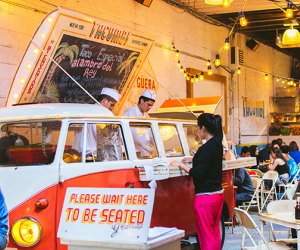 The converted VW bus is a nod to Tacombi's street-vendor roots. Photo by Jessica Fleiss-Hill via Flickr.
Tacombi
267 Elizabeth Street, between Prince and Houston Streets
In the center of the dining room sits a converted VW bus, where staff whips up the trademark tacos—a nod to the restaurant's Mexican street-vendor roots. Tacos are ordered à la carte so mom and dad can mix and match flavors to build a meal, and kids can have a nosh only as large as their appetites. Local, organic ingredients also make it a smart choice.
The Crosby Hotel
79 Crosby Street, between Spring and Prince Streets
Afternoon tea always makes for a fun outing in New York City. The Crosby Street Hotel offers its service all day long at The Crosby Bar, or you can sip alfresco on the terrace when the weather warms up. Choose between sweet and savory items, a selection of teas, or hot chocolate. Cocktails are also available for adults.
The Cupping Room Cafe
359 West Broadway, between Broome and Grand Streets
This cozy spot is nestled in the neighborhood's "first tall building." The pot-belly stove, hardwood floors, tin ceiling, and exposed brick walls lend their charm to make a meal here memorable. The food is kid-friendly, offering favorites such as quesadilla and mac-and-cheese. Eggs or waffles will do the trick for brunch. Sandwiches, salads, and burgers will get you through the afternoon and evening.
La Mela
167 Mulberry Street, between Broome and Grand Streets
Bring the whole family to this casual Italian joint that welcomes guests with checkered table cloths, family-photo decor, and family-style specials for everyone to share. Portions are large on both the shared platter and a la carte menus, so no one will go hungry. Kids will love the basic Italian fare, and parents can relax about their kids being loud, as their voices will be drowned out in the noisy atmosphere.
And for Dessert...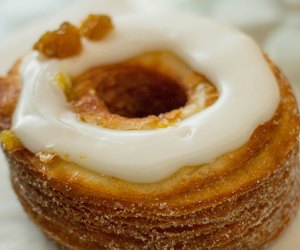 The delectable Cronut from Dominique Ansel Bakery is a must-try. Photo by LWYang via Flickr.
Dominique Ansel Bakery
189 Spring Street, between Sullivan and Thompson Streets
This bakery is home of the Cronut. And if you've ever had the opportunity to taste one, you'll understand why it's still such a hit—so much so that the decadent treat sells out well before noon. Don't despair though. If you show up around 3pm, you might be able to snag Ansel's milk-and-cookie shot. However, you'll have to wait in line for that, too. If you want the bakery experience without the insanity of a long line, pick from any of the other mouth-watering pastries lining the case; just be prepared to pay tourist-level prices.
Georgetown Cupcake
111 Mercer Street, between Spring and Prince Streets
This is the only New York City outpost of the Washington, D.C.-based cupcake shop made famous by the TLC show DC Cupcakes. A long list of classic flavors, combined with a rotating array of daily specials ensures you can visit time and again without ever getting bored.
MarieBelle
484 Broome Street, between Wooster Street and West Broadway
Maribel Lieberman's background in fashion is evident in the delicate designs of her indulgent chocolates. Her Soho shop includes a cozy café, where patrons can enjoy some of these and other sweet treats, coffee or tea, or the Aztec hot chocolate that Oprah once dubbed a favorite.
Rice to Riches
37 Spring Street, between Mulberry and Mott Streets
If your heart desires rice pudding, then rice pudding you shall have. This isn't grandma's rice pudding, though. Inventive flavors such as Fluent in French Toast and Category 5 Caramel make this old standby a must-try.
Vosges Haut-Chocolat
132 Spring Street, between Wooster and Greene Streets
If you've got a chocolate connoisseur on your hands, this is the store for you. From truffles to chocolate bars and baking mixes, this tiny storefront brims with cocoa goodness. Looking to try something a bit unusual? Try the dark chocolate bacon bar. For the kids, something more familiar such as organic peanut butter bonbons will wow them.
See all of our posts about exploring Soho with kids.
This post originally published in March 2015; updated December 2017.
Top image: Jack's wife Freda. Photo by Ming Bridges via Instagram.