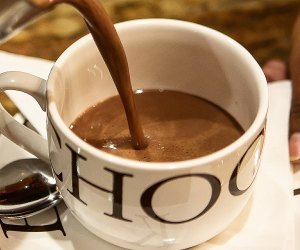 Best Hot Chocolate Spots Around Manhattan
A cup of molten chocolaty goodness is one of the best ways to thaw out and warm up—in fact, it's one of the best things about winter and the holiday season.
We took on the heinous job of running around Manhattan taste-testing hot chocolate (don't say we've never done anything for you) and narrowed it down to nearly two dozen of our favorites. These spots are definitely worth the brief trip out into the cold, so read on for our recommendations for cafes and restaurants that have turned hot cocoa sipping into an experience not to be missed.
By the way, we've also rounded up our favorite Brooklyn hot cocoa cafes and those in Queens. Find more great eats in our NYC Restaurant Guide for Families.
Balthazar Bakery – Soho
80 Spring Street at Crosby Street
Good, basic hot chocolate to-go, and it's not so hot that it can't be downed quickly. The serving sizes are generous so there is plenty to share, but it's a no-frills, whipped-cream-free cup.
L.A. Burdick Handmade Chocolates – Soho
156 Prince Street
Step into the cafe at the back of this chocolate shop for a rich cup of drinking chocolate, available in white, milk, or dark varieties. If mom and dad need a pick-me-up, have it brewed over a shot of espresso.
Lexington Candy Shop – Upper East Side
1226 Lexington Avenue at 83rd Street
Get your hot chocolate with a side of nostalgia. Sit at the counter for a real old-New-York experience your children will love. The cocoa itself is plain old Nestlé, but this stop is really more about the atmosphere.
RELATED: Best High Tea Spots for NYC Kids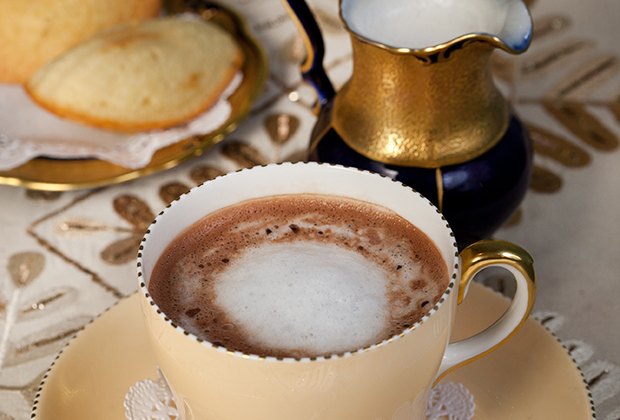 MarieBelle dishes out a rich hot cocoa in exquisite china. Photo courtesy of MarieBelle
MarieBelle – Soho
484 Broome Street between Wooster Street and Broadway
Warm up in the beautiful Cacao Bar and Tea Salon. Single-origin South American cacao beans are brewed with water or milk to form a batter-like texture. The milk chocolate-banana blend will appeal to kids, while adults can choose from a variety of chocolate styles, each one a luxurious and decadent treat.
Max Brenner – Union Square
841 Broadway between 13th and 14th Streets
Indulge in a whimsical chocolate fantasy! Whirring machines spin melted chocolate alongside the dining tables. Tubes carrying chocolate crisscross the ceiling. Everything (legally) imaginable that can be done with chocolate is done here. There are lots of cocoa varieties to choose from, including Mexican and mocha, and kids can even build their own drink.
Otto – Greenwich Village
One Fifth Avenue at West 8th Street
Stop in for a quick gianduja at the bar, a scrumptious hot chocolate made by steeping hazelnut chocolate in hazelnut milk, and then topping it off with cinnamon cream.
Sugar Cafe – Lower East Side
200 Allen Street between Houston and Stanton Streets
A place called Sugar has got to be good! Get your cocoa from the carry-out bakery up front or stay for a while in the small café area. Perfect for kids who want "regular" hot chocolate, plus it arrives with a topping of whipped cream at no extra cost.
Vosges Haut-Chocolat – Soho
132 Spring Street between Greene and Wooster Streets
This Chicago import dishes up "couture cocoa." Kids will love the rich, creamy, dark chocolate spiked with Tahitian vanilla. Adults can go a bit more exotic with a brew of chocolate, chipotle, and ancho chiles combined with cinnamon, cornmeal, and Mexican vanilla, or a fragrant and flowery white chocolate flavored with lavender.
Zucco: Le French Diner – Lower East Side
188 Orchard Street between Houston and Stanton Streets
French through and through, this bistro is modeled after a French truck stop and is a reliable spot for a quick and tasty chocolat chaud.
Multiple Locations
Aroma Espresso Bar
This modern Israeli espresso bar serves delicious hot chocolate, made with steamed milk poured over its own brand of chocolate then topped with a dollop of foam and a dusting of cocoa powder. For extra delight, get the marshmallow-topped version.
RELATED: 15 of NYC's Most Over the Top, Must-Try Desserts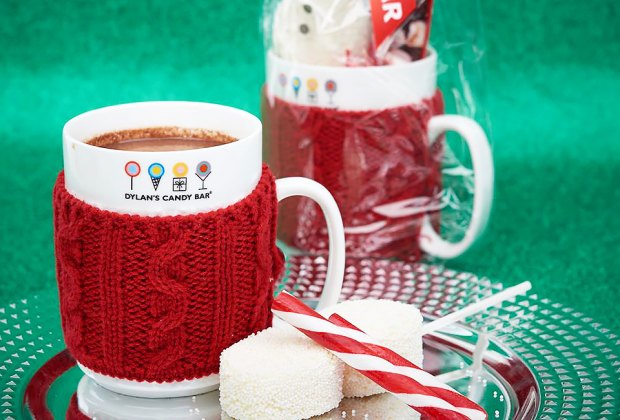 Dylan's Candy Café changes its hot chocolate menu on a seasonal and holiday basis. Photo courtesy of Dylan's Candy Bar
Dylan's Candy Bar
Visit the Candy Café of the Willy Wonka-esque candy emporium for an over-the-top mug of hot chocolate. Choose from toppings such as cookies, birthday cake, or of course, candy.
Grom
Don't wait until summer to visit Grom. The Italian gelato makers are serious about their hot cocoa. Chocolate from single-origin South American beans is steamed into submission on the spot. Both the milk and dark are the perfect consistency and flavor. The bacio, or hazelnut variety, is a Nutella lover's dream come true.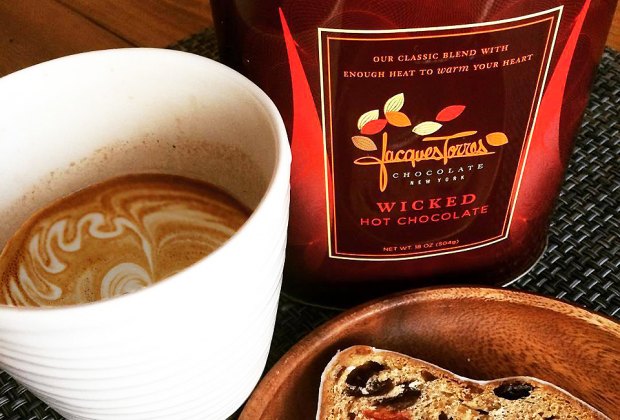 A Jacques Torres Hot Chocolate is quintessential New York. Photo courtesy of Jacques Torres
Jacques Torres
Our very own Mr. Chocolate, the lovable Jacques Torres, serves his famous drinking chocolates at this factory. It's so intensely rich and thick that I usually can't finish my cup, but the kids never seem to have a problem downing theirs! It's particularly fun to visit when the machines are in operation. For full indulgence, add one of his famous chocolate chip cookies to your plate. They're huge, so split one with the kids!
Juicy Lucy Juice Bar
This fun, hip little place that makes some of the best juices around is also a great place for fresh and zingy Mexican hot chocolate. Get it to go as there's absolutely no sitting room at either location.
Lady M Cake Boutique
The elegant and chic Lady M is famous for its meticulously crafted cakes, but it makes great hot chocolate, too. Just a warning: You'll probably find it tough to escape without buying cake!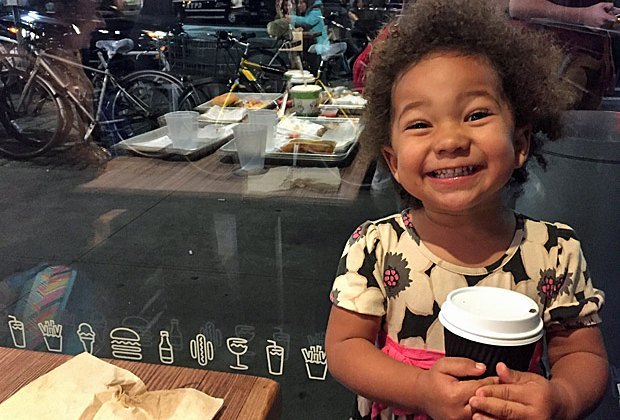 Enjoying the cocoa at Shake Shack. Photo by Jody Mercier.
Shake Shack
Everything here is delicious and the hot cocoa is no exception. A word to the wise, only the original location is selling the hot stuff this season, but all locations are peddling special holiday shakes. This year, gear up for Holiday Shake Tree-O: choose from a trio of festive flavors—chocolate peppermint, the classic Christmas cookie, and white mocha.
La Maison du Chocolat
The granddaddy of chocolate shops has a tasting salon in the back where hot chocolate lovers are in for a real treat. Both the semisweet and very dark blends are amazing! Not a touch of bitterness in the silky, smooth, creamy chocolate. An entirely luxurious experience.
Le Pain Quotidien
Belgian chocolate is my favorite for eating, and it sure makes a mean hot drink. Sit in the front bakery or a back communal table to enjoy the light, frothy, creamy blend made with your choice of organic milk.
Roasting Plant Coffee
Although famous for its coffee, Roasting Plant is also a perfect cocoa stop. Its hot chocolate is creamy, light, and easy to drink. No whipped cream or marshmallows here, but it serves lots of kid-friendly snacks.
Sant Ambroeus
If it's a dairy-free cup of molten chocolate your desire, this is the place for you. Sant Ambroeus serves a dark chocolate concoction that is nothing more than straight, melted chocolaty goodness along with a side of almond, soy, or cow's milk so you can adjust the consistency to your liking...or not!
L.A. Burdick Handmade Chocolates
A version of this article first published in December 2009, but is updated annually.