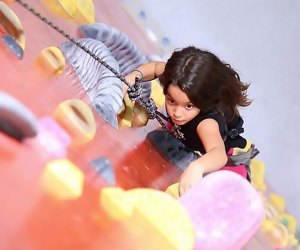 12 Rock Climbing Walls for Kids in New York City
Indoor rock climbing is a great way for kids to get some needed activity in the dead of winter or year-round. Let them bounce off someone else's walls for a change! The sport takes concentration, discipline, and strength, all qualities we're happy to expose them to.
New York City boasts more than half a dozen indoor bouldering and rock-climbing spots, at least one in almost every borough, and more are due to open in 2019. A couple of these are only open during the summer months, but most are open year round. The best part? Kids tend to love the activity and it isn't too pricey. Try out a drop-in program, or sign up for one of the many after-school classes or break camps offered at the rock-climbing facilities profiled below.
Find more active fun in our Kids' Sports Centers Guide.
Aviator Sports and Events Center – Marine Park, Brooklyn
This massive airplane-hanger-turned-sports-center boasts a 35-foot-high wall in the Main Street area of the complex. Children ages 5 and older can climb on a first-come, first-serve basis. Hours vary, so call before heading out. Aviator also offers rock climbing birthday parties.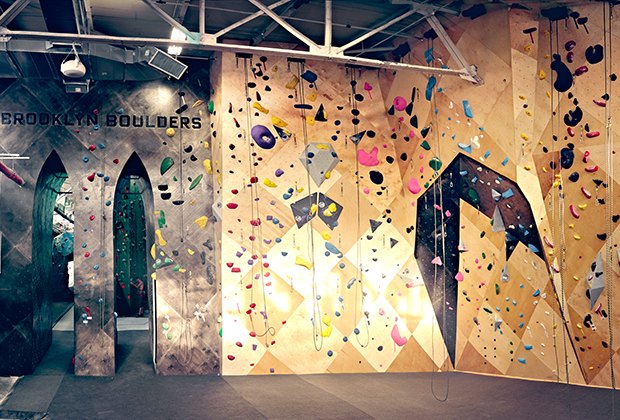 Brooklyn Boulders offers options for all ability levels, including after-school and weekend classes for kids. Photo courtesy the gym
Brooklyn Boulders – Gowanus, Brooklyn, and Long Island City, Queens
A climbing mecca, Brooklyn Boulders has a separate wall for kids and allows children as young as 5 to scale its regular walls. There are after-school and weekend classes so kids can master the basics. There are also teen programs and party-perfect space rentals for all ages, including adults. It also offers summer camp. If your climber has a competitive streak, consider having them try out at either location for the Brooklyn Beasts climbing team.
Central Rock Gym – Midtown West
Rise and shine early to catch "Breakfast Club" at this Midtown climbing spot. Kids ages 4-8 can kick off their weekends by getting some wiggles out. Competitive teams are offered for children ages 8-18. Drop-in climbing is also available and kids age 5 and under get a break on admission prices, too.
The Cliffs – Long Island City, Queens
This LIC facility offers introductory classes for children and adults and multiple teams for kids, whether they want a competitive or recreational experience. Camp opportunities during school breaks enable kids to hone skills, and birthday party packages are available. A Harlem location is now in the works.
Everyday Athlete – Brooklyn Heights
This gym has a 17-foot climbing wall and offers after-school classes for kids age 3 and older, as well as drop-in open climb hours and unlimited climb packages. Special Saturday afternoon sessions allow for families to drop-in and climb together.
RELATED: NYC Bowling Alleys That Welcome Kids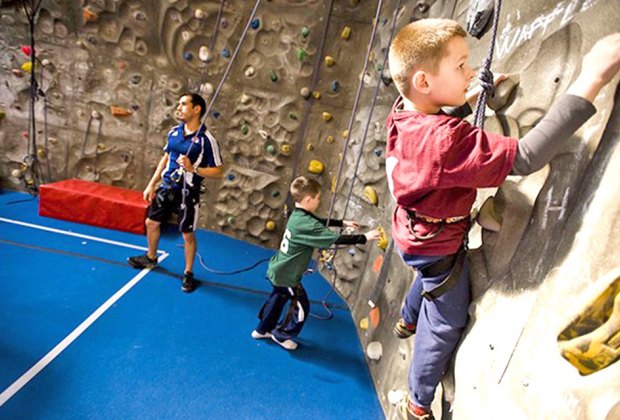 The climbing wall at the Field House at Chelsea Piers is 23 feet and perfect for ages 5-16. Photo courtesy of Chelsea Piers
The Field House at Chelsea Piers – Chelsea
Many of us have escorted little ones to birthday parties here and seen the 23-foot-high climbing wall designed with kids in mind. Children ages 5 to 16 can try a Rock-N-Rolls session. In these 90-minute classes, kids receive 45 minutes of rock climbing instruction and 45 minutes of gymnastics instruction. Reservations are required. If your child already has sufficient skills, drop in for an open, youth-only climbing session. There are great birthday party options that include the rock wall, too.
Manhattan Plaza Health Club – Midtown West
This health club offers 5,000 square feet of climbing space for your little one's enjoyment. Children age 4 and older are welcome to climb. The club suggests mom or dad take an introductory class to learn the essentials of the sport, including belaying (holding the rope to which your child is attached). This allows your child access to the wall whenever the club is open. Beyond that, you can opt for a one- or two-times-per-week class with the Skyline Youth Climbing Program. Geared toward children ages 5-17, the program teaches climbing skills along with patience, body awareness, and cognitive awareness.
MetroRock Brooklyn – Bushwick, Brooklyn
MetroRock Climbing, which has three locations in Massachusetts and Vermont, has now opened a massive spot in Bushwick, Brooklyn. Kids can come in and climb anytime thanks to the auto-belays. After-school programs, birthday parties, and climbing teams are also available.
Rock'Em Extreme – Staten Island
This 35-foot-tall Staten Island space uses rock climbing as a vehicle to promote an anti-bullying platform—by learning to work together to conquer a climbing wall, kids are also learning to solve problems in other parts of their lives. There are multiple climbing options, including traditional bouldering, ropes, rings, and monkey bars. Day passes and memberships are available, and there are birthday party packages.
Steep Rock Bouldering – East Harlem and West Harlem
This new uptown spot is dedicated to the art of bouldering, meaning ropes and harnesses are not used. Climbers age 5 and older are welcome to scale the walls at the east side location, while age 8 and up can attend the West Harlem spot. Both east and west locations offer after-school and weekend classes for kids age 4 and up, and competitive team options. Birthday party packages are available.
RELATED: Best Places for Family Playtime in NYC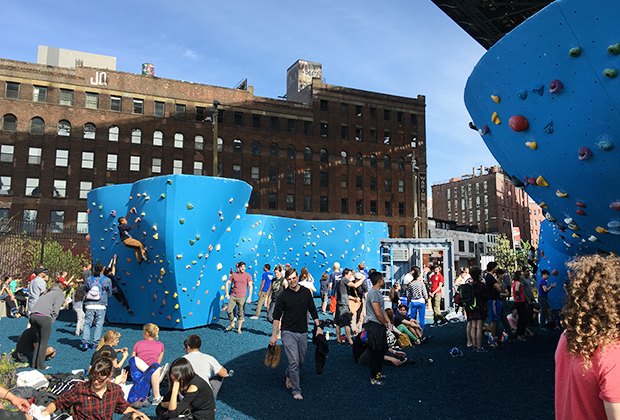 Kids can climb outdoors in warmer months at The Cliffs at DUMBO. Photo by Rose Gordon Sala
Seasonal
The Cliffs at DUMBO – Brooklyn Bridge Park, Brooklyn
This seasonal climbing post was opened by The Cliffs in summer 2016 under the Manhattan Bridge in Brooklyn Bridge Park. Parkgoers can try their bouldering skills on these manmade cliffs, which organizers say make up the largest outdoor bouldering area in North America. Multiple climbing walls are available, including a beginner's area that's better for kids. DUMBO Boulders is open spring through fall, though we are still waiting to hear about its 2019 summer season hours.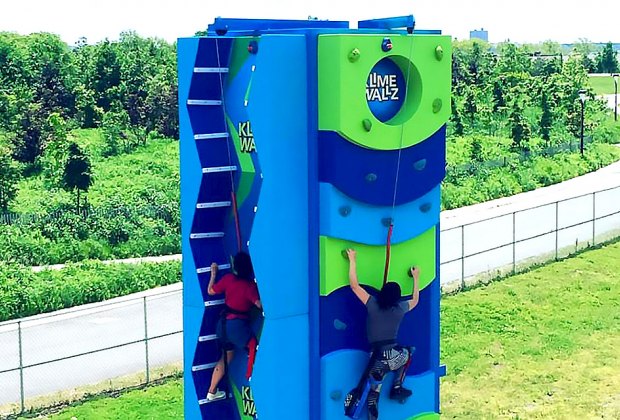 The climbing wall at Governors Island is not only challenging but also has a beautiful view. Photo courtesy of Governors Island
Adventures at GI – Governors Island
The Climbing Challenge at Governors Island debuted in 2017 as part of Adventures at GI, a trio of attractions that also includes a zip line and maze. It's a 25-foot structure with three different paths to choose from, and it's aimed primarily at kids.
For Teens
GP81 – Greenpoint, Brooklyn
This new community-built, training-focused gym is currently limited to ages 13 and up, but it may be a good option for local teens who are serious about climbing.
More Nearby Options
There are also child-sized rock climbing walls at the Liberty Science Center in Jersey City and the New York Hall of Science in Queens that are free with museum admission. Brooklyn play space Fairytale Island has a small wall, as does Bounce 'N Play in Astoria, Queens, and there is a tiny one at Chelsea Playground on Staten Island with pay-to-play sessions. The Rock Club in New Rochelle might be closest for those in the Bronx, and you might also check out HudsonPlay in Jersey City with rock climbing, obstacle courses, and more gym play for kids.
A version of this article was published in February 2018; it is updated annually. Jody Mercier contributed additional reporting.