Go Bouldering With Kids at The Cliffs at Gowanus, NYC's Newest Rock Climbing Gym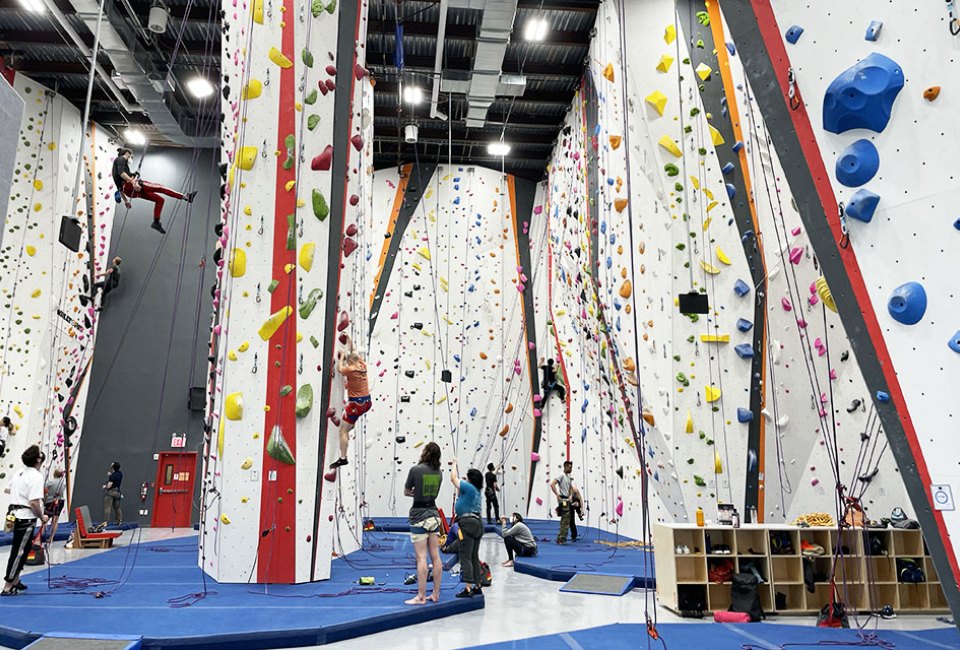 5/26/22
- By
Diana Kim
Families now have another great place in Brooklyn to go bouldering with kids: The Cliffs at Gowanus is open, offering tons of action-packed, family-friendly fun, including rope climbing, yoga classes, a gym, and more.
My 11 year old and I recently went on a tour of The Cliffs Gowanus and tried rope climbing. Read on for all the details of this new gym, where you can go bouldering with kids, and what you need to know about NYC's newest and largest kid-friendly rock climbing gym.
Subscribe to our newsletters to get stories like this delivered directly to your inbox.



Climb up 45-foot-high walls at The Cliffs at Gowanus.
The first thing you'll notice about The Cliffs at Gowanus is its size. The custom-built facility is situated in a massive steel building located on the corner of an industrial block right on the perimeter of Cobble and Boerum Hills in Brooklyn, close to several subways. The space is sprawling and huge. It is the largest rock climbing and bouldering gym in NYC and has the tallest walls, topping out at 45 feet.
Before setting visitors free, guests must check in, watch a short safety video and sign a waiver. Once that's done, you can go bouldering with kids.
RELATED: Supersized Bouldering Gym Opens in Harlem

You'll need your smartphone and plenty of upper body strength to conquer the Board Room at The Cliffs at Gowanus.
Inside you'll find three floors of rock climbing and dedicated spaces for different activities. The first two floors are used for bouldering with more than 150 different problems and all the walls have route markers to indicate difficulty level. Climbers can target specific skills using the "Board Room" that's controlled through an app.
There's also a private rope climbing room on the first floor for young climbers, ages 4-6, and private instruction and birthday parties encourage youngsters to give bouldering a try.
RELATED: Adventure Parks, Zip Lines, and Ropes Courses Near NYC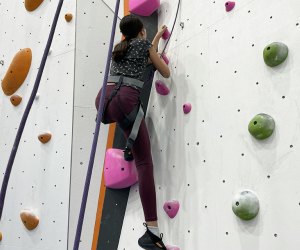 Go rope climbing at The Cliffs at Gowanus.
The third floor offers rope climbing using belays. To conquer the rock climbing walls here, everyone must receive a belay certification. If you don't have a partner, The Cliffs works to match up climbers. The bouldering course here includes more than 150 different climbing routes, for every skill level. Advanced climbers can test their bouldering prowess by racing each other on the dual 10-meter speed wall, as featured in the Olympics.
Not just a climbing gym, The Cliffs also has a full fitness room with a treadwall, yoga classes, lockers, and a sauna. There are several outdoor decks with amazing views where The Cliffs plans to hold outdoor gatherings, classes, and events. A restaurant is set to open in the coming months.
RELATED: Brooklyn Ninja Academy Brings Parkour Gym to Park Slope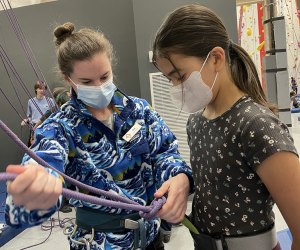 Hands-on instruction is available to climbers from beginners to experts at The Cliffs at Gowanus.
In terms of the kid-friendly appeal, The Cliffs at Gowanus makes it easy to go bouldering with kids. My tween daughter, who was new to climbing, had an instructor teach her the ropes—literally. She loved the whole gym and was enthusiastic about returning to try out a class.
The Cliffs offers an extensive array of classes for kids and adults teaching everything from basic climbing skills to sponsoring a bouldering team for competition. If your kids are eager to go bouldering, summer camps are also offered as well as birthday party packages. The space is a great new addition to the neighborhood and bouldering with kids is a fresh new way to keep kids active.
Know Before You Go Bouldering With Kids at The Cliffs at Gowanus
The minimum age for bouldering with kids is 4. Kids must be at least 6 for the summer camps. Keep in mind that bouldering is harness-free and kids are allowed to climb to the height they are willing to fall from. The floors are lined with gymnastic pads.
If you want to go bouldering with kids you can buy a day pass for $32; serious climbers may opt for monthly memberships.
There are cubes throughout the floors to stash shoes, coats, and other personal items or use one of the lockers.
Climbing shoes are required and can be rented for $5. Harnesses are also available to rent for $6. Or you can purchase climbing equipment at the on-site gear shop.
Masks are optional.
Photos by the author
Places featured in this article:
Click Here to Sign Up!
i