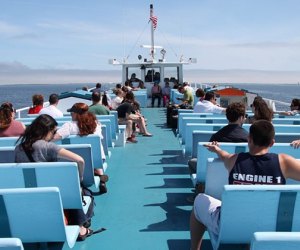 Summer Weekend Getaways for Families Just 3 Hours From NYC
Thinking about a last-minute Memorial Day weekend getaway with the family? Or plotting an escape with the kids when school comes to an end in late June? With a slew of kid-friendly escapes just a few hours from New York City, the hardest part could be deciding whether you want a woodsy outdoor adventure, a quiet beach town, an island escape or a historical expedition. Here are four picks for a weekend of fun, all less than three hours from NYC by car.
You can find more travel inspiration in our Day Trips Guide and on our US Travel Guide.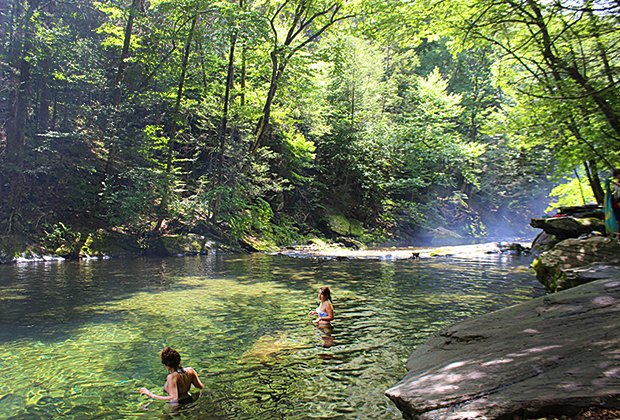 Go for a dip in the off-the-radar Peekamoose Blue Hole, which is actually more green than blue. Photo by Lea Monroe via Flickr.
Phoenicia, New York
Tucked away in the Catskill Mountains, Phoenicia is a beautiful, quaint town. While it's just a 2½-hour drive from New York City, this sleepy spot feels light years removed from the bustle of the Big Apple and modern life. Its Main Street is full of cute shops and restaurants from a bygone era. Amid the eclectic storefronts is the adorable breakfast spot Sweet Sue's, serving delicious, drool-worthy pancakes, including lemon ricotta and chocolate chip for kids. It just underwent a complete overhaul and is expected to reopen before Memorial Day weekend 2016. Next, consider a hike (or drive) to Peekamoose Blue Hole, a hidden swimming hole that's great for kids. It's tough to find, but locals should help direct you. And trust me, it's worth the trip. Consider the historic Phoenicia Diner for lunch, with its retro vibe and fresh seasonal dishes made from local ingredients. At the end of the day, rest your heads at the adorable converted motel The Graham & Co. If you don't want to venture far from your room, float in the pool, play Scrabble around a picnic table and roast marshmallows by the bonfire at night.
RELATED: 25 Spring Day Trip Ideas for NYC Families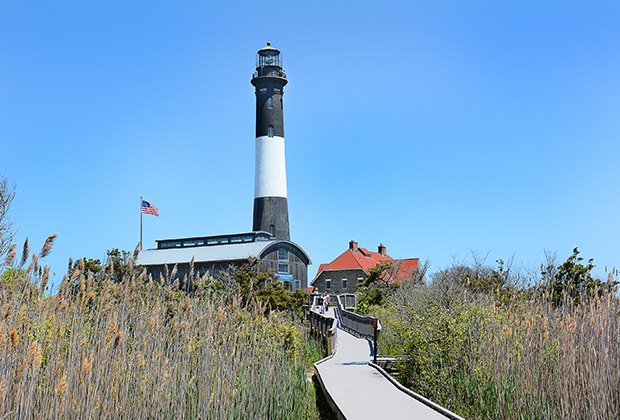 Bike to the Fire Island Lighthouse and marvel at the views from up top. Photo via BigStock.
Fire Island, New York
Take a daycation or spend the whole weekend on this laid-back barrier island. There are almost no cars on Fire Island, so it's super safe for kids. Drive (about two hours) or take the Long Island Rail Road's Montauk branch to ferry ports, and then bike around once you arrive. For accommodations, your best bet is to rent a house; you'll find plenty of options through local agents or online. If you prefer a hotel, the Fire Island Hotel & Resort is a low-key choice, offering a variety of rooms and cottages. For a great family activity, bike or stroll up to the lighthouse to take in the amazing views. Use the water taxi for a scenic tour between towns. Fair Harbor is a great area to walk. Pop into Le Dock for Italian seafood, followed by ice cream at Unfriendly's in Pioneer Market. Or head over to Kismet Inn for delicious eats and vintage arcade games. Other great dining options include Surf's Out for seafood and Lil' Surfers for kids. You can grab a family dinner for six to go here.
RELATED: 12 New Theme and Water Park Rides This Summer Near NYC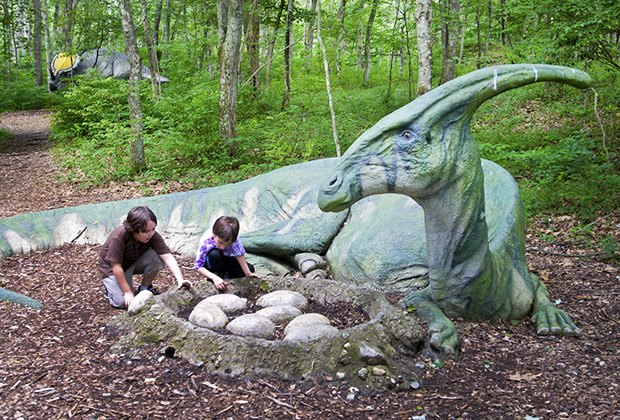 Prehistoric fun abounds at The Dinosaur Place, where a wooded walk leads to some prehistoric finds. Photo by Peter Rivera via Flickr.
Mystic, Connecticut area
Less than three hours from the city by car, Mystic, Connecticut, is perfect for a day trip or weekend getaway. Nestled on the edge of the Mystic River, this seaport town is chock full of family fun. The top attractions are the Mystic Aquarium and Mystic Seaport: The Museum of America and the Sea. Kids will also love The Dinosaur Place at Nature's Art Village in Montville, where they can walk the trails and discover more than 40 life-size dino sculptures. Ocean Beach Park, located on Long Island Sound in nearby New London, is perfect for an afternoon of swimming. It also has a splash pad for tots, mini golf, amusement rides and yummy food. As you stroll around the shops in Olde Mistick Village, make sure to grab delicious grilled cheese sandwiches and cupcakes at Bleu Squid Bakery & Cheese Shop. Go Fish is a fun seafood restaurant with terrific sushi and a children's menu complete with chicken tenders and PB&J. For family-friendly accommodations, make a reservation at The Whaler's Inn, a cute historic spot with complimentary breakfast. For a larger but still family-friendly hotel, try the Hyatt Place Mystic, where kids can enjoy the pool between activities. Wherever you stay, be sure to book early as hotels fill up on weekends.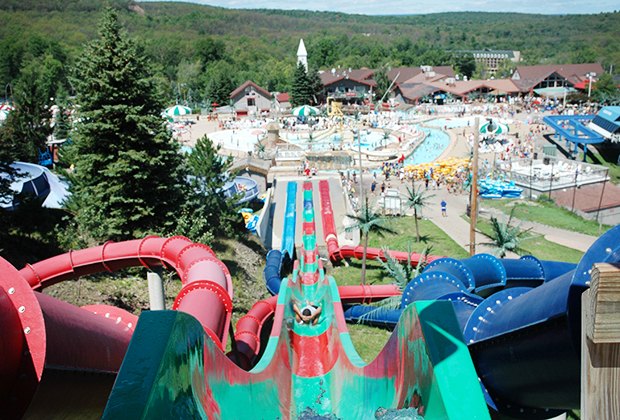 Kids will never get bored at Camelbeach Waterpark. Photo courtesy of the resort.
Poconos, Pennsylvania
Head to this beautiful, woodsy section of Pennsylvania (about two hours from NYC by car), where you'll have mountains, hills, lakes and rivers at your fingertips. Spend a day of fun in the sun at the outdoor Camelbeach Mountain Waterpark at Camelback Resort. You'll want to also check out its newish indoor water park Aquatopia. Other activities include hiking, canoeing or camping in Big Pocono State Park. The quiet Tobyhanna Lake in Tobyhanna State Park has a beach and is great for swimming or fishing. Try an easy waterfall hike, or for a full- or half-day activity tube or paddle down the Delaware River with Kittatinny Canoes. If boating, pack a lunch and stop for a picnic. On Sundays, head over to the Bloomin' Onion in Cresco. The restaurant serves a banana-bread French toast for breakfast that is a must-try (and totally worth the trip).
Top image: Hop on the ferry to Fire Island. Photo by mtx via Flickr.
This article first published in May 2015.