Learn, Play and Explore at the Hudson Highlands Nature Museum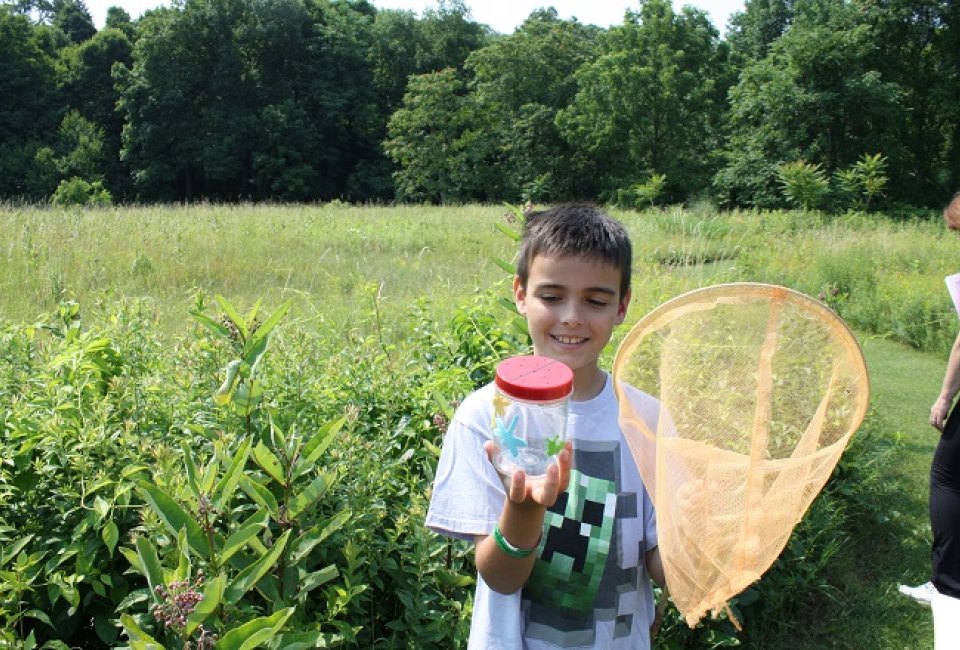 7/12/15
- By
Lisa Johnston
Kids are natural explorers and scientists, investigating and trying to understand the world around them, and nature makes a perfect laboratory. For budding naturalists, we previously told you about some of Westchester County's wonderful nature centers and covered kid-friendly hiking trails in the Hudson Valley area. Now we are heading to Orange County to explore the Hudson Highlands Nature Museum in Cornwall. I recently visited the museum's Outdoor Discovery Center with my two sons (ages 4 and 8). We had a great time and plan on visiting again. So what does the this nature museum offer, and is it worth the drive?
Located about an hour from central Westchester, Hudson Highlands Nature Museum makes for a great weekend day trip. The museum seeks to engage children's sense of wonder and bring out the budding scientist in each child. The museum consists of two locations—the Wildlife Education Center (WEC) and the Outdoor Discovery Center (ODC). My kids and I visited the latter. The ODC is home to the Visitors center and gift shop, hiking trails, the Grasshopper Grove playground and many of the nature programs. During our visit, we participated in an insect program, one of the museum's many educational offerings. After a brief display and discussion of some insects under glass—and a close-up look at a living caterpillar and chrysalis—the kids decorated their plastic bug jars with stickers, collected their nets and checklists, and headed out for a guided bug hunt. The center provides all the materials.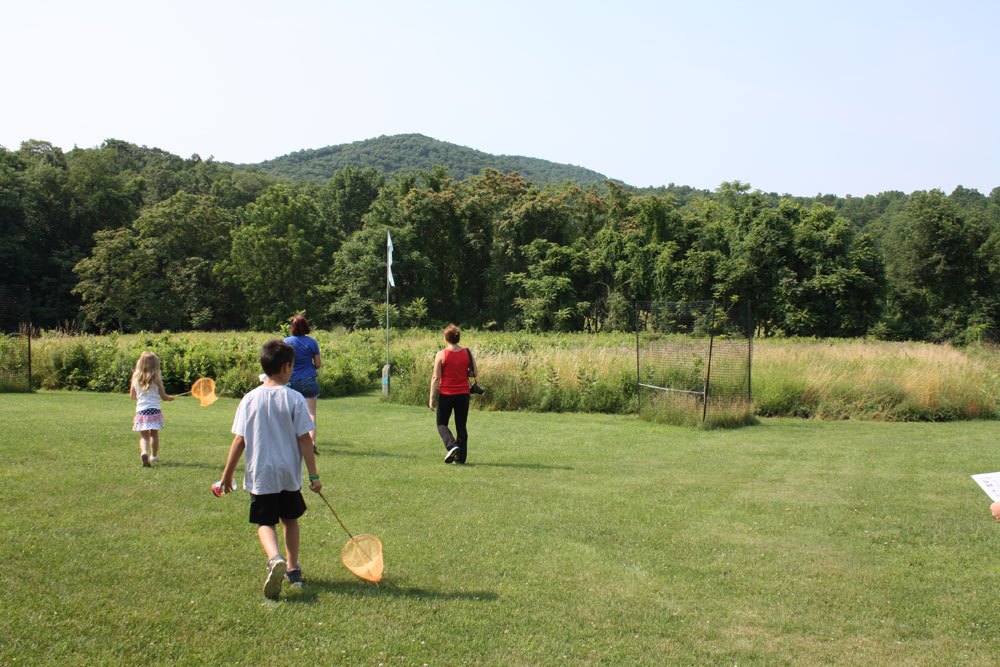 They're off to hunt for bugs.
Our group was small that day, with just a handful of children and their parents. While one educator gave the tour and identified different bugs, a second staffer was on hand to answer questions and help where needed. Both were extremely friendly and patient, and they welcomed any questions the kids had. They happily shared my son's enthusiasm when he captured a Daddy Long Legs (something I'm personally not capable of).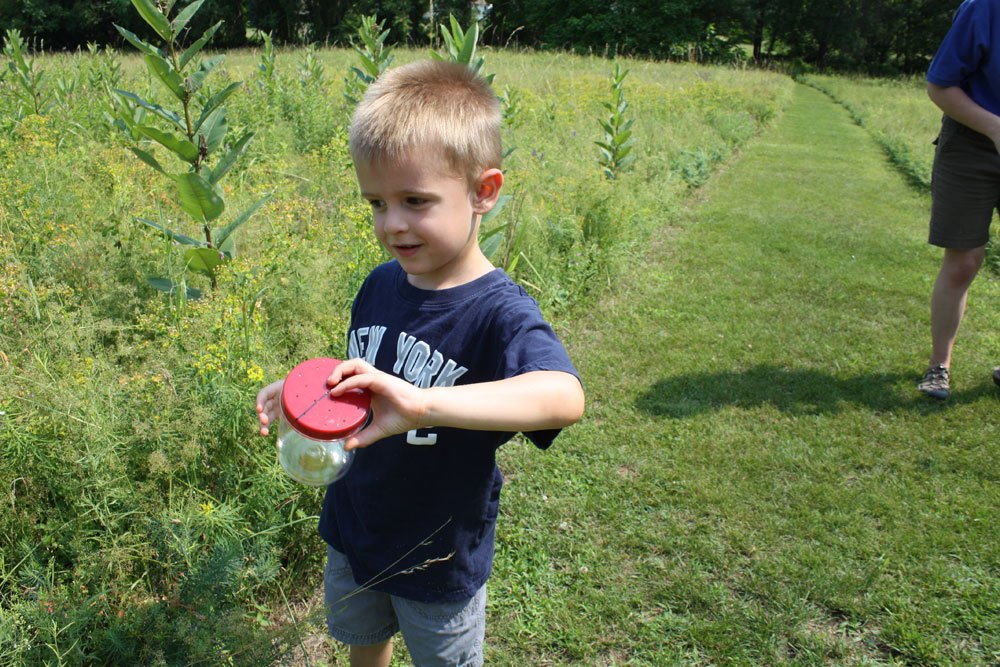 He's thrilled he caught something.
The bug hunt and tour lasted about an hour, which ended up being the perfect amount of time for a summer morning that was rapidly gaining humidity. While my older son could have hunted forever, my younger one was tired of bugs and ready to move on. We headed over to the Grasshopper Grove playground, an ideal place for a little shade and a snack before they continued exploring.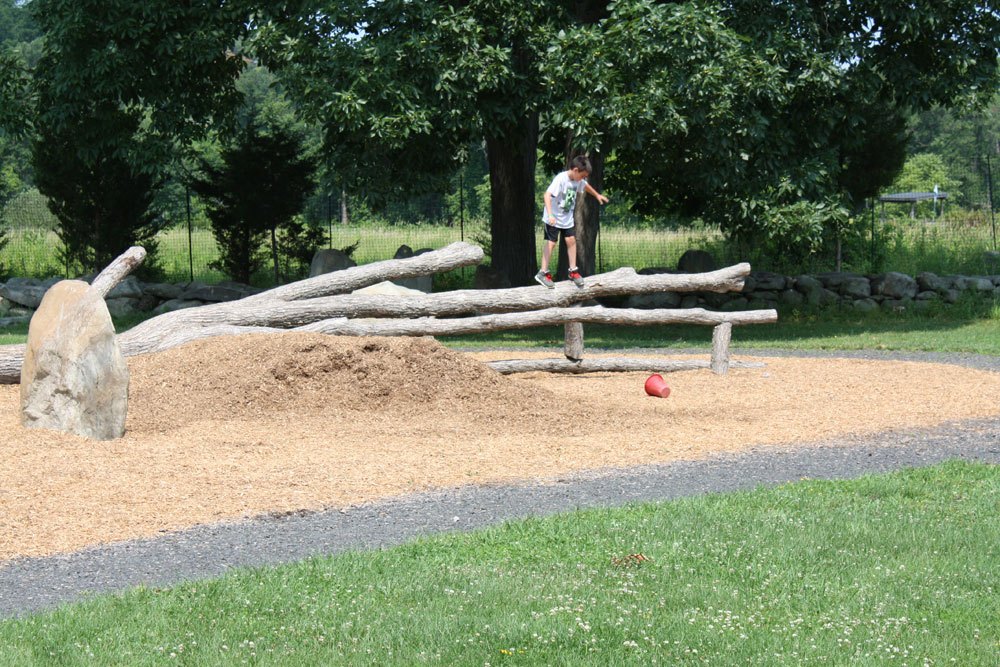 Exploring Grasshopper Grove.
Grasshopper Grove is billed as a "natural playground," open weekends only from mid-April to mid-November. I will admit that I've never seen a playground quite like it before. Rather than a jungle gym, there is a giant felled tree to climb on and tree stumps to jump from. A water trough and wooden footbridge lets kids experiment with building dams, while a canopied sand box has a Rubbermaid container full of trucks and construction tools. A large gazebo provides ample shade and affords a view of most spots on the playground. The site is also completely fenced in so you don't have to worry about the exploration getting out of hand. The museum even keeps a few children's books available in the gazebo should kids require an investigation break. We played for about an hour but could have easily stayed longer if I'd remembered to bring more snacks.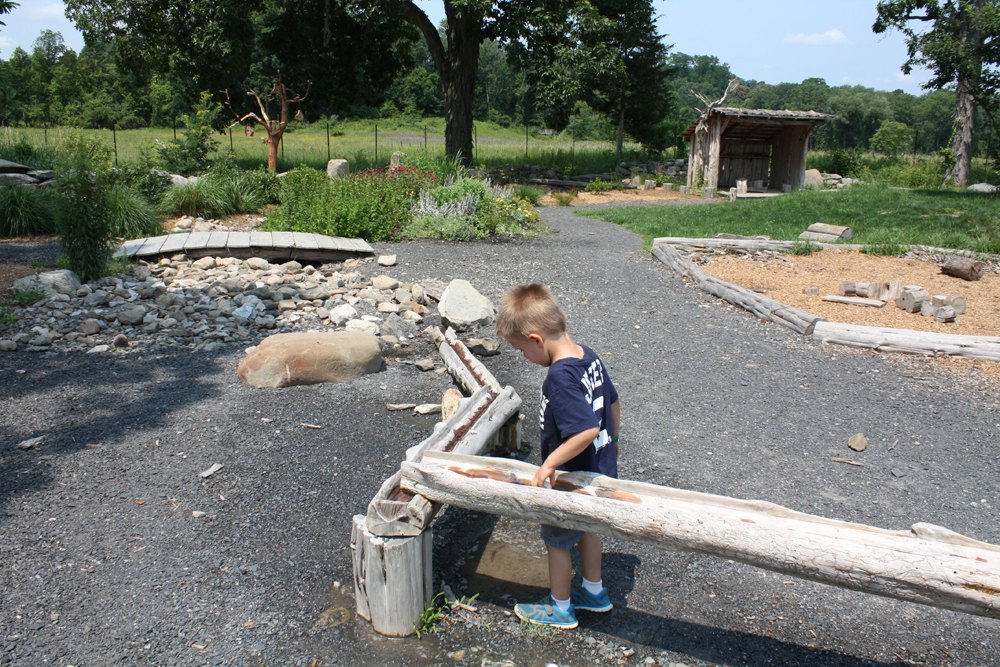 My kids love this nature-themed playground.
As for extras, bathrooms are located in the Visitors center and changing tables are available. Outside the bathrooms, you'll find faucets to refill water bottles. There are no concession stands, though the gift shop offers some bagged snacks (chips, etc.) for purchase. The gift shop also sells everything from nature books to science kits; rubber animals to bouncy balls.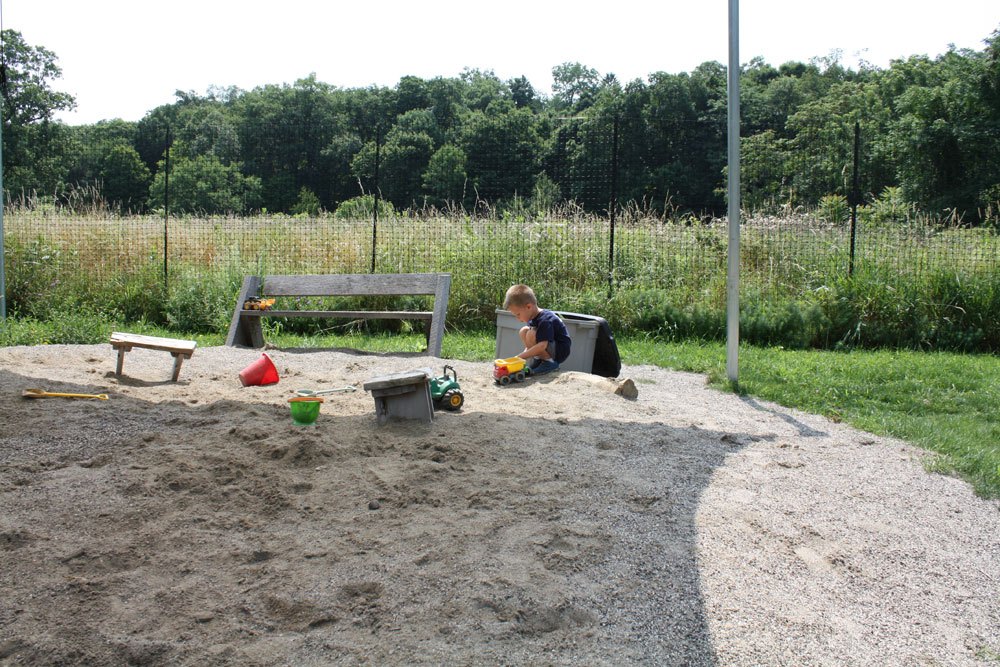 He could have played all day.
Overall, Hudson Highlands Nature Museum is a fun place to spend the day, especially for tots and early elementary school kids. The Outdoor Discovery Center is located at One Muser Drive in Cornwall (for GPS reference, use 174 Angola Road--the Center is across the street). The Center is open to the public on weekends only (mid-April to mid-November) as they host preschool and summer camp programs during the week. Hiking trails are free to explore; however Grasshopper Grove has a $3 cover per person and there is a fee for the various education programs ($7 for adults; $5 for kids). Memberships are also available.
The Wildlife Education Center is located at 25 Boulevard in Cornwall-on-Hudson.This center is open Friday, Saturday and Sunday from noon-4pm and features special exhibits including animal programs, story walks and more. Admission is $3 per person; free for members. Call 845-534-7781 for more information.
Places featured in this article:
---
Hudson Highlands Nature Museum