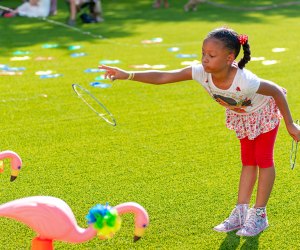 Things to Do in Houston This Weekend With Kids: Mosquito Festival, Marvel Mania
There may be months of hot weather left, but just a few weeks until we head back to school. But don't worry, there's still time for plenty of summer fun. At the top of our list: a spin around the Houstonopoly board, because Saturday is the last day to play this life-size game! Plus, our favorite Avengers are coming to the Children's Museum on Saturday for a little Marvel Mania, so don your favorite superhero costume and go say hi before they have to go back to fighting crime. Pompeii and The Dr. Seuss Experience are also coming to a close, so grab your tickets to those before they're gone!
For everyone looking to take one last summer road trip, we have an awesome guide for all your must-have road trip essentials and some pretty cool car games to make the time in the backseat fly. Boring road trips, be gone!
Don't forget to check out our list of 50 FREE things to do with kids this summer and utilize our event calendar for both weekday and weekend fun. We also have a pretty nifty indoor fun guide for those days when it's just too hot to be outdoors and some awesome virtual camps and classes.
To have articles like this and more delivered straight to your inbox, make sure to sign up for our free weekly newsletter.
Let's check out what all Houston has to offer this weekend.