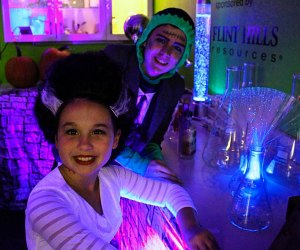 Best Things to Do in Houston This Weekend With Kids: ArBOOretum, Trick or Treat Trail, Monster Jam
Looking for the best things to do in Houston this weekend? Here are some family-friendly events and activities to add to your list for this weekend.
Who's ready to pack their weekend calendars? Big Bounce America is in Houston for the weekend and if you haven't been to a Big Bounce event yet, you definitely should plan on going! Dance parties, family games, and the biggest bounce house in America? Yes, please! The Immersive Van Gogh Experience has also found a home in Houston and is an incredible way to experience Van Gogh's amazing artwork in an interactive way. If you're feeling like a trip down to the Island, Island Oktoberfest is happening all weekend long. Plus, you can hit up Boo on the Boardwalk in Kemah on your way to or from Galveston! For Halloween fun at home, Sunday is your one shot to watch It's the Great Pumpkin, Charlie Brown for free on PBS. Mark your calendars, because no October is complete without a viewing of this iconic movie.
To help with where to do your trick-or-treating this year, we rounded up the best places to trick or treat in Houston so you can have a safe, fun Halloween. And since October is notoriously busy, we found 10 easy, delicious crockpot recipes so you can set it and forget it. Dinner woes, be gone! For even more seasonal fun, be sure to bookmark our Fall Fun and Harvest Guide for a slew of fall activities and events, as well as our Fall Bucket List.
More Things To Do in Houston this Week with Kids: