100 Things To Do in San Francisco With Kids Before They Grow Up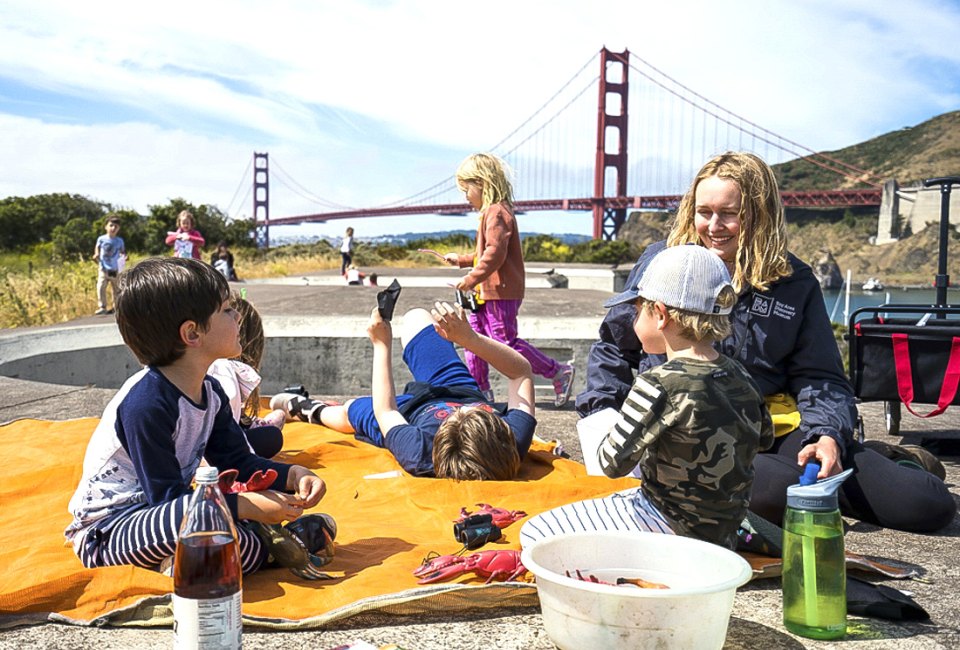 10/23/22
- By
Sandra Lee
Kids born here will leave their hearts in San Francisco, the Golden Gate city, the City by the Bay, no matter where the world takes them. But they'll take with them a million memories of growing up here: of the crooked streets, cable cars, bridges, boats, and tons more unique and amazing things to do in San Francisco with kids. Sure, you've visited Alcatraz and seen a Giants game. But whether you've lived here all your life, just moved to town, or are visiting for the weekend, there are sure to be a few of these 100 not-to-be-missed, family-fun outings that you have yet to do.
Check out our list of 100 things to do in San Francisco with Kids, and be sure to let us know if we've missed anything! If you're looking for more things to do in the Bay Area this weekend, or anytime, be sure to check out our picks for this weekend, and our loaded San Francisco calendar of events.
Subscribe to our newsletters to get stories like this delivered directly to your inbox.
1. Take an Alcatraz night tour
Alcatraz is one of the most popular attractions for both locals and tourists, and while daytime tours are great, a night tour is something truly special.

From the Redwood Forest to, well, more Redwood Forest? Photo courtesy of the Roaring Camp Railroad
2. See the Redwoods by train at Roaring Camp
Hop on Thomas the Train during Halloween, have spaghetti and movie night, or visit during one of the many other special events throughout the year at Roaring Camp. Choose between a beach or a Redwood forest train ride with breathtaking views.
3. Spend the day on the farm
Guided tours at farms like Ardenwood or Hidden Villa are a great way to get up close and personal with the animals and the workings of a farm.
4. Visit the Monterey Bay Aquarium
The aquarium in Monterey is world famous, with sharks, jellyfish, octopuses, and rays in abundance, and new exhibits constantly opening.
5. Experience Boo at the Zoo at the Oakland Zoo or San Francisco Zoo
The zoo is a fun outing at any time of the year, but for Halloween, the Oakland Zoo and the San Francisco Zoo go all out.
RELATED: Little League Baseball Drills You Can Do at Home

Root, root, root for one of our home teams! Photo courtesy of the Oakland Athletics Facebook page
6. See an A's or Giants game
Cheer on the Oakland A's or the San Francisco Giants, cuz it's root, root, root for the home team(s).
7. Visit the tidepools at low tide
Of course the City by the Bay is full of tidepools! The Fitzgerald Marine Reserve is beautiful, with easy parking and a guide to the tidepools.
8. See a play at the Bay Area Children's Theatre
Every single show at the Bay Area Children's Theatre is super interactive, engaging, and fun for kids.
9. Ride the carousel at Golden Gate Park
A local San Francisco gem, the carousel at Golden Gate Park is a popular to-do for families. Take a walk through the park and go on a ride (or two) on a carousel that has been around since 1914!
RELATED: Top Amusement Parks in the US for a Family Vacation

Say hello to everyone's favorite beagle at Planet Snoopy at Great America. Photo courtesy of the author
10. Planet Snoopy at Great America
Take a trip to Great America and head over to Planet Snoopy, the kid-friendly section of Great America that is full of rides, entertainment, and food just for little ones. Older kids can take advantage of all the roller coasters and rides at the rest of the park for the same price. A Gold Pass will get you free parking and admission for the year (and includes Gilroy Gardens!).
11. Penguins & Pajamas sleepover at Cal Academy
Spend the night in a sleeping bag at the museum at the California Academy of Arts and Sciences. It's a one-of-a-kind experience that includes planetarium and rainforest access, late-night snack, breakfast, and free admission the next day.
12. Go apple picking
There are so many orchards and farms near the Bay Area that make an awesome morning or afternoon day trip. Pick some apples, snack on apple pie, drink homemade cider, and let the kids run around and play while you take in the beautiful nature.
13. Visit the Jelly Belly Factory
Did you know that Very Cherry and Butter Popcorn are the two most popular flavors of jelly beans? Take a tour of the working Jelly Belly Factory, ride the Jelly Bean Express train, and bring home some Jelly Belly Flops.
14. See sea lions at Pier 39
Sea lions can be found sunning themselves at the end of Pier 39. Then visit the two-story carousel and all the restaurants and shops.
RELATED: Road Trip on the PCH: Where To Stop and What To Do with Kids from LA to San Francisco

Flower Piano is a delight for the eyes and ears. Photo by Travis Lange, courtesy of the San Francisco Botanical Gardens
15. Flower Piano at the San Francisco Botanical Gardens
Hear live piano music in a garden of beautiful flowers and plants at the San Francisco Botanical Gardens during Flower Piano. The al fresco concert hall invites musicians of all levels to play in front of anyone who would like to take a seat on the grass and listen.
16. Visit Bay Area Discovery Museum
With 7.5 acres of play at the foot of Golden Gate bridge in stunning Sausalito, the Bay Area Discovery Museum is a museum where kids can play until the sun goes down.
17. Go glamping
Glamping, or glam camping, is for those who love nature and also love creature comforts. Check out AutoCamp Russian River or InnTown Campgrounds, two local favorites.
18. Play at a Magical Bridge Playground
With several locations throughout the Bay Area, Magical Bridge Playground is a fun, interactive, and beautiful space for kids of all abilities to play.
19. Picnic and Play at the Presidio Tunnel Tops
The recent opening of the decade-long project of the Presidio Tunnel Tops has been worth the wait. Hang out for Sunday Afternoons, indulge in one of the pop-up food trucks on the daily, listen to campfire talks with a park ranger, and let the kids play on the most beautiful Outpost playspace, all with a gorgeous view.
RELATED: Best Cooking Classes in the San Francisco Bay Area for Kids

Best dim sum in the US? We think so! Photo courtesy of Hang Ah Tearoom, Facebook
20. Dim sum and fortune cookies in Chinatown
Head over to Chinatown and surround yourself with Chinese culture and food. Indulge in authentic dim sum at one of the many restaurants in the area, and then walk over to the Golden Gate Fortune Cookie Company to see how the fortune cookie is made.
21. See the marine animals in Marin
The Marine Mammal Center in Sausalito is a hub for marine education, rescue, and rehabilitation.
RELATED: Top-Rated San Francisco Tours for Families

Everyone has to hop on a cable car at least once. Photo courtesy of the San Francisco Metro Transit Authority
22. Hop on a cable car
Hop on a cable car in downtown San Francisco and take a ride the old-fashioned way. Then take the car to the Cable Car Museum and learn all about them!
23. Take a cooking class
We start foodies young, and when they know how to cook, they'll spread this love of food wherever they happen to go. There are so many cooking schools around the Bay Area where little foodies can get bitten by the culinary bug.
24. Weekend trip to Tahoe
Tahoe is beautiful whether you go in the summer or winter, and a destination tourists fly to constantly. Take the drive for a weekend getaway to Lake Tahoe, just be weary of the bears that like to roam around!
25. Have rooftop s'mores in Half Moon Bay
The Ritz Carlton in Half Moon is a beautiful resort with amazing views overlooking the Bay. Purchase a s'mores kit and roast some marshmallows at one of their firepits. The best part? You don't even need to be a guest at the hotel to enjoy it.
26. Go on a safari at Safari West
Meet wildlife animals like zebras, giraffes, and antelope on the beautiful Sonoma coast at Safari West. Go for the day, or stay the night at one of the luxurious tents.
27. Bill's Backyard at Children's Discovery Museum of San Jose
A recently renovated outdoor play area that is part of the Children's Discovery Museum, Bill's Backyard gives kids the opportunity to play in nature. Kids can dig, crawl through tunnels, and climb up a tree to get a different perspective.
28. Have High Tea
Pinkies up! The Bay area is full of spots that welcome kids with special menus. We love Lovejoys for its charm and wouldn't miss The Fairmont's tea service on holidays, where kids can meet Santa.
29. See the stars at Chabot
Head over to Chabot Science on a Friday and Saturday night for a chance to look up at the stars and sky with one of the center's historic telescopes, for free.
30. Head to the drive-in
Watch a movie without getting out of your car! West Wind Drive-In shows movies on the big screen while you snack on popcorn and hot dogs from the comfort of your car.
31. Music in the park
During the summer many parks around the Bay Area hold outdoor concerts for the community, and a picnic under the stars is a wonderful summer tradition.
32. Head to Healdsburg
Charming Healdsburg is an easy day trip from San Francisco where families can enjoy farm-to-table restaurants and wineries, rent a paddle boat, and have fun in the Russian River.
33. Day trip to Mendocino
Escape to Mendocino with its breathtaking views of the Pacific Ocean. Ride the Skunk Train through the Redwood groves, see whales migrating from Alaska to Mexico, play on the beach, and go through a drive-through tree.
34. Zipline at Quarry Park
Quarry Park in Rocklin offers exciting zipline adventures for kids.
35. Build at Legoland Discovery Center in San Jose
Check out the newly opened Legoland Discovery Center boasting all things LEGO. Kids can build and test a racecar, hop aboard an imagination train, watch a 4D movie, and even meet a LEGO character.
RELATED: Why Legoland California is SoCal's Best Theme Park

Better than Disneyland? More unique, certainly! Photo courtesy of Children's Fairyland
36. Go back in time at Children's Fairyland
Slide down Jack and Jill's hill, go through the Queen of Hearts Maze, and listen to stories unlocked by a magic key at Children's Fairyland.
37. Take a ferry ride
A must-do at least once if you're living in the Bay Area: Take a ferry from one of the many locations like the Ferry Building, Oakland, or Alameda, and explore the city before heading back.
38. Check out the Sutro Baths in San Francisco
A landmark of San Francisco, families can hike up to the Sutro Baths and have fun exploring nature and seeing the caves, ruins, and maybe even see a seal or two. It is windy and rocky, so be prepared!
39. See koi at the Japanese Garden in San Mateo
There is something so tranquil about seeing Koi fish swimming around a peaceful pond. The Japanese Garden in San Mateo has a granite pagoda, tea house, and bamboo grove.
40. Order the lobster rolls at Sam's Chowder House in Half Moon Bay
While you can order fish and chips and calamari at Sam's Chowder House, a legendary and very popular no-frills restaurant, its lobster rolls are the best in the Bay Area. Take that, Maine!
41. Ride a roller coaster and play games at Santa Cruz Beach Boardwalk
Santa Cruz has tons of things to do with kids, but the beach boardwalk is by far the most popular. Ride a roller coaster, play games at the arcade, make sandcastles on the beach, and get some ice cream from Marianne's.
42. Roller Skate at the Church of 8-Wheels
Skate to fun music in an old church at the Church of 8-Wheels. All ages sessions take place a couple of times a day on weekends.
43. Go wine tasting in Napa Valley
Take a day trip to Napa Valley with the kids, and have them play while you sip on a glass of Chardonnay or Cabernet. Many of the wineries are kid-friendly, with open areas to run around and animals to pet.
RELATED: Santa Ynez Valley: a California Paradise of Kid-friendly Wineries

Golfland is a favorite birthday party spot. Photo courtesy of Golfland
44. Mini golf at Golfland in Milpitas
See if you can get a hole-in-one at one of the many mini golf courses at Golfland including a castle, clock tower, and Old West town.
45. See the Flowers at Filoli
Flowers are almost always in full bloom at Filoli, and this mansion in Woodside also hosts a ton of events throughout the year.
46. Order a banana split at Fentons Creamery
Fentons Creamery in Oakland is known for its ice cream, but more for its over-the-top banana split piled high with ice cream, hot fudge, strawberry preserves, whipped cream, and a cherry on top.
47. Go to Treasure Island
Treasure Island draws a crowd every year for its festivals celebrating local food, art, and culture. It's also home to Mersea, a fantastic seafood restaurant that is inside an old shipping container.
RELATED: Sacramento with Kids: 50 Surprising and Fun Things To Do in Sacramento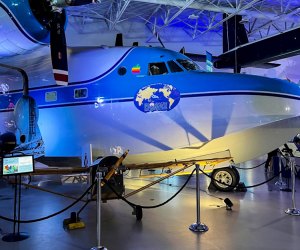 Hiller Aviation Museum puts kids in the cockpit! Photo courtesy of the author
48. Sit in a cockpit at the Hiller Aviation Museum
Hiller Aviation Museum in San Carlos is an awesome spot where kids can learn about air travel. Life-size jets, airplanes, and helicopters are on display, and kids can play on a flight simulator, and go inside the cockpit!
49. Bike the Golden Gate Bridge
Rent a bike and take the scenic 2.1-mile ride on two wheels all the way to Sausalito. Once you're in Sausalito, check out the Bay Area Discovery Museum.
50. Get an over-the-top sundae at Ghirardelli Square
Ghirardelli is known for its chocolate, and the best way to experience it is on the classic sundae, topped with hot fudge, whipped cream, almonds, and a cherry. Then stroll the square and take in the beautiful views.
51. Go on a hike in Muir Woods
Get lost in the redwoods on a family hike in the gorgeous Muir Woods. Kids ages 5-12 can even become Muir Woods Jr. Rangers.
RELATED: 30 Fun Things To Do in Santa Cruz with Kids

Lombard Street is one of the most famous streets in the country. Photo by Christopher Michel (CC BY-SA 4.0)
52. Zig-zag through Lombard Street
The crooked street is all the rage for visitors and tourists to the Bay Area. If you've never driven down Lombard Street, it's worth doing it at least once—and don't forget to bring your camera!
53. Try garlic ice cream at the Gilroy Garlic Festival
Gilroy is known for its garlic, which is why the city hosts the Gilroy Garlic Festival every year. The garlic ice cream is surprisingly good, tasting like a scoop of vanilla ice cream with just a hint of garlic.
54. Jam at Stern Grove Festival
The Stern Grove Festival is an admission-free festival held annually in San Francisco and has hosted performers like LeAnn Rimes and Ani DiFranco. There is even a kids' zone where little ones can engage in crafts, face painting, games, and a puppet show.
55. Climb aboard the USS Hornet
Kids love being aboard the landmark ship, located in Alameda at the USS Hornet Museum. Tours, exhibits, and events are offered year-round.
56. Take a free walking tour with San Francisco City Guides
Get a crash course in the history of the Bay Area by going on a walking tour with San Francisco City Guides of the many neighborhoods like Chinatown, Castro, and many others. These tours are completely free and good for all ages.
57. Family Music Series with San Francisco Symphony
The Music for Families Series at the San Francisco Symphony is a great opportunity for kids 5-12 to get to know the symphony and see those instruments being performed in real-time.
RELATED: Family-Friendly Farm Stays: Meet the Animals and Work the Farm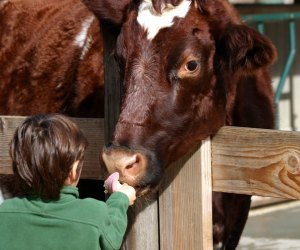 T
Talk with the animals at Tilden Farm. Photo courtesy of @anaturemom
58. Visit Tilden Little Farm in Berkeley
A free and open working farm in the East Bay, Tilden Little Farm is great for toddlers who want to get up close to goats, chickens, pigs, and bunnies. After seeing the animals, check out the rest of the nature center and activities including the merry-go-round and playground.
59. Play and build at Berkeley's Adventure Playground
Adventure Playground is a unique and free playground in Berkeley where kids can build and create structures to contribute to the space. Paint, hammers, and recycled materials are all available for use.
60. Have a beach day at one of the little-known beaches in the Bay Area
No crowds allowed! We love Shadow Cliffs for swimming and Parkside Aquatic Beach for a bonus playground.
61. Collect sea glass at Glass Beach
Named one the most unique places in the world, Glass Beach in Fort Braggs has sea glass instead of sand, making it an amazing spot to look for beach treasure. Davenport Beach near Santa Cruz also has unique pieces that wash up on the shore daily.
62. Catch a sing-along show at Castro Theatre
There is nothing like going to see a show on the big screen and singing along, loud and strong. Castro Theatre is a historic movie palace and is one of the best places to experience that joy.
63. Go to the farmers market at the Ferry Building
The Ferry Building is a hub that connects all the San Francisco neighborhoods, as well as a ton of local restaurants and shops. Visit on a Sunday morning and you'll find one of the best farmers markets in the Bay Area.
64. Take advantage of free museum days
A ton of museums offer free entry once or even twice a month. If you have a library card, Discover and Go is a great spot to check when your favorite museum is offering an admission-free day.
65. Visit the Exploratorium
Walk through the fog bridge, create colored shadows, and engage in the many exhibits at the Exploratorium for the whole family. There is also the After Dark program for adults that is filled with programming and learning.
RELATED: 64 Easy Science Experiments for Kids to Do at Home

You can spend all day and not see everything at Golden Gate Park. Photo courtesy of Golden Gate Park
66. Spend the day at Golden Gate Park
The third most visited park in the United States, there is so much to do at Golden Gate Park that you could spend a weekend exploring. Ride the merry-go-round, stroll through the gardens, rent a pedal boat at Stow Lake, and let those little ones get that energy out at the playground.
67. Walk up Coit Tower
A historical landmark built to honor the firemen who died during the five San Francisco fires, Coit Tower is a can't-miss spot.
68. Cheer on the 49ers at Levi Stadium or the Warriors at Chase Center
69. Clean up the Bay
A noble activity for any Bay Area resident, cleaning up the Bay with the whole family not only gets you out in nature but teaches the importance of caring for the planet.

See the Blue Angels at Fleet Week. Photo courtesy of Fleet Week
70. See the Blue Angels at Fleet Week
Airplane lovers will get a kick out of seeing the impressive Blue Angels perform tricks in the air at Fleet Week. Take a cruise to see the action on the water, or head over to the many parks and viewing areas to see the show.
71. Shoot a pumpkin out of a cannon
Pumpkin patches offer more than just pumpkin picking. G&S Farms has pumpkin cannons, while Spina Farms has pumpkin blasters for everyone's enjoyment.
72. Explore a cool playground
There is no shortage of playgrounds in the Bay Area. Beresford Park in San Mateo offers towers to climb, Dolores Park in San Francisco has amazing slides, and Coyote Point is castle and dragon-themed.
73. Have an old-fashioned game night at Detour
Detour is a restaurant and bar in San Francisco, but on Saturdays from 2-6 p.m., it's game night for all ages. Play a game of Pac-Man or Skeeball, and show your kids you still got it.
74. See the unique sculptures at Cayuga Park
Cayuga Park is a unique playground and park with interesting sculptures tucked in the Outer Mission.
75. Learn about animals at Lindsay Wildlife Experience
A hospital and rehabilitation home for animals, the Lindsay Wildlife Experience in Walnut Creek is all about educating and teaching the importance of protecting wildlife.

Sleep in a treehouse! Photo courtesy of the San Jose Treehouse
76. Sleep in a treehouse
The treehouse in San Jose sleeps four guests and is a great weekend getaway to be out (and up) in nature. Wake up in the trees and let out your inner Tarzan.
77. Act like a tourist on a bus tour
Explore the city like a tourist for the day and hop on a bus tour! See all the top landmarks of the city, and hop on and off when you want (without searching for a parking spot).
78. Visit a local independent bookstore
There are so many lovely independent bookstores that make San Francisco a great city to live in. Dog Eared Books in the Mission has been around since 1992, and Omnivore Books is focused on foodie books and events.
79. Bike at McLaren Park
Grab the helmets and bikes and head over to McLaren Park in Cow Palace. The Skills Trail is great for beginners learning how to brake and turn, while the Pump Track is designed with dirt mounds and steep turns for intermediate riders.
80. Day trip to Fairfield
Home of the Jelly Belly Factory, Western Railway Museum, Rush Ranch, wineries, and a ton of great restaurants, Fairfield is a weekend trip for the whole family.
81. Eat a fancy, kid-friendly dinner at a Bib Gourmand Spot
Try a Michelin-starred restaurant for families, where foodies can enjoy their food with kids in tow, at Bib Gourmand Spot. Try delicious Mexican food at Nopalito to fresh dumplings at Dumpling Home.
82. Check out a kid-friendly swimming hole
While it may not be top of mind when thinking about what to do with kids in the Bay Area, there are a number of swimming holes that are perfect for an afternoon activity. Big Basin Redwood State Park and Garden of Eden in Felton are our favorites.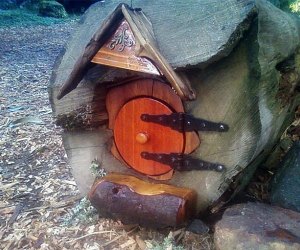 Find a tiny hidden house! Created by artist Tony Powell in Golden Gate Park, photo courtesy of the Faery Door Facebook page
83. Find a secret fairy house
Did you know that there are fairy houses scattered throughout the Bay Area? Bring your little Tinkerbell to scout out the tiny houses in Golden Gate Park, Glen Canyon Park, and Alameda Island.
84. Storytime at the local library
With writers like Ferlinghetti, Kerouac, and London hailing from here, San Francisco is a very literate city, so of course it's full of fabulous libraries, packed with storytimes to get Bay Area kids loving books from a young age. There are storytimes in Spanish and Mandarin, too!
85. Salesforce Park
Salesforce Park is a new rooftop public park with a walking trail, grassy areas, a playground, and dancing fountains.
86. Go down the famous Seward slides in San Francisco
A hidden treat in Noe Valley, the famous Seward slides are not for the faint of heart. Kids and adults can slide down the two steep, concrete slides. Bring cardboard to slide on and don't go when it's wet!
87. Make art at MOCHA
Create art at Open Studio at the Museum Of Children's Art.

Visit Walt's wonderful museum. Photo courtesy of the Walt Disney Family Museum
88. Learn cartooning at the Walt Disney Family Museum
Learn animation, watch a film, and hear from experts about how the world of Disney creates its iconic characters and movies at the Walt Disney Family Museum. Take a tour of the museum and get a crash course in the history of the franchise.
89. Go to a kid-friendly brewery
Wine is not the only adult beverage you can sip while kids play. Several local breweries are perfect for kids, like Half Moon Bay Brewing Company, which is right on the beach and has kid-friendly events throughout the year.
90. Kids Night at the Peanuts Museum
Kids 5-12 can hang out after hours at the Charles Schulz Museum with drawing classes, dinner, and activities.
91. Celebrate Dia de los Muertos
Celebrate the lives of those who have passed on at Oakland's Dia De Los Muertos Festival. Sugar skulls, ofrendas, music, art, and activities are all on display for this special Mexican holiday.
92. See a direct-from-Broadway show
Take the kids to see a live musical in San Francisco or San Jose that's fresh from the Great White Way, as most touring shows swing by the Bay Area.
93. Go on a food tour
Sidewalk Food Tours offers both tourists and locals a fun way to eat through San Francisco and the neighborhoods that are so heavily influenced by food. Try some pupusas in the Mission, or pizza in North Beach.

Photo courtesy of Molinari Delicatessen
94. Grab a sandwich at Molinari Delicatessen
Molinari Delicatessen is an old-school deli with some of the best food in the city, and some of the best sandwiches in the country.
95. STEM at the Tech Interactive
Innovation and curiosity is the goal of the Tech Interactive museum in San Jose where families can explore all things in science, technology, engineering, and math. The Tech Challenge is a very cool program that challenges 4th-12th graders to solve real-world problems.
96. Saturday Science at the Randall Museum
Families can attend a drop-in Saturday class at the Randall Museum to learn about rockets, polymers, or other science topics.
97. Winchester Mystery House
Since 1923, guests have experienced weird phenomena inside the beautiful Winchester Mystery House. Families can take a tour and hear about the history of the house and why it's so mysterious.
98. Go to a splash pad
With temperatures sometimes reaching record highs, splash pads are a great way to cool off. Check out Blue Goose Park in Brentwood, El Cerrito Splash Park, and Seven Seas in Sunnyvale.
99. Hang out in Jack London Square
Situated along the Oakland waterfront, Jack London Square is surrounded by restaurants, shopping, and events for the whole family. Check out the Farmer's and Maker's Market on Sundays.
Go with your mummy to see some mummies. Photo courtesy of the Rosicrucian Egyptian Museum
100. See the Egyptian artifacts at the Rosicrucian Egyptian Museum
Home of the largest collection of Egyptian artifacts, the Rosicrucian Egyptian Museum also has a Junior Archaeologist program where kids learn all about Egyptology and archeology.
Sign up for the Mommy Poppins Newsletter today!