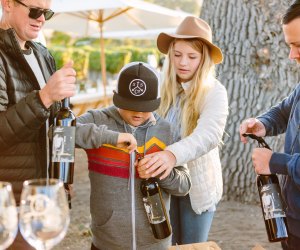 Santa Ynez Valley: a California Paradise of Kid-friendly Wineries
Located near Santa Barbara and just two hours away from LA, Santa Ynez Valley feels a world away — it features a cluster of picturesque towns with distinctive charm and hills that stretch for days. Its unusual mountain range orientation (from east to west, rather than north to south) creates microclimates that allow the growth of more than 50 varieties of grapes, making this region (like kid-friendly Temecula) every wine aficionado's Valhalla.
This picturesque valley isn't just about grown-up stuff like wine, though. Comprising six quaint communities, it boasts several attractions and wineries that welcome your tiny traveling companions and offer all sorts of activities to keep them entertained, so you may taste your wines without any whines.
In order to make the most out of your trip, we recommend checking the weather before going (temperatures are pretty mild but fluctuate from town to town and drop dramatically at night) and dressing accordingly. It's always preferable to stay at a hotel or Airbnb if planning on visiting more than one town while there (hopping from place to place can be pretty tiring, especially for the little ones). Of course, drinking and driving doesn't work, so designate a driver (if going with a large group), alternate the chauffeur duty with your partner, or book UberWine on the Uber app, and a driver will be with you for the day carrying you from winery to winery and waiting in the parking lot. (How cool is that??) Last but not least, never leave the house or the hotel room without some snacks, toys, and books for the kiddos, for when they get hungry, thirsty, or just bored in the car.
Ready? Fasten your seat belts and cleanse your palates. Your adventure begins here:
OstrichLand. Photo courtesy of Solvang Visitors Bureau
1. Solvang Wineries
Known as the Danish Capital of America, Solvang is perhaps Santa Ynez Valley's most popular destination, with its signature windmills, Old World architecture, and delicious bakeries. Strolling through its streets is almost surreal; literally every corner resembles the backdrop of a Hans Christian Andersen fairy tale. Even the medieval-themed playground in Sunny Fields Park is pretty whimsical; it features a castle with slides, climbing ropes, a tire swing, and a huge grassy area to run around. Solvang is also home to OstrichLand (where kids can feed ostriches and even see some baby ostriches), Seein' Spots Farm (offering kiddies rides on miniature donkeys and mules), and Quicksilver Ranch (where you can get up close with miniature horses), all located within a few miles from one another.
Right in downtown Solvang, Carivintas Winery is the perfect place to savor Chardonnay and Riesling, while kids can busy themselves in the play area with toys, games, coloring books, and Netflix Kids. This one-of-a-kind tasting room is also pet friendly and welcomes your furry friends with comfy beds, water, and treats. What's even cooler is that Carivintas showcases canine art for sale on the walls year round and gives a portion of its profits back to the community. It stays open later than most tasting rooms (7pm), too.
A little further away from downtown Solvang is Buttonwood Farm Winery, whose cozy tasting room is surrounded by hills of vineyards and a large orchard of peach, persimmon, pomegranate, almond, and pear trees. The vast property's meandering walkways lead to the vineyard pond and to the vegetable gardens, abundant with produce that the farm sells on site. Parents can bring their picnics and relax in the gardens, while kids can explore the grounds and spot some of the farm's goats. Fido is welcome here, too.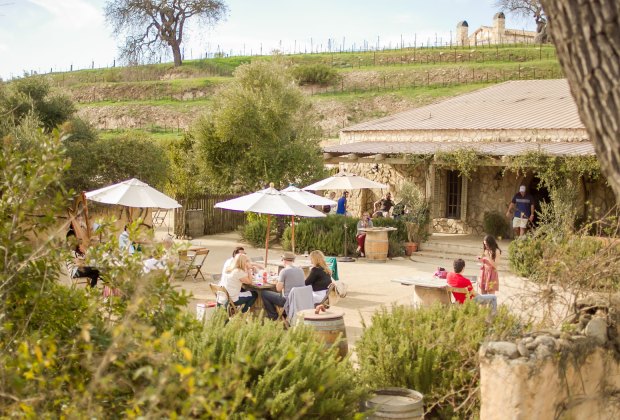 Patio tasting. Photo courtesy of Sunstone Winery
2. Santa Ynez Wineries
Dubbed as a "sophisticated cowboy town," Santa Ynez boasts an eclectic mix of restaurants and shops housed in Old West-style buildings and saloons. Kids will get a kick seeing some random horses hitched to posts and visiting the Santa Ynez Valley Historical Museum and Parks-Janeway Carriage House, which showcases more than 36 carriages, carts, wagons, and stagecoaches.
If Santa Ynez is a vintage destination for all things western, Sunstone Winery is an elegant Provençal French dream. The organic winery sits on expansive grounds dotted with courtyards, stone barrel-aging caves, and several areas to play, including one with cornhole and croquet. The picnic lawn has 10 tables, and you can bring your own food or buy gourmet boxed lunches directly at the winery. The family dog can join you here, as well.

Los Olivos Day in the Country Town Fest. Photo courtesy of Visit Santa Ynez Valley
3. Los Olivos Wineries
Founded in the 1880s, Los Olivos has clusters of sweet Victorian homes and historical buildings now hosting many art galleries and tasting rooms. This charming town is always brimming with activities and family-friendly events, especially on the weekend. Don't forget to fill your picnic basket at Los Olivos Grocery and Panino (both great, affordable sandwich places with large selections for picky eaters) and grab fresh-squeezed lemonade at Los Olivos Lemons (the kids will love placing the order at the giant lemon-shaped cart).
There are several tasting rooms right in the center of Los Olivos, many of them complete with a yard or patio in the back. Zinke Winery has a backyard with big comfy couches, picnic tables, live music (on selected dates), and an area with bocce ball, cornhole, and Tikki toss. But, Coquelicot Wines takes the prize for best outdoor garden space: it has winding pathways, fountains, large picnic tables shaded by tall trees, a bocce ball court, and bean bag toss games.
The ones going the extra mile for the kids are Saarloos & Sons, which welcomes everyone with a cupcake option and photo booth, and Tercero Wines, whose winemaker offers juice, fresh bread he baked himself (if available that day), and sidewalk chalk.
Past the center of Los Olivos, right in the middle of the Foxen Canyon wine trail, is Koehler Winery, a 100-acre estate with sprawling grassy lawns and a small stream that runs throughout the property. Tasting flights can be poured outside the tasting room on the surrounding lawn overlooking the vineyards where your mini-vintners can get a glimpse of Koehler's emus and dogs. Outside food is encouraged at the picnic tables, and on Saturday, the winery serves delicious tacos for purchase.
Further down the Foxen Canyon wine trail, parents can sip their vino with their bambinos at Zaca Mesa Winery's expansive grounds surrounded by 100-year old oak trees and rolling hills. Just outside the tasting room, there are picnic tables where you can enjoy your own food or buy cheeses, salami, and baguettes directly from Zaca (food trucks show up occasionally during the winery's live music events). Wine tastings are poured directly at the table, so you don't have to leave your children unattended while they play with the life-size chess or the corn hole set like pros.
4. Los Alamos Wineries
Another vintage Old West gem, Los Alamos is quickly becoming Los Olivos' hip and cool cousin. Thanks to the recent opening of a chic motel, restaurant, and bar on the town's main drag, Bell Street, flocks of wine enthusiasts have heralded Los Alamos as the best stagecoach (ahem, car) stop in the Santa Ynez Valley. While there, pick some scrumptious baguettes and pastries at Bob's Well Bread.
"The Most Family-friendly Winery" prize here goes to Bedford Winery, since it has a bookshelf and toys for the kids. Parents will appreciate that tasting flights here are about half the price ($10) of other wineries' and there are several family-friendly events happening throughout the year. The cozy outdoor garden has tables and chairs for picnicking. 448 Bell St, Los Alamos, CA 93440, 805.344.2107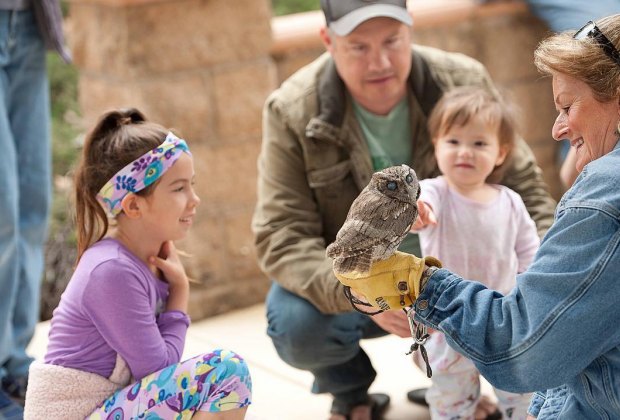 Photo courtesy of Santa Ynez Valley Botanic Garden
5. Buellton Wineries
Hiking trails, parks, and a botanical garden make Buellton a desirable destination for outdoorsy families. Besides nature, other reasons to visit this small town are dining at Pea Soup's Andersen (for which Buellton garnered the nickname of "Home of the Split Pea Soup"), The Hitching Post II (featured and put on the culinary map by the movie Sideways), and shopping at ONEderchild, a cute children's consignment store, in case your children need an extra book or stuffed animal for the weekend.
Dierberg & Star Lane Vineyards' charming barn is larger than life, and the on-site tasting room is worth a visit especially for the stellar Chardonnay and Pinot Noir. The landscaped garden has a lot of space for kids to run around and explore. Parents can sit on the lawn and enjoy a picnic while they try their tasting flights (poured outside), or they can join their brood for a bocce game nearby.
The 4,000-square-foot industrial winery at Standing Sun Wines serves also as a giant tasting room and event space—there's an indoor stage for live music and an on-site 800-square-foot art gallery. What's great about this winery is that kids can see the machinery used to make wine and can learn the process on the spot. Standing Sun provides a huge concrete floor for large-scale sidewalk art and chalk art projects for aspiring little Picassos.
Loring Wine Company deserves an honorable mention for offering cookies and wine pairings—it's a win-win for everyone: the kiddos get the sweet and savory cookies, while you get the wine.
6. Ballard Wineries
The tiniest town in Santa Ynez Valley is Ballard with a population of a little over 400. It's mostly known for its elementary school, "Little Red Schoolhouse," founded in 1882 and located in a beautiful, crimson-colored, Victorian-style building still in operation today and ranking among the top schools in Santa Barbara County. This landmark and The Ballard Inn & Gathering Table are definitely must-see spots.
The closest winery to Ballard is Beckmen Vineyards, a wine company using innovative bio-dynamic farming. Beckmen's property features wide grounds with ponds where kids can spot fish, tadpoles, and frogs. The outdoor area overlooking the vineyards has gazebos where parents can have a picnic or purchase gourmet cheese plates and locally handmade chocolates. On Saturdays, there's a taco cart and often live music.