Temecula's Kid-friendly Wineries May Be the Perfect SoCal Family Getaway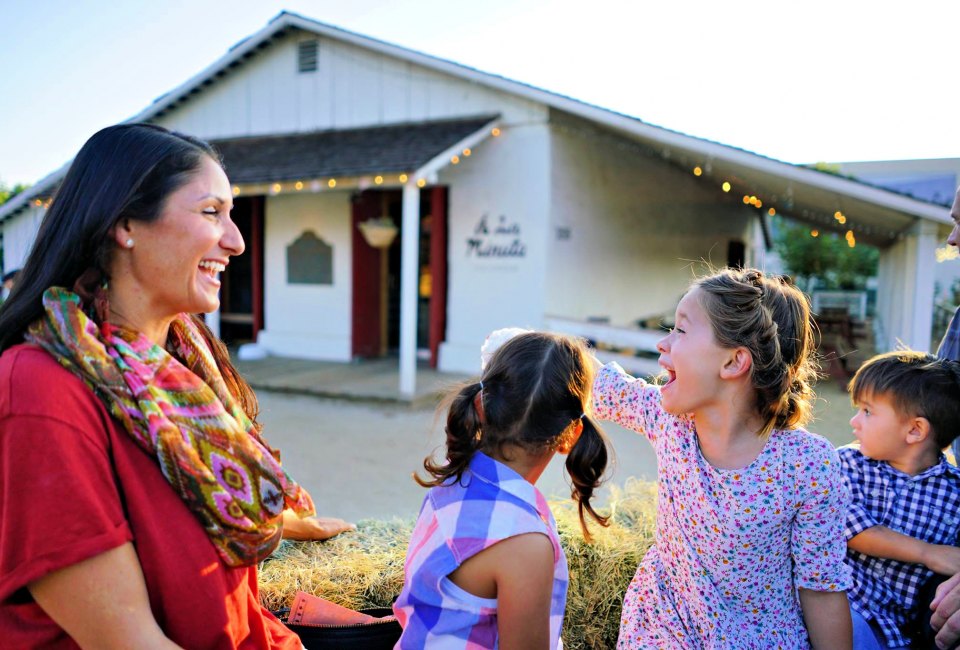 3/5/20
- By
Arianna Menon
Going wine tasting with kids in tow seems counterintuitive. How can you fully savor each red, white, and rosé, if you're pulled in a thousand directions by your toddler? How can you go to a winery if children are not even allowed inside? It turns out that there are some kid-friendly wineries out there (hurray!), where being a wine enthusiast and a parent is totally feasible and enjoyable, too. Some of them are conveniently located just two hours away from LA in sunny Temecula Valley, Southern California's Wine Country.
Looking for more fabulous SoCal wineries? Check out our list of The Best Family-Friendly Vineyards and Wineries Near Los Angeles.
An ideal destination for a day trip or a weekend getaway, the valley boasts more than 40 rustic wineries and farmhouses spread across acres of sweet rolling hills covered with perfectly aligned vineyards. Driving through Temecula is a feast for the eyes—its beautiful panoramic views are reminiscent of some French or Italian countrysides. It's very romantic yet surprisingly family-oriented, too: a short distance away from the valley in Old Town Temecula, there's a quirky children's museum where kids can discover science through interactive play, two indoor playgrounds (Child's Play and Imagine Me Grow), and several parks, including one with a large pond populated with friendly ducks and turtles.
These are definitely some fun side activities to consider when planning a family trip in Temecula, but there are a few other things to keep in mind in order to make the most out of your visit. Make sure to check the weather: summer months tend to be hot there, so wearing sun hats and sunscreen is a must. Staying at a hotel or a rental with AC and/or a pool is definitely the best solution, especially if traveling with young kids, since naps are so necessary and having a place to relax from the sun is priceless.
If visiting during a busy weekend or a holiday, know where to go—there's nothing worse than improvising with large enthusiastic crowds, so stick to our list and do some research of your own. If venturing to wineries where kids are not allowed inside, take turns with your partner to go to the tasting room while the kids play outside.
It's always a good idea to have a full belly before going wine tasting, so pack your picnic basket with cheese, crackers, and snacks for the little ones (Barons Market carries some gourmet selections and has a deli counter serving pasta salads and sandwiches), or head to a family-friendly restaurant (the one at Falkner Winery is a good choice). And locate a bathroom with an outside entrance for emergency trips to the potty.
Ready to enjoy some sweet whites and big reds? Here is our list of places to get the party started with the family.
RELATED: Santa Ynez Valley: A Paradise of Kid-friendly Wineries
Longshadow Ranch Winery
A petting zoo and a playground? It doesn't get any better than this. Longshadow is the ultimate paradise for kids who love animals—there are beautiful horses, goats, and an alpaca on-site—and parents who love fine wines. The small playground area has a slide and a rock-climbing wall and is adjacent to a luscious patio with tables and chairs perfect for snacking and going back and forth from the tasting room. The winery even holds a family-friendly carnival every Saturday night from April to October. Bonfire Saturday Night is an event with live music (6pm-10pm) and activities for all ages including mechanical bull rides and face painting. A ranch-style dinner is served with an RSVP, and craft beer is also available for purchase. Forgot to pack some nibbles for the kids? No worries, there's a snack bar just for them.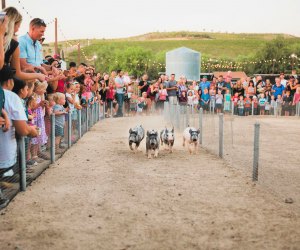 Pig racing at Peltzer Winery. Photo courtesy of the winery
Peltzer Winery
A real, working farm owned by the same family for five generations, Peltzer has a more rustic and relaxed feeling than most wineries. It's a unique space with free-range chickens, a century-old tractor collection, and an event garden that hosts a variety of festivities throughout the year, including family movie nights, fundraisers, and festivals. Pumpkin Farm (a six-week festival showcasing a petting zoo, pony rides, pig races, and mining for gems activities) and Christmas on the Farm (a two-day event celebrating the season with a Polar Express train and an ice skating rink) are the most popular events. The annual Spring Social in April features the Easter Bunny, a mechanical bull, train rides, line dancing (on some days), food trucks, and of course lots of wine. If you happen to be there during that time, don't forget to bring your cowboy boots.
RELATED: LA's Family-friendly Beer Gardens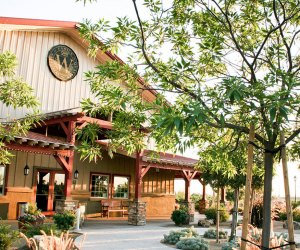 Photo courtesy of Wiens Family Cellars
Wiens Family Cellars
Expansive grounds and a large tasting room make Wiens a more typical Temecula winery. The outdoor amphitheater is not so typical, though, and it's the reason why families keep coming back to Wiens: kids can jump up and down the steps, play, and run around in eyes' view while their parents can sip wine and have a picnic on the outdoor patio. This winery is ideal for families with babies, too, as it's easy to find a quiet spot on the vast grassy area away from the noise and crowds.
Note that as of June 15, 2020 Wiens is not yet welcoming anyone under the age of 21.
Bocce ball at the Wilson Creek Winery. Photo courtesy of the winery
Wilson Creek Winery
Its almond Champagne should already be an enticing reason to draw every adventurous wine connoisseur, but Wilson Creek Winery offers something even better if visiting with kids—a small playground away from the crowds. Complete with two swings and a fort climbing area, this play set is the perfect spot to stop by before or after you pop open that coveted bottle of almond bubbly. Little ones can also run around the winery's acres of gorgeous landscaped grounds dotted with gardens, gazebos, and a covered patio; watch butterflies flying over the pond, or play bocce ball at the court by the restaurant. The on-site Creek Side Grille offers a Sunday Bubble Brunch with a children's menu, but make sure to make a reservation. If going in the summer, don't miss the wine slushie. Cheers!
Originally published February 26, 2019
Sign up for the Mommy Poppins Newsletter today!
i