3 Days in Los Angeles with Kids: Ultimate Itinerary by a Local Mom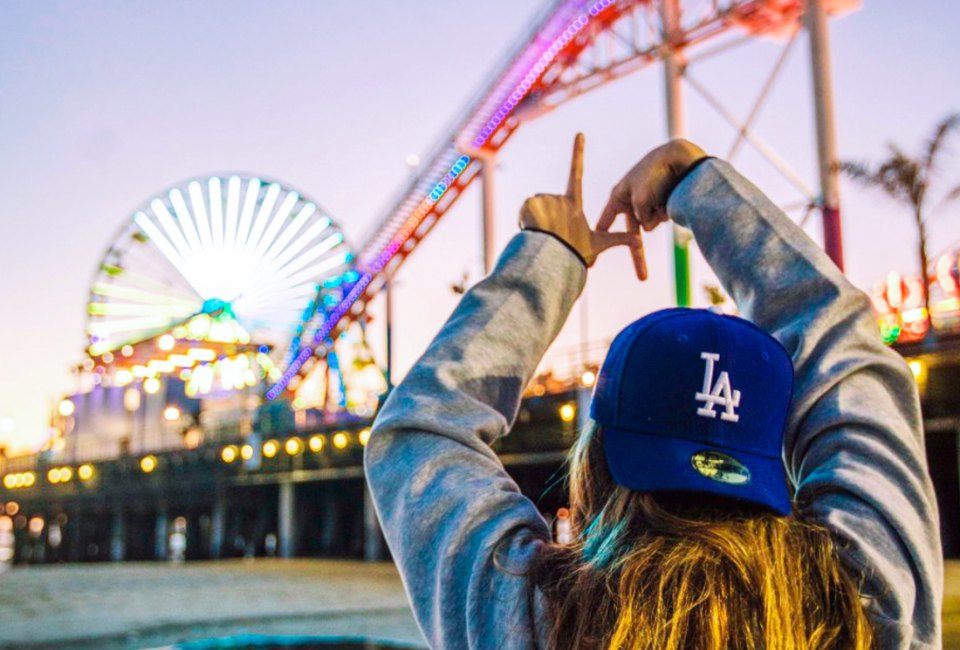 1/27/23
- By
Meghan Rose
So, you're visiting Los Angeles with kids, and you've only got three days. No problem—I have the perfect itinerary for you! Now, most would say that's not enough time to explore this bustling, bursting metropolis. But I've been all over this city, and tried pretty much single thing to do in LA with kids, and I'm telling you—by the time you finish the three-day tour below, you'll know this city, and love it, like a native Angeleno.
This itinerary will give you a taste of why I love it here: the hidden gems, the incredible history, the iconic sites & sights, and even the best bathrooms in town. Plus, you'll get a taste of the tastes of LA, and the vibrant food scene that is the most exciting in the country. So buckle up (yes, you'll need a car) and get ready to go back in time to the La Brea Tar Pits, stroll down Rodeo Drive in Beverly Hills, and play on the beach. Here we go!
If you've got more than three days, you might want to check out our list of the top attractions in Los Angeles and our bucket list of the 100 best things to do in Los Angeles with kids before they grow up.
Subscribe to our newsletters to get stories like this delivered directly to your inbox.
Visiting Los Angeles: A Few Words About This Itinerary
Getting Around LA
I think I mentioned that you'll need a car. LA's car culture is no joke. While it's not true that "nobody walks in LA," it is a fact that if you're trying to cover a lot of ground in a short period of time, you'll want a car. While you can take our Metro (which I love), it can be hard to fit all of this itinerary in if you're waiting on public transportation. Besides, to really blend in with the native population, you need to be able to complain firsthand about the traffic on the 101.
Pick and Choose Your LA Itinerary
These are full days! But, you don't have to cram everything in. Pick and choose what makes sense to you. If you've got a little dino-lover, plan to spend extra time at the Natural History Museum, and maybe skip Griffith Park. Conversely, hikers might want to ditch a few museums to spend extra time hiking up to the Griffith Observatory. Read through each day and see where you'll want to spend more or less time (and definitely decide where you'll want to eat).

Hikers might want to spend extra time hiking in Griffith Park. Photo by Alexander Bermudez for the Trail Hiking Project
Where's Disneyland?
No theme parks make this list, because you can spend all three days at Disneyland/California Adventures easily, and you don't need me to tell you that. That said, if you've got an extra day to spend at an amusement park, you might like our tips and insider secrets for visiting Disneyland, Universal Studios, Legoland, Knott's Berry Farm, and all the best LA-area theme parks.
Day 1 Itinerary: Downtown, Expo Park, and Griffith Park
People mistakenly think that Los Angeles doesn't have a real downtown. But we do! Because LA is such a sprawling metropolis, we don't have one city center, but many. And the heart of it all is, in fact, DTLA. In recent years Downtown has grown and flourished, and many more people live here. There are theaters and world-class opera, as well as incredible food and history. It's a perfect place to start exploring LA.
Breakfast in Downtown LA at Grand Central Market
Grand Central Market was founded in 1917 as the biggest market on the west coast. Today, California produces 50% of the nuts, fruits, and vegetables in the US. Los Angeles has incredible food from communities around the world. And at Grand Central market, with over 40 vendors and restaurants, families can try any and every kind of food. From traditional breakfast foods at Clark Street Bread or Eggslut to a huge variety of other foods from tacos to delis to seafood and so much more, everyone in the family can find exactly what they're craving. You can fill up your snack bag for threats throughout the day, too.
RELATED: Los Angeles Restaurants Where Kids Can Play While Parents Eat

Angels Flight is the shortest railway in the world. Photo by @60x80, via Instagram
Angels Flight
Across the street from the market is Angels Flight. Dating back to 1901, when the city first started to boom, Angels Flight is a landmark "narrow gauge funicular railway." Basically, that means it's a tiny train that takes people from Hill Street down to Olive Street and back. The total track is just under 300 feet, making its nickname of "the shortest railway in the world" plausible, if not 100% verifiable. A ride to the top takes you right near Disney Concert Hall.
Disney Concert Hall & Grand Park
A short walk from the top of Angels Flight is the Frank Gehry-designed Disney Concert Hall, which sits in the center of DTLA. The ever-present sunshine reflects off the surface and is a marvel to see. See the LA Phil play in its winter home, explore the Broad Museum next door, walk over to the Music Center, let the kids run and play at Grand Park (in the summer, bring your swimsuits and run through the fountains), and walk to the library or The Last Bookstore. Downtown Los Angeles is imminently walkable, and a fun place for families to explore.
The Museums at Exposition Park
After spending as much or little time as you like downtown, it's time to venture over to Exposition Park, for some of the best museums for kids in town. It's also home to USC (go Trojans!).
Lunch at Chichen Itza near USC/Exposition Park
You literally can't come to LA without eating Mexican food. Honestly, any old street taco will be better than anything you can get anywhere else in the country, but to live like a local, try a local favorite like Chichen Itza, which specializes in food from the Yucatán Peninsula. If you prefer Oaxacan cuisine, stop for lunch at Guelaguetza on the way to Griffith Park. It's not exactly on your way, but it's not out of your way, which in LA is good enough. Aren't you glad you have a car?
RELATED: Best Hiking in Los Angeles for Kids and Families

The Hollywood sign might be the most iconic view in the city. Photo by Johnathan Lobel, via Flickr CC BY-NC-ND 2.0
Griffith Park
These are the highlights of Griffith Park, moving from east to west. You can't hit all these stops, but you'll want to choose at least a few, depending on the ages and interests of the kids in your family. For a more in-depth look at all this 4000+ acres park in the heart of the city has to offer, check out our detailed guide to exploring Griffith Park.
Dinner at Miceli's in Universal City
Lake Hollywood is last on our list of things to see in Griffith Park, because a visit there at sunset is not only stunning, but it puts you close to one of our favorite family restaurants: Miceli's. Located near Universal Citywalk, which makes for a fun post-dinner stroll, you should definitely visit this pizza and pasta joint for dinner. A family-owned and run spot for decades, after 6pm the waiters sing a range of showtunes, hits, and movie favorites. They often take requests from kids. (We used to request songs from The Little Mermaid and Frozen for years, making this my daughter's favorite restaurant ever.)
RELATED: LA Donuts That Are More Than Just Donuts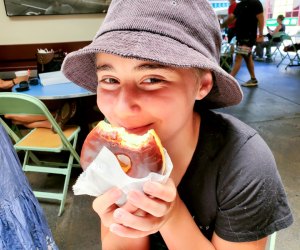 Visit Bob's at The Original Farmers Market. Photo by Amanda Schutt
Day 2 Itinerary: Hollywood & Mid-City to Beverly Hills
Breakfast at the Original Farmers Market next to the Grove
Start Day 2 of your Los Angeles explorations right in the middle of the city, at the Grove—or at least Grove-adjacent. (People who live in LA go to the Grove all the time. We mock it mercilessly, but go frequently.) The Original Farmers Market opened as an open air market for local farmers in the 1930s, and has grown and changed ever since. Now you can get fruits, veggies, dog treats, hot sauce, and loads of fabulous foods. Quick picks: Du-par's if your kids are pancake fans, Bob's Donuts for dino donuts if they need something even sweeter, and indulge in beignets at The Gumbo Pot for the grownups. You can even act like a real Angeleno and head over to the Grove for a green juice at Pressed.
After breakfast, leave your car parked here and walk through the Grove, then head south to Wilshire Blvd. to explore Museum Row.
RELATED: Visit LA Spots Made Famous by TV and Movies

Travel back in time to when mammoths and mastodons roamed the city. Photo courtesy of the La Brea Tar Pits Facebook page
RELATED: Best Restaurants with Outdoor Dining in Los Angeles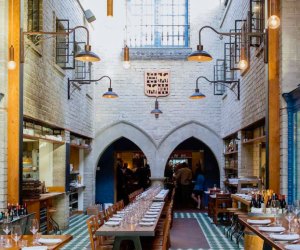 See Chaplin's old digs. Photo courtesy of Republique Cafe and Bakery
Lunch in Mid-City
Mid-city is a fabulous place to be when you need lunch and you've got kids. These are the spots locals adore.
RELATED: Free Kid-Friendly Museums in Los Angeles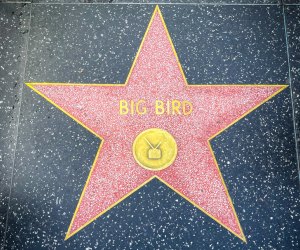 Photo by Chris Gold NY courtesy of Flickr, CC BY-NC-ND 2.0
See Hollywood Like a Tourist
Even locals become tourists when in Hollywood, you just can't help it. For more on what's in Hollywood, check out our complete guide to visiting Hollywood with kids. Here are the highlights.
When you've had your Hollywood fill, take Sunset straight to Beverly Hills. Driving down the palm tree-lined streets is part of the experience. Laugh at the tourists buying Star Maps. You don't need those maps. You've got this guide (and the maps aren't accurate, anyway).
Snack Break in Beverly Hills
Here's where you get snacks in Beverly Hills: Erewhon is the healthy grocery store on Beverly Drive (not Beverly Blvd., which is completely different), the original Sprinkles with the original cupcake ATM, or Laduree for French pastries. Whatever you get, get it to go and bring it to the park at the Montage Hotel. That's what locals do. It's also where we park. And where we use the restrooms, which are the nicest in town. And in a town like Beverly Hills, that's saying something. Fully recharged, you're ready for a quick walk through Beverly Hills to see the sights and take some pictures.
RELATED: The Most Insane LA Desserts to Treat (and Wow) Kids

Where Rodeo Drive and Via Rodeo Meet. Photo by David Vives, courtesy of Pexels
Explore Beverly Hills
Dinner Options Abound From Beverly Hills to Hollywood
You've got options for dinner! If you want to stay in Beverly Hills, I recommend Jon & Vinny's for fabulous food that requires a reservation, or The Cheesecake Factory. Yes, The Cheesecake Factory. The first location was right here in Beverly Hills, and to be honest, it keeps kids insanely happy. For a splurge, you can of course eat at Spago, which has moved to its newest home in the last few years, and is pretty stunning. It's also probably the most famous LA-area restaurant ever. The food is kid-friendly, but the prices aren't. If you're open to leaving Beverly Hills, nearby spots I'd highly recommend are Gracias Madre in West Hollywood for vegan Mexican food in a stunning environment (which my non-vegan kids adore) or heading back to Hollywood and dining at Yamashiro. The food at Yamashiro isn't the point, though it has gotten better over the years. But the atmosphere and views at this Japanese-inspired mountain palace above the bustle of Hollywood Blvd. make it a worthy stop.
RELATED: Mommy Poppins Beach Guide to Los Angeles and Orange County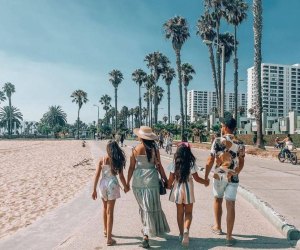 If you haven't visited the beaches, you haven't visited LA. Santa Monica photo by Clayton Goncalves
Day 3 Itinerary: The Beaches of Santa Monica & Malibu
Fear not, friends. We've packed a lot into two days, and now you can take it easy by the beach.
Breakfast is in Santa Monica
Huckleberry is the only option you are allowed. That's it. Sorry. Huckleberry Bakery and Cafe is incredible food made by incredible people. Everyone I know has a story about bringing kids to Huckleberry, and how the owners and staff saw crying kids and whisked them to the front of the line, brought back food that had specks of green on the plate, or snuck free treats to hungry kids waiting for a table. They make you feel like family, and you simply must bring your kids here and experience the epitome of LA hospitality. Plus the food is out of this world.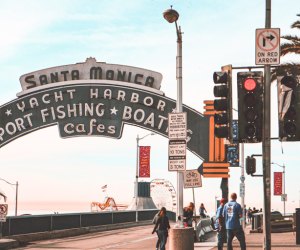 Play, ride, fish, and eat on the Santa Monica Pier. Photo courtesy of santamonicapier.org
Explore 3rd Street and the Santa Monica Pier
Santa Monica is the city by the sea and you could spend a week here alone, just relaxing. But with one day to see it all, here's what you need to hit:
Lunch by the Beach
You can't come to LA without dining by the ocean. If you're ready for lunch when you're on the Pier, I recommend The Albright, which has great seafood and is very family-friendly. If you've got kids who won't eat fish of any kind, head under the Pier to Hot Dog on a Stick. It's not the original building anymore (it was razed in 2022), a newer lookalike building was constructed in the same spot, and what kid doesn't like corndogs? And what parent's wallet doesn't appreciate a nice meal deal? If you're ready to leave Santa Monica, you can head up the PCH towards Malibu and stop for lunch at Gladstones. From the windows there you can often watch dolphins frolic.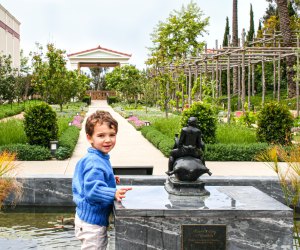 The Getty Villa is one of the loveliest spots in town. Photo by Meghan Rose
Up the Coast to Malibu
First stop: the Getty Villa, and let the kids run around the outdoor theater while you have a glass of wine. Reservations are required but admission is free, and there exists no more beautiful museum in the US. Read our guide to visiting the Getty with kids, and then bask in the beauty of this recreated Roman villa.
When you've had enough man-made beauty go back down the PCH for some natural beauty. One of my favorite stops is Malibu Bluffs Park. Here kids can play on the playground, look for whales, or take a cliff walk on the bluffs above the beach.
Speaking of the beach … Now it's time to go to the Malibu Country Mart, get a giant cookie or cupcake at the Malibu Kitchen and Country Mart, shop and sip complimentary drinks at James Perse, which is the ultimate in Malibu beachwear, or have a glass of wine and watch for celebrities at Fred Segal.
Fortified, it's finally beach time! Talk a walk through Legacy Park, and then cross the street to Surfrider Beach. Here you can take walks on the beach, birdwatch in the lagoon, and see the surfers. Check out the totally unique Adamson House and Malibu Lagoon Museum, if you have time (and if your kids are older - they are not super friendly here to kids under 10, I've found).
Day Three Dinner in Malibu
Now it's time for your final dinner of your vacation and there is only one place to go - Malibu Farm (unless your time in LA won't be complete without a celeb sighting, in which case you can go back to the mart and dine at Tra di Noi, or you can shell out the big bucks for dinner at Nobu Malibu). At Malibu Farm, the food is locally grown and sourced and you eat on the Malibu Pier as the sun sets on your three-day LA adventure.
Sign up for the Mommy Poppins Newsletter today!