Santa Monica's Cayton Children's Museum Is a Game Changer!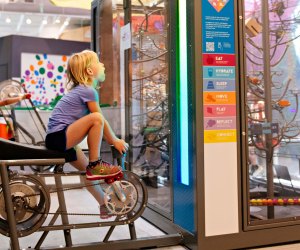 The long-awaited Cayton Children's Museum opened its doors at Santa Monica Place Mall, moving from its former incarnation as the much loved Zimmer Children's Museum in the middle of the city. While we looked forward to this new museum with great anticipation, we had to wonder: could anything warm our hearts the way the Zimmer did? Spoiler! The Cayton is up to the job!
Keep reading to find out what you can expect on a visit to the Cayton...

How high can you jump? Photo by Matthew Tucciarone
What's Changed at the Cayton vs. the Zimmer?
Most obviously, the difference is location, location, location! Whereas the old Zimmer was on the lower floors of the Jewish Federation building in Mid-Wilshire, the new location is on the top deck of Santa Monica Place Mall. The new space fills 21,000 square feet, with a free-flowing layout, as well as natural light coming in through expansive entryway windows and skylights.

The new Santa Monica children's museum inherits all the conveniences of the mall, including ample parking, a wide ranging food court, and proximity of fun shops like the Disney Store and 3rd Street Promenade. If you're shopping for kid friendly items, you can't do better than the museum's own gift shop, with an expertly curated range of gifts, toys, and educational items.
The Cayton is divided into five themed exhibit wings that prompt open-ended play. Even the titles are inspirations left for you to fill in the blanks. Looking for a moment of introspection? The exhibits in REFLECT ON __ give kids a chance to form a dialogue with their environment. What happens when we all pitch in? Look no further than the exhibits of TOGETHER WE_. Choose your altruism for LET'S HELP _ (animals? people in need?). Test your limits in REACH FOR_ (you say stars, I say the last cookie). And the littlest adventurers aren't left out: LAUNCH YOUR __ is for kids ages 0 - 2.

The wings are designed to inspire kids to explore core universal values like kindness, compassion, respect, and hospitality. There are no defined boundaries between these wings, and the distinctions largely serve to give context for old folks who can read. (Older kids can read, too, but they're too busy playing.)
RELATED: 30 Things You Have To Do in Santa Monica with Kids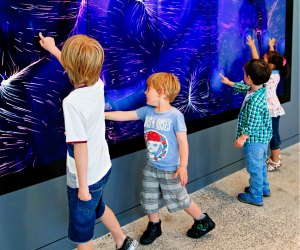 Photo by Mercie
What's New?
The Cayton has more than 35 exhibit installations, so we'll only be listing a few highlights here. Most of them are new to this location.
The Animal Hospital is one of the most talked about exhibits among my pack. An achingly cute selection of stuffed pets require your kids' expert care and nurturing; x-rays and diagnostic equipment and totally legit lab coats help get the job done.

Ever look for your train's arrival time on an old-fashioned split-flap board? The letters and numbers would flip around with a clackety-clack sound until the updated information would appear. The Cayton puts a new spin on this old technology, with a giant wall-sized flip sign board, adding rainbow colored chips to the numbers/letters/symbols display. Every minute or so the board resets, revealing, after clacking fanfare, a new thought-provoking statement. ("Being good is easy; what is difficult is being just.")

Want to see the ball drop at the All Systems Go! Ball Machine? You're gonna have to work for it! This Rube-Goldberg style exhibit is fully human-powered, and while the message is about making healthy choices, you and your kid will be too busy bouncing and pedaling and pumping to dwell on it too much.

Not every installation shouts for your attention. In fact, the Hello Booth doesn't make a sound. This phone room allows kids to reach out and talk to whomever they wish. These are old school rotary dial phones, and they are completely disconnected—no dial tones or fancy effects. (And if you've ever seen a kid turn a tissue box into a telephone, you know they don't need them!)

Ever wonder how tall your kids are? Ever wonder how high they can jump? Boom! An interactive photobooth answers both questions in a single bound. After sizing you up (and maybe cutting an inch off a certain Momma's height), the video screen measures your best high jump and gives you an instant replay.
Cayton guests can still get their art on. Photo by Matthew Tucciarone
What's the Same (basically!)
Young shoppers and restaurateurs can still get their food on at the pretend-play grocery store and café. The ball pit (aka To the Rescue!) is a never-fail crowd-pleaser; a recycled Coast Guard rescue boat in the center contributes to high seas play.
Likewise, fans of vehicles can climb on and through a Help-a-Copter (a real helicopter that was lowered into the Cayton by a different helicopter!) and a fire truck. The youngest players have a designated play space for the 2 and under crowd. It's no mere consolation prize; older kids had to swallow their envy at the bouncy play area with ride-on animals.
Cayton guests can still get their art on with daily themed projects (I did a water color scene). Two large rooms are available for birthday parties. Camps are running all summer. The baby art crawl is returning as well.

The ball pit is a never-fail crowd-pleaser​. Photo by Matthew Tucciarone
What's Gone
A few favorite spots don't have direct analogs in this new location. Housed in the Jewish Federation Building, the Zimmer was a more clearly Jewish-affiliated museum. The two most overtly Jewish installations at the Zimmer were the Sabbath/ Synagogue pretend-play scenes and the model Wailing Wall. The pretend-play scenes are gone, but the wall has been re-envisioned as a Wishing Wall. Visitors are invited to put their wishes for the world on cards and then they can post them on the wall. Some cards are blank, some have prompts. The kids' answers may just restore your faith in humanity.
One side effect of the move: the new museum is now open 7 days a week. (The old Zimmer closed Saturdays for the Jewish Sabbath).
Photo by Mercie
Look Up!
Probably the most distinctive new element is an overhead, netted crawlspace called the Courage Climber. It's big enough for adults to maneuver through, with multiple access points. Several window spaces allow the (probably bigger) kids to get an eagle eye view of the (probably smaller) kids playing below. We haven't tried it out yet (the climber was still being hand-constructed as of our recent visit).
Need to Know Before You Go
Parking at Santa Monica Place (and the nearby municipal garages) is free for the first 90 minutes. Posted rates apply after that; the Cayton does not validate parking. Santa Monica Place is inches from the Expo Line (and at the end of 3rd Street Promenade, and blocks from Santa Monica Pier).

There is a small, designated snack area with vending machines, in view of a number of the installations. (A mom could sit and snack while watching her kid plays, just saying.)
The Cayton Children's Museum is ideal for children up to 10 years old, with the sweet spot probably in the 3 -7 range. That said, my 10-year-old enjoyed every last inch of the museum, and will likely continue to do so for some time to come. And along those lines, most of the exhibits are equally enjoyable for adults, except for the few that we might be "too big for, old lady."
Admission is $14 for adults and children; infants under 12 months are free. Advance ticket purchase is advised, although walk-ups can usually be accommodated. Tickets have a designated entry time; guests are allotted two hours per visit.