100 Things To Do in Los Angeles With Kids Before They Grow Up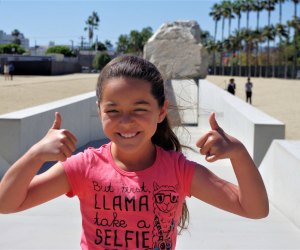 7/11/21
- By
Roberta B
Kids. We can't stop them from growing up so fast, but we can try not to miss any of the best, most memorable things to do in their hometown. LA is probably the best city in the country for raising kids, but that just means there are more things to remember to do before the little chickens spring the coop. Being phenomenal Southern California parents, you've certainly already done several of these; but which of these 100 not-to-be-missed, family-fun outings have you not yet done? There's always this weekend!
If you're in the mood for a more local itinerary, check out one of our neighborhood bucket lists. And finally a tip: Keep an eye on our list of ages that kids get in free at SoCal attractions as you make your plan.
Money saving tip: If you have plans to visit a bunch of these Los Angeles spots in a short period of time (we're looking at you visitors to LA, Angelenos with visiting relatives you'll be squiring around town, and even locals who want to explore the city during summer vacation!), it's worth it to look into a Go City - Los Angeles All-Inclusive Pass or Explorer Pass which includes entry to Legoland, Universal, Warner Bros., Knott's Berry Farm, Six Flags Magic Mountain, the Aquarium of the Pacific, the San Diego Zoo, and the LA Zoo. There are two options which allow you to use your pass within either 14 or 60 days.
1. See the Rose Parade
Get up early and see Pasadena's Rose Parade live and in person.
2. And the Doo Dah Parade
See Pasadena's other parade—the Doo Dah Parade—live and in person.
3. Visit the Santa Monica Pier
Ride the Santa Monica Pier Ferris wheel at sunset.
Be sure to see a show at the Leonard Nimoy Planetarium, and then stay for an evening event where you can look through the telescopes.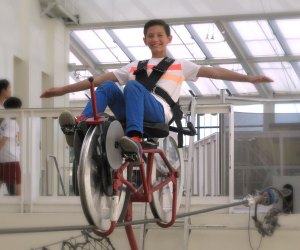 Photo by Roberta Brown
Ride the high-wire bicycle, see an IMAX Movie, and check out the Space Shuttle Endeavor.
Pick your own veggies, meet the animals, and be sure to come for the fall festival and a visit to the pumpkin patch.
Looking for something more unusual than farm animals? Meet with all the rescued exotic animals, including the talking birds!
The largest train station in the Western US is a deco masterpiece. Walk around and then take a trip!

Ride a broomstick through Hogwarts. Photo courtesy of Warner Brothers Studio Tour
This is a real deal, theme-park-free studio tour. Perfect for fans of Harry Potter and Friends.
With indoor and outdoor exhibits, special events, and festivals for kids year-round, this is one of the best children's museums in the city.
There are fabulous shows for kids on Saturday mornings, but every child should also see the annual production of A Midsummer Night's Dream in this magical setting.
12. Finagle a guest pass to kids brunch at the Magic Castle
Everyone knows someone who knows someone who can get you passes!
13. See a big Disney movie at El Capitan
Sit in the balcony and sing along with the Disney songs played on the Wurlitzer organ before the show.
The tethered ride feels safe for even those who don't love heights.
Learn about the history of the Wild West and its first inhabitants.
16. Eat your way through the city
Make stops in Koreatown, Little Tokyo, Chinatown, Little Armenia, Artesia (for Indian food), and more; LA has some of the most amazing, authentic, and diverse cuisine in the world. Speaking of which, eat some street tacos. This is LA!

Nobody walks in LA? Not true! Photo courtesy of Los Angeles Conservancy
We know LA is a city of cars, but you really learn these streets by walking them.
18. Go rollerblading along Venice Beach
Don't forget to stop and watch the bodybuilders at Muscle Beach.
From the building itself to the playful artwork, it's a great introduction to contemporary art for kids. Don't miss Yayoi Kusama's Infinity Mirrored Room, which is a huge kid-pleaser.
20. Go to a Medieval Times dinner tournament
Root for your knight champion and eat with your hands!

Visit a Medieval Times dinner tournament with your young royalty. Photo by Meghan Rose
21. See EquestFest over winter break
See the equestrians participating in the Pasadena Tournament of Roses Parade up close and personal.
22. Play at Noah's Ark at the Skirball
See if your kids can identify which everyday objects created each animal.
23. Build a campfire and cook dinner at Dockweiler Beach
It's one of the only spots in LA where you can have a fire on the beach.
24. Do a Sunset Ranch Hollywood sign trail ride
Or hike up for a close-up view. It's touristy, but it's one of the iconic sites of the whole world!
This is one of the newer children's museums in LA (it used to be the Zimmer Museum in Mid-City) and is great fun for kids.
LA is right along the migratory path of roughly 20,000 Pacific gray whales!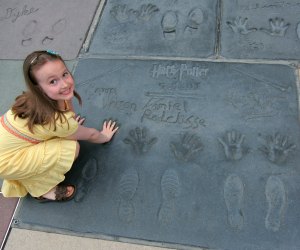 Checking out Emma Watson's handprints. Photo by Jeff Christiansen/CC BY 2.0
27. Attend a handprint or a star laying ceremony on Hollywood Boulevard
Everyone has to show up in person at their ceremony, so kids can see their favorite celebrities!
28. See a game at the Staples Center
With the Lakers and the Kings, it's the home of champions.
29. Walk the Red Carpet
The night before the Oscars, news outlets from around the world are setting up their shots outside the Dolby Theater. Visit Hollywood Blvd. and check out what happens behind the scenes.
30. Ride the trains at LA Live Steamers in Griffith Park
And while you're here, visit Travel Town!
It takes place on the second Sunday of each month.
32. Have brunch and hit the beach at Paradise Cove
This private beach in Malibu is worth the hefty parking fee (which is cut drastically if you order food, like the giant chocolate cake!).

Visit the Bat Cave! Photo by Meghan Rose
33. Hike to the Bat Cave in Griffith Park
You can almost hear the BIF! BAM! POW! as you approach the entrance.
34. Celebrate a traditional Mexican festival at Olvera Street
Favorites include Blessing of the Animals, Cinco de Mayo, Fiestas Patrias, Dia de los Muertos, and Las Posadas.
This little-known museum has the history of the LAPD from Dragnet to Patty Hearst.
Only in LA!
In fact, parents who didn't grow up in SoCal should do this alongside their kids!
38. Rent (or bring) a bike to ride the beach bike path
Start at the Santa Monica Pier and head north or south. The Marvin Braude Bike Trail (bet you didn't know its name!) is 22-miles of paved bicycle path.
Where else can you ice skate in short sleeves?
This is the oldest children's theater company in Los Angeles.
41. Go for a walk through the Venice Canals
The canals were built in 1905 by developer Abbot Kinney. (Yep, the street is named after him!)
42. Take a day out of school to go to Disneyland when it's not as busy
Take the kids on their birthday, if you can. Kids get a big button to wear, and everyone will wish them Happy Birthday!
They were left here by a movie crew in the 1920s, and have flourished ever since!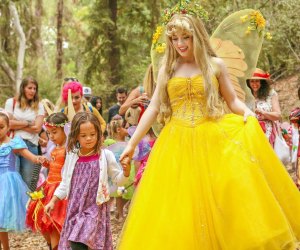 The woods are alive with faeries at the Faery Hunt. Photo by Christi Anna
These funny fairies (and gnomes!) visit parks all over the city.
Fun fact: the original name of the towers is "Nuestro Pueblo."
Will Rogers was a cowboy, actor, humorist, and more. You can tour his home, hike, and catch a polo match (for free) at the Will Rogers State Park.
Mark your calendars, this takes place every year, around mid-March.
This utterly unique event is a mix between a museum and the theater, taking place by the sea.
We may not get snow on Christmas, but we can deck the decks...
50. Ride the carousel that inspired Disneyland at Griffith Park.
Walt Disney said it was watching his daughters ride this carousel that made him dream up Disneyland! (Some of the horses on the merry-go-round date back to the 1880s, so it's a real piece of California history.)
51. Go from the mountains to the beach in one day
Ski or sled at a local ski resort, then have dinner by the beach.

Step into Air Force One. Photo courtesy of The Ronald Reagan Presidential Foundation
52. Visit a Presidential Library
Both the Reagan and Nixon libraries are right nearby.
53. Get a Season Pass
Buy a season pass to one of the big parks (Disneyland, Universal, Knott's) so that you can drop in any time, even if only for a couple of rides.
54. Meet the wolves of California
At the Shadowland Foundation, you can pet and feed wolves from your hand (or mouth!).
See the Blue Boy, get wet in the Children's Garden, and try to time your visit so you can get a whiff of the stinky (and rare) corpse flower.
56. Go to a free rehearsal at the Hollywood Bowl
When the LA Philharmonic is playing at night, they rehearse in the morning, and anyone can attend, for a free preview of the performance.

Hanging out at the LACMA lamps. Photo by Mommy Poppins
Drop by LACMA (even while the museum is rebuilding, there are tons of things to do) and take photos at the lampposts, spend hours watching Metropolis II, and get a picture with the giant Levitated Mass.
There are story hours, performances, and cultural events. Also, it's just a gorgeous space!
59. Have a sleepover at a major institution
The Tar Pit museum, the Natural History Museum, the LA Zoo, and the Skirball all host sleepovers.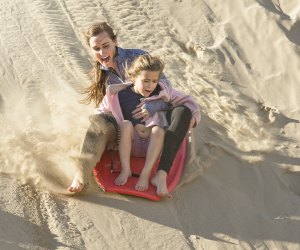 Sand-sledding. Photo via Bigstock
Build a sand snowman, too!
It's the culmination of the Chinese New Year Festival, which is the perfect time to explore historic Chinatown and get some dim sum.
Once wild, then filled in with concrete, and now being made wild again—you can kayak or bike along large swaths of the river in the heart of the city.
63. See Camellias in full bloom
Wander the Camellia Festival at either Descanso or Huntington Gardens.
While there, visit the graves of Judy Garland, Douglas Fairbanks, and Rudolph Valentino. Be sure to seek out the dozens of peacocks and cats who call the cemetery home!
Visit a working blacksmith shop, play 19th Century children's games, hear traditional music and see workers in historical costumes.
66. Visit the NHM's Insect Pavilions
Explore the Natural History Museum's seasonal Butterfly Pavilion or Spider Pavilion
67. Take a trip on DTLA's famous Angel's Flight
This funicular is called "The World's Shortest Railway."
The Museum has exhibits, interactive touch-screens, videos, recording booths, and loads of music artifacts including costumes, instruments, hand-written lyrics, records, and more.
Or Star Wars Day. Or go for a Fireworks Friday. Basically, see the Dodgers!
70. Visit the Getty Center
Go to a Family Festival (and ride the monorail up the hill) at the Getty Center.
The otherworldly beauty is best visited in the cooler months...
Where else can you see a joust, wear chain mail armor, dip candles, and eat ye olde faire food?
It's just moved to the much cooler month of May, which should make it even better!
Sure, it's a little cheesy, but that's what makes it so much fun.

LA Times Festival of Books. Photo by Meghan Rose
Be sure to check the Children's Stage, where you can see favorite authors like Jon Klassen, Levar Burton, Peter Sís, Henry Winkler, and more.
76. Take a trip to the local mountains of Big Bear or Lake Arrowhead
Winter or summer, these mountain resort towns are gorgeous.
They love to give local kids a tour of the station and engines.
Hop off on Rodeo Drive to window shop. (If you go during the holidays, Mrs. Claus often hops aboard!)
The only museum of its kind in the world, it confronts all forms of prejudice and discrimination.
Our preferred spot is to go around the Channel Islands, but you can also go kayaking in many of LA's harbors and along the coast.
Don't forget to try the apple pie at Apple Annie's.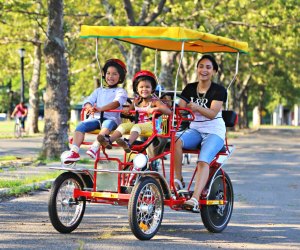 Lake Balboa Family enjoying a ride on a Surrey. Photo courtesy of Wheel Fun Rentals
82. Rent a family bicycle surrey or swan boat at Lake Balboa
Hot tip: in cooler months, this is one of the best parks in LA to have a birthday party!
It's a Christmas tradition that wows.
The cowboy pancake breakfast ride allows kids to experience a fun version of the wild west.
Or, once the kids are older and like their scares spookier, visit the Haunted Horror Nights at Universal. (And for an outing even less scary than Knott's, visit Disneyland for trick-or-treating and more not-so-spooky fun!)
86. Experience science at the Discovery Science Center—in the Valley or the OC
Keep an eye out for fabulous special events; Bubblefest in the summer is a favorite!
It's the oldest restaurant in Hollywood and was a hangout for movie stars like Charlie Chaplin and Greta Garbo.
The whole family can learn to fly through the air with the greatest of ease.
You can also just sign up for viewing hours to see floats up close before or after the parade.
See what life was like for 19th century Angelenos.
Then stroll across the street to play at Tongva Park, while you're here.
92. See the poppies during a superbloom
They're our state flower, after all.
These short concerts are a wonderful introduction to the world of classical music—and a great reason to go inside the Disney Concert Hall.

Make something new out of something old. Photo courtesy of ReDiscover Center
94. Create a recycled masterpiece at ReDiscover
At family crafting hours, the whole family can work together.
LA's oldest house is open for tours.
96. Tour Frank Lloyd Wright's Hollyhock House at Barnsdall Park
It's the only one of his houses in LA you can tour, and it's the only California building included in the UNESCO World Heritage List.
With over 800 miles of beachfront, our state has some of the best beach camping in the world.
You can also now take a virtual tour!
Definitely dress like a pirate, and take a ride on one of the ships.
See these slippery little guys light up the beach.
And, in honor of everyone's favorite freeway (the 101), we can't resist adding one more:
Because high on a hill was a lonely goatherd: "Lay ee odl lay ee odl lay hee hoo!"
Top photo shot at LACMA's Levitated Mass by Joey Zanetti/CC BY 2.0
Post originally published January 6, 2012, updated regularly since