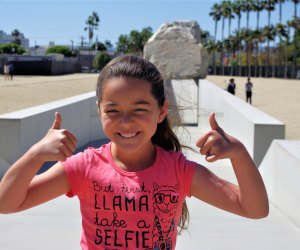 100 Things To Do with LA Kids Before They Grow Up
Kids. We can't stop them from growing up so fast, but we can try not to miss any of the best, most memorable things to do in their home town. LA is probably the best city in the country for raising kids, but that just means there are more things to remember to do before the little chickens spring the coop. Being phenomenal Southern California parents, you've certainly already done several of these; but which of these 100 not-to-be-missed, family-fun outings have you not yet done? There's always this weekend!
If you're in the mood for a more local itinerary, check out one of our neighborhood bucket lists. And finally a tip: Keep an eye on our list of ages that kids get in free at SoCal attractions as you make your plan.
NEW: We have a free printable checklist of our favorite LA activities from this list. Print it out and stick it on your fridge to inspire you any time you need an activity idea.