100 Things To Do in Los Angeles Before Kids Grow Up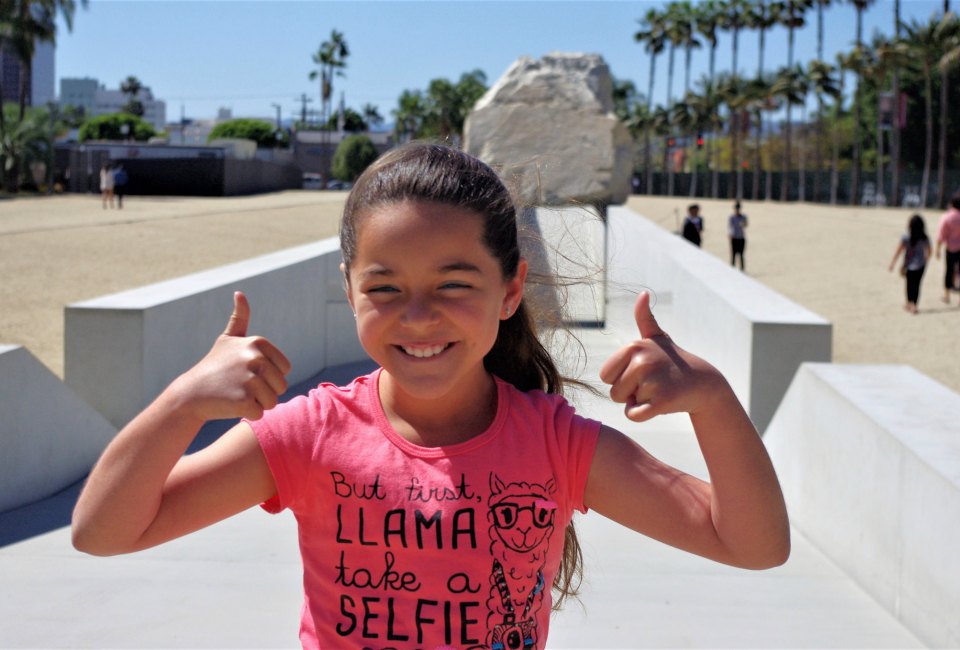 7/16/23
- By
Roberta B
Check out these iconic things to do in Los Angeles with kids—including attractions, events, activities, museums, and more—that every native Angeleno really must experience!
Kids. We can't stop them from growing up so fast, but we can try not to miss any of the best, most memorable things to do in their hometown. Los Angeles is the best city in the country for raising kids, and that means there are so many things to do before little chickens spring the coop.
Being phenomenal LA parents, you've certainly already done several of these; but which of these 100 not-to-be-missed, family-fun outings have you not yet done? There's always this weekend!
If you have plans to visit a bunch of these Los Angeles spots in a short period of time (we're looking at you visitors to LA, Angelenos with visiting relatives you'll be squiring around town, and even locals who want to explore the city during summer vacation!), it's worth it to look into a Go City - Los Angeles card which includes entry to Universal Studios, Warner Bros., the San Diego Zoo, the LA Zoo, and so much more.
Disclosure: We may earn a small commission if you click through our link and make a purchase. This revenue helps us maintain this site, so thank you for supporting us.
Top Things To Do In Los Angeles for Visitors
While our list was written with kids growing up in LA in mind, it's also a great list for families visiting Los Angeles, since it's packed with iconic things to do in LA with kids. Here are more helpful roundups for anyone visiting Los Angeles:
Best Things To Do In LA with Kids By Age
And Now...
100 Top Things To Do in Los Angeles With Kids
Get up early and watch these flowered floats parade about in person. Not a morning person? Another option is Floatfest, a Pasadena tradition where kids can see the floats up close and parked following the parade.
Pacific Park is always a crowd pleaser, with classic carnival food, the classic seaside coaster, and the iconic Santa Monica Ferris Wheel.
Be sure to see a show at the Leonard Nimoy Planetarium and then stay for an evening event where you can look through the telescopes. Visiting the Griffith Observatory in itself is a must-do for any Angeleno.
RELATED: Griffith Observatory: 10 Reasons to Visit Real Stars in LA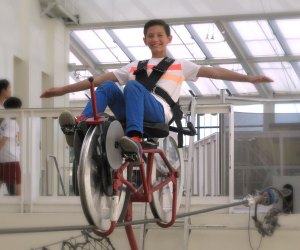 Ride in the sky at the California Science Center​. Photo by Roberta Brown
Ride the high-wire bicycle, see an IMAX movie, and check out the Space Shuttle Endeavor.
Save this one for the fall! Underwood Family Farms has the best pumpkin patch around. It's worth returning for other seasonal favorites like Christmas on the Farm and the Springtime Easter Festival.
Admire the giraffes, the elephants, ride the carousel, and let the kids run wild in the play area. Don't forget to say hi to Reggie, the alligator.
Get up and close with sea creatures that roam the ocean floors with an impressive underwater tank tunnel, touch tanks, and even the rare sight of puffins.
With indoor and outdoor exhibits, water features, special events, and festivals for kids year-round, this is one of the best children's museums in Los Angeles.
Enjoy a thrilling family adventure in Santa Clarita, from the magical carousel to heart-pumping roller coasters. There's an attraction for kids of all ages.
RELATED: SoCal Theme and Water Parks Guide

Ride a broomstick through Hogwarts. Photo courtesy of Warner Brothers Studio Tour
This is a real deal, theme-park-free studio tour. Perfect for fans of Harry Potter and Friends.
Finagle a guest pass to kids' brunch. Everyone knows someone who knows someone who can get you passes!
Sit in the balcony and sing along with the addicting Disney songs played on the Wurlitzer organ before a Disney movie in this beautiful Disney-owned theater on Hollywood Boulevard.
Three mini-golf courses, an arcade, and batting cages make up this beloved Sherman Oaks locale. It's one of the best mini-golf spots in Los Angeles.
Learn about the history of the Wild West and its first inhabitants. Don't let younger cowboys and cowgirls miss out on the family play space.
Make stops in Koreatown, Little Tokyo, Chinatown, Little Armenia, Artesia (for Indian food), and more. LA has some of the most delicious, authentic, and diverse cuisine in the world. Speaking of which, eat some street tacos; this is LA! Don't forget to try Smorgasborg, a weekly gathering of the best bites in the city.
We know LA is a city of cars, but you really learn the streets by walking them on these docent-led tours.
17. The Strand — Various LA Locations
More popularly known as "The Strand", the Marvin Braude Bike Trail spans 22 miles along the beach from Pacific Palisades to Torrance. Rollerblade, bike, or simply stroll the scenic beach path.
From the building itself to the playful artwork, it's a great introduction to contemporary art for kids. Don't miss Yayoi Kusama's Infinity Mirrored Room, which is a huge kid-pleaser.
RELATED: Free Museum Days for Kids in Los Angeles

Visit a Medieval Times dinner tournament with your young royalty. Photo by Meghan Rose
Root for your knight champion and eat with your hands!
Speed over to this auto museum, whose exterior facade is just as eye-catching as the classic and rare cars inside.
Search for the rainbow, care for "baby animals", and send creatures into Noah's Ark two by two at this wildly creative and interactive children's exhibit.
It's one of the only spots in LA where a fire on the beach is allowed, so bring some s'mores fixings, and a guitar for a dreamy night under the stars.
An animal hospital, Courage Climber, and padded space for babies two and under are just some of the highlights of this Santa Monica children's museum.
LA is right along the migratory path of roughly 20,000 Pacific gray whales!
Head through the Hollywood hills on horseback. Or, hike up for a close-up view. It's touristy, but it's one of the most iconic sites in the world.
RELATED: Hollywood with Kids: Things To Do in Hollywood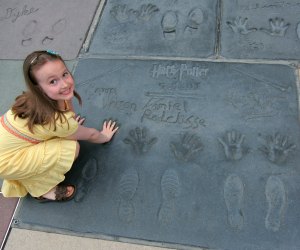 Checking out Emma Watson's handprints. Photo by Jeff Christiansen/CC BY 2.0
Everyone has to show up in person at their ceremony so kids can see their favorite celebrities.
With the Lakers, Sparks, Clippers, and Kings all in one place, Crypto.com is a beacon of sports history right in the center of the city. Make sure to stop by LA Live afterward for a bite to eat, and admire the sports legend statues outside the arena.
The night before the Oscars, news outlets from around the world are setting up their shots outside the Dolby Theatre. Visit Hollywood Boulevard and check out what happens behind the scenes.
These darling little locomotives chug through Griffith Park, and even have a Holiday Light Festival Train. And while you're here, visit Travel Town!
It takes place on the second Sunday of each month, and is filled with treasures galore.
This private beach in Malibu is worth the hefty parking fee (which is cut drastically if you order food, like the giant chocolate cake!).
RELATED: Best Outdoor Dining in Los Angeles at Family-Friendly Restaurants

Visit the Bat Cave! Photo by Meghan Rose
It's known as the "bat cave," and you can almost hear the BIF! BAM! POW! as you approach the entrance.
Stroll down this famous pedestrian Mexican market, eat taquitos and churros, and celebrate a traditional Mexican festival. Our favorites include Blessing of the Animals, Cinco de Mayo, Fiestas Patrias, Dia de los Muertos, and Las Posadas.
Glide into retro skate nights at this iconic skating rink from the 1950s.
35. Take a hike — Various LA Locations
With perfect weather year-round, you've got your pick of hikes on the coast or in the mountains. Choose waterfall hikes, wildlife hikes, and stroller-friendly hikes.
It's one swell of a time. In fact, parents who didn't grow up in SoCal should do this alongside their kids!
Plane-obsessed kiddos will want to ascend to this often-overlooked museum to admire impressive aircraft.
Where else can you ice skate in short sleeves?
See a puppet show at the oldest children's theater company in Los Angeles.
Pretend you jet-set to Venice, Italy, as you stroll the scenic canals in the middle of Venice Beach.
The island itself is chock full of seaside adventures, but a bison expedition is a must-do. The herd was left here by a movie crew in the 1920s and has flourished ever since!
Whether a special occasion like a birthday or just a random day, you'll have to deal with the crowds and take the kiddos to "The Most Magical Place on Earth."
RELATED: Things To Do with Los Angeles Babies Before They Turn 1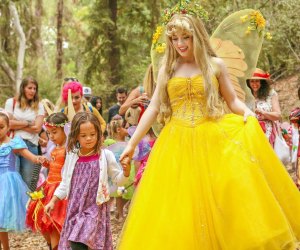 The woods are alive with faeries at the Faery Hunt. Photo by Christi Anna
43. Faery Hunt — Various LA Locations
These funny fairies (and gnomes!) visit parks all over the city.
Explore these towering sculptures and help your kiddo get the perfect photo for Instagram or TikTok.
Will Rogers was a cowboy, actor, humorist, and more. You can tour his home, hike, and catch a polo match (for free) at the Will Rogers State Park.
Mark your calendars, this takes place every year, around mid-March.
From crowd-pleasing rides for all ages, multiple playgrounds, build-your-own LEGO sites, carnival games, and movie theaters, LEGO fans will find themselves creatively entertained all day at this Carlsbad amusement park.
We may not get snow on Christmas, but we can deck the decks.
Walt Disney's Barn is chock full of history about the "man behind the mouse" and is open to the public on the third Sunday of each month.
50. Mountains and beach on the same day — Various Locations
The fable of skiing in the snow and enjoying the beach on the same day if you live in LA is true. Ski, sled, or snowshoe at a local ski resort, then have dinner by the beach.
Immerse yourself in movie magic by way of thrills and perhaps the most popular movie studio tour in LA.
RELATED: Adventure City: A Theme Park for Little Kids in the Heart of Anaheim

Hanging out at the LACMA lamps. Photo by Mommy Poppins
52. LACMA — Miracle Mile
Drop by LACMA and join LACMA Nexgen. Take photos at the lampposts, spend hours watching Metropolis II, and get a picture with the giant Levitated Mass.
Meet the wolves of California—you can pet and feed wolves from your hand (or mouth!). The Shadowland Foundation only books private tours.
See the Blue Boy, get wet in the Children's Garden, and try to time your visit so you can get a whiff of the stinky (and rare) corpse flower.
Enjoy a free rehearsal at the Hollywood Bowl. When the LA Philharmonic is playing at night, they rehearse in the morning, and anyone can attend for a free preview performance.
It's the culmination of the Chinese New Year Festival, which is the perfect time to explore historic Chinatown and get some dim sum.
Go for a gondola ride, kayak, and feel the festive spirit when the houses get dressed up for the December holidays.
58. Bookstores — Various LA Locations
Enjoy free children's storytimes and musical performances, and shop for LA-specific board books at some of our favorite local bookstores like The Last Bookstore, Village Well, Children's Book World, and Vroman's.
There's just as much fun discovery outside as there is inside at this historic Ice Age excavation site.
RELATED: Best Children's Museums in Los Angeles and Orange County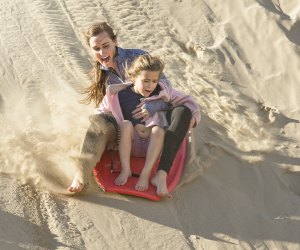 Sand sledding is an LA rite of passage. Photo via Bigstock
We might not have snow, but going sledding down the seasonal Venice sand berms is an LA rite of passage.
Action movie fans will appreciate this pop culture phenomenon of a museum.
Seeing an outdoor movie under the stars amongst the final resting place of Hollywood movie stars is one of those must things to do in Los Angeles.
It's all about kindness and compassion here. Once-a-week tours let children have gentle and unforgettable animal encounters.
Explore the Natural History Museum's seasonal insect pavilions like the Butterfly Pavilion or Spider Pavilion.
This funicular is called "The World's Shortest Railway" and is across the street from Grand Central Market.
The museum has exhibits, interactive touchscreens, videos, recording booths, and music artifacts, including costumes, instruments, hand-written lyrics, records, and more.
Do a Kids Run the Bases Day. Or Star Wars Day. Or go for a Fireworks Friday. Plus, there's always a Dodger Stadium tour. Basically, sport your Dodger blue and see the Dodgers!
Go to a family festival (and ride the monorail up the hill), hunt for clues with an art detective card, and catch a concert in the gardens at the Getty Center.
Where else can you see a joust, wear chain mail armor, dip candles, and eat ye olde faire food?
Fried food and the Ferris wheel await.
An Immersive tidepool habitat and small aquarium make a splash at this seaside experience.
The otherworldly beauty is best to visit in the cooler months, and you can even plan your adventure on a fee-free day.
RELATED: United States National Parks Family Travel Guide

Thumb through the LA Times Festival of Books. Photo by Meghan Rose
Be sure to check the Children's Stage, where you can see favorite authors and celebrities.
Our closest big mountains are Lake Arrowhead and Big Bear Lake, and no matter the season, these mountain resort towns are gorgeous.
Bake cookies and bring them to your local firefighter heroes. They love to give local kids a tour of the station and engines.
Sure, there's Rodeo Drive. But there's also the Beverly Hills Library, which has an impressive outdoor year-round storytime, Edelweiss Chocolates, and the Beverly Hills Trolley. If you hop on the trolley during the holidays, Mrs. Claus often hops aboard.
Sea kayaking and hiking are the things to do at this often-overlooked national park. There's a good chance you might spot a whale or dolphin on the vessel to the islands, too.
You'll have to head to spots like Willbrook or Stone Soup for the actual apple picking, but the mini cider donuts at Snow-Line Orchard should also be on your fall itinerary.
RELATED: Find Fall Foliage near Los Angeles: Pretty Drives To See Fall Leaves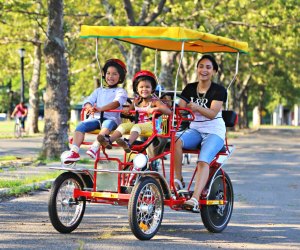 Ride around Lake Balboa. Photo courtesy of Wheel Fun Rentals
79. Lake Balboa — San Fernando Valley
Rent a family bicycle surrey and pedal around the lake or directly on it in a swan boat. In cooler months, this is one of the best parks in LA to have a birthday party!
Climb aboard this family-favorite train fit for all the holidays, like Pumpkin Patch and the Christmas Train.
81. Playgrounds — Various LA Locations
There are just too many to list, but with nearly perfect weather all year, kids could go to a playground every day, all over LA.
Known for its addictive seasonal festivals like the Boysenberry Festival, PEANUTS celebration, Spooky Farm, and Merry Farm, there's something for everyone at this beloved theme park.
Exactly as it sounds, this little pretend city is perfect for younger kiddos to start exploring before they take on their bigger city of Los Angeles by storm.
With food stalls and sweet shops galore, it's a taste of LA's diverse dining scene.
Say, "swan boat," and a mental image of Echo Park Lake will automatically materialize. Pedal around a swan rental at this favorite eastside locale.
There's just no mall like this one with the swankiest family bathrooms we've ever seen to the fun experiences for kids (and adults, for that matter) like the LEGO and American Girl stores.
See what life was like for 19th century Angelenos, or come during Octover when the museum gets a spooky makeover.
A pool, playground, splash pad, and annual events like the Cardboard Yacht Regatta, make this a worthy westside (and public) destination.
RELATED: Best Swimming Pools in Los Angeles: From Public Pools to Hotels with Day Passes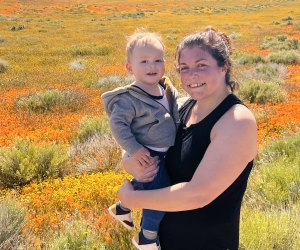 Fields of golden Poppies at Antelope Poppy Reserve. Photo courtesy of Gina Ragland
Soak in fields of gold and orange via wildflower hikes, and admire our state flower in full bloom.
Experience a Symphonies for Youth concert at Walt Disney Concert Hall. These short concerts are a wonderful introduction to classical music—and a great reason to step inside an architectural marvel.
Mudslides, forts to climb, and a small pond to paddle a raft—there are just no places like it.
Virtual reality experiences, escape rooms, reimagined carnival games, and an arcade make this a tech-forward amusement park of sorts.
Growing up in Los Angeles means that entertainment will be outside your door. See the best of the best under one stunning glass dome roof—and do go up on the roof.
With over 800 miles of beachfront and inviting sandy shores, our state has some of the best beach camping in the world.
Attend the annual space exploration event and see things that are out of this world.
Smack in the middle of Culver City there lies an environmental museum and exotic wildlife rescue facility that's home to over 200 exotic animals.
Immersive science-based exhibits provide hours of informative entertainment.
Hike to the MASH film site to see relics from the television show in the middle of the park. Adventure awaits.
It's not a surprise that this was named one of the most beautiful libraries in the world. With a fish tank, dinosaur, space shuttle, and a delightful children's section, it's essentially a mini museum.
100. The Beach — Various LA Locations
Living in LA means we sometimes take it for granted, but days at the beach are a must for any kids growing up in Southern California.
And, in honor of everyone's favorite freeway (the 101), we can't resist adding one more:
Dress up and belt out popular melodies from this beloved musical. Because high on a hill was a lonely goatherd: "Lay ee odl lay ee odl lay hee hoo!"
Top photo shot at LACMA's Levitated Mass by Joey Zanetti/CC BY 2.0
Post originally published January 6, 2012, updated regularly since
We may earn a small commission if you click through our link and make a purchase. This revenue helps us maintain this site, so thank you for supporting us.​
Sign up for the Mommy Poppins Newsletter today!