20 Things To Do in Los Angeles with Tweens and Teens That They'll Actually Enjoy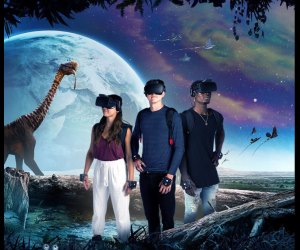 1/14/22
- By
Susan Leslie
That darling toddler that couldn't spend enough time with you somehow morphed into an often sulky or sullen tween or teen who suddenly thinks you're fairly lame. Now, when you suggest a fun family activity, you're more likely to be met with an eye roll than a hug. Well, we happen to have a list of outings that will definitely get your teenager off the couch. We have an entire Mommy Poppins guide just for teens and tweens, but if you're looking for one handy list, here are 20 activity ideas that will make your tween or teen smile for a minute. If you mention there might be Instagram photo opportunities, they may even smile for two or three minutes.

Universal fun! Photo courtesy of Mommy Poppins
1. Amusement Parks
I polled a group of teens with, "If you could have free tickets to any amusement park in Southern California, where would you want to go?" and their preferences in order were: Magic Mountain, Knotts Berry Farm, Hurricane Harbor, and Universal Studios—all before the Disney Parks. Knotts and Magic Mountain score big for their thrill rides, roller coasters, and vomit-inducing upside-down super loopy rides. Granted, for most families the cost makes these a splurge, but the great thing about going to amusement parks with teenagers is ... they are old enough to ride on their own! All of these parks allow you to wait with your kids in line and then exit at the front without enduring the g-force.
2. Virtual Reality
My video-game obsessed son was very bummed when the Virtual Reality center by the Grove closed, but once he discovered Dreamscape at the Westfield Mall in Century City, all other virtual reality experiences faded from his mind. Different adventures come and go, but our family favorite, the Alien Zoo, is always playing, and always a blast. Other great VR centers in LA include Virtual Room LA at Hollywood and Highland, Odyssey VR in Irvine, and Hypergate VR in Santa Monica.
RELATED: Have a Blast at Magic Mountain with Kids of All Ages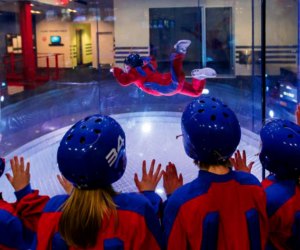 Indoor skydiving at iFly might surprise a smile from a surly teen. Photo courtesy of iflyworld.com
3. iFly
Universal CityWalk's iFly is a clear plastic vertical wind tunnel, where your kids don flight gear and ride the wind without the inconveniences (or parental heart-stopping terrors) of jumping out of an airplane. Kids are given lessons on how to ride the air currents and a certificate for skydiving.
4. Skate Parks
Skateboarding is such a quintessentially SoCal sport that it's only fitting that your tween learns to make some gnarly moves. Before your teen makes a face, let them know you know that's a lame term … But they'll forgive you when you head to Garvanza Skate Park in Highland Park, Vans HB in OC, Stoner in Santa Monica, or one of our other favorite skate parks.
5. Laser Tag and Paintball
Tell your tween to put down the PS5 and jump into a real-life video game with a session of laser tag—where tag meets hide-and-seek, played with infrared laser guns in the dark. Your goal: Take out your opponents before they get you by shooting, running, and hiding. Paintball can be even more fun, but also more painful when you get hit, so we recommend keeping that activity to older kids.
RELATED: LA's Hidden Gem Beaches and Secret Seaside Spots

Retro fun at the roller rink. Photo courtesy of Moonlight Rollerway, Facebook
6. Retro Roller Skating
While kids love to make fun of their parents, they also love to indulge in the retro activities that defined our youth. Go figure! The crown jewel of retro fun in all of Los Angeles is Moonlight Rollerway in Glendale. Any all ages night is fun, but Wednesday night's Rainbow Night is particularly welcoming to LGBTQ+ kids, and periodic theme nights are a blast. These other roller rinks are plenty of fun, too.
7. Spa Days
Wi Spa will take your tweens, teens, or even the whole family. It's a fun first spa experience and a great place to let your young ones indulge in hot and cold tubs, dry and steam saunas, showers, and just hanging out together at the restaurant for tea and a snack. Haven't got a whole day? A mani or mani-pedi, or just a lovely facial that leaves that teen skin glowing, are also fun ways to indulge your teen… Bellacures has multiple locations and is great a nails experience for all ages, and for a first facial, I love that Face Haus has multiple locations and a fairly inexpensive facial experience for teens called Teen Spirit, that not only pampers, but teaches kids how to take care of their skin.
RELATED: Glen Ivy Hotsprings is a Relaxing Treat

Get ready for your teen to take their wheels on the 405. Photo courtesy of K1 Speed
8. Go Karting
Hitting one of our local indoor or outdoor go kart spots gives kids a preview of what it's like to get that driver's license. And if they happen to already have one, racing around the track is a nice alternative to getting stuck on the 405 at rush hour … There's a brand new K1 track in Burbank, which also has multiple other SoCal locations, and other local favorites include Go Kart World in Carson and at the Mulligan Family Fun Center in Murrieta.
9. Apple Stores
My son has plunked himself down at the closest Apple Store since he was a baby, and the fascination never wore off. In fact, it's grown. Now he and his friends love to hang out and look at the latest releases, and dream of the day when I give in and buy the Airpod Pros … Pro-tip: the new Apple Store at the Grove is massive and impressive, even to jaded teens.
RELATED: The Museum of Illusions: Defy the Laws of Gravity and Physics

The Museum of Neon Art brightens any day. Photo courtesy of the museum via neonmona.org
10. Off-the-Beaten-Path Museums
Chances are you've been bringing your kids to the California Science Center and the Natural History Museum for over a decade now. Tweens and teens may think they're too cool for these childhood haunts. And while some kids adore art museums, many don't find a day surrounded by the old masters compelling. But what about the Museum of Death (currently closed while moving to a new location)? The Museum of Neon Art? Or the Los Angeles Police Museum, where they can take their pics behind bars (and make a stop at Galco's Soda Pop Stop to try hundreds of sodas?). The Valley Relics Museum is also a blast, filled with pop culture relics from a really, really long time ago, like when us parents were teens…
11. ATV Off-roading Adventures
While the minimum age to drive one is 14, kids as young as 5 can ride alongside you… I recommend Enjoy the Mountain—there are multiple locations in Southern California, from the mountains to the desert, and all are fun off-roading adventures. The guides will make sure kids of any age feel safe, in control, and also like they're in charge and having a very cool, grown-up experience.
12. Escape Rooms
Check out our Mommy Poppins escape room review; these are some of the best places to not only get a smile out of a teen, but maybe even giddy excitement. The concept of these rooms is to use mental deduction abilities to read clues and decipher them to get to the next level. Kids have to work together, and since the clock is running, there's no goofing off. In fact, you may see so much active cerebral engagement that you'll start to fantasize how you can make their homework into an escape room so it gets done in a fraction of the time. Most rooms set up a picture at the end with all the participants: bonus Instagram opportunity.

Black soft serve in a charcoal cone anyone? Photo courtesy of Little Damage, Facebook
13. Sugar
Okay, maybe you are a family that is all-raw, low-carb, and no sugar; that's cool! If not, there's nothing that brings a smile faster than the promise of a trip to Beverly Hills for the Sprinkles Cupcake ATM or a trip to Little Damage for charcoal ice cream. Looking for desserts that inspire actual gasps? We rounded up the most jaw-dropping delights in town, and even blase teens are impressed.
14. The Beach
The beach is always a teen-pleaser, and luckily Los Angeles has beaches that wow anyone, and they're pretty much fun year-round. Head over to the Palisades to Will Rogers; take the Metro to Santa Monica Beach, or drive up to the pro waves in Malibu. Rent a surfboard, bike the beach path, or just have a relaxing day in the sun. The beach is always more fun with multiple teens, so bring as many as your car allows.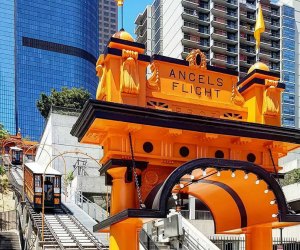 The iconic Angels Flight is a quick but fun trip. Photo courtesy of @60x80 on Instagram
15. Sightseeing
Many Angelenos have never been on a studio tour, done the tour of the Stars Homes, seen a show at the Hollywood Bowl, or even made the trek up to get close to the Hollywood sign. Teens from all over the world spend thousands of dollars experiencing our great city, and yet many native Angelenos haven't explored the biggest tourist destinations. The Warner Brothers Studio tour is a huge hit with teens, with a golf cart tour of the lot, a stop at Friends' Central Perk for a photo op, and maybe even a peek at a show being filmed. Or check out all the classic Hollywood sites, from the Chinese Theater to Madame Tussauds. Your teens might give you an eye roll at first, but I guarantee they'll enjoy playing tourist once you start.
16. Instagram Walls and Pop-ups
The Pink Wall on Melrose ... the Love Wall on 3rd Street ... the Mondrian Wall on La Cienega... who cares about walls? Teenagers do! Store owners have created a marketing boom by having muralists create visually exciting paintings on the sides of their businesses. Many of them are beautiful works of art that teens LOVE to take pictures in front of and post to social media—which leads me to the recent phenomena of pop-up Insta-venues-museums. Some recent destinations of this type include Candytopia, the Museum of Illusions, and the Donut Life Museum. For too-cool-for-school teens, pop-up selfie museums can elicit that same sense of wonder they had when they were 5 and you mentioned scootering to the park to play on the jungle gym.
17. Concerts and Shows
Although cost-prohibitive to many teens, concerts are a teen rite of passage. You've never seen kids light up so much as when they enter the lobby doors at Crypto.com Arena (the artist formerly known as the Staples Center) and get that first glimpse of the massive arena and the stage set up for Billie Eilish, Harry Styles, or BTS. Although the cheap seats mean basically watching the jumbotron the whole time, it's still super exciting to feel the energy and the kindred spirit of being part of a global artist's fanbase. Maybe you, as the parent, are also a fan. If not, there are always earplugs. In addition to checking out concerts downtown, also explore the offerings at the new SoFi Stadium, The Forum, The Hollywood Bowl, The Ford, and The Honda Center. For theatrical kids, a trip to The Hollywood Pantages for an evening of Hamilton or Dear Evan Hansen might fit the bill. Also check out what's new at The Ahmanson, The Wallis, and the myriad other local theaters with great shows.
18. Zip Lining
A really good zip line may take a little bit of a drive to get to, but once you've got them off the sofa and into the car, you might as well keep driving, right? And no matter how cool a kid may be, no one rolls an eye while catapulting through the treetops at increasing speed. Some are super long, some have treetop climbing parks, and some sail over an entire zoo or across an island.

Cheer on a local sports team—LA has pretty much every professional sport you can think of. Photo courtesy LA Giltinis
19. Professional Sports
Another huge benefit of living in Los Angeles: professional sports. Bring your sports fan to a Dodger game, or see the Clippers, the Lakers, the Sparks, the Galaxy, the Rams, the Chargers, the Giltinis (I'm obsessed with our new rugby team!), or the LA Kings. Whether your teen plays sports or is just a sports fan, getting kids out of the house to feel the thrill of a game in person is exciting.

What teen can resist the mall? And this is one of the busiest in America. Photo courtesy of The Grove
20. Shopping
The Grove, 3rd Street Promenade, Palisades Village, Century City Mall, Melrose Ave., The Americana—need I say more? Was there a teen movie in the 80s that didn't have a "mall" scene? I don't think so. What makes "going to the mall" so exciting? I seriously can't remember. But teenagers find running through shopping areas exhilarating. They all seem to know that there are free gumballs at the back of the Skechers store. They pick up free samples at Sephora and Ulta and spend hours trying on clothes at Brandy Melville, Urban Outfitters, and the Nike store. Plus, mall food: Cinnabon, Wetzel's Pretzels, Ben & Jerry's, and Mrs. Fields … mmmmmm. Malls offer a great lesson in fiscal management, as teens learn quickly that $20 from their allowance stash doesn't stretch much past that Starbucks at the mall entrance.