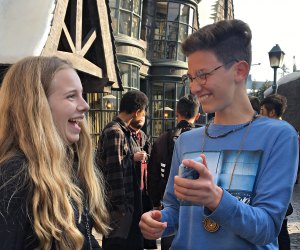 10 Teen and Tween Activities To Make Them Like You for a Minute
Hard to get a smile out of your sullen teenager? When you suggest a fun family activity, are you met with an eye roll followed by the sound of the Netflix app being launched? We have a list of outings that will get your teenager off the couch and maybe even inspire a smile from to ear to ear. We have an entire Mommy Poppins guide just for teens and tweens, but if you're looking for one handy list, here are 10 activity ideas that that will make your tween or teen like you for just a minute. If you mention there might be Instagram photo opportunities, they may even like you for two or three minutes.
1) AMUSEMENT PARKS
I polled a group of teens with, "If you could have free tickets to any amusement park in Southern California, where would you want to go?" and their preferences in order were: Magic Mountain, Knotts Berry Farm, Hurricane Harbor, and Universal Studios—all before the Disney Parks. Knotts and Magic Mountain score big for their thrill rides, roller coasters, and vomit-inducing upside-down super loopy rides. Granted, for most families the cost makes these a splurge, but the great thing about going to amusement parks with teenagers is... they are old enough to ride on their own! All of these parks allow you to wait with your kids in line and then exit at the front without enduring the g-force. Or if you are a thrill seeker, even better—but, you know, be sure and get the seat a few cars back so it doesn't appear as if the teenagers are "with" their actual parents. What's a good age to let them go on their own, saving you the entry fee? Well, I'm old school (er, okay, I'm a helicopter parent) so maybe when they're 30?
2) SHOPPING
The Grove, 3rd Street Promenade, Palisades Village, Century City Mall, Melrose,The Americana—need I say more? Was there a teen movie in the 80s that didn't have a "mall" scene? I don't think so. What makes "going to the mall" so exciting? I seriously have no idea. But teenagers find running through shopping areas exhilarating. They all seem to know that there are free gumballs at the back of the Sketchers store. They pick up free samples at Sephora and Ulta and spend hours trying on at Brandy Melville, Urban Outfitters, and the Nike store. If you're in The Apple Store on a Saturday night, teenagers can't get enough trying to one-up each other on their knowledge of the latest iPhone. And who doesn't love mall food: Cinnabon, Wetzel's Pretzels, Sbarro, and Ms. Fields? Malls offer a great lesson in fiscal management, as teens learn quickly that $20 from their allowance stash doesn't stretch much past that Starbucks at the mall entrance.
3) ESCAPE ROOMS
Check out our Mommy Poppins escape room review; these are one of the best places to not only get a smile out of a teen, but maybe even giddy excitement. The concept of these rooms is to use mental deduction abilities to read clues and decipher them to get to the next level. Teens have to work together, and since the clock is running, there's no goofing off. In fact, you may see so much active cerebral engagement that you'll start to fantasize how you can make their homework into an escape room so it gets done in a fraction of the time. As parents, we pray that the room gets "solved" so we don't have a sulky teen on the way home; when the buzzer goes off and the escape room is solved, teens actually scream, jump up and down, and hoot and holler! (Did I just see an external expression of joy?) Most rooms set up a picture at the end with all the participants: bonus Instagram opportunity.
4) SUGAR
Okay, maybe you are a family that is all-raw, low-carb, and no sugar; that's cool! If not, there's nothing that brings a smile faster than the promise of a trip to Beverly Hills for the Sprinkles Cupcake ATM, or the nitrogen ice cream balls at Dragon's Breath, gourmet marshmallows at Plush Puffs, or the Cream Cheese frosting Carrot Cake at Portos Bakery. Sure, you could hit the "regulars" like Baskin Robbins and Ben and Jerry's, but teens love novelty. And Instagram—they love Instagram. A trip to Little Damage for charcoal ice cream makes a great post to their story.
5) BEACH
You don't have to binge watch BayWatch to get in the mood to hit the Southern California beaches; introduce something like Teen Beach Movie or watch the beach volleyball championships and your teen will be clamoring it hit the sand. Head over to the Palisades to Will Rogers; take the Metro to Santa Monica Beach, or drive up to the pro waves in Malibu. Rent a surf board, bike the beach path, or just have a relaxing day in the sun. The beach is always more fun with multiple teens, so bring a few extra so you can get a breather as well.
6) PROFESSIONAL SPORTS
Another huge benefit of living in Los Angeles: professional sports. Bring your sports fan to a Dodger game, or see the Clippers, the Lakers, the Sparks, or the The LA Kings. Whether your teen plays sports or is just a sports fan, getting kids out of the house to feel the thrill of a game in person is exciting.
7) SIGHTSEEING
We live in Los Angeles, and we all live such busy lives that many Angelenos have never been on a studio tour, done the tour of the Stars Homes, seen a show at the Hollywood Bowl, or even made the trek up to get close to the Hollywood sign. Teens from all over the world spend thousands of dollars experiencing our great city, and yet many of us haven't explored the biggest tourist destinations. The Warner Brothers Studio tour is a huge hit with teens, with a golf cart tour of the lot, a stop at Friends' Central Perk for a photo op, and maybe even a peek at a show being filmed. Or check out all the classic Hollywood sites, from Mann's Chinese Theater, to Madame Tussauds. If your teens haven't ridden the Metro, introduce them to the Los Angeles train system to get them used to the idea of experiencing LA without a car.
8) CONCERTS AND THEATER
Although cost-prohibitive to many teens, concerts are a teen rite of passage. You've never seen kids light up so much as when they enter the lobby doors at Staples Center and get that first glimpse of the massive arena and the stage set up for Arianna Grande, Taylor Swift, or Maroon 5. Although the cheap seats mean basically watching the jumbotron the whole time, it's still super exciting to feel the energy and the kindred spirit of being part of a global artist's fanbase. Maybe you, as the parent, are also a fan. If not, there are always ear plugs. In addition to checking out concerts at the Staples Center, also explore the offerings at The Forum, The Hollywood Bowl, the Ford, and The Honda Center. For theatrical kids, a trip to The Hollywood Pantages for an evening of Hamilton or Mamma Mia might fit the bill. Also check out what's new at The Ahmanson, The Wallis, and the myriad other local theaters with great shows.
9) INSTAGRAM WALLS AND POP-UPS
The Pink Wall on Melrose... the Love Wall on 3rd Street... the Mondrian Wall on La Cienega... who cares about walls? Teenagers do! Store owners have created a marketing boom by having muralists create visually exciting paintings on the sides of their businesses. Many of them are beautiful works of art that teens LOVE to take pictures in front of and post to social media—which leads me to the recent phenomena of pop-up Insta-venues-museums. Some recent destinations of this type include Candytopia, Egg House, Museum of Illusions, and the Happy Place. Companies take over a short-term rental in an empty store space and create exciting sets/backdrops to take pictures. Sound like an odd concept? Lines wrap around the corner, and online sales are sold out for weeks. These pop-ups travel around the country, and new ones are popping up every month. For sullen teens, pop-up selfie museums can elicit that same sense of wonder they had when they were 5 and you mentioned scootering to the park to play on the jungle gym.
10) ZIP LINING
A really good zip line may take a little bit of a drive to get to, but once you've got them off the sofa and into the car, you might as well keep driving, right? And no matter how cool a kid may be, no one rolls an eye while catapulting through the treetops at increasing speed! Some are super long, some have treetop climbing parks, and some sail over an entire zoo. Got less time or thwarted by rain? One of LA's trampoline parks can work off some steam and pump some adrenaline as well. And a solid round of flying or bouncing is a good way to earn some undisturbed screentime, right?