Candytopia: Let's Hear It for Selfies with Candy by the Beach!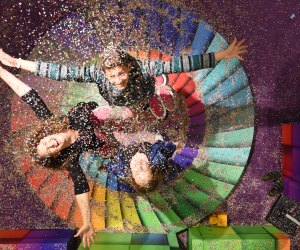 The answer is yes: Yes, it is worth paying a visit to the latest in LA's series of selfie-inspired "museums"—the recently opened Candytopia in Santa Monica Place. Yes, kids of all ages love this place, and yes, you'll feel like you got your money's worth. Plus, with Downtown LA's Museum of Ice Cream and Happy Place both closed for relocation, Candytopia is currently the only game in town. And then, there is all the candy...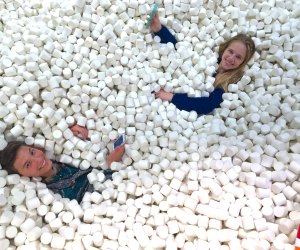 The climax is a dive in the Marsh Pit.
After LA's other selfie pop-ups all hit zoning challenges in DTLA, Candytopia wisely set up shop in a mall on the Westside, complete with free parking; it's refreshingly easy to visit. Tickets are timed and sold online; we went after school on a Friday and sailed in easily at our appointed time.
Candytopia occupies two spaces in the mall, on two floors, offering plenty of room to explore. The tour begins in a hosted waiting area replete with selfie ops, where guests have an opportunity to sign up for a scan code, included with admission, that gives access to a few ceiling cameras located throughout the experience. I highly recommend taking a moment to sign up for the code to take advantage of photos you wouldn't get any other way.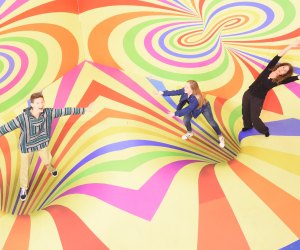 Ceiling cams offer great camera angles.
And of course, photos are what this place is mostly about. The photo ops are phenomenal, and in every room there are attendants dressed like workers in the Wonka factory who are happy to take photos for you. We collected so many fabulous family photos in an hour that I realized the price of admission would be most fairly compared to a photo shoot; not only was this cheaper but it was more fun. I had two adolescents grinning from ear to ear the entire time we were there—no mean feat with teens.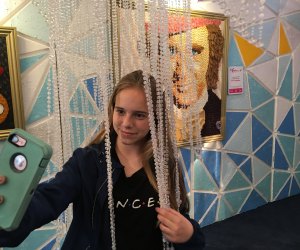 Willy Wonka made out of candy definitely merits a selfie.
But it's not just big kids with iPhones who love this place; toddlers are equally thrilled with the variety of bright visuals, things to sit on, places jump and spin, and sweets to eat. Because, oh yeah, did I mention the candy? From first room to last, every room has a candy theme which is fulfilled by a vat of candy to munch upon: from salt water taffy to candy bracelets to lollipops to chocolate, every room has a treat to share, making sure that no one's energy drags!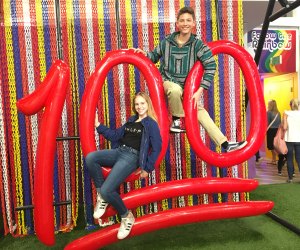 We were 100% sold.
It's hard to do justice to the variety of whimisical settings; we cruised from room to room, munching on sweets, laughing at unexpected scenes made from candy, trying out all sorts of places to sit, stand, swing, or squeeze through, and of course taking photos from every angle. By the time we left, our hair was full of confetti, our bellies full of treats, and our phones full of memories—which reminds me of an important tip: bring a back-up battery! I went in with battery fully charged but was in the red by the end; an extra charge would offer peace of mind so you don't miss a single shot.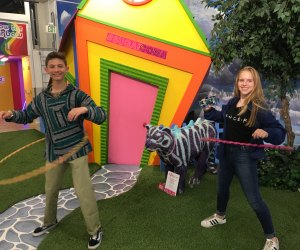 There was even a little exercize.
Candytopia isn't cheap, at $30 for adults and $23 for kids (under 4 free), but for the price you can collect more great photos than the average photo shoot; plan ahead and you could even get this year's Christmas card sorted out. Those fistfuls of candy guarantee smiles in every shot!
Candytopia is currently booking through July 22, 2018.
All photos by the author