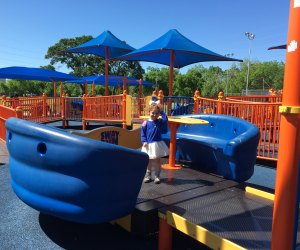 Accessible Playgrounds in Houston Where All Kids Can Play
Houston is home to so many diverse and interesting playgrounds and parks that it should come as no surprise that the city and surrounding areas boast several accessible playgrounds where children with and without disabilities can play side-by-side. Find one near you and get out there and play!
Buddy Carruth Playground for All Children - Medical Center
6001 Fannin St., Houston
713-837-0311
This playground, originally built in 1955 and renovated in 1995, is located in Hermann Park (on the west side) and provides play equipment for children of all abilities - most of the equipment is wheelchair accessible and the playground features smooth surfacing. Bonus fun: the playground features a splash pad/interactive water area and a stop for the Kinder Train. There's also a METRORAIL stop close by.
Vale-Asche Foundation Playground at Memorial Park - River Oaks
6501 Memorial Drive, Houston
713-837-0311
This was Houston's first "Playground without Limits" designed especially for children with disabilities. Children with sight and hearing impairments will find that the play equipment offers interactive, sensory-rich activities and features Braille and sign panels. Children with mobility issues can join in the play via a series of ramps and transfer systems, including a Sway Fun Glider. The playground also features rubberized ground surface and tons of shaded picnic areas. This playground is great for all age groups, including toddlers.
The Playground Without Limits - Montrose
1475 West Gray, Houston
713-387-0311
My daughter and I discovered this brightly-colored playground during election season because the adjacent Metropolitan Multi-Services Center is a polling place. She could not get enough of the Sway Fun Glider (a multi-wheelchair accessible play structure with a table in the center), and I loved that the playground was mostly enclosed and not a far walk from the parking lot (we tend to forget snacks and water bottles in the car). Poured rubber surfacing, double-wide entry points, slides, play panels, balance beam, and sensory panels, make this the ultimate play space.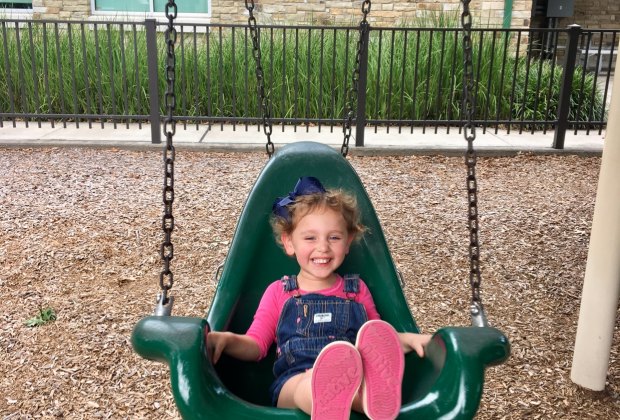 Boundless Playground at Eastwood Park - East End
5000 Harrisburg, Houston
713-387-0311
This playground, located in the East End, is a joint initiative between CVS Caremark, Boundless Playgrounds, the Houston Parks and Recreation Department, and the Houston Parks Board, Inc. Slides, bridges, crawl-through spaces, and safe swings are accessible for disabled children. There are various sized slides and endless low-level ramps, making this park toddler-friendly as well.
Universally Accessible Playground at First Colony Athletic Park - Sugar Land
3232 Austin Parkway, Sugar Land
281-275-2885
Built in 2015, this 5,500 square foot playground in Sugar Land has equipment with longer platforms and ramps as well as bonded rubber surfacing for wheelchairs and disabled children needing even surfaces.
Playground without Limits at Alief Park - Alief
11903 Bellaire Blvd., Houston
713-387-0311
The Playground Without Limits at Alief Park was designed is brightly-colored and fully accessible for all kids. Those with sight and hearing impairments will find that the play equipment offers fun, sensory-rich activities. Braille and sign panels encourage learning and interaction. Children with mobility issues can join in the play via a series of ramps and transfer systems.
Playground without Limits at Tidwell Park - Northeast Houston
9720 Spaulding, Houston
713-387-0311
Tidwell Park's covered playground has equipment for kids with hearing and sight impairments as well as braille and sign panels to encourage interaction. There are ramps connecting the various slides and walkways for easy access as well.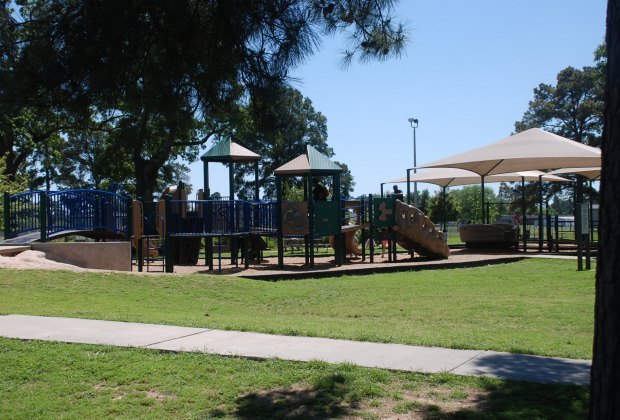 Photo courtesy of Houston Prime Realty
Matzke Park - Northwest Houston
13110 Jones Road, Houston
281-353-8100
Matzke Park is one of our favorites in Northwest Houston because of all it offers. The massive inclusive playground incorporates a hill, a large boat-swing, and has plenty of shade. You'll find ADA accessible swings, a covered pavilion, and an adorable butterfly and sensory garden all kids will love. There are also restrooms on-site.
Lindsay/Lyons Park and Sports Complex - Humble
2310 Atascocita Road, Humble
281-353-8100
This 136-acre park is known for its many sports fields, but also includes two playgrounds - one being all inclusive with special equipment for kids of all abilities. There are covered pavilions nearby, picnic tables, and restrooms.
Mary Jo Peckham Park - Katy
5597 Gardenia Lane, Katy
281-496-2177
This is a beautiful park with lots of amenities, and it's right next to historic downtown Katy. Kids can play at the accessible playground under the shade of the massive trees, and there is plenty of room for picnics and running around (as a bonus, there is even a mini-golf course).
Katy Play Station - Katy
5720 Franz Road, Katy
281-391-4840
Inside Katy City Park you'll find the state's largest playground for deaf and impaired children. It's a whopping 13,000 square feet and features ramps, swings, and more for kids of all abilities. There are plenty of table and benches nearby as well.
Boundless Playground - League City
200 N. Park Ave., League City
281-554-1000
League City's all-inclusive playground has ADA accessibility equipment, a shaded play structure, parking, picnic tables, and restrooms. It was the first playground of its kind to open in Galveston County!
Photos courtesy of author / top: pictured is the Sway Fun Glider at the Vale-Asche Foundation Playground Without Limits; bottom: pictured is a Molded Bucket Seat
Buddy Carruth Playground for All Children
6001 Fannin St
Houston, TX 77030
Vale-Asche Foundation Playground Without Limits
1475 W Gray St
Houston, TX 77019