All-Day Fun: Destination Parks in Houston
Houston is home to a ton of parks. A ton. (Including some pretty great splash pads.) And some are better than others if you're looking to spend more than 30 minutes at an unshaded playground, so we've rounded up 13 parks where you can easily spend a few hours, or even the entire day.
Note that park openings and closures are changing frequently in the 2020 season; click through to the park website for the most current information.
Mary Jo Peckham Park - Katy
5597 Gardenia Lane, Katy
At Mary Jo Peckham, there is a massive playground system with slides, climbable structures, and more for kids of all ages. Even though there are not a ton of shade trees in the area, the playground is equipped with several umbrellas to help keep that Houston sun away. Along with the great playground, kids will love the pond because it's typically full of ducks (so make sure to pack some extra pieces of bread!). You can also fish at the lake - it is stocked with bass, catfish, and trout. There is also a pavilion and restrooms, which make this park perfect for a day or half-day trip.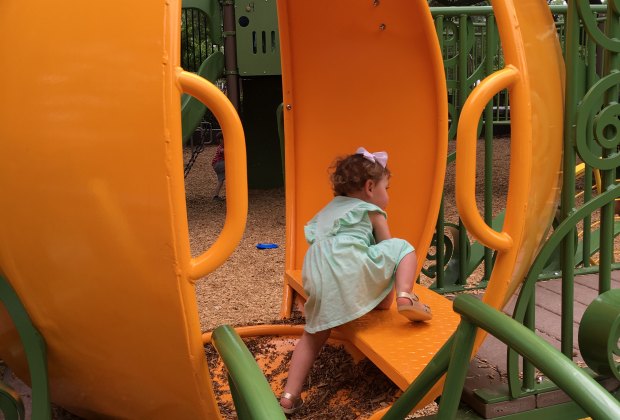 Photo by Frances Broussard Denenburg/Mommy Poppins
River Oaks Park (Pumpkin Park) - River Oaks
3600 Locke Lane, Houston
This is it: The iconic Pump Park, where the playground includes a Cinderella-esque pumpkin carriage for kids to crawl on. Along with the playground, there is a .25-mile hike and bike trail, tennis courts, basketball court, and sand volleyball courts. There are even a set of wishing trees, which is an adorable amenity where you write down a wish on provided paper and pin it to the trees. And because the park was originally built in 1938, you can bet there are plenty of trees shading the property.
Exploration Park - Katy
15020 Cinco Park Road, Katy
This park opened in 2015 and has one of the best playgrounds in Houston. The unique design is unlike most area parks - this isn't your run-of-the-mill plastic slide with a set of swings. Speaking of swings - there are a ton to choose from of varying designs, and next to the massive slide is a collection of soft blue blocks for kids to build...whatever they want! There is also a pavilion you can use for parties or gatherings, but the management company, Willow Fork Drainage District, does not take reservations, so it's first-come, first-served. Note: There are currently no restrooms at this park, so plan ahead or bring a portable potty for younger kids.
Discovery Green - Inner Loop
1500 McKinney St., Houston
We would be remiss if we didn't include Houston's favorite urban park. Discovery Green spans 12 acres and has public art displays, a seasonal skating rink (both roller and ice), Gateway Fountain, which acts as a massive splash pad during the warmer months (so most of the year), the John P. McGovern Playground that is shaded and full of fun and unique features, and a family friendly putting green. You're welcome to pack a picnic, but know there are two restaurants on-site, The Lake House and The Grove.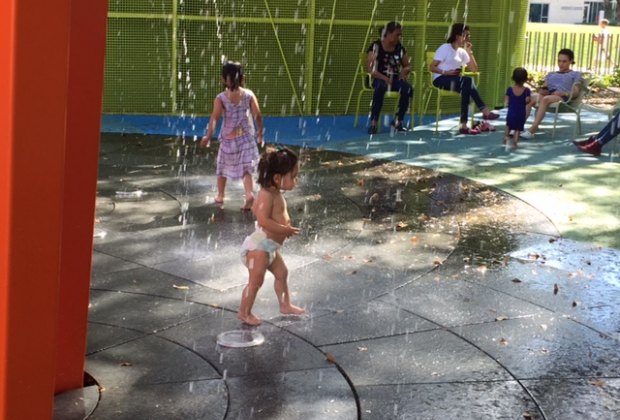 Photo by Kate M/Mommy Poppins
Levy Park - Eastside
3801 Eastside St., Houston
Levy Park was recently upgraded (when we say upgraded, we mean virtually recreated) and reopened in February 2017. It's a huge park - about six acres - with an incredible playground, dog park, shaded pavilion, community garden, and games for kids, including large building blocks and a reading center. As a plus for parents, a restaurant is currently under construction on-site and is slated to open in 2017 along with a food cart that will sell coffee (can we get an amen?).
Memorial Park - Inner Loop
7575 North Picnic Lane, Houston (Memorial Park Conservancy)
What is there not to do at Houston's iconic Memorial Park? From miles of hike and bike trails, the Memorial Park Fitness Center, sports fields, and acres of nature to play in and explore are just a few of the massive park's amenities. The Vale-Asche Foundation Playground can be accessed on Memorial Loop Drive and is an accessible playground where kids of all abilities can enjoy the equipment. Before leaving the house, we recommend taking a look at the park map to get an idea of how you want to spend your day and find the best parking lot closest to the amenities you want to use, which hopefully includes the stellar Houston Arboretum and Nature Center.
Rob Fleming Park - The Woodlands
6055 Creekside Forest Drive, Spring
Rob Fleming is one of the largest parks in The Woodlands and is home to the Rob Fleming Aquatic Center, which makes for a perfect mini summer vacation (admission fees apply for the center for both residents and non-residents). The park is a perfect example of what makes The Woodlands so appealing to Houstonians looking for a change in scenery - it's full of trees and includes a lake for fishing. The play equipment accommodates both younger and older kids, and there are pavilions with tables and barbecue pits.
Bear Creek Pioneers Park - West Houston
3535 War Memorial Drive, Houston
I grew up on the fields and trails of Bear Creek Park. It's beautiful, and one of those destinations that makes you forget you live in one of the largest cities in the country. There are miles of jogging, nature, and equestrian trails, various athletic fields, and two playgrounds. The smaller playground is near the entrance at North Eldridge Parkway and the athletic fields, and you'll find a larger playground that is accessible for children of all abilities in the northwest corner of the park. Along with picnic tables and even a wildlife habitat zone, you'll find plenty of restrooms.
Lake Houston Wilderness Park - Northeast Houston
25840 FM 1485, New Caney
This park is huge - we're talking more than 4,500 acres of natural beauty. And even though this post is about parks perfect to spend the day at, we challenge you to stay the night! There are cabins and campsites for both RVs and tents, and a lodge that holds around two dozen guests. For day trippers, there is a $3 admission, but that gets you access to the miles of trails and into the various amenities (from educational programs to recreational programs, like archery and fishing) offered at the nature center.
Jesse H Jones Park & Nature Center - Humble
20634 Kenswick Drive, Humble
This park is home to a Harris County Precinct 4 nature preserve which borders Spring Creek. There are over eight miles of accessible trails throughout the park, a nature center with displays and educational programs, a recreated homestead with an 1820s-era design (complete with a smokehouse, chicken coop, kitchen garden, and blacksmith and woodworking shops), as well as a recreated Akokisa-Ishak Indian Village that showcases structures from the tribes that inhabited southeast Texas during the colonization era. The picnic area features a wooden fort playground accessible for kids of all abilities as well as a separate toddler area, which we love. There are plenty of covered tables, barbecue grills, and restrooms!
Armand Bayou Nature Center - Pasadena
8500 Bay Area Blvd., Pasadena
With over 2,500 acres of forest and marshes, there are tons to see at the Armand Bayou Nature Center. There is a network of trails and bridges that take you throughout the entire landscape, butterfly gardens, and a farmsite from the mid-1800s. And this preserve is actually the largest urban wilderness preserve in the country! It's not to be missed. Note: There is an admission fee; FREE for kids 3 and under, $2 for ages 4-12, and $4 for adults. However, the third Sunday of the month is free.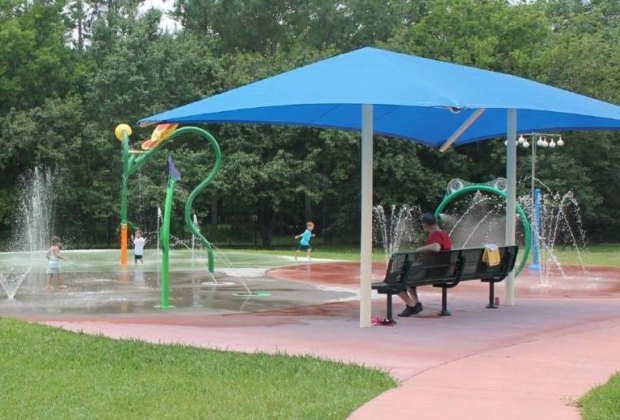 Photo courtesy of the City of Friendswood
Stevenson Park - Friendswood
1100 S. Friendswood Drive, Friendswood
This is a fun park in southeast Houston. There are three playgrounds for kids of all ages, a .5-mile jogging trail, sand volleyball court, basketball courts, and two pavilions you can reserve and rent. The City of Friendswood recently added upgrades to the splash pad, which now has three sections of fountains and seating for parents.
Meyer Park - Spring
7700 Cypresswood Drive, Spring
Maybe you know the 180-acre Meyer Park by its 26 soccer fields, but the great news is it has so much more to offer. There are two playgrounds for kids of all ages, a fishing pond, and nature trails with 15 exercise stations. Oh, and there are restrooms! The Gourley Nature Trail is 10-feet-wide and has benches along the way.
Top photo courtesy Sweet Pecks Photography
This post originally published in March 2017.