The New & (Much) Improved Levy Park Will Blow You Away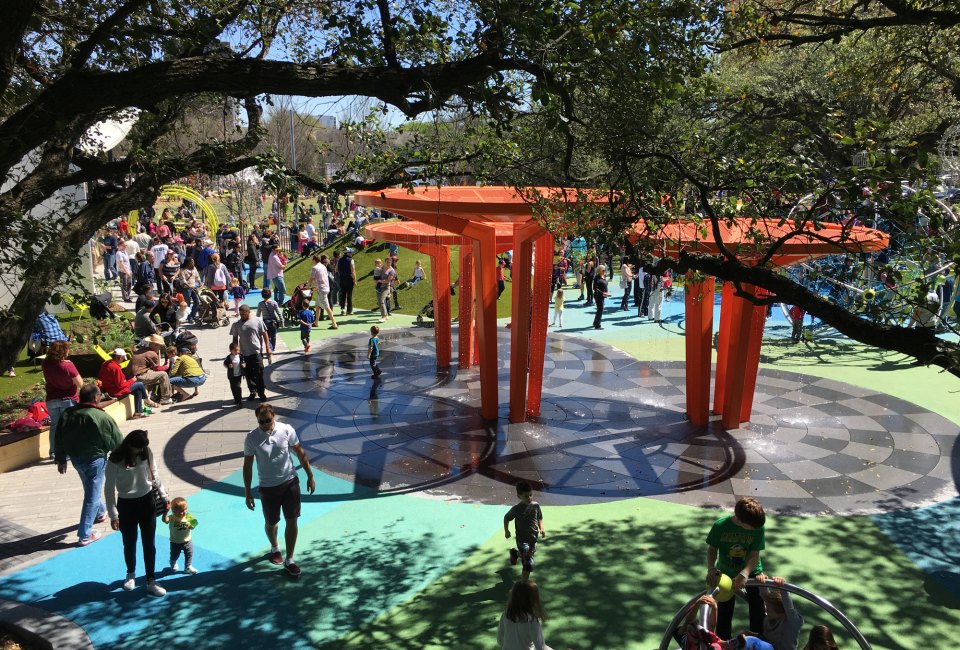 2/27/17
- By
Carrie Taylor
Levy Park in Upper Kirby officially re-opened to the public on Feb. 25, 2017, and simply put, it's fabulous. This urban green space has been upgraded from neglected baseball field to a 6-acre mecca with tons of amenities parents and kids alike will love.
The original 5.2-acre plot at Eastside and Wakeforest was donated to the City of Houston in 1952 by area philanthropist Leon Levy, and have years of falling into disrepair, the Upper Kirby Management District took the helm of a $15-million redevelopment initiative. Fun fact: in the process of reviving the space, three massive oak trees were relocated within the park to make space for more amenities (as opposed to chopping them down entirely - kudos to you, UKMD!), and you can find a mesmerizing video of that process here.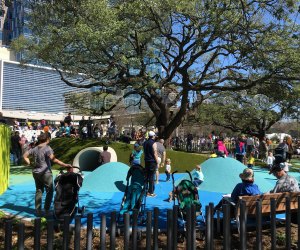 The park now includes a covered stage for live performances; an enclosed dog park; an enclosed children's play area with splash features, a raised walkway, and a rock wall, and more - lots more, actually. Every nook and cranny of the play area has something for kids to crawl on or interact with.
There is also a community garden with 27 plots. A group of volunteers, Levy Park Community Gardeners, will oversee this section.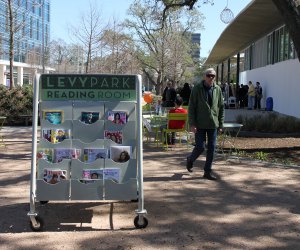 Other kid-friendly amenities include a small putting green, a mini amphitheater for children's shows, and free access to a variety of games, puzzles, books, and projects that are available on carts near the putting green every day.
Availability of refreshments - for both kids and adults - are another feature that makes this park stand out. A refurbished double-decker bus sits on site serving beer and wine as well as small snacks, and Chef Tim Love will have two delicious options for guests to choose from. A stand-alone restaurant is in the works to be built next to the park's community garden with an opening date in 2018, and an open-air kiosk should open in the fall of 2017 serving smoked chicken (to be smoked on-site) as well as coffee. Every park should be required to have a coffee cart, just saying.
Scheduled programs include everything from yoga to puppet shows, so check out Levy Park Conservancy's website prior to visiting to see what's on the docket for the day. Because the conservancy has partnerships with organizations like the Houston Museum of Natural Science and the Houston Public Library System, the events and programs are bound to be fun and engaging for kids of all ages. Park officials also plan to host public art displays in the near future.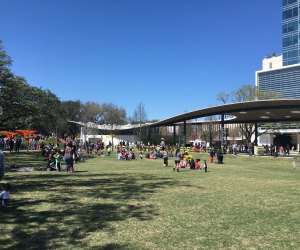 There are no official park hours yet, but scheduled programs will likely end around 7 p.m. leaving the park open for use until later in the evening (9-10 p.m.). There is also 24-hour security, so even though the park is not enclosed by a fence or gate you can feel safe letting the kids run amuck.
General info and tips:
There are indoor restrooms open all day.
Because the park is so large, we found it hard to keep track of our kids running around the playscape, so we recommend dressing the little ones in brightly colored or easily identifiable clothes.
There are 60 parking space adjacent to the green space, but the parking garage right next to the park at Richmond and Wakeforest is $2 an hour if needed.
Most of the park is stroller accessible, but the elevated, neon-green walkway can be a little tricky to navigate.
All photos by Carrie Taylor
Places featured in this article:

Sign up for our free
newsletters.
Mommy Poppins is a family activity website that helps people find things to do with kids.
©
2023
MommyPoppins. All Rights Reserved.
mp-prod4-v4.32.99
We use cookies and other data collection technologies to provide the best experience for our customers.
Learn More