Teen Birthday Party Ideas in Houston: 10 Cool Party Places for Teens and Tweens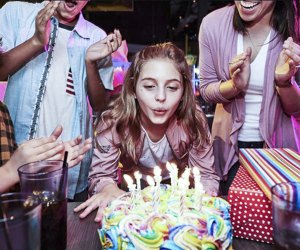 7/24/22
- By
Ashley Jones
Teens and tweens are in that - interesting, shall we say - stage of life between being a go-with-the-flow kid and an independent adult. Sometimes they love anything and everything you do for them, and other times, they absolutely can't stand the sight of you. Parenting teens and tweens can be hard, but planning their birthday party doesn't have to be, because there are plenty of birthday party places near Houston.
With growing independence, the occasional energy for days, and the ability to safely participate in activities that may be just a bit too extreme for younger children (i.e., go-karts and paintball), teens and tweens are at the perfect age to venture out from indoor play spaces and parties at parks and plan a party at a Houston venue that offers a bit more adventure.
Here is a list of birthday party ideas for teens in Houston. For more Houston-area birthday party ideas for kids of all ages, be sure to check out our Birthday Party Guide for Houston families.
1. D-BAT - West Houston
4310 Brittmoore Road
713-460-3228
Have a teen or tween that is obsessed with baseball or softball? Hosting their birthday party at D-BAT in West Houston might just be a dream come true. Instructors will provide party-goers with batting tips as they swing away at machine-pitched baseballs or softballs. Speed adjustments can be made depending on age and skill level, so don't worry if some of your guests aren't pros just yet. Kids can also play a rousing game of dodgeball, kickball, or wiffle ball. There's plenty of space in the facility's party room for partiers to enjoy pizza and cake during the party as well.

Indoor rock climbing is a fun birthday party idea for teens. Photo courtesy Momentum Indoor Climbing via Facebook
25410 Katy Mills Parkway
832-437-9091
Your teen or tween will think you're off-the-wall awesome if you plan their party at a rock climbing gym like Momentum Indoor Climbing in Katy. Party packages include harnesses for all party-goers so that they can enjoy plenty of indoor rock climbing fun. If you have a teen who has their heart set on a certain type of food being served, you're welcome to bring it to Momentum to feed guests in their party area. The facility even provides a party host to help attendees with climbing as well as facilitate games and make sure the paper plates and cups are well-stocked. If Momentum isn't near your area of town, check out this list of other Houston area indoor rock climbing gyms to see if a gym near you hosts parties.
2315 Telephone Road
281-892-1148
Teens and tweens will love the chance to run, duck, roll, and shoot paintballs at their friends during a birthday party at Urban War Zone Paintball. Along with chest protectors, each party with 10+ people gets a complimentary photographer and photos of the party. Other paintball fields around Houston offer party rentals as well, but at Urban War Zone Paintball, kids get to play several rounds of paintball during the allotted party time with at least 210 paintballs per person.
6982 FM 1960 West
281-580-4642
Athletically-inclined teens and tweens can enjoy racing their friends across Ninja Warrior course obstacles for their birthday at Iron Sports. Each party includes an hour and a half of organized activities guided by gym coaches and 30 minutes for opening gifts and eating. Pizza is available to purchase as part of the birthday package, but you're also able to bring your own food and drinks. All participants must wear closed-toed shoes. The minimum age for participants is 4, so tweens and teens can rest assured that baby brothers and sisters won't be able to cramp their style during their party.
3825 Gulf Freeway
281-337-7223
If an adrenaline-fueled party sounds like something your child might enjoy, consider hosting their party at Bay Area Raceway. The go-kart track was completely renovated in 2018 after Hurricane Harvey, and many of the arcade games were replaced with new additions as well. In addition to racing on the asphalt track, party guests can play a variety of arcade games as well as glow-in-the-dark laser tag. Two covered outdoor party areas, as well as indoor spaces for party setups, provide ample room for guests to enjoy cake and presents. If this track isn't close to you, be sure to check out our list of other outdoor go kart tracks in Houston for party options.

Trampoline parks are a fun birthday party idea and there are many near Houston. Photo courtesy of Altitude Trampoline Park
Multiple locations in the Houston area. Find the one closest to you here.
Teens and tweens can fly sky-high by celebrating their birthday at an Altitude Trampoline Park. Each party package includes different options for room rentals, private dodgeball games, and pizza. During the party, guests have access to the main court, foam pit, and dodgeball courts. Every guest is served free bottled water, but must either wear their own socks from home or purchase socks at the front desk. The guest of honor gets a free Altitude T-shirt and a voucher good for one free visit to use after their birthday party.
11755 West Little York
713-409-1990
Out of all of the awesome laser tag arenas in Houston, Battlefield Houston boasts one of the most sophisticated and tactical-style games available. Teens will love the combat zone design of the laser tag area and will be thrilled to try out virtual reality escape room scenarios with their friends. Players must be at least 8 years old, which makes teens and tweens the ideal age to try out this particular arena. Birthday party packages allow your child to choose from over 50 missions for referees to lead them and their friends through. Party-goers can also take advantage of Battlefield Houston's arcade game selection.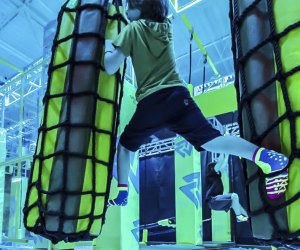 Photo courtesy of Urban Air
8. Urban Air - Various Locations
Multiple locations in the Houston area. Find the one closest to you here.
If your teen or tween is looking for a party venue where they can do just about everything, Urban Air is where they want to be. The list of activities at any given location varies, but generally speaking, activity options include indoor skydiving, go-karts, ropes courses ninja courses, wall climbing, laser tag, bowling, mini golf, and more. Party room and table availability also vary by location, but each Urban Air has a cafe where your birthday kiddo can choose from a variety of snack foods, and pizza orders are welcomed additions to party packages.
9. Main Event - Various Locations
Multiple locations in the Houston area. Find the one closest to you here.
Teens and tweens love Main Event because the large arcade area gives them the freedom to explore and play games at their leisure. Plus, the arcade game selection at most locations offers way more choices than most local options. Main Event party packages allow teens and tweens to select which activities they prefer to participate in choosing from karaoke, bowling, mini golf, laser tag, billiards, virtual reality, and more. Food choices include quesadillas, burgers, pizza, and chicken nuggets. Each attendee gets a game card to use in the arcade and a free cup.
794 Sorella Court - City Centre
5015 Westheimer Road - The Galleria
713-999-1496
Teens will love to try their skills at The Escape Game Houston, where they can work together to break free of one of six different escape rooms within an hour-long window. While younger escapees are allowed, games are recommended for ages 13+. Featuring themed rooms with varying levels of difficulty, like a special ops mission through the Mysterious Market and the investigation of an abandoned underwater laboratory, teens can opt for the experience that presents the best challenge. Escape or not, partiers will leave with a great story to tell. A private event space is available to rent for post-escape cake and presents.
Top Photo courtesy of The Main Event