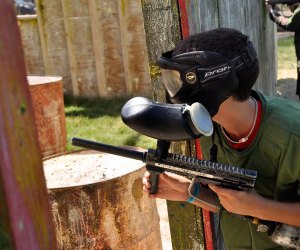 Outdoor Paintball Fields Where Houston Kids Can Have a Blast
Keeping older kids engaged in something other than video games and electronics can be tough. But what better way to entice kids to get out of the house than to let them get messy shooting paintballs at each other? Luckily, Houston has several great spots to take older kids, tweens, and teens where they can run off some steam and engage in a rousing game of paintball. Racing around rugged terrain, ducking and darting around obstacles, and feeling the rush of competition while trying to dodge splattering paintballs at every turn can make for a fun family outing, group event, or birthday party. Read on for some of our favorite places around Houston to get kids in on the thrill of playing paintball.
Urban War Zone - Inner Loop
2315 Telephone Road
281-892-1148
Conveniently located near the heart of the city, Urban War Zone is a full-service paintball field offering private play. This means that you are able to play just with the group you came with and not worry about anyone who might be a more experienced player mixing with beginners. While the age limit at Urban War Zone is 11, they do allow children as young as 10 years old to play in certain situations.
Paintball Bonanza - Southwest Houston
6500 Gold Moss Drive
713-935-0552
This family owned and operated venue aims to give players of all levels a chance to hone in on their paintball skills. The minimum age for paintball play is 10 years old, and players under the age of 18 must have a waiver signed by a parent or guardian. Free play is open each weekend on Saturday and Sunday at Paintball Bonanza, but the field is open for rentals throughout the week by appointment.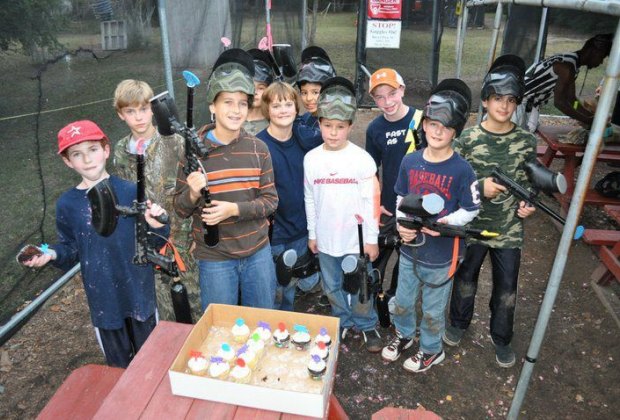 Paintball fields can be a great choice for birthday party fun/ Photo courtesy Paintball Bonanza
TXR Paintball - Cypress
15550 Grant Road
281-357-4300
TXR Paintball offers three levels of paintball play, making it a great choice for the entire family. "Paintball Lite" is a version of the game for children as young as seven, low impact paintball play is available for ages nine and up, and standard velocity paintball starts at age 10. Each of these types of gameplay is available for group play and birthday parties as well. TXR is open for public play on Friday, Saturday, and Sunday, but groups of 20 or more can make reservations to play Tuesday- Thursday.
Paintball Zone - Humble and Clear Lake
281-660-0663
At Paintball Zone, players as young as age five can participate in a low impact version of the game of paintball. At age eight, players are eligible for standard paintball play. Paintball Zone south in Clear Lake offers bubble ball battles for ages eight and up to climb inside of an inflatable bubble and bounce off of each other. This location also features an arrow tag game for ages five and up. These are both great options if someone in your group doesn't care to play paintball, but still wants in on the fun.
Survival Game of Texas - North Houston
2309 Aldine Meadows Road
281-442-2284
Seven uniquely themed fields make Survival Game of Texas one of the most interesting paintball arenas in the area. Choose from a jungle and woods area, an abandoned boxcar train, a Vietnam village, a western town, a castle, and more. These enhanced areas provide plenty of opportunities to hide from opponents and increase the intensity of the game. The minimum age for players at this venue is 12 years of age.
Gotcha Houston Paintball - Humble
2508 North Houston Avenue
713-851-0550
Games at Gotcha Houston Paintball are separated by skill level, so beginners can take their time getting comfortable with gameplay and more advanced players can play more intensely. Players must be at least 10 to participate in standard paintball games. For younger kids wishing to participate, Gotcha offers Splatmaster low-velocity paintballs for kids as young as age seven when you book a party with 10 or more players.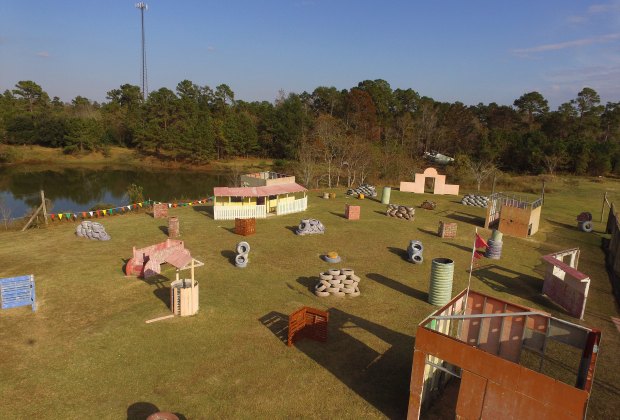 Hide behind and shoot around multiple obstacles throughout each game/ Photo courtesy Gotcha Houston Paintball
Tank's Paintball - Richmond
22011 Southwest Freeway
281-342-5884
Players as young as eight years old can partake in paintball play at Tank's Paintball. This venue's specialty is a capture the flag game where players attempt to cross a wooded area with their team to capture the flag of the opposing team without getting tagged out by flying paintballs. While their fields are only open for public play on the weekends, Tank's offers a special discount for players who arrive before noon on Sunday.
5J Extreme Sports - Spring
22340 I-45 North
832-220-9434
Multiple fields with obstacles like fuel barrels, wooden spools, and makeshift plywood buildings give players at 5J Extreme Sports a multitude of diverse gameplay areas. The minimum age for players of standard paintball at this venue is eight years old, but a low-velocity option is available for children as young as seven when booking a private party.
Glory Paintball - League City
2600 Calder Road
713-826-9570
This paintball field is open seven days a week for open play, private play, and scenario play. Players as young as eight years old can get in on the fun of paintball at this family-friendly facility. For paintball enthusiasts who wish to hone in on their playing skills, Glory Paintball offers classes designed to teach strategy, communication, and shooting accuracy.
What to Expect When Playing Paintball:
Be prepared to get messy. While some paint will wash out of clothing, wear clothes that you don't mind getting dirty. It's also a great idea to pack a change of clothes for the ride home.
We know it can get hot out, but long sleeves and long pants are best to wear. Wearing loose fitting clothing can help minimize impact as well.
Closed toed shoes are a must. All-terrain or athletic shoes are highly recommended.
Wearing a hat can protect hair from getting too much paint in it, and keep the sun out of eyes. Keep long hair pulled back.
Protective goggles, vests, masks, and even helmets are available for rent and/or purchase at venues.
Some venues allow the use of outside markers (paintball guns) and paintballs, but some do not. Make sure to call ahead.
Following all venue safety rules is paramount. A safe game of paintball is a fun game of paintball!
Top Photo courtesy Urban War Zone