10 One-Mile-or-Less Hikes to Take with Your Preschooler Around Boston
5/13/19
- By
Kelley Heyworth
Being a parent to a little one doesn't mean you need to hang up your hiking boots. Boston boasts plenty of tree-lined walking paths that accommodate strollers, and even more short, easy hiking trails to suit kids who've become a little more sure-footed. Along with the many short, winding routes that snake through Blue Hills, just outside city limits, these 10 hikes are well-maintained, close to Boston, and offer just the right amount of challenge for preschool-age trailblazers.
1. Sylvester Baxter Riverfront Park—Somerville
You know what's even better than a short hiking trail when you have an outdoors loving preschooler? A short hiking trail that includes a playground! Situated on the Mystic River, Sylvester Baxter Riverfront Park has an out-and-back trail that's about 0.7 miles long, part of which includes a boardwalk, as well as a modern playground with a splash pad and fountain. Reward your efforts after with a cone at J.P. Licks at close-by Assembly Row.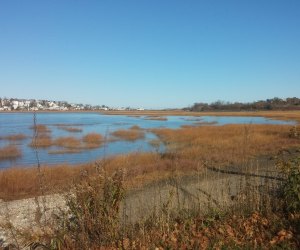 Belle Isle Marsh, Winthrop. Photo courtesy of the Town of Winthrop
2. Belle Isle Marsh—Winthrop
If you have binoculars, bring them along on a short hike through this coastal nature preserve, which is a mecca for birdwatchers: There are even signs with photos to guide kids about what species to look for, depending on the season. There's about one mile of pathways to meander around along and above the marsh, as well as a lookout tower and pavilion that's a perfect spot to stop for a picnic in the shade.
3. Pine Hill/Wright's Tower, Middlesex Fells—Medford
A sprawling reservation outside Boston, Middlesex Hills may seem like a daunting destination with a small child, but the trail up Pine Hill is a manageable and fun adventure that brings you to Wright's Tower—a castle-like structure with great views of the city. Park at the trailhead at South Border Road and Quarry Road at Bellevue Pond.
4. Stone Tower Loop—Lynn
Just about one mile long, this trail in Lynn Woods loops walkers around a stone lookout tower, originally built to locate and observe local fires. A cast iron spiral staircase leads to an outlook of Lynn and the Boston skyline. Park at Ox Pasture and Great Woods Road. If you have more time (and energy), hit Dungeon Rock, where legend has it pirate treasure was once buried,
Longfellow Pond, Wellesley. Photo by Kelley Heyworth
5. Longfellow Pond—Wellesley
At the edge of the Wellesley Town Forest, our neighborhood pond offers four-season fun: pond skating in the winter, leaf peeping in the fall, springtime fishing, summer canoeing, and an easy, 0.8 mile loop to walk around any time of year. Start from the parking lot at Oakland Street and Jackson Road—halfway around, you'll come to a pretty waterfall with a bench next to a grassy field that's perfect for picnics or ball play.
6. Houghton Garden—Newton
This carefully tended-to little park not far off Route 9 is a little like a human-size fairy garden, with little foot bridges, sweet benches, and pretty plants and flowers trailing over rocks. Dogs are frequent visitors here, so bonus if your little one enjoys meeting furry friends. The longest walk is just 0.4 miles and the entire garden is fenced in, so it's a perfect place to explore with small children.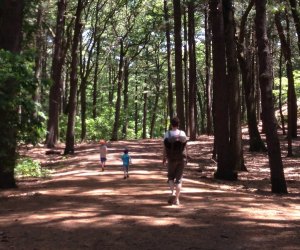 Wide open trails and a playground are for the finding at Menotomy Rocks Park. Photo courtesy of Junan Sohin/Flickr cc by 2.0
7. Menotomy Rocks Park—Arlington
Menotomy Rocks is another nature area that edges a playground, but it's the wide-open trails below a canopy of mature trees that really invites a sense of wonder among kids. The woods are just beyond the three-acre pond off the parking lot on Jason Road.
8. Dane Park—Brookline
Make it a nature day in Metrowest: Not far from Houghton Garden (above), little Dane Park is a real adventure, due to its collection of volcanic rock (all labeled, for explanation to children). Don't miss the lava dome, formed when molten lava was hurled out of an active volcano, and lava pillows, formed when hot lava flows reached sea from dry land.
9. Habitat Audubon Wildlife Sanctuary Trail—Belmont
Seven miles from downtown Boston you'll find Habitat, which offers lots of childhood programming as well as public trails for exploration. Don't miss a stop at the visitor's centery library, which specializes in wildlife books. Note: There is a $4 entrance fee for adults, $3 for children.

The Nature Trail and Cranberry Bog is just steps from Patriot Place in Foxborough. Photo courtesy of Patriot Place
10. Nature Trail and Cranberry Bog—Foxborough
Believe it or not, tucked behind Bass Pro Shops at Patriot Place is a lovely, half-mile wetlands walking trail with plenty of wildlife, groomed pathways, and an Ocean Spray cranberry bog. Signs explain the life cycle of the cranberry and other facts about bogs.
Click Here to Sign Up!
i