Easy, Exciting Blue Hills' Hikes with Kids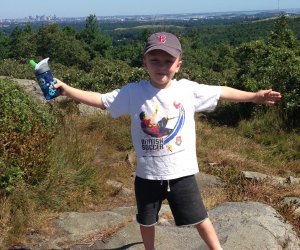 We'd all like to be the sort of family that hikes together—what can be more healthy and wholesome than that? But with little kids, it can be a challenge to traverse a large parking lot, much less uneven or steep terrain. The nice thing is, one of the closest legit hiking spots to downtown Boston happens to also be among the most kid-friendly: Blue Hills. Stretching across 7,000 acres and four towns—Quincy, Dedham, Milton, and Randolph—Blue Hills' only problem may be its vastness: It can be hard to figure out the best spots for a short-but-sweet journey. Today, we're zeroing in on our three favorite Blue Hills' family hiking trails that can be done in a single morning or afternoon—and make kids feel like great adventurers.
Houghton Pond Yellow Trail
Distance: 1 mile loop
Best for ages: 4 and up
Best place to park: 840 Hillside Street, Milton
Starting by the main parking lot's bulletin board, follow the yellow dots on the trees for a short, pleasant hike that capable walkers of almost any age can conquer. Basically, the trail leads you around pretty Houghton Pond. There are picnic tables for a lunch or snack after your journey, and if it's a hot day, be sure to bring towels—spring-fed Houghton is one of the area's best swimming holes. If you'd like a little guidance (and companionship), note that every other Tuesday at 11 am (the next one is May 9, 2017), Friends of the Blue Hills leads "Peek-a-Blue Hikes" for parents or caregivers and tots that begin at the pond's main parking lot.
Buck Hill via Skyline
Distance: 1.5 miles round-trip
​Best for ages: 5 and up
Best place to park: Route 28 between Chickatawbut Road and Route 128, Milton
Call it "Bang for Your Buck" Hill: Of the hikes we've done with our kids in five different states, this one still delivers the most excitement and sense of accomplishment across the shortest distance. Start at the third trailhead on Route 28 coming from Route 128, and walk into the woods a bit to find the trail. Your ascent will begin where the trail parallel to 28 intersects with the blue trail climbing directly upward. (Look closely for blue dots on the trees!) Follow the path straight up, taking care to remind kids to watch their feet as they navigate the slightly rocky climb. After one last, great, steep push (hint: let small children hike directly in front of you in case they lose their footing), you'll reach the top of Buck Hill, where there are flat rocks to sit on and great views of the skyline, harbor, and even New Hampshire's giant Mount Monadnock. Go down the same way; or if you have bigger kids, go down the other side of the hill, which eventually leads back down to the trail along Route 28 closer to 128, becoming a 2 to 3 mile hike.
Great Blue Hill
Distance: 2 miles round-trip
​Best for ages: 7 and up
Best place to park: Trailside Museum, 1904 Canton Avenue, Milton
A destination for families and schools alike, Great Blue is often kids' first "big hike" experience. Look for the red dots to follow the moderately steep trail right up to the reservation's highest peak. Be sure to stop and rest at Eliot Tower for some great views, but don't turn around until you get to the Weather Observatory, where there's a water fountain and restrooms. This popular trail tends to crowd up on nice weekend days, so consider going on a weekday or arriving on the early side on a Saturday or Sunday to avoid heavy foot traffic. The Trailside Museum opens at 10 am from Tuesday through Sunday (April to November), so after your big hike, you can head inside to enjoy a sighting of snowy owls and river otters—and maybe even a cold ice cream treat.
Top Photo: Buck Hill peak—with views of the Boston skyline in the distance. Photo courtesy of the author.