The Best Family-Friendly Vineyards and Wineries in Connecticut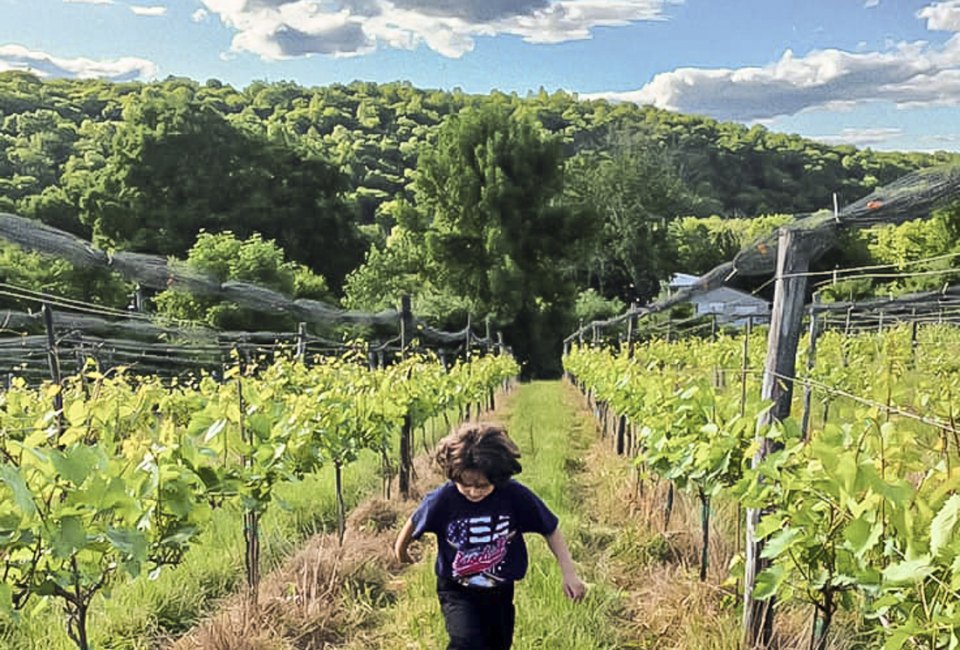 5/6/22
- By
Jennifer Coe
There's no shortage of beautiful wineries in New England, and many of them are located right here in Connecticut. Families will find rolling hills, mountains, and vast acreage at these scenic locations that welcome children while parents enjoy a glass of vino. Aside from tastings, there are opportunities to tour vineyards, walk the rows with your family, and picnic outside together. Many vineyards in Connecticut have regular live music and also serve food.
Consider one of these kid-friendly wineries in Connecticut for a quick day trip, and be sure to check out our rundown of Family-Friendly Breweries in Connecticut.
Family-Friendly Wineries near New Haven

Jones Farm is a pick-your-own destination and winery where you can pick fresh strawberries and blueberries annually.
A pick-your-own destination and winery, you can pick fresh strawberries and blueberries annually at Jones Farm. A 400-acre farm that has applied its growing knowledge to grapes and wine since 1999. They currently offer rosé, red, white, dessert, and fruit wines. Jones Family Farm requests that you leave your dog at home and encourages you to wear good footwear because they are a working farm with rugged pathways. Table service is available as well as light-fare and non-alcoholic beverages.
Bishops Winery has been a destination orchard for decades for families who love to pick fresh apples. In the farm market, you can purchase fresh baked goods, cider, and so many more delicious items. Bishops began making wines in 2005 and offers several award-winning beverages and hard ciders. The winery is located on the same property and is open for tasting Saturdays and Sundays from 12-5.
Family-Friendly Wineries in the Fairfield area
Sitting on a sunny and beautiful pasture, Aquila's (Latin for Eagle) is a great place to sit back in an Adirondack chair with a Rose or Merlot. Kids are welcome in the tasting room and outdoor terrace. The tasting bar is for people 21 and over. Aquila's also has live music on their event calendar. Food may be bought on-site. Bring your doggos too, as they are welcome, but should remain on-leash and be under supervision at all times.
Family-Friendly Wineries in Eastern Connecticut
Extremely picturesque, children are welcome Saturdays and Sundays only. Take a stroll among the vines on the gorgeous property and enjoy the live music or food trucks they bring in periodically such as Cousins Lobster and CraftBird.
You may recognize this name from our lists of places to pick fresh fruit or lavender! Holmberg is a winery too and if you choose your visit time properly, you could pick a basket of raspberries and leave with a tasty wine too. First, pick lavender in June, blueberries in July, and apples in September with the kids..and select a farm-grown wine to take home like a Peach Riesling, Cranberry, or Raspberry Rose. Don't forget to wet your whistle with a wine slushie.
RELATED: Family-Friendly Breweries in Connecticut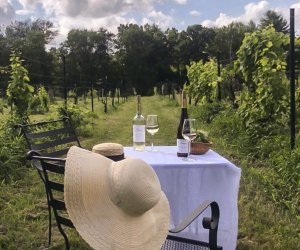 Get in some rest and relaxation at Priam Vineyards. Photo courtesy of Priam Vineyards, Facebook
Children are welcome to Priam and can select from a menu of non-alcoholic drinks and snacks. There is a shaded, outdoor place to sit and enjoy your fare as mom and dad select from over 10 wines including Salmon River White Reisling, Jeremy River White, and Westchester Red. Bring a blanket or chair for relaxing and try to spy the bluebirds on the property.
Family-Friendly Wineries near Litchfield

The stunning farmland at Hawk Ridge Winery.
Absolutely stunning farmland on 58 acres with amazing views. The first grapevines were planted in 2014 and now create 20 different wines to choose from. A large menu of appetizers and food is available too. Pets and children are welcome but must be supervised at all times.
And for something a little different...
Open beginning in September of every year, the last steam-powered cider mill in the United States starts offering cider donuts, cider, wines, and hard cider. Located 3 miles from MysticVillage and 5 miles from downtown Mystic. Their menu items include bakery items such as apple turnovers, apple dumplings, cookies, muffins, and other sweet treats. Outdoor seating is available. Check their Facebook page for apple pressing and cider dispensing times so the kids can see how everything is made.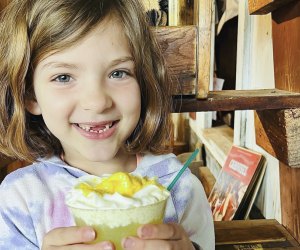 Special drinks are available for kids! Photo courtesy of Hogan's Cider Mill
With lots of space to run, cornhole, and outdoor seating, the kids can play while you grab a beverage like their new Spiked Shortcake. They also have non-alcoholic versions too, like Sparkle Shortcake and Frooty Tooty for the kids. Indoor seating is available too and they will give kids crayons and dominos to play with.
All photos are courtesy of the venues.
Sign up for the Mommy Poppins Newsletter today!