Farms to Pick Your Own Berries, Peaches, Plums, and More in Connecticut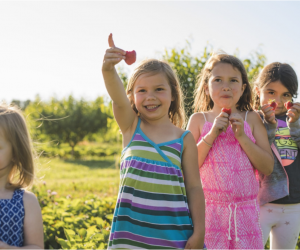 Fresh summer fruit is treat enough, but when kids can pick their own berries, peaches, and plums themselves, dessert is all the sweeter. For more pick-your-own options in Connecticut, check out our berrylicious posts devoted to just strawberry picking and blueberry picking in Connecticut. Happy picking—and baking, and best of all, eating!
For more outdoor summer fun, check out our Connecticut Summer Fun Guide.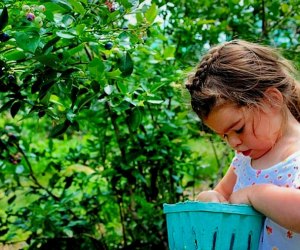 Jones Family Farms features summer berries before the fall pumpkins come in. Photo by Ally Noel
Pick-Your-Own Fruit Farms in Fairfield County
Jones Family Farms—Shelton

Pick your own strawberries and blueberries in summer, pumpkins in the fall, and Christmas trees during the holidays. A 400-acre family farm since 1848, berry picking is at the Valley Farm or Pumpkinseed Hill. Call ahead for the Crop Report to see what's ripe for picking, or follow the signs on the property.
Silverman's Farm—Easton
Pick your own peaches starting the second week of July, or peruse the farm market for apples and other fresh fruit, veggies, and pies. The kids will love petting, feeding, and interacting with the farm friends in the animal farm, including llamas, goats, sheep, and emus.
Pick-Your-Own Fruit Farms in Litchfield County
March Farm—Bethlehem
Pick your own apples, blueberries, cherries, nectarines, peaches, plums, pumpkins, and strawberries. Purchase farm fresh eggs, stop by the cider mill (fresh apple cider made on the premises), grab snacks at the refreshment stand, and enjoy lunch at the picnic area. Children will love the petting zoo.
Litchfield Hills Blueberry Farm LLC—Plymouth
Pick your own blueberries or shop pre-picked produce, and enjoy lunch in the picnic area. Harvest is usually available in July, August, and September. Open: Tuesday to Friday, 8 a.m. to 8 p.m., and Saturday and Sunday, 11 a.m. to 6 p.m. Closed Mondays and cash only accepted.

Maple Bank Farm—Roxbury
Pick your own blueberries on this family farm that dates back to 1730. PYO is generally available Wednesday-Sunday.
Ellsworth Hill Orchard & Berry Farm, LLC—Sharon
Pick your own strawberries, blueberries, raspberries, flowers, and more in one of the loveliest spots in Litchfield County. The vegetable selection includes corn and tomatoes. Open 7 days a week from June to November.
Evergreen Berry Farm—Watertown
Pick your own organic berries. Choose from PYO blueberries, red and gold raspberries, blackberries, and elderberries. Open everyday, mid July through September. Call ahead for updated picking conditions and berry availability.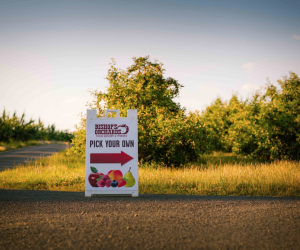 Photo courtesy of Bishop's Orchards
Pick-Your-Own Fruit Farms in Eastern Connecticut
Scott's Yankee Farmer—East Lyme
Pick your own strawberries, flowers, raspberries, blueberries, peaches, apples, and pumpkins. PYO season runs from early June through October. Don't miss the roadside stand for pre-picked veggies and legendary cider donuts.

Bishop's Orchards—Guilford
Strawberries are the first to arrive, then blueberries, raspberries, peaches, pears, apples, and pumpkins. Don't miss the sunflower maze at this 140-year old family farm that has been cared for by six generations. Check the website or call for picking dates.
Lyman Orchards—Middlefield
Pick your own strawberries, blueberries, raspberries, apples, peaches, pears, and pumpkins. Pack a picnic and enjoy the view, or visit the Apple Barrel. Website is constantly updated, so check to see what's ready for picking and when.
Grant's Berry Patch — Lisbon
Pick your own strawberries while they last. These are some BIG, beautiful strawberries indeed! Grant's opens June 22 and is openfrom 8 am to 2 pm. This is a beautiful properyt, with big, wide rows for kids to pick in.
Holmberg Farms - Gales Ferry
Pick your own raspberries are starting in late June. But come back again this summer, because you can also pick blueberries (starting in July) and blackberries (mid-July). They have a cute market, some homemade items for same and a very cute cow you can take a selfie with. Oh and guess what? They have a winery right there on-site! For updated picking conditions call 860-464-7305.
Buell's Orchard - Eastford
The strawberry fields are open for picking in June and blueberries come in July. For strawberries, the farm ais open Monday through Saturday, 8am to 12pm, and then late nights are Monday and Thursday (from 6pm to 8pm). The farm has a market on site with lots of fresh veggies and fruit as well as home made items and books and items for farm-loving kids. Don't forget to grab some cheese or cider while you are there.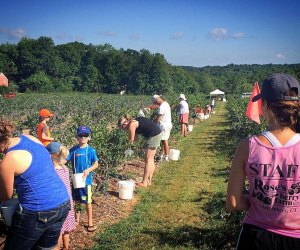 Berry picking follows breakfast on Sundays at Rose's. Photo courtesy of Rose's Berry Farm
Hartford County
Rose's Berry Farm —South Glastonbury
Rose's has two locations, the one on Matson Hill Road being the picking farm. Rose's is famous for all it's berries which include blueberries, raspberries, and strawberries. Before you pick, join Rose's for a hearty breakfast (Sundays only) which, of course, includes berries from the farm. Rose's also offers pies and jams made from their harvest.
Easy Pickin's Farm —Enfield
Easy Pickin's garden offerings are growing (pardon the pun)! You can come to the farm to pick raspberries and blueberries (in season), as well as enjoy some of the herbs and vegetables they have ready for purchase. You can also cut fresh flowers on site.
Scantic Valley Farm —Somers
Come enjoy the beautiful scenery at Scantic Valley Farm as you pick fresh strawberries from their hill-top strawberry fields. Blueberry season usually begins in mid-July. Open Monday through Friday and weekends. Call first for picking conditions.
4-H Auer Farm —Bloomfield
The 4-H Center at Auer Farm is located in Bloomfield. Take a long ride down their dirt road driveway and you will find yourself in the middle of a 120-acre farm and gardens. Blueberries are netted off and are on the trust pay system.
Belltown Orchards - Glastonbury
Belltown has pick your own blueberries, cherries, peaches, pears and the list goes on! They also have a fantastic farmer's market brimming with fresh produce. Blueberry picking starts in early July and goes all summer long. If you're really adventurous, you can take the ferry from Rocky Hill to Glastonbury and GPS the rest of the short ride to the orchard.

Originally written by Sherry Pardy and published June 20, 2012.