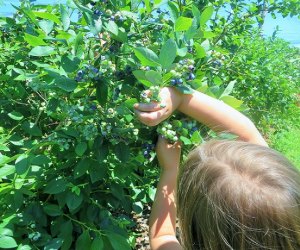 Blueberry Picking in Connecticut: Pick Your Own Farms
Come and pick 'em folks! The following is a list of Connecticut farms that grow pick-your-own blueberries. Look at the map to the right to find one in your area. Here's a yummy blueberry pie recipe that will make all tummies happy, and make use of the plethora of fruit you are surely to have fun picking.
Fresh blueberries are in their prime from mid-July through mid-August. When picking, select berries that are firm, dry, plump, smooth-skinned, and completely blue. The fruit is often covered with a light white coating called "bloom," which helps prevent deterioration. Water on blueberries accelerates rotting, so don't wash them until you are ready to use them. If you store freshly picked berries in the refrigerator, unwashed and covered, they should last up to two weeks. Freezing is always a good option, too. For raspberries and other fresh picked fruit - check out our Pick Your Own Fruit Farm Guide.
Bishop's Orchards
A family farm for 140 years and cared for by six generations, it offers pick-your-own blueberries, typically from July through late August. The farm store features a lot of goodies, including ice cream, sandwiches, and desserts.
1355 Boston Post Road, Guilford, 203 458-PICK
Ellsworth Hill Orchard & Berry Farm, LLC
Pick blueberries from mid-July through September, seven days a week. Also, fresh baked pies and cider donuts are available in the farm store, among other treats. Pressed apple cider is available for tasting.
461 Cornwall Bridge Road, Route 4, Sharon, 860-364-0025
Evergreen Berry Farm
Established in 1979, the farm is sprawled on 27 acres in the Litchfield Hills, and uses natural growing practices. Call ahead for updated picking conditions and berry availability. Containers are provided. Blueberries are usually available mid-July to mid-September. Black and red raspberries and blackberries are also available.
435 Bassett Road, Watertown, 860-274-0825
Grant's Berry Patch
The farm specializes in pick-your-own strawberries, blueberries, and raspberries, but also tomatoes and deliciously sweet corn. The farm stand is well stocked for those who do not have the time or desire to PYO. The farm also features a fun corn maze in the fall.
188 Mell Road, Lisbon, 860-376-5625
Holmberg Orchards
PYO blueberries begins mid-July, but call ahead for specific dates. The farm market open daily from 9 a.m. to 6 p.m., year-round; it features native fruits, vegetables, cider, pies, flowers, plants, and seasonal items.
12 Orchard Drive, Route 12, Gales Ferry, 860-464-7107
Jones Family Farms
A 400-acre family farm since 1848, it offers berry picking at the Valley Farm or Pumpkinseed Hill. Call for the Farmer Jones Crop Line or follow the directional signs when approaching the farm.
Route 110 & Walnut Tree Hill Road (266 Israel Hill Road), Shelton, 203-929-8425
Litchfield Hills Blueberry Farm LLC
PYO blueberries while enjoying a beautiful view of the Litchfield Hills. Also available are pre-picked produce and a picnic area (no pets allowed). Crops are usually available in early July, August, and September. Closed Mondays.
23 Schrowback Road, Plymouth, 860-283-9571
Lyman Orchards
Call the 24-hour hotline for up to the minute information on crops, field conditions, market prices, and more. Lyman Orchards is an 1,100-acre farm in central Connecticut that features many varieties of fruits and vegetables, a sunflower maze, a corn maze, an Apple Barrel store, and two golf courses.
3 Lyman Road, Middlefield, 860-349-1793
Maple Bank Farm
PYO blueberries are available in early July and August. Summer hours are Wednesday through Sunday from 8 a.m. to 5 p.m. Fresh vegetables are picked daily; enjoy herbs, flowers, wool yarn, cider, and apples. A family farm since 1730.
53 Church Street, Roxbury, 860-354-7038
March Farm
Celebrating 100 years and four generations in business, the farm offers PYO strawberries, blueberries, peaches, and apples. The Farm Market & Bakery features fresh eggs, fresh apple cider made on the premises, snacks, and a refreshment stand. Enjoy the petting zoo and the Hayloft Playscape. Open daily from 10 a.m. to 6 p.m.
160 Munger Lane, Bethlehem, 203-266-7721
Peck's Berry Farm
PYO blueberries, 1 mile west of the center of Morris. Open July through August. The farm does not have a website, so it's best to call ahead for updates.
205 West Street, Lakeside, 860-567-0546
Rose's Berry Farm
Pick strawberries in June and July, and blueberries in July and August. Raspberries are also available. Hours are subject to change depending on weather and conditions. Sunday breakfast is open from 8 a.m. to 1 p.m. and features delicious Belgian waffles, French toast, and quiches.
295 Matson Hill Rd., South Glastonbury, 860-633-7467
Ruwet Farm
PYO strawberries in June and blueberries in July. The farm stand is open mid-July to October. Enjoy hay rides in the fall, and sweet corn and other vegetables all summer long. Call for hours and information.
1600 Torringford Street, Torrington, 860-489-9580
Starberry Peach Farm
There are plenty of options here, including apples, pears, sweet and sour cherries, peaches, plums, nectarines, blueberries, apricots, plums, nectarines, and more. The farm is open until the end of October.
47 Kielwasser Road, Washington Depot, 860-868-2863
Holmberg Orchards
Connect with nature and sunshine, and let children experience the joys of picking their own fruit. The Farm Market is open daily 9 a.m. to 6 p.m. year-round, featuring native fruits, vegetables, cider, pies, flowers, plants, and seasonal items.
12 Orchard Drive, Route 12, Gales Ferry, 860-464-7107

Scott's Yankee Farmer
Family owned and operated, the farm is sprawled on more than 100 acres filled with fruits and vegetables. Pick your own strawberries, raspberries, blueberries, peaches, apples, pumpkins, and flowers. PYO season runs from June through October. Don't miss the roadside stand for pre-picked veggies and legendary cider donuts.
436 Boston Post Road, East Lyme, 860-739-5209

Buell's Orchard
Enjoy PYO in the quiet corner of Connecticut. Strawberries are ready in June, blueberries in mid-July to mid-August, followed by peaches, apples, and pumpkins.
108 Crystal Pond Road, Eastford, 860-974-1150

Horse Listener's Orchard
Tractor-drawn wagon rides, pony rides, honey, roses, maple syrup and, of course, blueberries.
317 Bebbington Road, Ashford, 860-429-5336

Fort Hill Farms
The farm uses natural growing practices, and offers blueberries, lavender, and pre-picked produce. A fun farm, it features farm animals in The Discovery Barnyard, a corn maze, ice cream at The Creamery, and panning for gems and fossils.
260 Quaddick Road, Thompson, 860-923-3439

Tikkanen Berry Farm
Blueberries are a specialty here. You'll find a dozen varieties from July into the fall. Open June through October, daily from 8 a.m. to 5 p.m. Call ahead for updated times and availability.
218 Calvin French Road, Sterling, 860-774-0177

Woodstock Orchards LLC
PYO blueberries from mid-July to mid-August. Stop by the retail store for jams, jellies, dressings, gourmet food items, local honey, gift baskets, and more.
494 Route 169, Woodstock, 860-928-2225
Dondero Orchards
Pick strawberries in June and blueberries in July. Other fruits are available, including peaches, apples, pears, and raspberries. Open Monday through Friday, 9 a.m. to 4 p.m.
529 Woodland Street, South Glastonbury, 860-659-0294
Dzen Tree Farm
PYO fruit or enjoy fresh-picked. The farm stand offers produce, plants, and soft serve ice cream.
215 Barber Hill Road, South Windsor, 860-644-4575
Easy Pickin's Orchard
PYO berries in the early summer, and continue returning to the farm for fresh fruits and vegetables until late fall. Pick apples and plums, and enjoy wagon rides, scarecrow making, and the popular annual Gourd Hunt.
46 Bailey Road, Enfield, 860-763-FARM or 860-763-3276

Gilson Farm Greenhouses
Pick strawberries in June, and blueberries in July and August. The farm does not have a website, so it's best to call for current picking conditions.
57 Wapping Road, Windsorville, 860-623-0409
Originally published 6/30/2014.