Online Robotics Camp
Young Gates - Kids Online Personalized Classes

Artificial Intelligence with Scratch Online Camp
Young Gates - Kids Online Personalized Classes

Spark Math: Free Trial Class
Virtual
Sign up for our free newsletters.
8 Affordable Fairfield County Beaches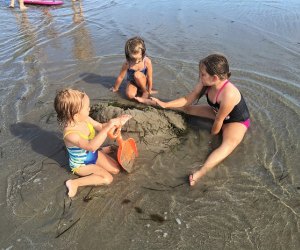 6/17/18
- By
Sherry Pardy
What do you most associate with Fairfield County and the summer time? The pristine beaches that line the Connecticut coast probably come to mind. Even for families on a budget, or those who do not live in a seaside town, soft sand and gentle waves are within reach. Here is a list of the nicest and most affordable ($30 or under per family) beach spots to visit in Fairfield County. Most of these beaches are open from Memorial Day through Labor Day. For more CT Beach and Water Fun, check out our guide and enjoy the sunshine.
BRIDGEPORT:
1. Pleasure Beach
After being closed for nearly two decades, Pleasure Beach was re-opened 4 years ago. There is no direct vehicle access, but a free water taxi picks up beach goers at the fishing pier. You'll be dropped off on a boardwalk where you can get a guided tour of the area and its wildlife as you walk a half mile to the beach. Beach admission is free.

​2. Seaside Park Beach
Enjoy a beautiful three mile stretch of sandy beach, a picnic area, ball fields, playground, concession stand, and restrooms. Cyclists can enjoy a dedicated cycling path. The weekday parking fee is $30 per car for CT residents (it climbs to $40 on weekends).

FAIRFIELD:
3. Jennings Beach
The largest of Fairfield's six beaches, it offers a playground, restrooms and food concession, and shares a parking lot with the Henry Rowland Memorial Playground, home of the "Sand Castle Playground" and a skate park. You can watch sailboats drifting by from the nearby marina, too. The daily parking fee per car is $40 on weekdays ($50 on weekends).
STRATFORD:
4. Long Beach
This is the least popular beach in town because it has no food concession or permanent restroom facilities. If you're looking for your basic beach, which is actually decent on the sand front, check this one out. The daily parking fee is $20 per car, $40 on weekends and holidays..
5. Short Beach Park
This is really the best beach and value for a family. There's a decent size playground right on the sand, which is fenced off so you don't have to worry about a runaway toddler. Food concession, a free skate park, tennis courts, basketball courts, restrooms, a picnic area, and even mini-golf are available on the premises. The daily parking fee is $20 per car.

6. Stratford Seawall Overlook
There are no parking fees here. You can park by the restaurant Marnick's, grab an ice cream cone, and walk right down to the sand in front of the restaurant. Or walk all the way along the wall (don't forget to look for the Wall Cats!) down to the beach at the other end. If you're really feeling adventurous, stroll all the way along the water to the Stratford Point Lighthouse. While there's no fee to park, be aware that there are no public restrooms or amenities like other beaches, so plan on having a snack break at Marnick's when you need a bathroom break.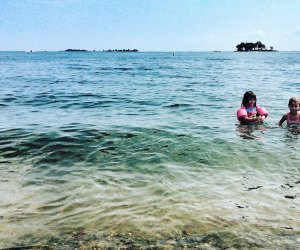 Photo courtesy of Ally Noel.
WESTPORT:
7. Sherwood Island State Park
Unofficially Connecticut's oldest park, Sherwood Island offers miles of beaches for swimming in Long Island Sound. The terrain is a bit rocky, so bring along water shoes for comfort in the water. There are picnic areas, and restroom/shower facilities, too. It's a popular spot in the summer with tourists from all over, so arrive early. While here, stroll over to the Nature Center which hosts a wide variety of programs. Be sure to see the Connecticut 9/11 memorial, as well.
NORWALK:
8. Calf Pasture Beach
This 33 acre beach is the largest in the area with mini-golf, fishing, ball fields, volleyball courts, and boat rentals. The daily parking fee is free for Norwalk residents (with a parking pass available at Parks and Recreation).

If you have any other favorite Fairfield County beaches with creative parking options, share the wealth here!
Originally published June 11, 2011.
Photo courtesy of Clementina Verge.