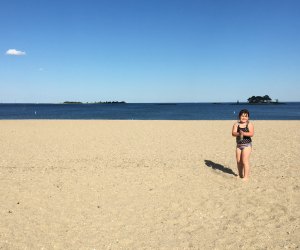 15 Great Beach Day Trips in Connecticut
One of the attributes of living in Connecticut is our close proximity to water. No matter where in the state you find yourself, you're likely within an hour's drive of a beach, and in the summer, with energetic children ready for adventure, the less time spent in the car the better. We've compiled a list of 15 great beach day trips within or near Connecticut. All you need to do is pack the sand toys, sunblock, and snacks. Make sure also to check out our list of 8 Affordable Connecticut Beaches and keep in mind that entrance to state beaches has been free since 2018. For more summer fun ideas, be sure to browse our CT Summer Fun Guide.
1. Rocky Neck State Beach - East Lyme
Just under an hour from Hartford, Rocky Neck is a large, popular beach, and for good reason. Part of Connecticut's state park system, Rocky Neck offers something for everyone. From the large wide sandy beach, to the trail system for hiking, to the stone jetty for fishing black fish or flounder, and more. Plus, if you care to stretch your day trip into a weekend, 160 wooded and open campsites are available. Rocky Neck fills up quickly during peak season, so it's best to get there early. For a post-beach sweet treat on the ride home, swing by the popular Tony D's Craft Creamery on Main Street.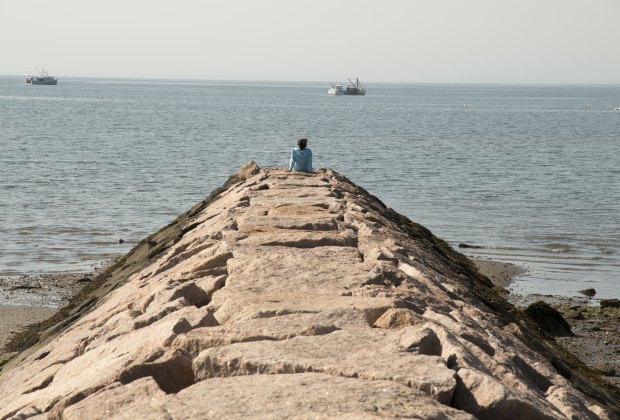 Enjoy a quiet moment at Silver Sands State Park.

2. Silver Sands State Park - Milford
Located on the southern edge of Milford, Silver Sands' somewhat remote location makes for a much less crowded experience than other beaches in Connecticut. While the amenities are few, the protected, calm waters make it perfect for families with older children. Charles Island is closed between May and September to aid bird nesting. Parking is free. Just a short jaunt from the beach, grab a quick sweet bite at the Walnut Beach Creamery.

3. Harvey's Beach - Old Saybrook
At low tide, the sand never seems to end. Tucked away off Route 154 in Old Saybrook, Harvey's Beach offers families a ton of space to comb for shells, build sand castles, and wade in the cool waters of Long Island Sound. The crowds tend to be small, and so are the waves. Hit the beach in the morning - be sure to schedule it around low tide for maximum beach frontage, then head into town for lunch. Lenny and Joe's Fishtale and The Back Porch are local favorites.

Ocean Beach Park has it all.

4. Ocean Beach Park - New London
Ocean Beach has it ALL! The large smooth beach provides direct access to Long Island Sound, views of lighthouses, an Olympic-size pool, mini-golf, food court, snack sands, game room, gift shop, splash pad, playground, waterslide, nature trails, and amusement rides. For a sit down meal after a day of fun in the sun, Fred's Shanty on Pequot Avenue is a popular spot for burgers and dogs. Or head a bit further down the road to Captain Scott's Lobster Dock for some of the freshest seafood you'll find anywhere.
5. Hammonasset Beach State Park - Madison
What would any list of CT beaches be without including the Granddaddy of them all? Hammonasset offers a mile long, pristine beach, fishing, camping, concessions, full amenities, and much more. You may have overlooked the Meigs Point Nature Center before, but why not stop in on your next visit and see what exhibits are on display? Take a drive through town after the beach and hit Friends & Company for a fabulous, family-friendly dining experience.
6. Esker Point Park Beach - Groton
Groton Long Point is a small community situated between Stonington and Mystic, and almost smack in the middle is Esker Point Park. This beach offers fantastic views of the sound and Mouse Island. Plan a trip around one of their legendary concerts and grab a bite to eat at the concession stand. Or, if lobster is on your mind, take the quick trip into the village of Noank to Abbott's Lobster in the Rough.
7. Misquamicut State Beach - Westerly, RI
Technically, this beach is just over the border in Rhode Island and it's worth the trip from anywhere in CT. Misquamicut State Beach sits directly on the Atlantic, so the waves are often large and powerful. The sand is smooth and sugary, and there's a lot of it; Seven miles, to be exact. With full amenities and handicap accessibility, plus a slew of other attractions up and down Atlantic Avenue, this beach gets full fast during peak season.
8. Napatree Point - Westerly, RI
Another Rhode Island beach, but, unlike Misquamicut, Napatree sits quietly and more serenely between Narragansett Bay and Watch Hill. In addition to the beach, Napatree provides year-round habitats for a variety of species of birds and other wildlife. It's worth venturing around Watch Hill, especially for the carousel, the Watch Hill Lighthouse, and to catch a glimpse of the spectacularly renovated Ocean House.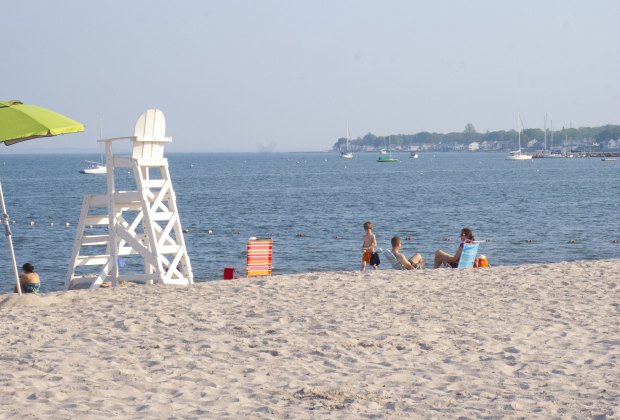 Enjoying a nice day at McCook Point.

​9. McCook Point Beach - East Lyme
​Just a bit down the road from the hustle and bustle of Rocky Neck, McCook Point Beach is a local favorite of East Lyme-area families. There's a large playground, in addition to the small but lovely little beach. Keep watch, as McCook is known for seal sightings off in the distance. The park also hosts concerts and other events all summer. Grab a pizza from Village Pizza at the end of the day.
10. Jennings Beach - Fairfield
This 27-acre beach, the largest in Fairfield, offers great views of Long Island Sound, concessions and bathroom facilities. Located near the Henry Rowland Memorial Playground, it is also home to an exciting playscape and a skate park. Swimming lessons are offered during the summer. Beach access is free, but parking here doesn't come cheap: $20 on weekdays and $50 on weekends and holidays.
11. Jacobs Beach - Guilford
A well-kept summer secret (not anymore!), Jacobs Beach offers a peaceful retreat from more popular and crowded beaches. Enjoy 25-acres of sandy shoreline and watch or join kayakers in floating by. Non-residents require a daily pass, which provides access ot the playground, picnic areas, grilling stations, outdoor showers, and bathroom facilities.
12. Eastern Point Beach - Groton
This small, family-friendly beach at the mouth of the Thames River is adjacent to the UCONN Avery Point campus. The water is shallow and the amenities are plentiful, which makes it popular with families. Either on your way in or out, do not miss the opportunity to have lunch, dinner, or both at Paul's Pasta.

13. Sherwood Island State Park - Westport
Connecticut's oldest state park has a fantastic nature center that features wonderful (and free!) programming. There are picnic areas, bathrooms, showers, and food concessions - making it easy to spend a day here enjoying the summer breeze while looking for seashells.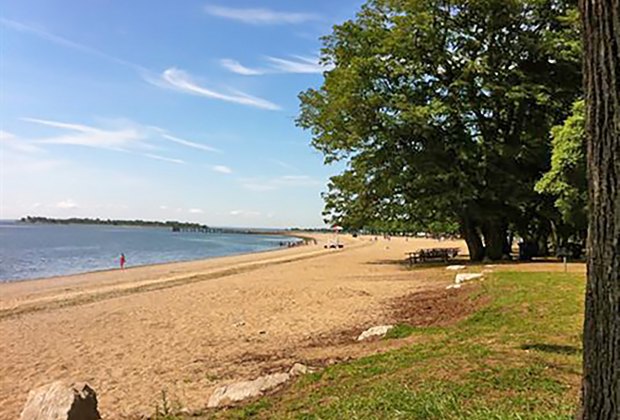 Shady beach at Calf Pasture is a great place for a BBQ.
14. Calf Pasture Beach - Norwalk
Sure, spending a day at Calf Pasture is GREAT. In addition to the beach, you can enjoy a skate park, playgrounds, splash pad, and beach volleyball. But, this place truly shines after the sun goes down. There is so much to do here - concerts, movie nights, classic car shows, and more. Make sure you check out Ripka's for fresh seafood, cold drinks, and delicious burgers.

15. Cove Island Beach - Stamford
Cove Island houses two beaches, bike paths, a large lawn to play on. Budding naturalists will also enjoy the small salt marsh, intertidal mudflats, and prime spots to view water birds. Cove Island is also home of Sound Waters - a local non-profit organization regionally recognized for being a leader in educational programming about the Long Island Sound.

Originally published 6/4/14.
Photos courtesy of Connecticut Office of Tourism