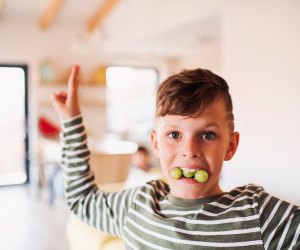 23 Family-Friendly New Year's Traditions from around the World
One thing that no one got to do much of this year was travel. The chance to explore other lands, foods, customs, and cultures was sorely missed by many of us at Mommy Poppins. So, to celebrate the end of the year, we thought it would be fun to plan a trip around the world without ever leaving the house. In the United States, New Year's Eve means ball drops, fireworks, and champagne (or sparkling Martinelli's) toasts. But in different parts of the world, New Year's celebrations look a little different and might include eating grapes, smashing plates, or even getting tapped with an onion.
Welcome the New Year with these unique, family-friendly traditions from across the globe. And if you're looking for more fun ways to celebrate New Year's Eve at home with kids we've got you covered!
Things to Eat on New Year's Eve
1. 12 Grapes (Spain)
In Spain, people eat 12 grapes at midnight, one with each strike of the bell. This is believed to bring good fortune and prosperity. We think kids get just as much good fortune eating grapes at noon. (Or any other hour you choose!) Find a bell to ring, pick an hour, and take turns ringing the bell as everyone eats grapes.
2. Oliebollen (Holland)
The history of why the Dutch eat Oliebollen in Holland on New Year's Eve is quite brutal (it involves thwarting a punishment from Perchta the Belly Slitter!), but the fried balls of doughy goodness are a fabulous New Year's treat. For home cooks, here's a great step-by-step recipe; for parents who want a break from cooking, donuts or beignet will stand in nicely.
3. Good Wishes Bread (Armenia)
Bake your favorite bread as they do in Armenia (sourdough seems appropriate for 2020), and knead an extra ingredient into the dough: good wishes for a lucky new year. No, you can't order good wishes from Instacart to add to the bread (wouldn't that be handy?), but talk about all your happy thoughts and good ideas for the upcoming year as you bake together. This recipe is perfect for kids.
4. Vasilopita (Greece)
Vasilopita is a sweet yeast bread with a coin baked in it. Traditionally eaten at midnight, the bread is sliced and distributed from oldest to youngest, with one piece set aside for St. Basil, and another for those in need. Whoever gets the coin in their slice is in for a year filled with luck.
Marzipan molds easily into any shape, like these cute little good luck piggies. Photo by o0karen0o/CC BY 2.0
5. Piggies (Austria and Germany)
Marzipan or chocolate piggies are just fine if you don't want to go "whole hog" and roast an entire pig. This tradition is practiced in Austria and parts of Germany, and it's still popular in some parts of Dutch Pennsylvania. They say eating pigs is lucky because pigs are always rooting forward, and people want to move forward in the new year. If marzipan isn't a favorite food, try making adorable piggie cupcakes.
6. Toshikoshi Soba Noodles (Japan)
Toshikoshi soba, or "year-crossing noodles," are slurped up to melt away the hardship of the last year and welcome what lies ahead. That's a beautiful sentiment for this particular year, and it's usually pretty easy to get kids to eat a bowl of delicious noodles in broth.
7. Kransekage (Holland)
We'll skip the traditional New Year's Eve Danish meal of boiled cod and mustard, and go straight to the dessert! Kransekage is a towering marzipan ring cake served on special occasions.
8. Black Eyed Peas (Southern US)
This one is from the United States. In some parts of the South, eating black-eyed peas on New Year's is thought to bring prosperity in the upcoming year. Some say you need to eat one pea for every day of the year. That's a big helping of beans—and a lot of counting! (Not into eating beans? Put on a playlist filled with will.i.am and Fergie songs and dance your way into a lucky new year.)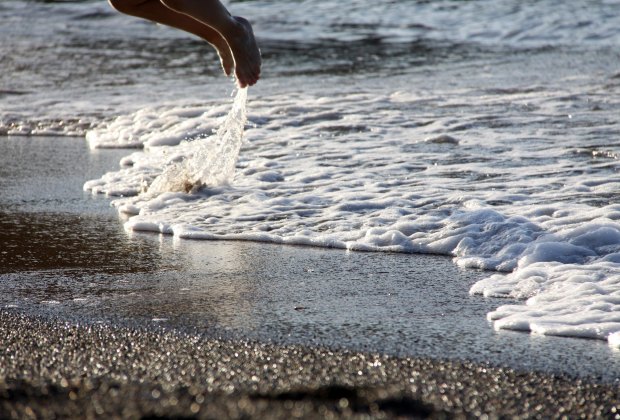 It's not as cold as a Polar Bear swim! Photo by visualpanic/CC BY 2.0
Traditions that Bring Luck in the New Year
9. White Flowers and Wave Jumping (Brazil)
Yemoja is a water deity who is said to control the seas. For luck, many people throw white flowers into the ocean and then jump seven waves while making seven wishes. While it might be a bit too chilly for wading in the ocean at midnight, this tradition makes a great excuse for a daytime walk on the beach on the last day of the year, jumping waves or just throwing flowers into the water and making wishes. (Brazil)
10. Chair Leaping (Denmark)
Kids will love being in charge of this tradition from Denmark—stand on chairs and jump off of them together at midnight to "leap" into January in hopes of good luck. Have the kids arrange the chairs and countdown to your jump. (Which of course can take a bedtime, not midnight.)
11. Break Some Plates (Denmark)
Also from Denmark comes the tradition of throwing china at friends and neighbors' doors; the more broken dishware at the door, the better your luck in the new year. We're not suggesting you throw your Corelle at unsuspecting neighbors, but if you have a few old chipped mugs or plates, it's a great way to get the last of the 2020 aggression out by letting the kids smash a few plates on your own doorstep, all in the name of tradition.
12. Wear Colored Underwear (Brazil, Argentina, Colombia, and Italy)
Check your underwear! In several countries it is thought to be lucky to wear special underwear on New Year's Eve. The most popular colors are red, thought to bring love in the New Year, and yellow, believed to bring money. Wonder what happens if you wear rainbow underwear?
13. Smashing Pomegranates (Greece)
This isn't a 90s college band, it's a tradition to bring good luck. In Greece, smashing a pomegranate on the front door brings luck in direct proportion to how many seeds spill out of the fruit. The more seeds, the luckier the upcoming year.

Pour one out for 2021! The cats will handle the cleanup. Photo by the author
Other New Year's Eve Traditions Kids Will Love
14. Pour Cream on the Floor (Switzerland)
Drop a dollop of cream on the floor for a rich year. Pets are most appreciative of this tradition.
15. Bread Banging (Ireland)
Why eat carbs when you can whack them? The Irish believe banging bread against the wall on New Year's Eve will chase away bad luck and evil spirits. Get a couple of baguettes and let the kids go crazy getting their energy out.
16. Empty Suitcase Parade (Colombia)
Want to travel more next year? (Yes, please!) In Colombia, people take empty suitcases for a trot around the block to symbolize the travel they wish to take in the upcoming year.
17. Onion Tapping (Greece)
An onion may be found hanging on front doors in Greece, as a symbol of rebirth. On New Year's Day, parents wake their children by tapping them on the head with an onion. That's one way to start the new year with a giggle, but it means waking up before your kids on a holiday.
18. Joya no Kane (Japan)
Temples in Japan hold Joya no Kane events, where a bell is rung 107 times on New Year's Eve and then once more at midnight. Kids will happily take charge of this activity, preferably outside.
19. Salt Sprinkling (Turkey)
Sprinkle salt on your doorstep like they do in Turkey, for a fresh start in the new year. While it's traditionally done at midnight, we suggest doing it when it's midnight in Turkey, which is between 1pm-4pm in the United States.
20. Water Splashing (Burma)
In Burma, they splash water on each other to purify the soul. This tradition is fun to incorporate into a bathtime ritual!
21. Make a Wish, Drink the Ashes (Russia)
In Russia, it's a tradition to write a wish on a piece of paper, burn it, and put the ashes in champagne. Then drink it before midnight (a little sparkling Martinelli's works just fine).
22. Sing "Auld Lang Syne" (UK)
This one has come across the pond, so while very few people actually know the words, most of us can mumble along with the chorus.
A year, a night, leaving the room ... everything should end with a kiss. Photo by the author
23. A Kiss at Midnight (Venice)
In Venice, everyone gathers at Piazza San Marco to kiss at midnight. A kiss to usher in the New Year sounds like the perfect way to end the list.