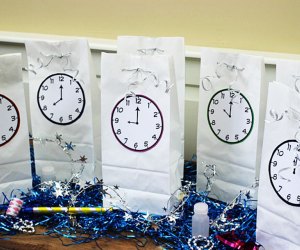 12 Ideas for Celebrating New Year's Eve at Home with Kids
While people may not be hitting the town this year, no one will mind keeping the party at home with all these fun things to do with kids of all ages. We've rounded up a dozen fantastic family-friendly activities to celebrate New Year's Eve with kids at home. One of the best things to come out of 2020 was the realization that the most meaningful celebrations are the simple ones with those we love the most. From balloon pops to ball drops, discover what to do to ring in 2021 in the most festive and memorable way.
More family fun for New Year's Eve and New Year's Day can be found on our local event calendars. From all of us at Mommy Poppins: Happy New Year!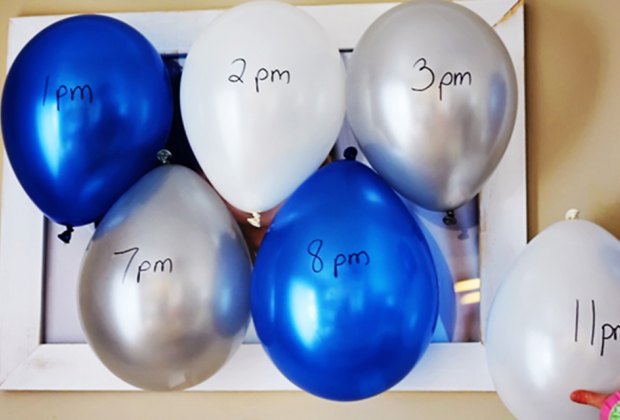 It's like bubble wrap popping on a really big scale! Photo courtesy of How Does She
1. Pop a Balloon Every Hour
There's something exciting about popping balloons at the top of the hour, every hour, until midnight—the biggest pop of the year! Of course, you don't have to keep popping until midnight. Start at noon, start after dinner, do a dozen, or do just a few; one of the best things about this activity is that it can be tailored to the ages (and bedtimes) of the kids in the family. Before putting helium or air into colorful balloons, try stuffing them first with sequins, confetti, or glitter and a slip of paper with an activity for that hour written on it. The anticipation drives kids crazy and adds a little mystery and excitement to the evening.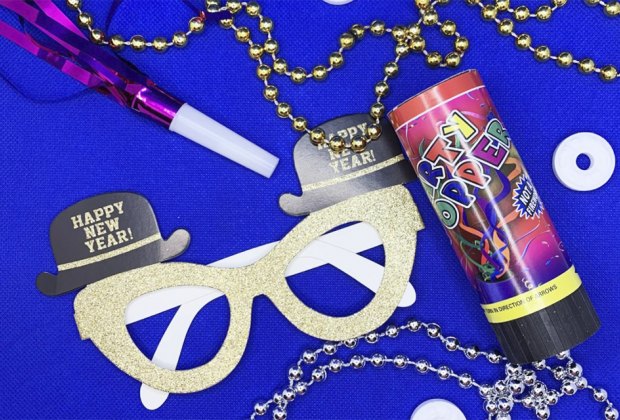 Get festive for the countdown. Photo by Mommy Poppins
2. Open Bags Filled with Treats and Activities
For goodies that won't fit in balloons, opt for simple paper bags filled with treats and activities, one for each hour of the night. The kids can help decorate the paper bags but make sure to keep the insides a surprise. The bags can be filled with an array of things, like a new game to play or book to read, special treats to eat, or even fun things to help celebrate, like noisemakers or party hats.
3. Make Crafts to Celebrate
Crafty families may not want to buy their party hats and noisemakers—instead, make crafting part of your celebration. Try making holiday crackers, confetti poppers, noise-maker shakers, or even party hats. (These make great accessories for your photo booth...)

Get dressed up for the photo booth! Photo courtesy 5 minutes for mom​
4. Play Dress-Up at a Photo Booth
Who doesn't love to dress up for a special occasion? Especially after a year of living in sweatpants! Break out the feather boas, top hats, or exaggerated plastic glasses. Anything goes! Try these printable photo booth props or spend the day crafting with the kids to make your own unique props, using this tutorial. Whatever you choose, make it fun, make it silly, and make it memorable to mark the end of this nutty year. Set up a little corner with a camera and tripod, or go all out and create a party-style photo booth in your living room, and start snapping.
5. Create a Time Capsule
Something that will become extra meaningful down the line is creating a time capsule of this year (which has been quite a year). While some people would rather forget 2020 ever existed, others (notably, historians) have started collecting pandemic journals, because they capture a momentous time in history. Take time to collect all kinds of items in a time capsule for your family to look back on when these mask-wearing days are a mere memory.

Anything tastes better when you make it together. (And add chocolate...) Photo via Pexels
6. Cook New Year's Eve Dinner Together
Reservations at a fancy restaurant for New Year's Eve are just not happening. Instead, make a reservation Chez Vous, and have the kids help out in the kitchen. The best way to get kids excited about cooking is to make their favorite foods, so try letting them set the menu. (It's just one night, so if nothing green is included, that's ok!) If the idea of cleaning up a kitchen that has been hit by hurricane little chef is too daunting, get them involved on a smaller scale. Kids can help make festive popcorn balls, or set up a fondue table for an activity that both entertains and feeds the family.
7. Make New Year's Resolutions
Making New Year's resolutions is a tradition ingrained in American culture. Since making resolutions helps us break with the past and look with hope to the future, it feels like an especially important thing to do at the end of such a significant year. It's a great time to get kids to think and talk about everything they experienced (or didn't get a chance to experience) this past year. Give everyone their own sheet for individual resolutions, or opt to have one big family resolutions page.
8. Brainstorm a Bucket List for 2021
On the flip side of making resolutions is making a bucket list of things you hope to do in the coming year. A great way to generate excitement for the future is to make a wish list together of the adventures and new experiences you want to have in 2021.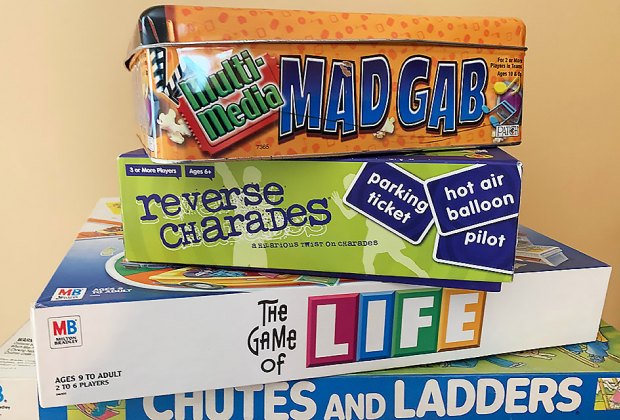 Board games keep everyone from getting bored. Photo by Lisa Mancuso
9. Play Special New Year's Eve Games
Of course you can break out the old standbys, like Chutes and Ladders or Sorry. But for something extra special, try some New Year's Eve-themed games, like New Year's Eve Bingo, New Year's Eve Mad Libs, or New Year's Eve Charades. Don't forget to play Two Resolutions and a Lie: each player shares three resolutions, one of which is a lie. Everyone else has to figure out which resolution is fiction. (That would be the one about giving up coffee...)
10. Watch a Slideshow of 2020
Hook up your 2020 photos and put them on a loop for a year-end slideshow. Have your kids narrate the show; it's always funny to hear what they remember from specific events. Can you believe all those mask-bombing photos?
11. Stargaze with a Warm Drink
The show is in the night sky—and it's free. Take advantage of the chill, the winter sky, and the final, auspicious night of the year. Bundle up, grab a blanket, and fill a thermos with cocoa or hot cider. Then take the family outside and look at the stars. In North America, these constellations are in full view, provided the skies are clear and the city lights are dim.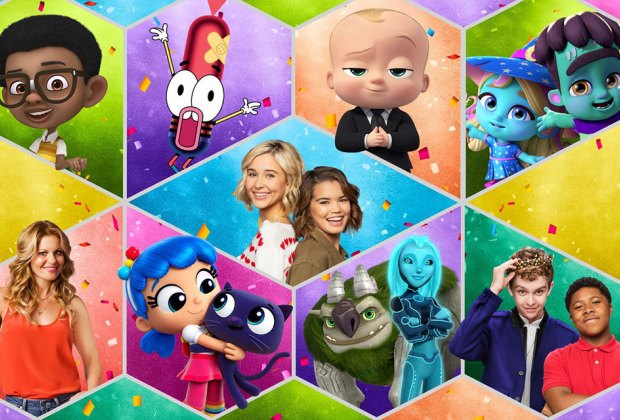 What are you watching? Photo courtesy of Netflix
12. Watch a Countdown ... or Several!
Sure, every year families gather to watch the ball drop in Times Square on TV (or online), at least those who can stay awake that long. But this year with everything going virtual, there are a million (give or take) countdowns and celebrations to choose between. Or you can watch them all! The family-friendly Netflix New Year's Eve Countdown Collection is a great place to start. To see one of the only fireworks shows taking place this year, check out the Sydney Harbor Fireworks (just remember that they're 16 hours ahead of the East Coast, though families can catch it replaying online at any time) or the fireworks in Venice, Italy (6 hours ahead of the East Coast). And there are several Noon Year's Eve countdowns for kids, like the Virtual Ball Drop at Oakland's Chabot Space & Science Center or this fishy good time at Seattle Aquarium's Rockin' Rockfish Noon Year's Eve.
3... 2... 1... Happy New Year!