Indoor and Outdoor Scavenger Hunt Ideas for Kids (Cute Printables!)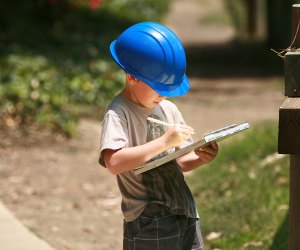 Scavenger hunts are one of those easy kid activities that are fun for the entire family. It's a great brain break for at-home learning this year and a quick way to get everyone moving outdoors, but it's also easy to turn into a fun indoor activity for kids on rainy days.
These simple hunts – whether you are searching for objects in your living room, hunting for colors in nature, or scouring your neighborhood for clues, are sure to spark kids' creativity and sense of adventure, turning a walk around the neighborhood or the home into anything but routine.
Print out one of our FREE printable scavenger hunt ideas to get started. The Indoor Scavenger Hunt will turn a dull afternoon into a treasure hunt, while the Outdoor Scavenger Hunt will have everyone asking for just "one more" trip around the block. We have also included a fill-in-the blank scavenger hunt printable, so families can create their own hunt and customize. So, grab your clipboard, pencil, and let's go. Happy hunting!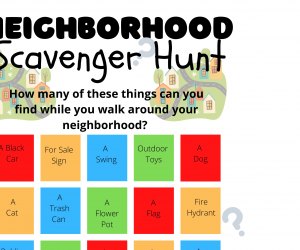 Can you spot the neighborhood cat? A flag? Maybe a bird or two?
Outdoor Scavenger Hunt
Print out this Outdoor Scavenger Hunt before you take a stroll around the block. Pack pens, markers, or pencils. Ask kids to place an "X" over the square each time they find one of the items. You can either work as a team or give each child their own copy for a little friendly competition.
RELATED: 50 Indoor Activities for a Rainy Day

Click the image to download a copy of this template.
Indoor Scavenger Hunt for Kids
This indoor scavenger hunt is the perfect cure for cabin fever or quarantine fatigue. Each time kids spy one of the objects, place an "X" over the square. You can switch things up a little by breaking into teams and see who can find all the objects in the "pink," "blue," "green," or "orange" squares.
Find more fun things to do at home, from
science experiments
to
online learning
with our
Stay-At-Home Guide to Kids Activities
.