Indoor and Outdoor Scavenger Hunt Ideas for Kids - Plus Cute Printables!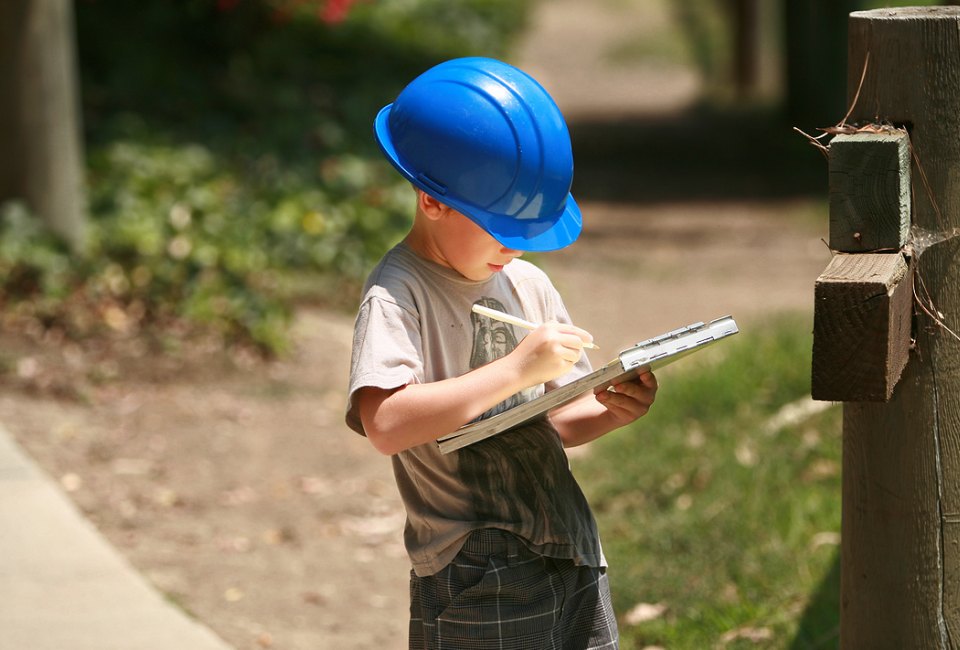 1/12/23
- By
Ally Noel
How to Plan a Scavenger Hunt for Kids
1. Set up a plan for the hunt
Will it be an indoor scavenger hunt, or will you venture to the great outdoors to search for hidden treasures? Perhaps it'll be a mix of both—an indoor-outdoor extravaganza. You can't go wrong, but having a plan is key to a successful scavenger hunt.
2. Make a map
If you're hiding items for kids to find, you need to draw a map to show kids the way to each hidden item. This could be as simple or as intricate as you wish.
You can skip this step, and just give kids an area, like staying downstairs, or in the backyard. A map may be handy if you are hiding specific elements for kids to find! Hint: don't forget to actually hide the items!
3. Make a list of things to find
Get creative! You can come up with a theme, or simply make a list of wildly different things you might find in the area where you're holding your scavenger hunt. Here are five of my favorite themes, to give you some ideas:
Favorite Toys: For this one, you'll need to hide favorite toys in a specific location, anywhere from one room of the house to a backyard or the park.
Things I Love: Give kids a list that includes things like "something that's your favorite color," "something beautiful," and "something that tastes good." This is my favorite one because it doubles as a gratitude activity, as kids remember how many things there are in the world they love. It's also fun because there are no wrong answers.
Colors: This can be as easy as picking very basic colors to getting creative and throwing in fun colors like mauve and cerise for bigger kids. Textures and patterns are also great options.
Leaves and Nature: Make a list of different flowers and leaves that can be found in your neighborhood. It's a great time to teach kids the difference between oak and maple leaves!
Favorite Movies or Books: Your scavenger hunt becomes a series of clues that kids have to know the answers to. For example, "Find Winnie the Pooh's favorite snack" (honey) or "Find something Elsa can make" (ice).
4. Come up with clues
Now that you've got a list of items to find, you need to communicate that list to kids. For smaller children, draw out specific photo clues to help them along the path. As kids get older and are able to read, add written clues and increase the difficulty to match their age group. See below for more tips on how to create great clues for kids of any age and reading ability.
5. Set rules and guidelines
Talk to the kids about how to read the map or figure out the clues. Set any safety rules, like staying with siblings or not leaving the yard. Let everyone know the goal of the scavenger hunt is to have fun and work together to solve a big puzzle.
6. Start the scavenger hunt
Let the great search commence! Allow the kids to have fun and explore as they solve the clues and find hidden treasures. Make sure to give them enough space to independently work as a team while also supervising for safety and support. Little ones may need more help and depending on age, have a plan in place for any feelings of frustration that may occur if smaller children are involved in a more challenging task.
7. Regroup and share stories from the hunt
After all of the clues have been solved and all the treasures have been found, come back together as a group and talk about the highlights of the scavenger hunt. Discuss what was exciting and what was challenging. Name everyone's favorite part of the scavenger hunt. And don't forget to celebrate the completion of the hunt and a job well done.
Scavenger Hunt Clues for Kids
Now that you know how to create and execute a scavenger hunt for kids, you'll need to come up with some great clues. This is where you can really customize your scavenger hunt. If your kids are little, they may need picture clues. Bigger kids learning to read might love a list of simple words. And if you've got bigger kids, or groups working in teams that have one adult on each team, you can really have fun and use riddle or puzzle clues!
Hand-Drawn Picture Clues
For kids who can't read, picture clues are really helpful. Draw a picture of each item the kids need to find, but be prepared for kid critiques of your artwork!
Photo Clues
If your drawing skills aren't up to even making stick figures kids can recognize, you can take pictures of objects and print them out.
Riddle or Puzzle Clues
Give kids riddles to solve, where the answer is the object they're supposed to find. For example: "You use me to sleep at night, but I'm handy in a funny fight!" (A pillow!) Or "Use me when you get dirty, but if I get in your eyes, it might hurt-y." (Soap) They don't all have to rhyme; in fact, you can find some fun riddles to use on our list of great riddles for kids. Like this one: "I have an eye but can not see." (A needle)
RELATED: 40 Classic Outdoor Games for Kids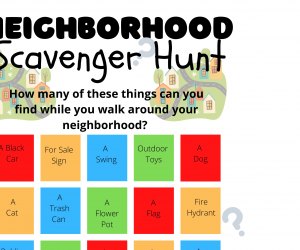 Can you spot the neighborhood cat? A flag? Maybe a bird or two?
An Outdoor Scavenger Hunt for Kids (With a Printable!)
An outdoor scavenger hunt can be a great way to get some fresh air, get exercise, and get those creative juices flowing. Whether you look for things around the neighborhood or place strategic clues close to your home, this is a fun outdoor activity.
Print out this neighborhood scavenger hunt before you take a stroll around the block. Pack pens, markers, or pencils. Ask kids to place an "X" over the square each time they find one of the items. You can either work as a team or give each child their own copy for a little friendly competition.
RELATED: 65 Indoor Activities for Kids on a Rainy Day

Click the image to download a copy of this indoor scavenger hunt template.
An Indoor Scavenger Hunt for Kids (With a Printable!)
This indoor scavenger hunt is the perfect cure for cabin fever or boredom. Each time kids spy one of the objects, place an "X" over the square. You can switch things up a little by breaking into teams and seeing who can find all the objects in the pink, blue, green, or orange squares.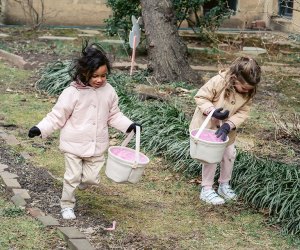 Entertain a bunch of kids outside with an outdoor birthday party scavenger hunt. Photo by Eren Li via Pexels
Birthday Party Scavenger Hunt Ideas
A scavenger hunt for the birthday child is a great way to celebrate and add some interactive fun to a party. Here's a free printable that takes the birthday boy or girl on a hunt around the house and even out to the mailbox. You can include small, wrapped gifts in the hunt to space out the gift giving. Here are a few ideas for places and types of scavenger hunts to create for a kids' birthday party.
Birthday Party Scavenger Hunt at Home
A backyard scavenger hunt or an indoor one can make for a cozy birthday celebration. Include some rhymes and pictures to lead the way around the house for clues.
Birthday Party Scavenger Hunt in a Park
A park hunt is one of the best scavenger hunt ideas for larger birthday parties because it encourages teamwork and the use of all five senses. Take this free printable along for a guide.
Birthday Party Scavenger Hunt at a Local Mall
This is one of those scavenger hunt ideas that's great for older kids, especially teenagers. It's also perfect for a rainy day or a winter birthday party. Part of the hunt can be taking pictures for each clue (i.e., take a picture of the whole birthday crew riding the escalator). Here's a free checklist to help provide some inspiration for your mall scavenger hunt.
Note: Make sure to check with the mall administration office before planning your birthday party scavenger hunt. Some malls don't allow scavenger hunts, so you'll want to plan ahead.
Birthday Party Scavenger Hunt at an Indoor Play Space
Most indoor play spaces have birthday-party rental options. Why not add in some fun clues to take the whole crew on a treasure hunt through the play space? You can end the scavenger hunt in the snack area with some birthday cake for all.
Note: Like the mall location, make sure to check with the owners to confirm that you can add a scavenger hunt to the birthday package.
Find more fun things to do at home, from
science experiments
to
online games
, with our
At-Home Guide for Families
.
Click Here to Sign Up!
i