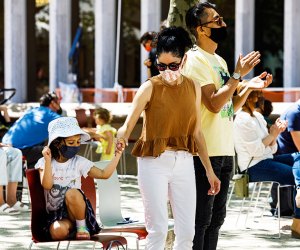 Things To Do in NYC This Weekend: Freebies, Movies, Woke Baby Book Fair
There are an astonishing number of FREE things to do in NYC this weekend with kids (35 options on Saturday alone), including Piper Theatre's production of The Lightning Thief at Old Stone House in Brooklyn, an evening of bat lore in Central Park, the last edition of Star Stories on Governors Island, and a wiffle ball tournament. So while the summer season may be waning as we welcome in August this weekend, the number of summer activities in NYC seem to be waxing.
A few more things worth checking out this weekend in NYC: The Woke Baby Book Fair takes place at Lincoln Center, also FREE, and features book readings, live music, and a fresh produce giveaway, so be sure to get there early. Don't miss the always fun 24th annual Sandcastle Competition on Rockaway Beach, the Sand Sculpture Celebration downtown, or Family Wellness Day at the Wyckoff.
There's still time to sign up for a few weeks of NYC summer camp. Help your tween get set for the coming school year by polishing those presentation skills, or get into Gaming with Csharp Coding. And if your kid loves comedy, do we have a deal for you!
As we wave goodbye to July, crack open our list of the best things to do in NYC this August, and don't forget to consult our Summer Fun Guide and local Activity Calendar when you're looking for great activities for kids. We've also found 100 FREE things to do in NYC this summer, including some surprises you won't want to miss.
As always, if an event piques your interest, be sure to click through to our listing for all the details, including addresses and times. And keep in mind: In NYC, really cool things to do with kids often get booked quickly, especially these days, so buy your tickets ASAP.
Subscribe to our newsletters to get stories like this delivered directly to your inbox.