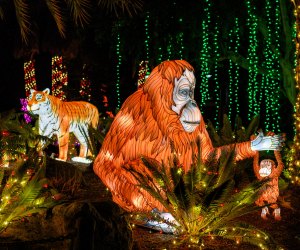 Christmas & Hanukkah Weekend Things To Do in LA: Holiday Lights, Boats, Carols, and Trains
Happy Holidays, folks! Across Southern California, lights are twinkling, nuts are cracking, and trains are tracking, as moms and dads scramble to buy last minute gifts (while finding time for a seasonal spectacle or two).
But hold your reindeer, Christmas: we are once again blessed with a Chrismakkuh convergence, and this time Hanukkah gets an early start. Sunday is the first night of Hanukkah, and celebrations continue all through next weekend. With Menorahs made of everything from Legos to lollipops, there's no better place to celebrate all 8 crazy nights.
And then comes Christmas. No doubt many of you plan to spend Christmas Day at home with friends and family. For those of you looking for activities outside the home, good news: we're here to help. First up, we offer 25 Things To Do on Christmas Day. And if your kitchen closes on Christmas Day, we present a list of restaurants that are open. Christmas is the gift that keeps on giving, and after the presents are all exchanged we can still enjoy the gift of other people being gone. (Absence makes the heart grow fonder, and the freeways much more bearable.) For holiday cheer that continues on into next week, might we suggest some of LA's finest Christmas light displays.
And this year we have a special surprise under our tree: Mommy Poppins has recently launched sites in Atlanta and Orlando! Thank you, Santa; it's exactly what we wanted!
Take a break from wrapping/unwrapping/returning your presents, and continue reading for some of our favorite picks for this holiday weekend...