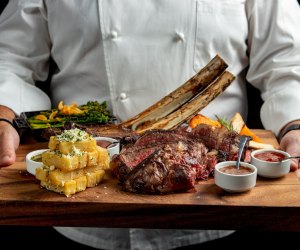 Restaurants Open on Christmas Day for Takeout in Los Angeles and Orange County
Some years the best Christmas present is not having to cook on Christmas Day. We know plenty of Los Angeles restaurants that are ready to do a spectacular takeout meal to make Christmas Day more merry—even in 2020. Whether you spend the remainder of the holiday opening gifts or exploring LA's fun things to do on Christmas Day, why not leave the oven turned off and indulge in someone else doing all the cooking. We've got loads of other ideas for keeping this strange holiday season merry in our holiday activities guide.
Note: As of publication date, all restaurants in Los Angeles County are dine-out only. We will continue to update this post if rules change again.
Here is a list to get you started.
Restaurants Downtown and Koreatown
Co-created by a two-star Michelin chef, this restaurant has upscale dining choices sure to appeal to even finicky family members. Order online up to several days in advance, then pick up after 5pm. Free hotel parking validation is available for pickup orders.
213.368.3065
Aged steaks, jumbo lobster, and fine Italian dishes—sounds like a good Christmas to us. Open on Christmas for takeout or delivery.
213.763.4300
Hollywood Restaurants
In the mood for some traditional (American-style) Chinese food? Kung Pao Bistro fits the bill. The herbivores in your family will also enjoy the wide selection of hearty faux meat dishes, such as vegan sweet and sour chicken and vegan Mongolian beef.
323.848.9888
Maybe all you're wanting is a dozen bagels and someone to make you a pastrami sandwich. You're bound to find something delectable on the very extensive menu. Canter's is open 24 hours on Christmas Day for to-go or online ordering, so no matter when you want a nosh, it's here for you.
323.651.2030
Thai Elvis has left the building, but you don't need to! Palm's Thai has takeout and delivery for their entire, expansive menu which includes everything from kid friendly Pad Thai to items from their "Wild Things Menu" like Wild Boar in Curry, Frog with Green Peppercorns or Spicy Chicken Feet Salad. Get a jump on your New Year's resolution to be a little more adventurous!
323.462.5073
Beverly Hills and Westwood Restaurants
Whether you have a hankering for a porterhouse steak, lobster ravioli, or king salmon, this restaurant has high end cuisine and mac n cheese for the kids. Have a more adventurous eater, try the lobster mac n cheese, which is as delicious as it sounds. They are open this year for both takeout and delivery on Christmas.
310.659.3535
Santa Monica
This restaurant's delicious meals will have your family talking about this Christmas dinner for years to come. Though you can't enjoy the spectacular setting this year, the restaurant is currently planning on being open for takeout and delivery on Christmas, but be sure to call a few days in advance to confirm.
800.538.8147
Orange County Restaurants
If Santa catches a tail wind, you might spot him stopping off here to pick up some oysters; decadent seafood is plentiful on the holiday menu which is available for pickup or delivery from noon-9pm on Christmas day.
714.535.9000
There's surf, turf, salads, wraps, and a kids' menu. Choose from small plates to the more substantial steaks and specialties. While the Sunset and Valencia locations are currently closed, the Orange restaurant is open for takeout and delivery.
657.221.3136
Restaurants With Multiple Locations
Mangia, mangia! Buca di Beppo's crowd-pleasing family-style Italian dinners are a sure bet on Christmas day. Thanks to the many locations, you're bound to find a restaurant near you, and all are open for pickup, curbside, and delivery.
Locations: Redondo Beach, Dana Point
Steaks, seafood, and ocean views. Take a walk on the beach before picking up your order to work up an appetite. Yum! The restaurants are offering the dinner menu on Christmas day for pickup or delivery.
Locations: Beverly Hills, Downtown LA, and Irvine
Try Brazilian seafood, steaks, and more. All locations are currently open on Christmas day for catering or takeout. You can also book your Holiday Celebration To-Go Dinner online as early as right now (or as late as 24 hours before pickup). The celebration dinner ends with Candy Cane Fudge Brownies—Santa would approve.
Locations: Westchester, Santa Monica & Torrance
Serving up classic and interesting twists on crowd-pleasing favorites, ordering here means kids can get grilled cheese, parents can order cocktails and disparate dishes like pan seared salmon or a vegan meal. They are currently planning on serving all menu items & cocktails for takeout, curbside pickup, and delivery, however they recommend that diners call a few days before Christmas to confirm that they will still be open.
Locations: Takeout and delivery are available in Woodland Hills & Marina Del Rey; Pasadena, Irvine & Anaheim also have outdoor dining available.
Order surf, turf, or a combination from the decadent menu. Or, place an order to pick up a Celebration feast for 4. Before noon on Christmas Day you can pick up your Roasted Beef Tenderloin, a starter, a side and personal cheesecakes just in time for your festive feast.
Locations: Downey, West Covina and Buena Park
Try something that's (perhaps) a little different: Argentinian food. Gaucho Grill serves it up with chicken, steak, fish, morcillas, and mollejas. Christmas day is a busy one, so the restaurant recommends placing orders the day before!
Locations include Beverly Hills, Sherman Oaks, Pasadena, and Burbank
While you can't cook your food yourself at Gyu-Kaku this year, you can still enjoy the food. Most locations are open on Christmas for takeout and delivery.
Locations include Burbank, Beverly Hills, Downtown, Anaheim, Santa Ana
Why not have a decadent Christmas dinner? Steaks, lobster, and shrimp cocktail are available, and vegetarians can try the French onion soup. Or, you can order a Chef's Kit that comes complete with salad, side, dessert, and your favorite cut of steak for you to grill at home. All options are available for pickup or delivery.
Locations include Calabasas, El Segundo, Mid-Wilshire, Malibu, Sherman Oaks, and Westlake Village
You want it? Baby, you got it. Marmalade has a little something for everyone. Get Cioppino or ribs or spaghetti and meatballs, all delicious, and all at very reasonable prices. Desserts and specialty cocktails are also available for for pickup or delivery.
Still haven't found that perfect place? Check out the Open Table's listing of area restaurants serving meals on the 25th.
Happy Holidays. We hope you have yourself a merry little Christmas.
Originally published December 11, 2013