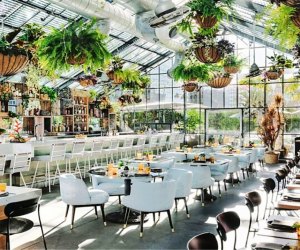 20 Restaurants Open on Christmas Day in Los Angeles and Orange County
Some years the best Christmas present is a restaurant open on Christmas Day. We know at least 20 Los Angeles restaurants that open their doors to make Christmas Day more merry. Whether you spend the remainder of the holiday opening gifts or exploring LA's fun things to do on Christmas Day, why not pile the family and out-of-town guests into a car and give yourself the gift of dining out? After so much holiday preparation, you deserve it!
Here is a list to get you started. Please remember that reservations are always recommended (and sometimes required). Call before you show up so that you can be guaranteed a seat.
Restaurants Downtown, Koreatown, and South
1. Dekkadance
Have Christmas Brunch on the 69th floor of the InterContinental, and while you enjoy the farm-to-table dining you might just see Santa flying home.
213.688.7777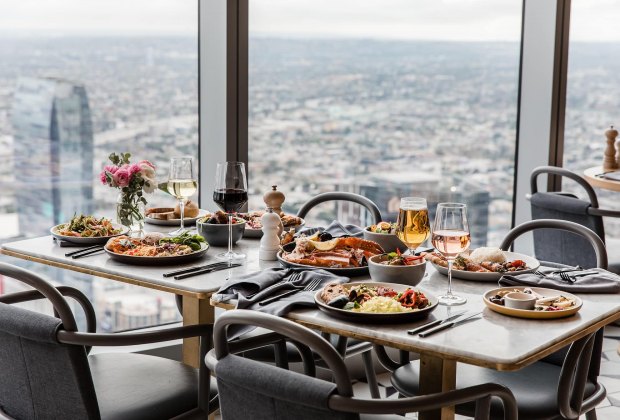 Dekkadance Restaurant offers Christmas meals with a view. Photo courtesy of InterContinental Los Angeles
2. Gaucho Grill- Downey (and West Covina)
Try something that's (perhaps) a little different: Argentinean food. Gaucho Grill serves it up with chicken, steak, fish, morcillas, and mollejas. Complement your meal with a glass of boutique Argentine wine. Christmas day is a busy one there so make your reservations early!
562.381.2517​
3. Openaire
Co-created by a two-star Michelin chef, this airy restaurant has upscale dining choices sure to appeal to even finicky family members. Their hours vary based on hotel capacity so be sure and call ahead.
213.368.3065
Hollywood Restaurants
4. The Hard Rock Cafe
Who says Christmas has to be fussy? Go have a burger and kick back after the present unwrapping morning chaos.
323.464.7625
5. Kung Pao Bistro
In the mood for some traditional (American-style) Chinese food? Kung Pao Bistro fits the bill. The herbivores in your family will also enjoy the wide selection of hearty faux meat dishes, such as vegan sweet and sour chicken and vegan Mongolian beef.
323.848.9888
6. Canters Deli
Maybe all you're wanting is a dozen bagels and someone to make you a pastrami sandwich. You're bound to find something delectable on Canters' extensive menu.
323.651.2030
Beverly Hills and Westwood Restaurants
7. Stinking Rose - Beverly Hills
"It's cool, it's hip and IT STINKS." So says its website. Curious? Why not try it on Christmas day. Have a look.
310.652.7673
8. STK Steakhouse Restaurant - Westwood
Whether you have a hankering for a porterhouse steak, lobster ravioli, or king salmon, this restaurant has high end cuisine and mac n cheese for the kids. Have a more adventurous eater, try the lobster mac n cheese, which is as delicious as it sounds.
310.659.3535
Santa Monica
9. The Veranda Restaurant at the Georgian Hotel – Santa Monica
Sit on the veranda, gaze at the beach, and listen to the ocean waves crashing on Christmas Day. This restaurant's delicious prix-fixed menu, gorgeous views, and ocean air will have your family talking about this Christmas dinner for years to come.
800.538.8147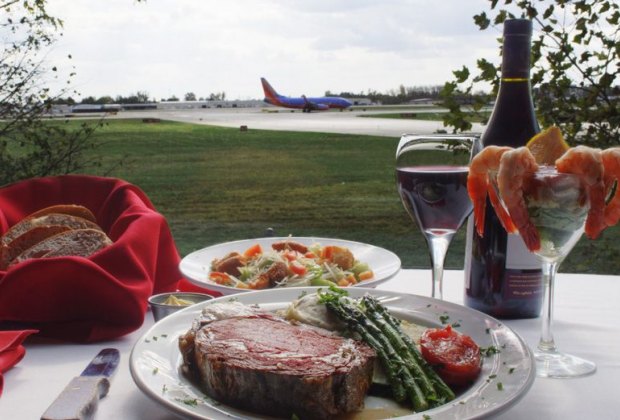 Watch the airplanes while you eat. Photo courtesy of 94th Aero Squadron Restaurant
Valley Restaurants
10. 94th Aero Squadron Restaurant – Van Nuys
If aviation is of interest (and even if it's not), consider the 94th Aero Squadron Restaurant. Adjacent to "the world's busiest general aviation airport," this American fare restaurant offers some delectable holiday meal options.
818.994.7437
The Reef Restaurant's annual Spirit of Christmas event, photo courtesy of the restaurant
South Bay Restaurants
11. The Queen Mary - Long Beach
Sir Winston's is serving up Christmas Day meals in all its elegant charm on board the vintage ocean liner. Handy to know that Queen Mary Christmas is also open and celebrating on Christmas, so a family could easily make a whole Long Beach day of it.
562.499.1739
12. The Reef - Long Beach
Boats make you queasy? Just a few steps from the Queen Mary is The Reef on the Water, serving a Christmas Day champagne brunch buffet with a view of the ocean liner, but without actually boarding it. In case that's a deal breaker. The seafood fare boasts a subtle Polynesian twist.
562.435.8013
Orange County Restaurants
13. McCormick & Schmick's - Anaheim
If Santa catches a tail wind, you might spot him stopping off here for some oysters; decadent seafood is plentiful on the holiday menu.
714.535.9000
Restaurants With Multiple Locations
14. Buca de Beppo
Mangia, mangia! Buca di Beppo's crowd-pleasing family-style Italian dinners are a sure bet on Christmas day. Thanks to the many locations, you're bound to find a restaurant near you.
15. Saddle Ranch Chop House
Sunset Strip, Orange, and Valencia
There's surf, there's turf, salads, wraps, and a kids' menu. Choose from small plates to the more substantial steaks and specialties.
16. Chart House Restaurant
Locations: Marina del Rey, Redondo Beach, Dana Point
Steaks, seafood, and ocean views. Yum! Serving the dinner menu on Christmas day.
17. Fogo de Chao Brazilian Steakhouse
Locations: Beverly Hills, Downtown LA, and Irvine
Try Brazilian seafood, steaks, and more presented at your table on skewers. Santa would approve.
18. The Palm
Locations: Downtown and Beverly Hills
Aged steaks, jumbo lobster, and fine Italian dishes—sounds like a good Christmas to us.
19. Gyu-Kaku Japanese BBQ
Southland locations include Beverly Hills, Sherman Oaks, Pasadena, and Burbank
While you do have to cook some of your food yourself, it's more fun than slaving over a hot oven at home plus the dishes are handled.
20. Morton's the Steakhouse
Southland locations include Burbank, Beverly Hills, Downtown, Anaheim, Santa Ana
Why not have a decadent Christmas dinner? Steaks, lobster, and shrimp cocktail are available here, and vegetarians can try the French onion soup.
Still haven't found that perfect place? Check out the Open Table's listing of area restaurants serving meals on the 25th.
Happy Holidays. We hope you have yourself a merry little Christmas.
Originally published December 11, 2013