Restaurants Open on Christmas Day in Los Angeles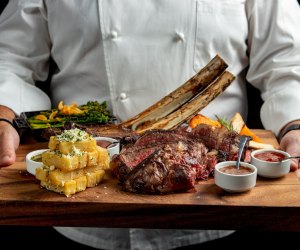 Some years the best Christmas present is not having to cook on Christmas Day. We know plenty of restaurants open on Christmas in Los Angeles that are ready to do a spectacular meal to make Christmas Day even merrier! Whether you spend the remainder of the holiday opening gifts or exploring LA's fun things to do on Christmas Day, why not leave the oven turned off and indulge in someone else doing all the cooking.
We've got loads of other ideas for keeping the holiday season merry in our Guide to Holiday and Christmas Events in Los Angeles.
Please note: As of November 4, 2021, the city of Los Angeles requires proof of at least one vaccine for dine-in. West Hollywood requires full vaccination to dine inside. Inquire about the restaurant's specific policy when making your reservation. Also, due to the recent surge in cases, some restaurants have decided to close for a short time. Be sure to confirm that a restaurant is still open before you go!
Downtown Restaurants Open on Christmas
Prime rib is a classic Christmas dinner and The Palm has you covered for dine-in. If you prefer to eat in the comfort of your own cozy Christmas home, the take-out menu includes juicy steaks and buttery lobster — sounds like a good Christmas to us. Open on Christmas for dine-in or take-out dinner for two.

An assortment of delicious dishes from Caldo Verde. Photo courtesy of the restaurant
For a unique Christmas dinner, try Caldo Verde's California spin on Portuguese cuisine. Located at the LA Proper hotel, Caldo Verde will have a prix fixe menu on Christmas featuring specialty entrées and desserts paired with seasonal sides and wines.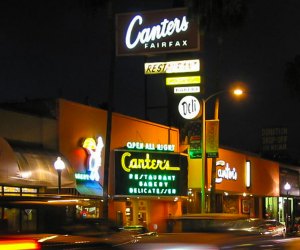 Canter's Deli is open night and day. Photo by David Liu, Attribution 2.0 Generic (CC BY 2.0)
Hollywood Restaurants Open on Christmas
Maybe all you're wanting is a dozen bagels and someone to make you a pastrami sandwich. You're bound to find something delectable on the very extensive menu. Canter's is open 24 hours on Christmas Day, so no matter when you want a nosh, it's here for you.
Thai Elvis has left the building, but you don't need to! Palm's Thai has takeout and delivery for their entire, expansive menu which includes everything from kid-friendly Pad Thai to items from their "Wild Things Menu" like Wild Boar in Curry, Frog with Green Peppercorns, or Spicy Chicken Feet Salad. Get a jump on your New Year's resolution to be a little more adventurous!
Who says Christmas has to be fussy? Go have a burger and kick back after the present unwrapping morning chaos.
Valley Restaurants Open on Christmas
Burbank's Castaway has a Christmas special on the 25th and 26th, with a three-course brunch from 10am - 3:30pm and an a la carte dinner menu with specials from 5 - 9 pm. This hilltop restaurant offers more than just an incredible view of the Valley — its steak-forward menu is loved by Angelenos.
Odyssey — Granada Hills
Another hilltop Valley restaurant is Odyssey in Granada Hills. Much like Castaway, which is owned by the same restaurant group, Odyssey will have a three-course brunch. The brunch runs from 10am - 5 pm; the restaurant does not have a Christmas dinner menu this year.

Order up an assortment of dishes that please even picky kids. Photo courtesy of Hummus Bar & Grill
Sometimes you just want something simple for Christmas dinner, and that's where Hummus Bar & Grill is perfect. This Israeli-inspired restaurant features entrees like kebabs, shawarma, and skewers, sides you'd expect like falafel, baba ganoush, and of course, hummus, plus beer and wine. The restaurant is open for dine-in on Christmas as well as takeout and delivery.
Westside Restaurants Open on Christmas
Whether you have a hankering for a porterhouse steak, turkey, lobster ravioli, or king salmon, this restaurant has high-end cuisine for parents and mac n cheese for the kids. If your young diner is a more adventurous eater, order them the lobster mac n cheese, which is as delicious as it sounds. This year, in addition to the regular menu, they'll also offer prime rib and turkey specials on Christmas Eve and Christmas. They are open this year for dine-in, takeout, and delivery on Christmas.

Eat beachside at the Veranda Restaurant at the Georgian Hotel in Santa Monica. Photo by the restaurant
This restaurant's delicious meals will have your family talking about this Christmas dinner for years to come. The restaurant is currently accepting reservations on Christmas Day.
How about a rooftop Christmas feast? Take in the views and enjoy a delectable dinner featuring items like Kumamoto oysters, uni toasts, prime rib, and seafood.
Why not take advantage of California's incredible weather and enjoy Christmas brunch on the water? Whiskey Red's in Marina Del Rey has a three-course brunch on Christmas
Orange County Restaurants Open on Christmas

Seafood is the star but the prime rib on Christmas is divine! Photo courtesy of McCormick & Schmick's
If Santa catches a tailwind, you might spot him stopping off here to pick up some oysters; decadent seafood is plentiful on the holiday menu here. This year, the restaurant will offer $155 to-go Christmas feasts which include prime rib, mashed potatoes, green beans, a tossed salad, and more. Or, if you would rather be waited on, the dining room is open with a prix fixe menu on Christmas and Christmas Eve.
There's surf, turf, salads, wraps, and a kids' menu. Choose from small plates to more substantial steaks and specialties. Both locations are open again with both dine-in and takeout available on Christmas.
Restaurants Open on Christmas with Multiple Locations
Mangia, mangia! Buca di Beppo's crowd-pleasing family-style Italian dinners are a sure bet on Christmas Day. Check the website for Christmas hours this year.
Gaucho Grill — Downey, West Covina, Buena Park and Pasadena
Try something that's (perhaps) a little different: Argentinian food. Gaucho Grill serves it up with chicken, steak, fish, morcillas, and mollejas. Complement your meal with a glass of boutique Argentine wine. Christmas Day is a busy one at most Gaucho Grill locations, so make your reservations early!
Steaks, seafood, and ocean views—what could be better? Take a walk on the beach to work up an appetite before dining in or picking up your order. Yum!
Try Brazilian seafood, steaks, and more. All locations are currently open on Christmas Day. If you'd rather enjoy their delicious Brazilian fare from the comfort of your home, the restaurants offer takeout or delivery available for preorder.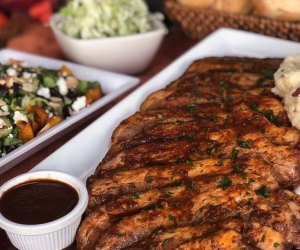 There's something for everyone at Truxton's. Photo courtesy of Truxton's American Bistro
Serving up classic and interesting twists on crowd-pleasing favorites, ordering here means kids can get grilled cheese, parents can order cocktails and disparate dishes like pan-seared salmon or a vegan meal. The restaurant currently plans on serving all menu items & cocktails for dine-in, takeout, curbside pickup, and delivery.
Ruth's Chris Steak House — Woodland Hills & Marina Del Rey; Pasadena, Irvine & Anaheim
Order surf, turf, or a combination from the decadent menu. Or, place an order to pick up—the carryout options will be posted on the website soon. The dine-in menu on Christmas is prix fixe with your choice of starter, steak & shrimp or surf & turf as the entree, sides, and dessert.
Gyu-Kaku Japanese BBQ — Beverly Hills, Sherman Oaks, Pasadena, and Burbank
While you can't cook your food yourself at Gyu-Kaku this year, you can still enjoy the food. Most locations are open on Christmas dine-in, takeout, and delivery.
Cote de Boeuf makes for an impressive Christmas meal you don't have to cook. Photo courtesy of Morton's Restaurant via Facebook
Morton's The Steakhouse — Burbank, Beverly Hills, Downtown, Anaheim, Santa Ana
Why not have a decadent Christmas dinner? You deserve it this year. Chateaubriand and a winter salad are on Morton's Christmas menu this year, along with sides like baked corn souffle, sour cream mashed potatoes, and creamed spinach. For dessert? You'll have to make the tough choice between White Chocolate & Pecan Bread Pudding or Bruléed Cheesecake with Dark Cherry Compote. If the Christmas meal doesn't strike your fancy, the full dinner menu will still be offered.
If you're looking for something cool and unique on Christmas Eve...
Check out abeautifullife cafe in Little Tokyo! This incredible Jamaican cafe is closed on Christmas, but we had to include its unique four-course Christmas Eve dinner with pomegranate arugula salad, jerk chicken tamale soup, jerk rack of lamb or jerk honey glazed ham, and for dessert: rum cake with rum raisin ice cream.
Still haven't found that perfect place? Check out the Open Table's listing of area restaurants serving meals on the 25th.
Happy Holidays. We hope you have yourself a merry little Christmas.
Originally published December 11, 2013