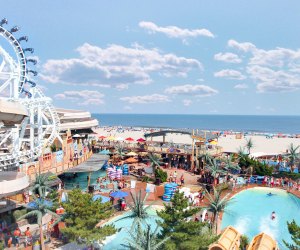 70 Things To Do with Kids at the Jersey Shore
There's nothing better than lazy, relaxing summer days at the beaches of the Jersey Shore with its miles of sandy coastline. Of course, at some point the kids are going to want to get up and do and see something, right?
If you're looking for ways to keep the kids entertained during a vacation at the shore this summer, this list of 70 family-friendly activities for toddlers to teens all up and down the New Jersey coast should hit the spot. We've even included a number of FREE things to do.
For more fun down the shore, check out our Jersey Shore Guide, which includes information on amusement parks and water parks, top beaches, best boardwalks, and more.
1. Take a FREE trip to see the animals at Cape May County Zoo.
2. Visit the alpacas of Jersey Shore Alpacas. Visiting the animals on this farm is free, but check the website before you go as hours are limited.
3. Check out all the classic pinball machines and arcade games at Silverball Museum Arcade in Asbury Park.
4. Learn more about planes at the Naval Air Station Wildwood Aviation Museum. All exhibits are indoors, so this is perfect for a rainy day.
5. Take a tour of one of the many great lighthouses the shore has to offer.
6. Ride in a horse-drawn carriage and tour historic Cape May.
7. Go on a swashbuckling adventure with Pirate Adventures of the Jersey Shore or Black Pearl Pirate Tours.
8. Look for dolphins in Wildwood or Ocean City.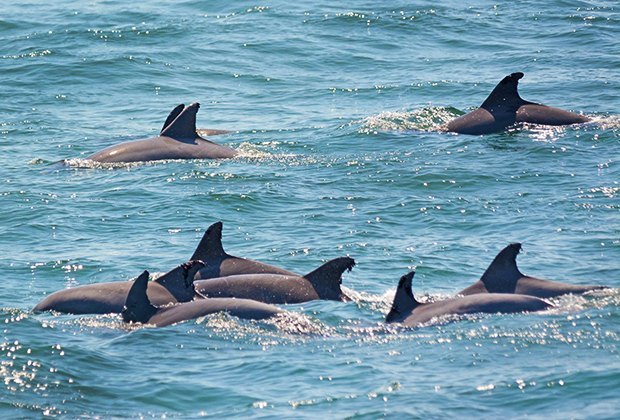 See dolphins and whales with a family-friendly boat tour. Photo courtesy the Cape May Whale Watcher.
9. Take a whale watching tour on the Cape May Whale Watcher or The Spirit of Cape May.
10. Take a tour of the Emlen Physick Estate- a Victorian mansion in Cape May.
11. Go shopping at Atlantic City's Tanger Outlets.
12. Soar above the ocean on a parasailing or paragliding adventure.
13. Waddle with the penguins at Jenkinson's Aquarium.
14. Discover nature at The Wetlands Institute in Stone Harbor.
15. Play a round of mini golf; there is putt-putt in nearly every shore town and on every boardwalk.
16. For some water fun, check out Island Water Sports in Stone Harbor. Rent watercrafts or have fun on the aqua park.
17. Prepare to be scared on a ghost tour of Ocean City.
18. See the animals at Popcorn Park Zoo Animal Refuge.
19. Enjoy a ferry ride in Cape May.
20. Save some money with a visit to these FREE Jersey Shore beaches.
21. Get up close to sea life at the Atlantic City Aquarium.
22. Have some fun at Blackbeard's Cave Family Entertainment Center. Pay-as-you-go activities include bumper boats, go-karts, archery, a climbing wall, an obstacle course, and more.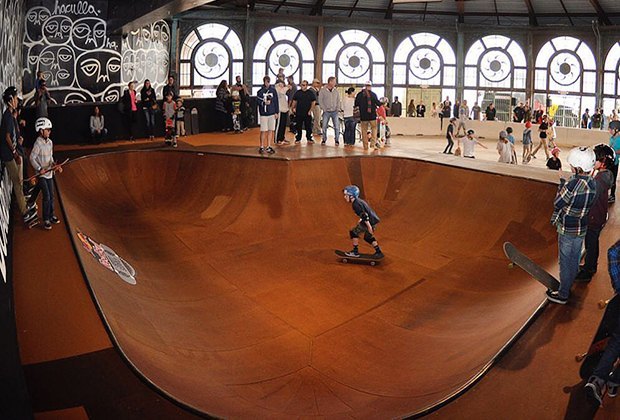 The brand-new Forth Union skate park at the Asbury Park boardwalk offers kids-only skate sessions. Photo courtesy of the venue.
23. Have a skater or a biker on your hands? Check out Incline Skate Club in Lakewood, The Skateplex at Seven Presidents Park in Long Branch, Forth Union in Asbury Park, or Ocean City Skatepark.
24. Marvel at all things odd at Ripley's Believe It or Not in Atlantic City.
25. Cool off at one of many water parks that dot the various piers and beaches of the Jersey Shore.
26. Visit the small, but mighty Seaport Aquarium on the Wildwood Boardwalk.
27. See a show and learn about stars at Robert J. Novins Planetarium in Tom's River.
28. Take a hike at Cape May Wildlife Refuge.
29. Walk along the Waterfront Sculpture Walk in Atlantic City.
30. Take a ghost tour by foot or by trolley in Cape May.
31. See a family-friendly show at Greater Ocean City Theatre Company.
32. Learn about creepy crawlies at Insectropolis in Tom's River.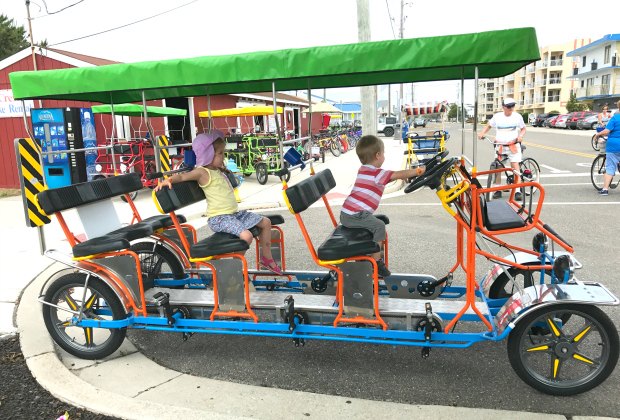 A bicycle built for...all! Rent a surry bike to ride together.
33. Pile the whole family into a surrey bike for a morning ride down the boardwalk.
34. Catch a FREE family movie on the beach; dozens play every summer.
35. Attempt to finish a Coney Waffle sundae as a family. We dare you!
36. Take a break with a scenic ride down the boardwalk on the tram car in Atlantic City or Wildwood.
37. Hop aboard "the Skimmer" for a Salt Marsh Safari along the back bays of Cape May.
38. Challenge your kid to the ropes course at Jenkinson's Boardwalk.
39. Grab a meal at one of the many nearby (and yummy) diners! They are everywhere at the shore.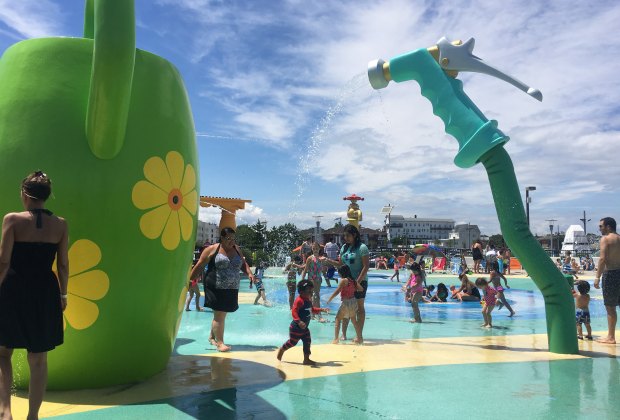 Asbury Splash Park is a great place for toddlers to cool off.
40. Cool off under the dumping bucket at Asbury Splash Park.
41. Enjoy "breakfast in the sky" in Wildwood for a special splurge. Hey, you gotta do it once.
42. Share an Octopus Sundae at Hoffman's Ice Cream.
43. See some amazing sand castles at Belmar's Sandcastle Contest or the Sand Sculpting Fest in Wildwood.
44. Visiting for July 4th? See some fireworks displays.
45. Check out a free summer show at The Jay and Linda Grunin Center for the Arts.
46. Take a break from the beach to visit a playground.
47. Rent a bike and ride along the boards.
48. If the weather looks grim, try an indoor play space.
49. Ride the double decker carousel at Steel Pier in Atlantic City.
50. Visit Ocean City's Gillian's Wonderland Pier or Playland's Castaway Cove, which got a new roller-coaster in 2016.
51. Climb to the top of Lucy the Elephant in Margate.
52. Ride the new Hydrus Rollercoaster and Ferris Wheel at Casino Pier in Seaside Heights.
53. Rent a rolling chair and explore the Atlantic City boardwalk.
54. Go camping on the boards for Morey's Piers annual Boardwalk Bunkdown.
55. See butterflies in their natural habitat at the Butterfly Garden in Cattus Island County Park in Tom's River.
56. While away a rainy day with games, skee ball, and more retro fun at one of the many arcades, including in Wildwood, Ocean City, or Jenkinson's.
57. Check out shipwreck artifacts and learn all about NJ's maritime history at the New Jersey Maritime Museum in Beach Haven.
58. Preschoolers and toddlers will love a trip to Storybook Land.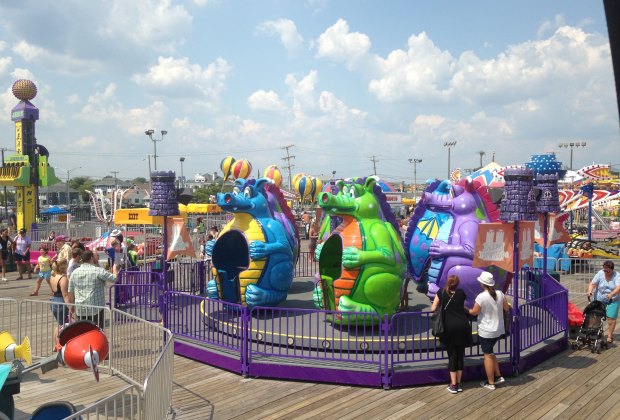 There are tons of kiddie rides to choose from at Jenkinson's Boardwalk.
59. Take the five minute walk from the sand of Point Pleasant Beach to Jenkinson's Boardwalk to hit the kiddie rides before you climb back in the car.
60. Speaking of amusement parks: With more than 100 rides and attractions, you can't go wrong at Morey's Piers in Wildwood, from multiple water parks, coasters and thrill rides, to mini trains, swings, and more for little ones.
61. Swing, zip, and climb at Tree to Tree Adventure Park at the Cape May County Zoo.
62. Go paddleboarding or kayaking on the bay.
63. Sing along with the National Anthem as the whole Wildwood Boardwalk stops to listen to it play over the loudspeaker at 11am every day.
64. Don't forget to eat some taffy or fudge from one of the boardwalk candy shops before you leave.
65. Play carnival games, get your face painted, and take a ride on the Congress Hall Express every Monday night at the Carnival on the Lawn at Congress Hall in Cape May.
66. Try something new and take some surfing lessons!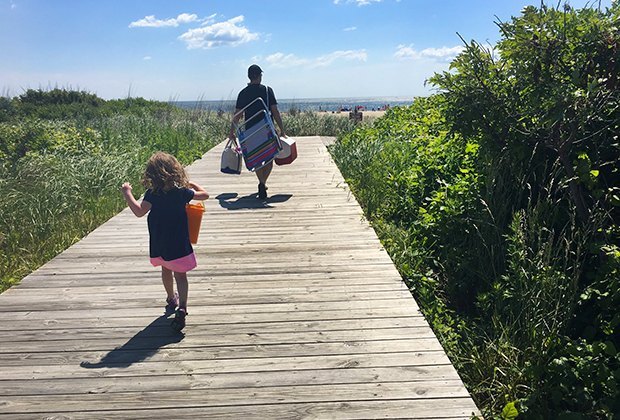 Visit a quieter beach for sand castle building and wave jumping.
67. Make like a local and visit one of the quieter beaches of the Shore, aka no boardwalk amusements, such as Seven Presidents Oceanfront Park in Long Branch, Sandy Hook National Recreation area, or Bradley Beach (just south of Asbury Park). Build sand castles, fly a kite, or jump the waves.
68. Go horsebacking in the offseason on a six-mile oceanfront strectch of Island Beach State Park.
69. Picnic at the seaside beneath the 158-year-old "Old Barney" lighthouse on Long Beach Island.
70. Look down on the Seaside Heights boardwalk from your perch in the gentle, chair-lift like Sky Ride that moseys along overhead.
Top image: Splash around or whip down a water slide at Morey's Piers Ocean Oasis Water Park. Photo courtesy of Morey's Piers. All photos by Mommy Poppins except where noted.