7 Great Jersey Shore Lighthouses To Visit with Kids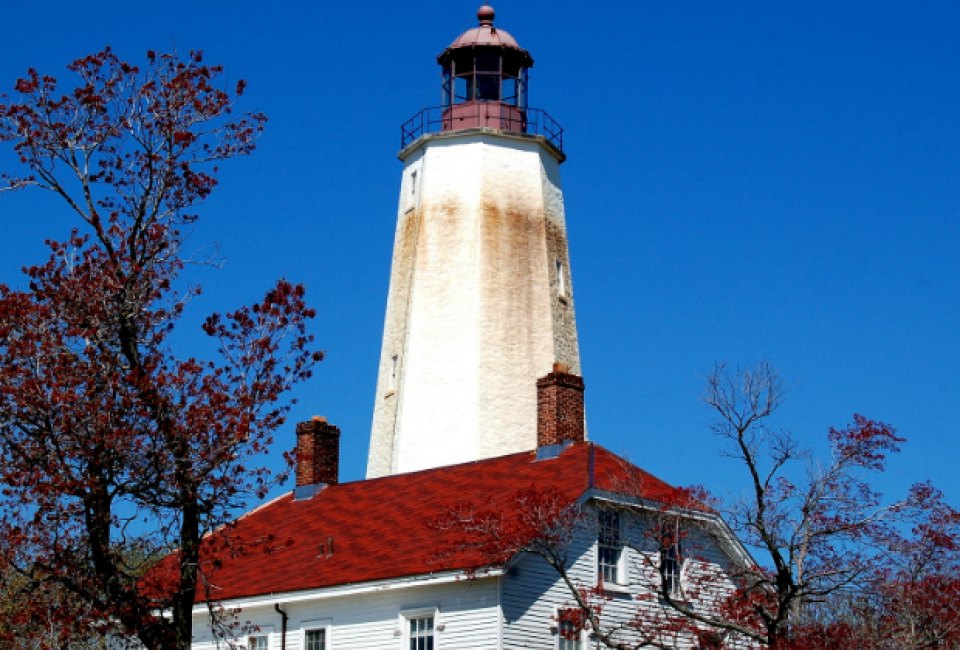 7/14/17
- By
Jennifer Battista
New Jersey is home to nearly a dozen lighthouses that are open to the public. Whether your kids are old enough to climb up to the top or not, there's plenty to do and see on a lighthouse tour. Most are located near beaches or state parks full of family-friendly diversions, so they make great destinations for day trips. This is an affordable—sometimes even free—summer activity your whole family will love. We've rounded up a few of our favorites.
For more Jersey Shore fun, check out our Jersey Shore Family Guide and Summer Fun Guide.
Please note: Although most of the lighthouses are open year-round, hours vary from season to season, so visit websites or call ahead before setting out on your trip. Don't forget that some lighthouses also require children to meet height requirements before journeying to the top.
Absecon Lighthouse — Atlantic City
Absecon Lighthouse is NJ's tallest at 171 feet, providing incredible views of the Atlantic City skyline. Built in 1857, the black and yellow lighthouse recently underwent extensive restoration. Climb up 228 steps to the top or visit the educational museum, gift shop, and replica of the Lightkeeper's house. It also offers many great children's programs, including super-fun themed parties on Wacky Wednesdays and a Keeper Sleeper program that invites kids 6-12 to stay overnight and experience life as a lighthouse keeper 150 years ago. Parking is free.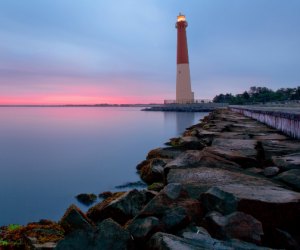 Climb to the top of the Barnegat Lighthouse for spectacular views, or explore the forest trail for seaside hike. Photo by Daniel D'Auria via Flickr.
Barnegat Lighthouse — Barnegat Light
No trip to LBI is complete without a visit to Old Barney. It's a steep climb to the top, but you'll be rewarded with spectacular views: Island Beach State Park to the north and Long Beach Island to the south. The park also contains a Maritime Forest Trail, a short and easy hike that's perfect for little kids. Explore the 1/5-mile loop and view local birds and plants, such as holly and sassafras, along the way. You can bring your own food to picnic on site or stop by Kelly's Restaurant or Mustache Bill's Diner, both within walking distance of the lighthouse. Open daily from Memorial Day to Labor Day, weather permitting.
RELATED: Best Jersey Shore Beaches from Sandy Hook to Cape May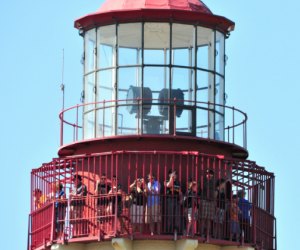 Take the steep climb to the top of the Cape May Lighthouse for a view of Southern Jersey. Photo by Kenneth Norris via Flickr.
Cape May Lighthouse — Cape May
Located at the southern tip of New Jersey, Cape May Lighthouse is a wonderful destination with plenty for kids to do. Nautical-themed Lighthouse Storytimes are held on Saturday at 12:30 p.m. from Memorial Day to Labor Day. Family Fun Days take place every Wednesday in July and August. Kids can also climb the lighthouse's 199 steps or check out the many attractions available in Cape May Point State Park. Visit NJ's last remaining World War II lookout tower, go hiking, try fishing, or enjoy bird watching (this is one of the best birding spots in the Northeast). Plus, the city of Cape May is only two miles away—stay for the day and spend some time strolling its streets and viewing the gorgeous Victorian homes. Open daily throughout the summer.
Hereford Inlet Lighthouse — North Wildwood
While the Wildwoods are probably best known for its great boardwalk, Hereford Inlet Lighthouse is truly picturesque. Surrounded by beautiful English country gardens that are home to more than 200 plant varieties, the lighthouse itself looks like a darling Victorian cottage. Your kids will love chasing butterflies in the garden and watching squirrels at the feeding station. In addition to being a working lighthouse, Hereford is also a museum. Tour the grounds and get a glimpse of an early 20th-century lighthouse keeper's life. Open daily from May to October.
Sandy Hook Lighthouse — Sandy Hook
The oldest operating lighthouse in the United States, Sandy Hook Lighthouse was lit for the first time in 1764. Surrounded by Fort Hancock and part of Gateway National Recreation Area, it's a great location for a family trip. Tour the Lighthouse and Keepers Quarters, then stay the day to enjoy fishing or sunbathing on one of the seven beaches. There's also hiking, bird watching, salt marshes, and a maritime holly forest to explore. Just be sure to arrive early during the summer months, as the parking lot fills up fast. Open year round, lighthouse tours are first come, first served, from 1–4:30 p.m. Kids must be at least 48" tall to climb the tower. Admission is free, but there is a $15 parking fee during the summer season.
Sea Girt Lighthouse — Sea Girt
Sea Girt Lighthouse was constructed in 1896 to bridge the gap between the Barnegat and Navesink Lighthouses after numerous shipwrecks. The last live-in lighthouse built on the Atlantic Coast, it was in disrepair until leased by the Sea Girt Lighthouse Citizens Committee in 1981 and subsequently restored. Today the lighthouse is open for tours, and there's a lot to see and do. Spend time exploring its rooms, from the keeper's office, on through the living quarters, and up to the tower's lantern room. There are also many artifacts on display, such as a 1903 keeper's logbook, numerous historical photos, and a fourth order Fresnel lens. Free tours are offered Sundays 2–4 p.m., except holiday weekends, April thru November 19.
Twin Lights — Highlands
The unique dual tower design of the Twin Lights makes it a must-see for lighthouse aficionados. Climbers to the top of the North Tower will be treated to stunning views of the Atlantic Ocean. The on-site museum exhibits lighthouse and lifesaving station artifacts, as well as many educational programs for visitors.
Bonus: National Lighthouse Day is August 7. In celebration, several lighthouses, include Cape May and Absecon, host special events on this day. Admission may also be free or reduced. Contact each lighthouse directly for details.
Top photo: The Sandy Hook Lighthouse is the oldest operating lighthouse in the country. It's open for tours year-round. Photo by 3.26 via Flickr.
This article was first published in 2012 but has since been updated.