Top Orlando Parks for Kids' Birthday Parties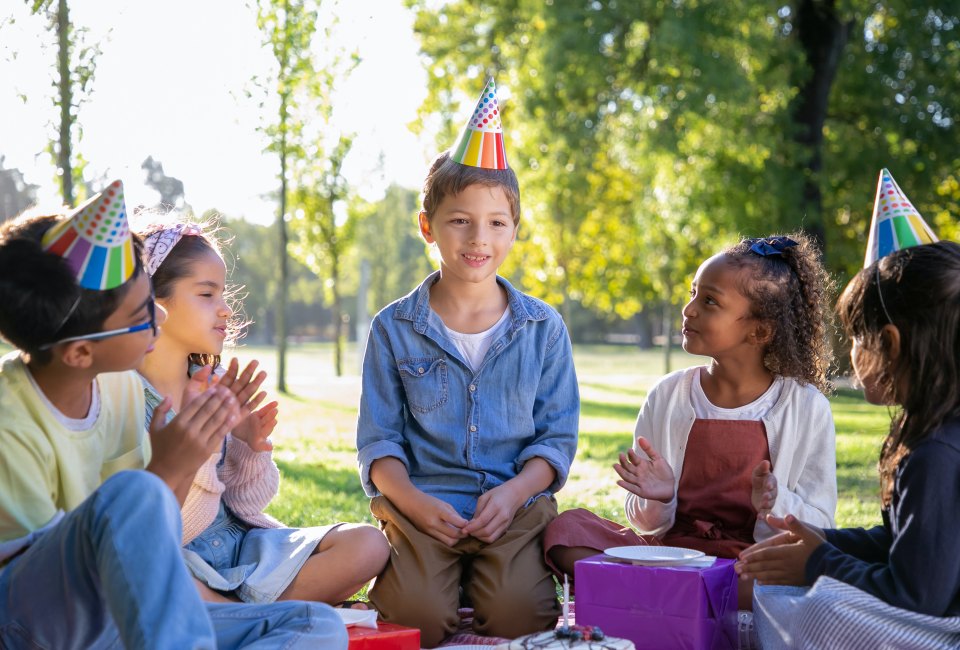 2/17/23
- By
Paula Andrea Morales
Orlando parks make the perfect spot for fun birthday parties! Think about it —one of the greatest benefits of living in Central Florida is our amazing weather. This allows for outdoor activities, mostly year-round, including birthday parties al fresco! Families have their pick from lovely Orlando parks to host birthday parties. These birthday party parks provide easy access to restrooms, parking, fresh air (obviously), budget-friendly spaces, and of course, kids can be as loud as they want! Keep reading to learn about awesome Orlando parks ready to host the best birthday parties.
Had enough of the great outdoors? Take a look at Free Indoor Playgrounds for Kids to Have Fun and awesome Ninja Warrior Gym, Parkour, and Obstacle Course Spots in Orlando for Kids and Teens. And get even more birthday ideas to celebrate your special kiddo by taking a look at our Orlando Birthday Party Guide.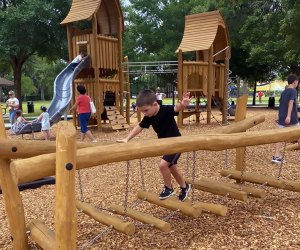 Take the birthday party to the playground at Phelps Park. Photo by Laura G
Orlando Parks Perfect for Birthday Parties
Located in Winter Park, Phelps Park offers picnic tables, two playgrounds, and tennis and basketballs courts. This Orlando park is wheelchair accessible. There are two pavilions, which do not have electrical power, that may be rented for events. Pavilions need to be reserved seven days before the event (half-day is $60, full-day is $90).
Conveniently located in Seminole County, Secret Lake Park has something for everyone, so this is a great birthday party option if you have guests of different ages. In addition to the playground for little ones, this Orlando park boasts basketball, tennis and racquetball courts, as well as fields soccer and softball. In addition to the picturesque lake, the park offers three pavilions for rent (one with electricity).
Nestled in Metrowest, this Orlando park offers too many amenities to list! There are two playgrounds, a gazebo, charcoal grills, picnic table, pavilions of various sizes, volleyball area and swimming pool. There is even a dedicated "Drone Zone" area! Admission is $5 per vehicle or $2 for driver only. Pavilion rentals range from $50-$180 plus insurance.
RELATED: 10 Awesome Birthday Parties for Kids at Orlando Theme Parks

Kids can play around the fountain at Delaney Park. Photo courtesy of City of Orlando
One of Orlando's oldest parks, Delaney Park boasts over seven acres of birthday party options for families. There are playgrounds, tennis courts, baseball and softball fields, and two table areas that can be rented for birthday parties. Each table accommodates 25 people with a rental price of $30 (and a $31.95 insurance fee). This park is wheelchair accessible.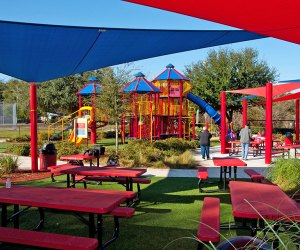 With covered picnic tables and a massive playground, Friendship Park is a great place to host birthday parties. Photo courtesy City of Oviedo
Friendship Park is a newer Central Florida park with great colorful playgrounds. There are lots of slides to choose from, and the park is well shaded. The playground features turf, so you don't have to worry about kiddos getting too dirty. Hosts can choose from pavilions and picnic shelters (areas with multiple picnic tables protected by sail shades) for birthday parties.
Looking for something different? In addition to playgrounds, Barber Park has a hockey rink, pickleball court, dog area, and picnic tables. There's also a splash pad available for wet and wild time at certain times of the year.
If you are looking for a birthday party venue that incorporates Florida's natural beauty, Kissimmee Lakefront Park is your place. The Kissimmee park offers playgrounds, charcoal grills, picnic shelters, a fish and wildlife observation area, and even a fishing pier.
Know someone with a summer birthday? Downey Park in Orlando has a splash pad to help keep kids and adults cool during those relentless blistering days. Aside from the picnic areas, there is a skate area, baseball field, fishing area, and dog park.
RELATED: Visiting Central Florida Zoo Like a Local: Top Things to Do and See
Another great choice for a party on a hot day is Dr. P. Phillips Community Park. This Orlando park has a splash pad, picnic area, playground and pavilions. NOTE: There is construction at this park, so be sure to check the website for updates on any closures.

Have a birthday bonanza at Westmonte Recreation Center. Photo courtesy Altamont Springs Recreation
Westmonte Recreaction Center is my favorite park for a birthday party! It has all the amenities anyone could want: great playgrounds, outdoor pool, and indoor multipurpose room in case it rains. There are pavilions, as well as bocce, basketball, pickleball, and tennis. There is plenty of parking, too!
Sign up for the Mommy Poppins Newsletter today!
i