Reef-Safe Sunscreen for Kids: Protecting Their Skin and the Planet
7/11/23
- By
Amelia Eigerman
Reef-safe sunscreen. What does that even mean, and what do you need to know about it? We all know it's crucial to keep kids' delicate skin protected. It can be hard finding a sunscreen that kids will tolerate having applied and reapplied—over and over and over. It can't burn their eyes or take too long to rub in. Also, it needs to be as good for the planet as it is for your kids. Hence, reef-safe.
Reef-safe basically means no chemicals that can damage coral reefs and marine life when they come off in the water. Because frankly, if it's not safe for the fish, it's probably not great for little humans. We researched, tested, and asked the experts, and these are hands down the best reef-safe and kid-friendly sunscreens.
After you're all sunscreen-ed up, check out our Ultimate Kids Summer Vacation Guide for some fun in the sun! And if you're looking for more eco-friendly tips, check out our Earth Kids Guide.
Stay in the loop by subscribing to our newsletter and get hot tips and fun activities right in your inbox.
What is Reef-Safe Sunscreen?
Reef-safe sunscreens are formulated without harmful chemicals that can damage coral reefs and marine life. Certain ingredients found in many traditional sunscreens, such as oxybenzone and octinoxate, have been shown to negatively impact coral reefs and marine ecosystems. There is evidence that applying sunscreens containing these ingredients, especially before swimming, may contribute to coral bleaching and damage the reefs.
Opting for reef-safe sunscreens protects your children's skin while also doing your part to preserve the oceans. Look for mineral-based sunscreens containing ingredients like non-nano zinc oxide and non-nano titanium dioxide.

Read on for sunscreens that protect our planet's precious reeds. Photo by Mommy Poppins
These ingredients are less harmful to coral. The downside is that mineral-based sunscreens often leave a white "cast" on skin after application. That said, the best sunscreen is the one that you and your kids will actually use. Don't sacrifice UV protection because you can't find a reef-safe lotion that you like.
The Importance of Sunscreen for Kids
Sunscreen is essential because it prevents sunburn, minimizes skin damage, and reduces the risk of skin cancer. Sunburn not only causes immediate discomfort but also increases the risk of long-term skin damage. The harmful effects of the sun's rays can be even more significant for children, as just one blistering sunburn during childhood can double the risk of developing skin cancer later in life, according to the Skin Cancer Foundation.
Incorporating sunscreen into your child's daily routine sets a healthy habit that will benefit them throughout their lives. Sun protection is not just for beach days or summer vacations but should be a year-round practice.
Remember, sunscreen is just one part of sun protection. Encourage kids to seek shade, wear protective clothing, and use hats and sunglasses to further shield their skin from the sun's rays. And don't forget to reapply sunscreen at least every two hours, especially after swimming or sweating.
How to Choose the Right Sunscreen
Look for a sunblock with an SPF of 30 or higher that offers broad-spectrum protection against both UVB and UVA rays. Opt for skin-friendly formulas that are hypoallergenic, fragrance-free, and dermatologist-tested. Additionally, consider water-resistant sunscreens when swimming or sweating.
RELATED: Best Leave-in Conditioners for Kids
Look Mom, I rubbed it in well! Photo courtesy of Kampus Productions via Pexels
The Best Reef-Safe and Kid-Friendly Sunscreens
We've tested a lot of sunscreens to find our favorites that are both reef-safe and kid-friendly—and that the kids we've tested them on will actually use. Please note that sunscreen recommendations may vary based on individual preferences and skin sensitivities. It's always a good idea to consult with a pediatrician or dermatologist before introducing new products to your child's skincare routine.
Made with organic ingredients, this sunscreen is gentle on your child's skin and free from synthetic fragrances. It provides broad-spectrum protection and is water-resistant for up to 80 minutes. Badger also makes a Badger Baby Sunscreen Cream, which some parents actually prefer for kids of all ages and even adults.
With an impressive SPF of 50, this lotion offers excellent sun protection. It's specifically formulated for babies and children, and is ideal for sensitive skin. The formula is free from reef-damaging chemicals and provides broad-spectrum protection. It's also water-resistant for up to 80 minutes, perfect for water play.
RELATED: Best Baby Beach Gear, Umbrellas, Wagons, and Toys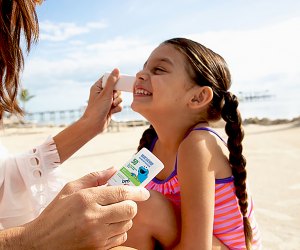 Blue Lizard Baby Mineral Sunscreen (SPF 50)
This sunscreen is formulated with babies in mind. It has an SPF of 50 and provides broad-spectrum protection. Free from fragrances and parabens, it's gentle on delicate baby skin. The unique packaging changes color when exposed to harmful UV rays, serving as a helpful reminder to reapply. And of course, it's reef-safe too!
This sunblock comes in a convenient stick form, making it easy to apply on squirmy little ones. With an SPF of 50, it offers broad-spectrum protection. The buttery texture glides smoothly on the skin, and its natural and organic ingredients nourish the skin. And yes, it is also reef-safe.
This mineral-based lotion is specially designed for babies and offers an SPF of 50. It provides broad-spectrum protection due to its mineral formula. The gentle formula is free from fragrances and dyes, making it suitable for sensitive baby skin. While every family will have their favorite, this one has been the sunscreen of choice of our Managing Editor's family for a decade.
Editor's note: I have tried to switch it up, but my kids only like this sunscreen! — Meghan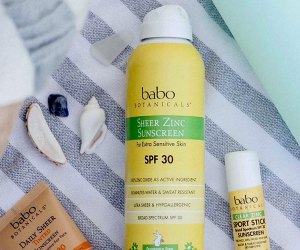 Gently formulated with 100% non-nano zinc oxide, this vegan, lightweight baby sunscreen is fragrance-free and formulated for very sensitive skin.
This convenient spray sunscreen is enriched with zinc oxide, offering broad-spectrum protection. The sheer, lightweight formula is easy to apply and absorbs quickly into the skin. It's reef-safe and provides an SPF of 30.
Choosing the right sunscreen and making it a part of your child's skincare routine will help keep their skin healthy and protected. By opting for reef-safe formulas, you can also contribute to the preservation of our oceans and marine life. So, gear up with the best reef-safe and kid-friendly sunscreens, and let your kids enjoy the great outdoors while staying safe under the sun!
This article was written in collaboration with Gelsey Torres. Gelsey is a cosmetic chemist with a passion for helping consumers learn how to read the label and understand what they are buying.
Photos courtesy of the companies
Click Here to Sign Up!