Your Essential Beach List: Best Baby Beach Gear, Umbrellas, Wagons, and Tips for a Fun Beach Day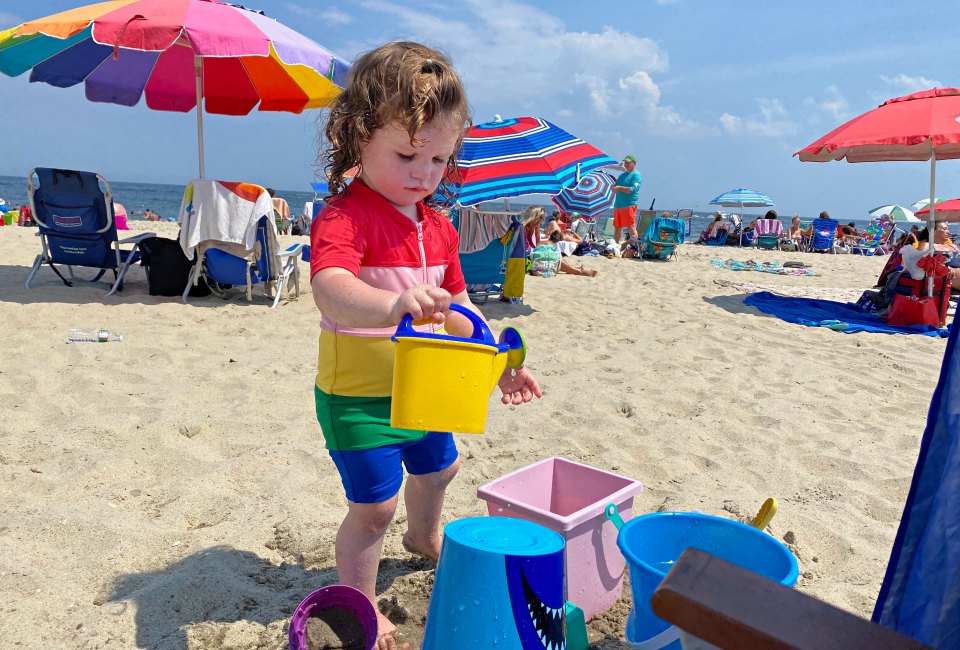 5/13/21
- By
Rose Gordon Sala
I vaguely remember going to the beach with a cute little beach bag that held just a towel, a bottle of sunscreen, a book, a water bottle, and maybe a snack. Going to the beach with my three kids, however, requires a mountain of beach chairs, towels, a heap of toys, two coolers, and a wagon to haul everything.
I've tried my share of beach gear over the years (I grew up in a beach town and now we live near the Jersey Shore), but to make sure I had left no stone unturned, I also polled our readers and everyone at Mommy Poppins for their picks on the very best things to bring to the beach with kids. Everything on this list will make your next day at the beach easier, less sandy, and a little more like, well, a day at the beach.
Here are our top hacks and items to make a beach day with the kids serene rather than stressful. We didn't include every beach item under the sun (ha!)—these are just the items that we really thought you should know about.
The Best Beach Carts and Wagons
If you're headed to the beach with a pack of kids (or even just one!) you'll need something to help you carry all the rest of the stuff on this list. You might also need one of your hands for carrying the baby (or maybe your coffee). Enter the beach cart or wagon. The most important elements in a great beach wagon are big fat wheels to handle the sand, an easy way to collapse it, and a fabric that is sturdy but wipeable. These deliver on all fronts.
Mac Sports Wagons
This brand makes several collapsible wagons meant for the beach, garden, and just generally hauling stuff. The cheaper Mac Sports Utility Wagon won Wirecutter's top pick (and several other review sites) for wagons. It's spacious but lightweight. The downside is the wheel width. You may want to upgrade (and spend another $100) for the Mac Sports All-Terrain Heavy Duty Beach Wagon, which has much fatter wheels designed for cruising over the sand. I have a similar no-name brand one with the big wheels and it carries several chairs, the cooler, boogie boards, toys, and the mega beach bag.

The big tires are a big plus for the Mac Sports All-Terrain Beach Cart. Photo courtesy of the manufacturer
This beach cart from Rio is a fan favorite among our staff and readers. Its big wheels allow you to drag all that beach gear across the sand with one hand! Win. It holds multiple beach chairs, a tent, boogie boards, a cooler, towels, and toys. It's also cheaper than most of the higher-end beach wagons, and frankly, we find it a little easier to haul.

The classic five-position Rio beach chair holds up year after year.
Beach Chairs for Kids and Adults
If you're like me you'll be running around chasing the kids more than sitting down! But I still always like to have a place to sit for lunch or to rest for a minute with a kid on my lap.
Rio Beach Chairs
We've had the basic, low-sitting, multi-position Rio classic beach chairs for a number of years, and I love them. They're comfortable and they carry pretty well, plus they hold up to all the beaching we do and to the kids cranking them in and out of position. However, if one of them does give out this summer, I think I'll upgrade to the backpack version of these beach chairs. We also plan to add the kids' backpack beach chairs to this year's arsenal of beach gear. Maybe they'll finally stop stealing my seat?
Tommy Bahama Beach Chairs
The classic Tommy Bahama beach chairs are hard to beat. This two-pack of folding, multi-position, backpack beach chairs from Tommy Bahama come with mini coolers and storage pouches. Throw 'em on your back and the rest of the junk in the cart or the wagon, and you'll be comfortable all day long.
Need a baby seat? We have one writer who swears by this thing as a baby chair at the beach. It gives your arms a break and keeps the little one upright so they can see all the action, eat, play, and enjoy the beach from someplace other than the blanket. The GoPod has an adjustable height, folds up for transport, and even comes with its own cup, er, bottle holder.
RELATED: Top Bounce Houses, Kiddie Pools, and Sprinklers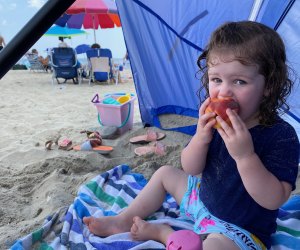 The popular Sport Brella can be used as an umbrella or a tent, both offer shade.
The Best Beach Umbrella or Tent
My family bought the Sport Brella several years ago, and it's by far one of our best beach gear purchases. You can use it as an umbrella or a beach tent if you want a little more shade or wind protection for the kids. It goes up quickly and never flies away, which I love. Dig the anchor in and then fill the outer pockets with sand to keep it grounded. You can open the side flaps for a little sun and breeze. We can fit two chairs under it or several kids on blankets. Families are forever coming up to us on the beach to ask about it. And if you accidentally show up to a beach where tents are banned, boom, turn it into an umbrella instead.
This beach tent literally pops up in seconds and is super lightweight, making it easy to schlep or to put up if solo with the kids. It fits two chairs underneath it, is water-resistant, and includes a UV protection exterior. Reviewers love its simplicity and spaciousness.

The Bogg Bag's durable material is made for beaching. Photo courtesy of the company
The Best Beach Bags for a Day at the Beach
A traditional beach bag, IMHO, is a big ol' bottomless tote that holds all the stuff: the towels, sunscreen, hats, reading materials, snacks, phones, and other miscellaneous items. I've done fine with our L.L. Bean "Boat and Tote" canvas bag (Mainer alert), but our very smart readers have turned me on to a couple more beach bag options that might just make more sense for a trip to the beach. These bags have holes to let the sand out and are made of waterproof or wipeable materials. Genius!
The sturdy, original Bogg Bag large tote is beloved by many families. It's completely waterproof and stays upright because of its construction and EVA material, making those unfortunate spills of all your items into the sand that much more preventable. We love the fun colors and how easy it is to clean it and empty out the sand. It comes with two insert bags to protect more delicate items like phones.
These woven fabric tote bags from Scout are naturals at the beach. They also wipe clean and allow sand to escape or brush off. There are tons of sizes and fun colors from which to choose too. Throw all the kids' messy beach gear in here and you won't worry about staining or ruining your travel totes.
Looking for a really budget beach bag pick that is also incredibly smart? Buy a mesh bag. This carryall will truly let all the sand and mess of the beach fall out before it returns to your trunk. We love the side pockets to stash smaller items or those last-minute finds.
And this mesh bag is just for the toys! Admittedly, my family had yet to find a great way to corral all the kids' various buckets, shovels, trucks, and other beach toys into one easy-to-carry container. I've tried shoving them into the tote, into a very tiny basket that they arrived in, trying to get kids to carry them, and even just scattering them loosely in the wagon. But, as soon as a reader suggested this one, I ordered it, because it's clearly the missing hack for my beach days. It's enormous, so I don't doubt it will hold all three kids' toys, and the mesh will mean less sand in the car. I also won't worry about getting it wet. Yes!

The adjustable iPlay sun hat and a Land's End rash guard protect against the sun on a beach day.
Swimsuits, Rash Guards, and Beach Hats for Babies and Kids
This is pretty much the only beach hat that I buy for babies, toddlers, and preschoolers. The wide brim plus back flap keeps the sun off their faces and necks all day. It ties under the chin and adjusts to tighten or loosen it on their head, so it stays put, too. The iPlay beach hat is soft, washable, and folds up tiny for travel.
This comfy, roomy shirt with a UPF 50+ rating is a great swim diaper topper for a baby, either all day or as something dry and loose to change into after swim time is over but you still want sun protection. It's washable, breathable, and dries quickly. Our several pairs have held up as solid hand-me-downs among my beach kids.
These zip-up rash guard swimsuits from Hanna Andersson are my favorite toddler bathing suits while kids are still in diapers. They are easy on and off, adorable, and UV-blocking. They also come in short-sleeve and long-sleeve options, leaving you with fewer areas that still need sunscreen and fewer entry points for sand around the diaper.
After they age out of the Hanna rash guard suits, I often stock up on Land's End bathing suits. They're affordable, UV-blocking, and comfy. No itchy tags and a generous fit keep my kids happy. They're also long-lasting, quality suits that I've been able to pass down.

Beamo! Photo courtesy of the manufacturer
Best Beach Toys for Kids
Beach toys are a must on my beach gear list for a day with the kids, but I have yet to find that one perfect bucket or shovel. If you've found one that is a must, please let us know! Rather, I would just recommend buying at least one bucket per kid and then double the number of shovels, which always get lost and fought over. Also, order at least one really big shovel for building epic sandcastles, holes, and moats that will keep them busy all day. A dedicated sand toy truck is a good idea, too. Look for thick, sturdy plastic and your buckets and shovels will last several seasons.
Here are a few examples of our personal favorites:
Just add another bucket or two to this set and the kids will have plenty to keep them busy. This set comes with extra shovels, an extra-large shovel, a watering can, several fun sand molds for decorating sandcastles, and its own carrying bag.
A three-pack of sturdy castle-building buckets will quickly be put to use.
An extra set of shovels, especially the larger spades that can be used to dig big holes or to bury siblings in the sand, are great to have on hand for a beach day. We also sometimes use them to dig the hole for an umbrella.
I love this soft, oversized disc. It's the Frisbee that everyone can catch and toss –– even the toddler.
We hope you get to enjoy the beach this summer! Feel free to chime in on Facebook with your beach gear packing lists and hacks.
Photos by the author unless otherwise noted
This article contains some affiliate links, which means we might earn a small commission if you make a purchase. There is no extra cost to the reader. We only recommend products and services that we have personally used or have thoroughly researched.