Best Inflatable Pools, Bounce Houses and Backyard Toys, Kid-Tested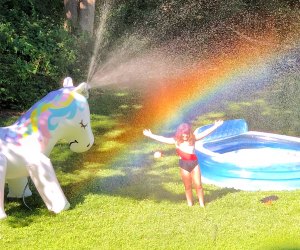 6/13/20
- By
Ally Noel
There is a ton of inflatable and pool fun to be had this summer right in your backyard. Climb, splash, and slide in these bounces houses, kiddie pools, and water slides. These inflatables will take backyard fun to the next level and provide hours of outdoor entertainment during a summer of mostly staying at home. And no, they haven't all sold out—yet!
For more backyard fun, check out these 25 Water Games for Kids to cool everyone down. Still need some summer activities? You'll never be bored if you keep handy our Ultimate Summer Bucket List Ideas with 100 (Mostly) Free Outdoor Games and Activities for Kids.

The Royal Palace Bounce House is sturdy enough for big kids and the slide adds to the fun. Photo by Mommy Poppins
Top Bounce House Options
This might be a splurge, but one mom we know swears that it has been a "quarantine must" in recent months! This inflatable bounce house has a little something for everyone. It features a sturdy bouncing area, sliding surface, and a basketball hoop. The top is open so no one gets overheated.
Sometimes simple fun is the best fun. This basic bounce house may not have all the bells and whistles of others on this list, but it is very portable. When summer is over, this bounce house can also be set up indoors.
With a water slide, sprinkler, kiddie pool, bounce area, and more sprinklers… this bounce house has it all! It's cute octopus design and cheerful colors will make this a happy addition to any backyard.
RELATED: Favorite Pool Floats for Summer Fun with the Kids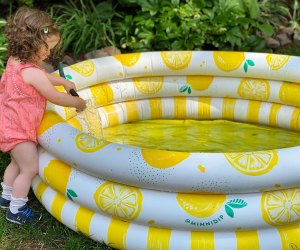 The Minnidip kiddie pools come in bright colors and cool designs and a variety of sizes. Photo by Mommy Poppins
Kiddie Pools for Toddlers
Grab your camera, because it's impossible not to look adorable in this very Instagram-ready kiddie pool. Minnidip makes a few different-sized kiddie pools but its "Minni-Minni" is just right for kids ages 3 and up.
Keep the little ones cool this summer with this inflatable water play center. Attach the garden hose to the built-in sprayer, slide down the mini water slide, and try to toss balls through one of four inflatable rings.
No one is too cool for school with this splash pad. Perfect for toddlers, this splash pad sprays kids with gentle fountains. It's decorated with animals from A to Z.
Introduce your little one to water fun with this toddler splash play mat. Setup is as easy as attaching a garden hose and turning the water on. Sturdy enough for jumping around, some even let the family dog enjoy this sprinkler.
The AquaPod is constructed of clear sturdy vinyl. Water fills an outer channel, while a shallow pool forms in the center, making the tiniest of kiddie pools just right for tots. This inflatable also comes with a dozen brightly colored fish that children are able to chase around the lagoon.
RELATED: Top Outdoor Toys and Games for Kids

Take a seat in the Family Lounge Pool for backyard chillin. Photo by Ally Noel
Inflatable Pools to Love
What is one of the things that I loved the most about this inflatable pool? No more kneeling in the grass while you watch your kids play. This inflatable pool has a built-in bench (and cup holders!) so parents can get in on the action. As summer heats up, this pool is perfect for bigger kids to splash around in and test out their budding swim skills.
I have owned this pool since my daughter was 2...it's six years later, and it's still going strong! It works well in the off-season as an indoor ball pit and it has always cooled us off on really hot days.
If you have the room for it, this inflatable pool takes that kiddie pool of old to the next level...in about 10 minutes. The filter pump and built-in chlorinator allow this pool to be set up for an entire season. The water is deep enough for older kids to get in some water play this summer.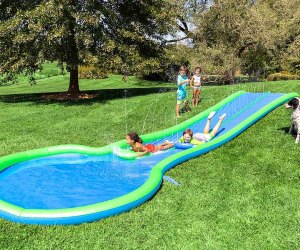 For playdates or dueling siblings, the Dual Water Slide have room for all. Photo courtesy of manufacturer
Inflatable Water Slides for Kids
A little longer, and a little wider, this water slide is BIG on the fun. Wide enough for two kids to slide at once, siblings can race straight into the shallow pool.
One mom we know swears by this Intex water slide, especially because of it's pre-pandemic low pricing. It's sturdy and loads of fun for elementary-school-age kids. The water slide comes with two inflatable surf riders so everyone can ride in style.
What is summer without a little baseball? Made out of sturdy PVC, this baseball-themed water slide is sure to be a home run of fun. Complete with a baseball and bat, kids can really perfect their slide into home with this one!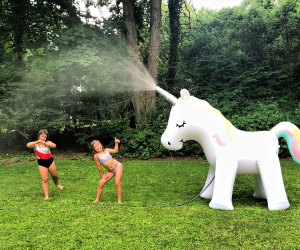 Just try not to laugh while playing under the giant unicorn sprinkler. Photo by Ally Noel
Sprinklers We Love
Who can resist a 6-foot unicorn sprinkler? We couldn't! The sprinkler turns every play date into a party. I have a house filled with unicorn lovers, so it was an easy choice, but this sprinkler also comes in a variety of creature forms, including a dinosaur, giraffe, and elephant. Pro Tip: Snag an electric pump to fill this inflatable up.
Hot summer nights are meant for this sprinkler! Once the sun goes down, turn on the fun with this Light Show Sprinkler for an affordable backyard splash party.
This article contains some affiliate links, which means we might earn a small commission if you make a purchase. There is no extra cost to the reader. We only recommend products and services that we have personally used or have thoroughly researched.