Cheap Outdoor Toys and Outdoor Games for Kids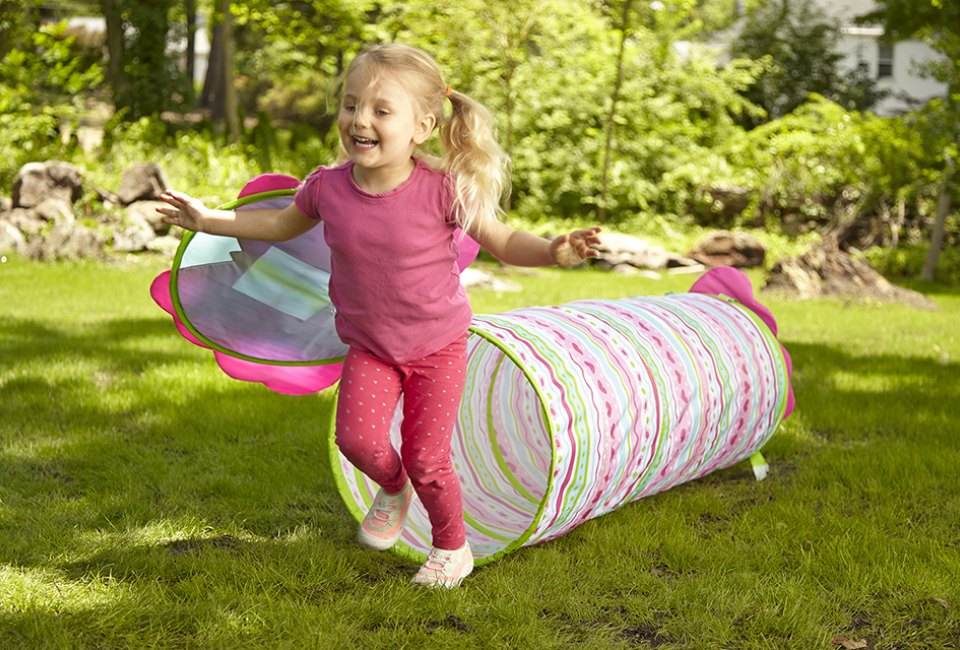 6/2/18
- By
Rose Gordon Sala
These outdoor games and toys keep kids running, crawling, jumping, and more. Whether trying to keep them entertained at the beach, the backyard, or just at the park, parents everywhere know that an engaging outdoor toy for toddlers to teens can be the perfect antidote to the inevitable "We're bored" summer refrain with which we're all so familiar.
Unfortunately, just walking into your nearest retailer and grabbing the most interesting looking outdoor game off the shelf doesn't always work out. It could end up overly complicated, not age-appropriate, break upon contact—or even worse: not hold their attention! So we at Mommy Poppins rounded up our favorite summer toys for kids from over the years, including water games, and even tested out new ones, to bring you this list of more than a dozen, inexpensive options to play with your kids this summer.
Top Outdoor Games for Kids and Toddlers

Bash the birdie with the extra-large rackets for a game of Bashminton!
Bashminton
Ages 4 and up
Price: $19.99
Kids can easily volley back and forth with these oversize rackets (21-inches) and a giant, springy birdie (4-inches). It doesn't come with a net, but we didn't miss it. The kids played by themselves or together. The large size makes it easier for little hands to learn the game without getting frustrated, so it's good for all ages, though we think those 4 and up will get the most out of it. Throw it in the beach bag or tote it to the park.

The oversize Beamo discs make throwing and catching easy even for tots.
Beamo Flying Disc
All ages
Price: $19.99
It might seem pricey for an oversized-flying disc, but the lightweight, fabric Beamo hoops from Toysmith are the perfect all-ages Frisbee. The soft foam ring is easy for toddlers to catch, but interesting enough to keep the big kids engaged. It works in water or at the park. It's available in a variety of sizes, including a mega 30-inch one, but the 16-inch hoop quickly became a favorite of my 3-year-old!
RELATED: 10 Outdoor Games from the 1970s to Teach Your Kids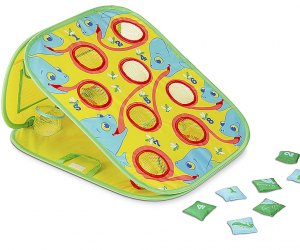 This cornhole-for-kids bean bag toss is the perfect outdoor party game. Photo courtesy the manufacturer
Camo Chameleon Bean Bag Toss
Ages 4 and up
Price: $24.99
The two-sided bean bag toss from Melissa and Doug lets more kids play at once, or just pick a new theme based on their mood! It comes with eight color-coded bean bags and is a great intro to the concept behind cornhole, as well as a way to practice hand-eye coordination. Folds flat for storage and easy to pack with you for the next family BBQ or park picnic. No assembly necessary; it just pops into place, secured by little velcro flaps. Surprisingly, it's also fairly sturdy even while kids are dragging it from place to place. The holes are a bit small, which makes it perhaps too challenging for younger kids to get a bean bag to stick in.

Try 3D Chalk for an added dimension to your sidewalk drawing game.
Cutie Pie Butterfly Tunnel
Ages 2 and up
Price: $29.99
This sweet crawl-through tunnel for Melissa and Doug works for both indoor and outdoor play. The butterfly design and end covers add a fun element as kids love to pop through to "surprise" you. It's about 5-feet long but folds up flat for storage. Toss it out onto the lawn for your next BBQ and watch the kids go!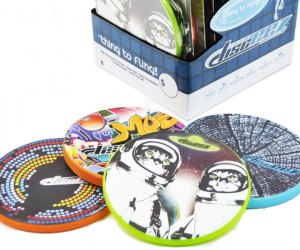 These little discs really soar in the right hands! Photo courtesy the manufacturer
Disceez
Ages 7 and up
Price: $5.99
These lightweight, soft discs from Worx Toys really soar. Watch the colors create a colorful kaleidoscope as it jets out of your hand! They're collapsible, so you can just stuff 'em in a pocket and go. Works well in the water, too, and the ultra-light nature of the disc means you can really get some distance with them. Best for older kids due to the size. Little ones will find them too challenging to throw, but older ones will love the precision, performance, and designs.
The animal-shaped Glove-A-Bubbles make bubble blowing a cinch. Photo courtesy the manufacturer
Glove-A-Bubbles
Ages 3 and up
Price: $1.99
Looking to up your bubble game? We all know it can take a while for kids to learn to blow bubbles from a wand. These bubble mitts make it easier. Kids pick from a variety of cute animal faces, put the oversize plastic glove on, and then dip it into the bubble solution. Next, they wave their hand around and watch the bubbles go. My 3-year-old was very impressed. Eight designs available. Just be sure to buy some extra bubble solution to make the fun last. It does come with a resealable bag that you could just keep refilling with solution, but we found kids had easier access when we dumped the bubble solution into a wide, flat plastic Tupperware. Great party favor idea, too!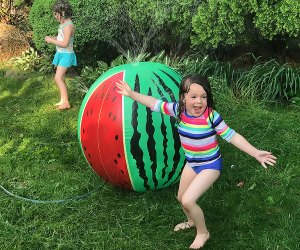 This watermelon sprinkler turns a basic summertime game into something a little more fun!
Mega Melon Sprinkler Ball
Ages 3 and up
Price: $19.99
Add a dose of summertime whimsy to your basic romp through the backyard sprinkler with this watermelon-themed sprinkler. It stands about 3-feet tall and sprays out a gentle mist from four spots. My kids delighted in dashing in and around it as they dodged the freezing hose temps! They also created a game of trying to stack things on top of it and covering up the water spray holes with their hands. I'm not totally sure of their objectives, but they sure seemed to be having a blast. Blow it up on your own or use a small air-bed pump if you have one. It stays inflated for a while, so you can just roll it out onto the lawn whenever the temperature spikes.
Keep 'em busy building with the OgoBild Pod while you grill or just chill. Photo courtesy manufacturer
OgoBILD POD
Ages 6-10
Price: $46
The daily fight against screens is real every summer! This DIY-building kit from OgoSport challenges kids to create all sorts of fort shapes, while testing their STEM skills. Hand it over to the kids in the backyard while you relax on the deck, or bring it to the park for your next family picnic instead of the frisbee or ball standbys. The rods are lightweight and flexible, and kids as young as 6 will be able to push the rods into the connector balls to make their creation. It does take a little practice to get the rods to pop in (I suggest pushing them hard and twisting!), and you should know that it doesn't make a huge structure. It comes with examples of things to build, though the younger ones might need some guidance. Toss a sheet over it to complete the fort effect. It is a bit of splurge, but it's certainly cheaper than STEM camp!
Watch the ball fly with Pop and Catch!
Pop and Catch
Ages 3 and up
Price: $7.99
This classic, low-tech catch game thrills all ages and works well at the beach, park, backyard, or even on the sidewalk. I was surprised by how much my preschoolers loved it. They weren't quite coordinated enough for multiple successful volleys, but they found it hilarious to play solo, pressing the button down to pop the ball straight up and trying to catch it into their own basket. It's small, so older kids might want to size up, and do keep the ball away from babies. It's made of sturdy plastic that has lasted longer than I expected!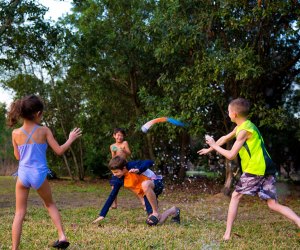 Older kids that have graduated from the water balloon toss can let 'em rip with the Splash Tail. Photo courtesy the manufacturer
Have your kids graduated from the water balloon toss? The Splash Tail from OgoSport turns a gentle game for tots into a high-powered (and wet) game of toss. Place a water balloon into the Splash Tail and then hurl it over to your neighbor. Better catch it or you'll be wet!
Answer a question before the timer runs out in Splash Out or risk getting wet! Photo courtesy the manufacturer
Splash Out
Ages 6 and up
Price: $14.99+
This new challenge game from Far Out Toys is great, because it adds an extra dimension to other simple water games. Pick a card, answer the question, and toss the ball over before the timer runs out or risk getting a big splash! One of our favorite aspects of the game is honestly that parents can play, too, or the kids can take it to the park or backyard and play among themselves. It comes with 10 reusable balloons, which you can fill with water...or even slime.
Stomp Rockets, including this Stunt Plane version, offer a great low-tech STEM game that kids love.
Stomp Rockets
Ages 3 and up
Price: $14.99 and up
These STEM toys are one of my go-to kid birthday gifts. They're low-tech and kids love to watch them soar as they literally stomp to make them take off. The kid-propelled rockets now come in a variety of options (and height ranges) for all ages. We loved testing out the Dueling Stomp Rocket (two kids can play!) and the new Stunt Planes (ages 5-12), which added a fun dimension. Little ones (and parents) will love the simplicity of Stomp Rocket Jr. Glow (ages 3 and up), while tweens can take the Extreme Stomp Rocket (ages 9 and up) to the park to see if they can reach the max height of 400 feet! No batteries required and minimal setup time.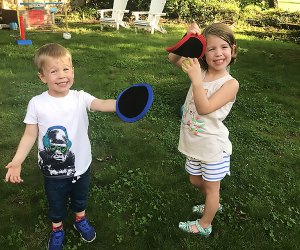 Sticky velcro mitts make this tennis ball toss fun for all ages.
Wet Splash Hand Strap Velcro Tennis Ball
Ages 4 and up
Price: $14.99
This classic, sticky game of catch is great for all ages. Kids can play with parents, little ones can learn the game, and big kids will be occupied for some time and can practice cool tricks. I've bought this style velcro catch game each summer only to see it fall apart, so I was very happy when a Mommy Poppins' editor recommended this brand as one that would last for several years! It can be used in the pool, too. Note: The manufacturer recommends this for ages 7 and up, but I found it easily fit my 3- and 5-year-old's hands, as well as my own.
Splurge-worthy Backyard Toys
Most of the games and toys recommended above are under $20, but we couldn't resist including a couple of all-around summertime hits to the list that cost a bit more. Both come highly recommended as budget-friendly splurges as they last a long time and keep kids engaged for hours. Both items, one for water play and one for year-round action, also make a great kids' party add-on for those summertime backyard birthdays or even just for extra fun playdates.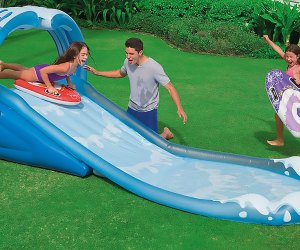 This affordable water slide is great for summer playdates. Photo courtesy of Pool Supplies Super Store
Intex Surf 'N Slide Inflatable Play Center
Ages 3-8
Price: $60
There are many backyard water slide options, but this one is such a steal in my opinion. We've had it for two years now, so it holds up under the wear and tear that comes with jumping kids. It's not so big as to intimidate preschoolers, but it's not so small (or slow) that it bores the grade-schoolers either. It comes with two, inflatable surfboards and you can order additional ones to eliminate fights! Hook it up to your garden hose, and you're good to go for that water-filled backyard party. A small pool forms at the bottom of the slide, providing a softer landing than you get with a traditional slip n' slide, too. It can be a pain to blow up (we use a pump), and it does leak from the hose attachment point, but I've found it provides hours of summer afternoon fun–and is much, much cheaper than that local pool membership, as well as many slide alternatives. Note: The manufacturer recommends it as ages 6 and up, but our supervised tots have done great with it. There is a suggested 176-pound weight limit.

Numerous parents swear by the Little Tikes' bounce houses for long-lasting fun.
Little Tikes Jump 'n Slide Bouncer
Ages 3 and up (holds up to three kids or 250 pounds)
Price: $189
I'm sure we don't need to sell you on the appeal of a bounce house, so I'll just say that this bounce house has been recommended by numerous friends and a Mommy Poppins' editor who has it in in heavy rotation for more than six years. It's less than $200, but yet holds up for years. The setup is easy and the slide adds an extra thrill. Fill it with balls for bonus fun! Little Tikes sells several different sizes of its iconic bouncer. One comes with a roof to keep kids shaded. Pay attention to the weight limits and how many kids each one fits, as well as the dimensions of course. Move it indoors in the winter to extend the fun!
Photos by Mommy Poppins except where noted